If you're here looking for ideas on how to create a personalized wedding ceremony, I have a couple great resources for you.
First, there's my post on how to write the perfect ceremony in 10 easy steps that you can access here. But I've also put together a 10-page Wedding Ceremony Guide (in PDF format) that includes the following:
• A sample ceremony script (which you can of course change as you
please to suit you and your partner and the style of your wedding!)
• A collection of selected ceremony readings to choose from (plus
a link to waaaay more options on my website)
• A few traditional vows that you can borrow
• Tips on how to write your own vows
• A list of beautiful processional songs to choose from
• A list of fun, upbeat recessional songs to choose from
The guide looks like this: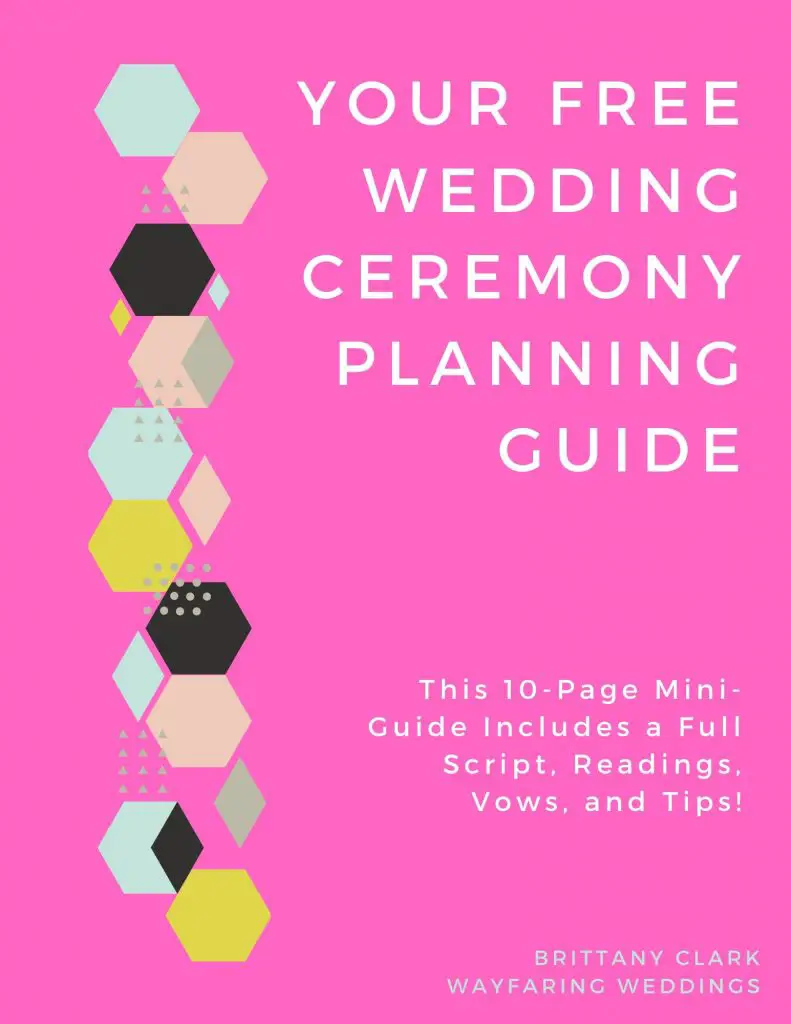 This guide comes in the first email you receive when you sign up for the Newsletter.
I don't like spam email any more than you do. So I promise to never spam you with stuff you don't want!
When you sign up for your email list you get four things:
My 10-Page Wedding Ceremony Guide and other occasional freebies that are exclusive to newsletter subscribers.
An email each day for just the next few days with specific info on how to make your wedding more budget-friendly and eco-friendly.
Occasional tips about new things I discover related to eco-friendly and budget-friendly wedding planning.
Occasional news (like maybe every 3-6 months) about special offers both from me and from companies I recommend.
That's it. You won't hear from me often, but when you do I expect it will be worth it. And I will never give or sell your email address to anyone, ever! And in case you're wondering, you can access my privacy policy here.
Just enter your email below to subscribe and get your free 10-Page Wedding Ceremony Guide.