Wedding Products I Love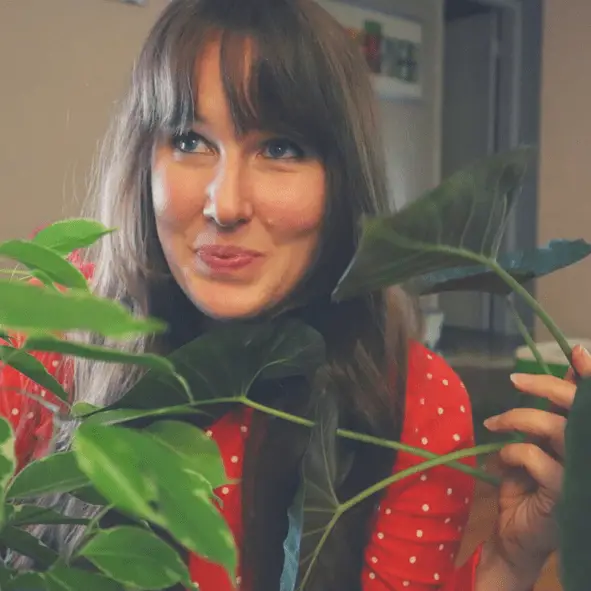 On this website, I do a lot of research to find eco-friendly, fair-trade, ethically made and sourced, and BUDGET-FRIENDLY products for my own wedding.
If you're looking to find a balance between sustainability and affordability, I hope you'll love my recommendations on this page 🙂
Happy wedding shopping and good luck! If you have any questions, please visit me on my wedding YouTube channel or send me an email: brittany@wayfaringweddings.com.
---
The Dress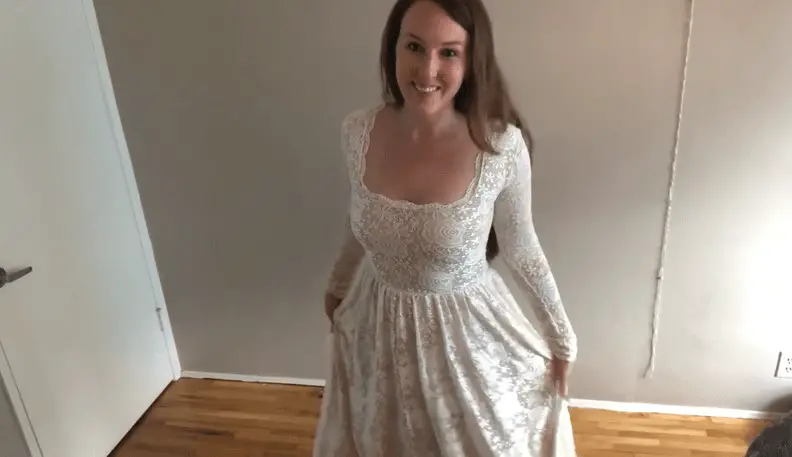 MY TOP RECOMMENDATION: I must have spent a month debating which dress to buy on Blushfashion (this link will take you to their latest bridal collection) after I first discovered them. I was so obsessed with all of the unique boho designs… And I'm personally obsessed with wedding dresses that have sleeves! And pockets! And lace! So this was a tough decision… If you don't know what I mean, go check out these dresses right now!
Blushfashion is a company based in Israel run by designer Sheryll Raz Gold. I haven't found any other small companies like this focused on handcrafted materials, eco-friendly practices, that ALSO keep their prices under $500/dress. If you're concerned with buying a budget and eco-friendly dress made of fair trade materials, I encourage you to read more about Blushfashion's policies here.
Their dresses are sold both directly on their website and on Etsy, although in my time researching them and buying one of their dresses, prices seemed to be best directly on their website. I bought this one, covered in a lacey rose design and so comfortable it feels like I'm wearing pajamas: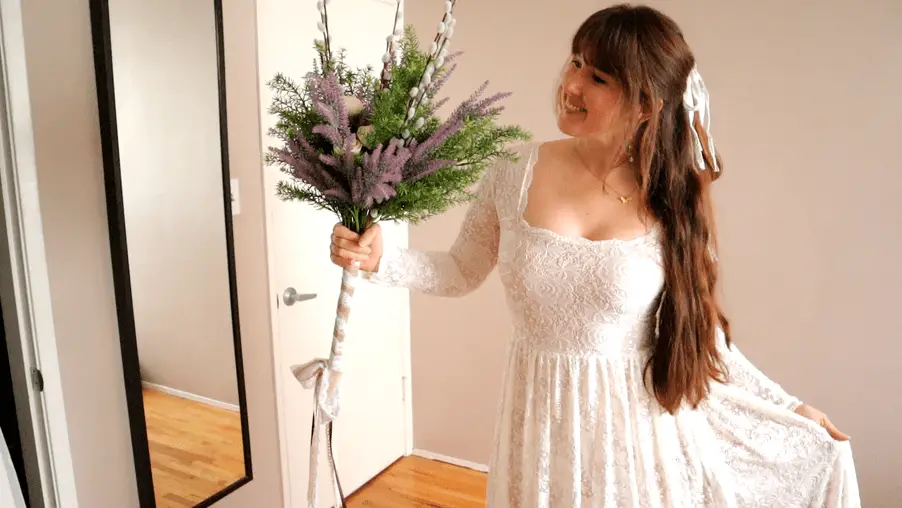 I've tried on… A LOT of affordable wedding dresses that I ordered online in the search for a budget wedding dress. If you don't believe me, check out the cringe-y try-on videos I made just for proof here. 🙂 Or check out my Blushfashion video specifically (below).
I both love trying on clothes and I was NOT willing to spend a small fortune on a wedding dress. I just don't think it makes any sense to spend a thousand dollars or more on a dress that I'll wear for one day. Less than a day really!
With a budget of $300 and the intention of returning or reselling the dresses that didn't suit me, I tried on affordable options and wrote reviews on my blog for dresses from Lulus, Blushfashion, ASOS, Modcloth, Nordstrom, and Amazon! And it was both fun and exhausting!
You can check out my "ultimate dress review" here, in which I tried on dresses from ALL 6 of these affordable wedding dress companies for my fiancé and asked for his "professional opinion" 🙂 But here's the winner, from Blushfashion below:
I was literally blown away by the FEEL of the material when I received my dress in the mail. It's so. freaking. soft.
I think I used the word "buttery" in my video review above! HA! But truly, it's like being wrapped in a blanket. I cannot saying enough about the comfy-ness of this wedding dress, which I know is not everyone's top priority but man… I didn't want to take it off.
And the designer Sheryll Raz Gold offers personalized (like, from HER) customer service…
You can even order a custom-sized dress from afar if you submit your measurements. I've even seen reviews of brides who requested custom detail changes, such as asking for the top of one dress that they liked matched with the bottom of another dress that they liked!
Additionally, it's pretty awesome that Blushfashion has a collection of curve and plus-size wedding dresses and bridesmaid dresses. So there's something in everyone's budget, in everyone's size.
---
The Shoes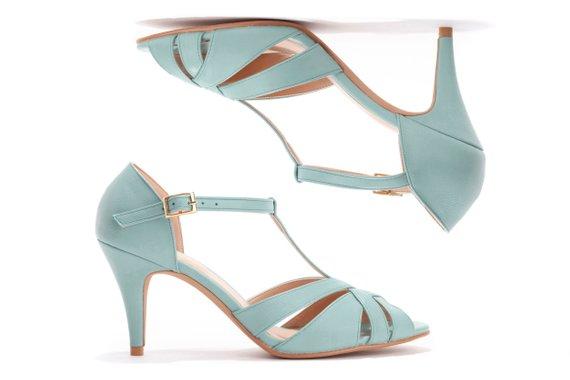 Shoe preference is something that'll definitely vary quite a bit between people but personally I've fallen in love with 2 wedding shoes that I want to share here.
One being the vegan vintage-inspired collection from Blushfashion, which in addition to offering "something blue" flats and heels, has gold, neutral and sparkly options as well!
I also love casual bridal sneakers to change into for dancing or honestly, just to wear for the whole dang thing. If your dress is going to cover your shoes, who cares anyway?
If you're interested in "bridal sneakers" I recommend checking out prices for lace, sparkle, Converse, and everything-in-between-bridal sneakers here on Amazon.
---
The Flowers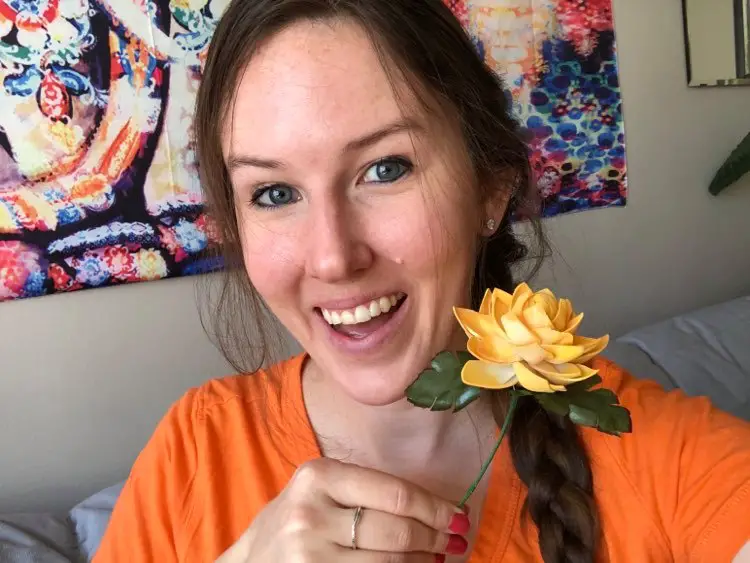 When I discovered sola wood flowers, I thought they were the coolest thing I'd ever heard of! They're wooden, pliable flowers that are handmade from ROOTS and cost a fraction of what real flowers do.
The best part? They last forever. If you're interested in learning more about sola wood flowers, you can read my breakdown of real flowers vs sola wood flowers here or watch my YouTube video review of sola wood flowers here.
Stefanie from Oh You're Lovely also has a BUNCH of awesome tutorials on her YouTube channel and Facebook on how to dye and arrange your own sola wood flowers (basically a DIY wedding flower dream!).
DISCOUNT CODE: If you decide to order your own sola wood flowers, you'll get a 20% discount on your order from Oh You're Lovely (which has a HUGE selection) with the coupon code Wayfaring20 (please note that this is limited to one per customer).
Here's my sola wood flower review from my wedding YouTube channel:
---
More Items I've Discovered and Love
Below you'll find a few more items that I love for eco-friendly and budget-friendly wedding items, from rings to socially-conscious favors. I hope you find something that you love! 🙂