I ordered 8 wedding dresses under $100 from Lulus because I was so curious about the possibility of actual BUDGET wedding dresses. I wanted to know if the quality of these dresses was really "wedding-worthy" or if we're all better off just buying an expensive designer dress…
I've written in a previous post that I don't personally believe expensive wedding dresses to be worth the price (controversial, I know!), and so I'm always on the lookout for beautiful, affordable alternatives. My friends and the Internet had told me so much about Lulus but I'd never ordered from them before so this was all very new and exciting for me! 🙂 I made a YouTube video reviewing these 8 dresses as well, if you prefer to see them being tried on "in action" (I'll put it at the bottom of this article).
In this post, I'll share my own dress try-on photos and my feelings about each of the 8 dresses I ordered. Overall, I was really pleased, and surprised by the quality of Lulus "cheap" wedding dresses, and I would definitely recommend Lulus bridal gowns for anyone looking for a place to save money in their wedding budget.
---
I'll go into lots of detail in this post but here are my takeaways about this experience in a nutshell:
PROS of ordering affordable wedding dresses online from Lulus:
It's way cheaper than most chain bridal shops and designer dresses.
The fabrics are thick, heavy, quality material — surprising for such inexpensive dresses.
You can shop from the comfort of your own couch (huge bonus in my book).
There are a ton of different styles to choose from between $59 – $388 in the bridal section of their website.
Their customer service and return policy is really good.
CONS of ordering affordable wedding dresses online from Lulus:
You will most likely need to spend some extra money on alterations to make the dress fit you perfectly.
If you live outside the U.S., you're probably going to have to pay extra in taxes and fees when your package arrives.
You may want to buy more than one dress in more than one size to find the one you like best and that fits you best, which can be inconvenient and will require you to return some items.
---
In this post, I'll talk about:
Unboxing the dresses + photos
8 Lulus dresses + my try-on photos & my impressions of each one
My Lulus shipping & customer service experience
Lulus Return Policy
More alternatives for affordable wedding dresses
Are Lulus dresses eco-friendly? On this website, I like to search for budget-friendly AND eco-friendly options for wedding purchases, and I didn't find any evidence that these bridal gowns are made of environmentally-friendly materials. However, there are plenty of other vegan clothing and shoe options available on Lulu's for the eco-minded bride.
*Disclaimer: This post is NOT sponsored by Lulus. It does contain affiliate links, which means that any purchases made through my links will earn a small commission for this website.
---
First… Unboxing the Dresses
Follow along with my wedding dress unboxing and try-on experience in this post, while visiting Lulus bridal gown selection here as you read! Through this link, you'll also see that Lulus is really popular for bridesmaid dresses and wedding guest dresses.
Here is the package I received from Lulus with the 8 dresses that I'd ordered: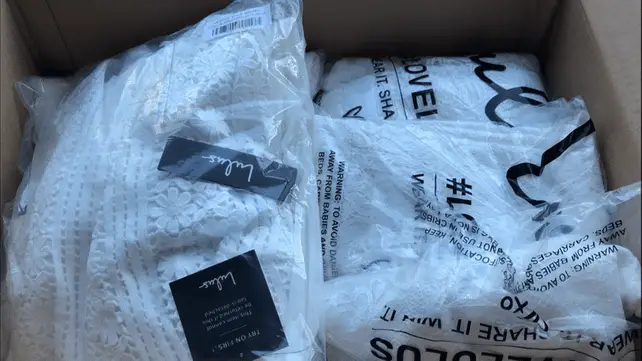 I received a pretty big box in the mail (more info about the shipping and taxes in a section below) and was super excited to open it up! I was a little bit worried that ordering cheap dresses online would mean they'd be squished and really wrinkled. But that wasn't the case.
Although you do definitely need to steam the dresses before wearing them, they weren't badly creased, and are made of thick, decent-enough material that the tight packaging didn't have a bad effect on them.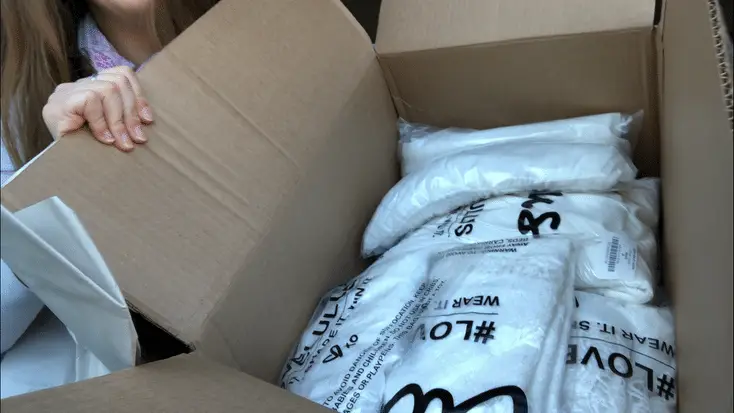 I really love looking at this picture (above) because all 8 of these wedding dresses together cost less than the total average amount that most brides spend on their wedding dress. The average amount spent on wedding dresses is $1,100 (according to Fox Business) or $1,700 average (according to a 2019 Wedding Wire Report).
You could buy a dress for under $100, do alterations, and it would still be cheaper than the average. That just blows my mind. Here's a closer look at the plastic package that the dresses came in: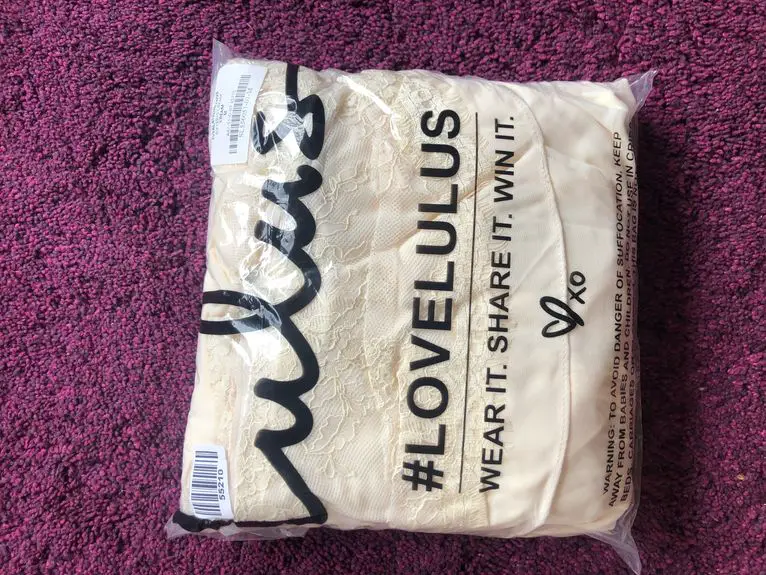 Sizing and Measurements
Measurements: I'm 5'7″, probably 140 lb-ish, and a 36-C cup size. I bought a Medium in every dress.
Lulus also has a lot of self-submitted customer photos on their website, which is convenient while shopping for a particular dress. You can see people with all different body types and measurements wearing the dress you're interested in getting.
Undergarments to Wear
Some of these dresses are a bit sheer so I would recommend wearing underwear that matches your skin tone. And for the tighter, body-clinging ones, probably a thong will be necessary. I didn't wear one for this try-on and I have some underwear lines going on in some of my photos!
---
Trying on Affordable Wedding Dresses
So I took the dresses all out of their packaging and tried them right on! If you end up buying dresses to try them on at home with the intent to return some of them, be careful not to remove the tags on accident (or you won't be able to return them!).
My very nice partner took photos of me in all 8 dresses! Haha… he's the best. I must say though that we aren't professional photographers (and I'm definitely no model!) so apologies for the iPhone pictures you're about to see! Hopefully despite all that, these photos give you an idea of what these dresses look like on a normal person!
Here are the 8 dresses I tried on… If you're don't have much time, skip to #7 — my personal favorite!
Dress #1: IN DREAMS WHITE LONG SLEEVE LACE MAXI DRESS
Price: $82.00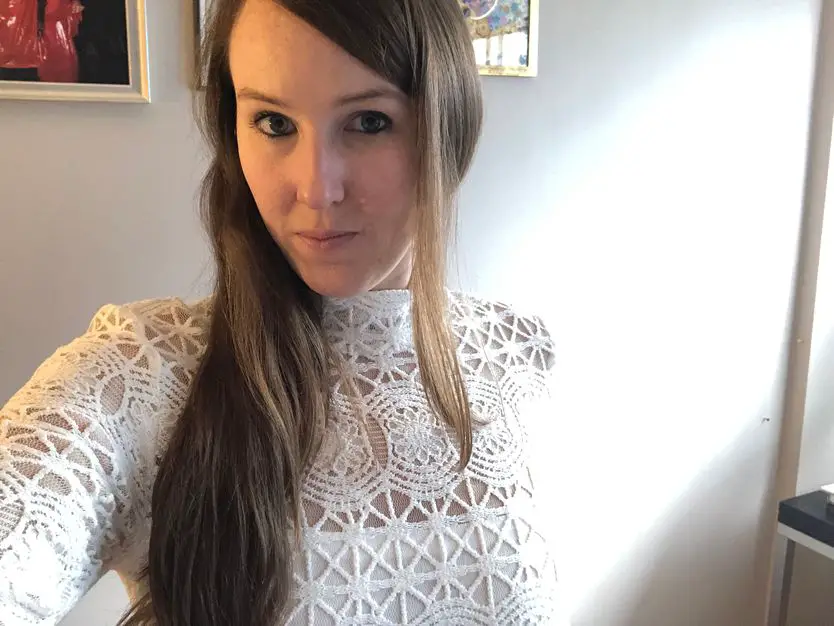 You may see some similarities in the dresses that I chose! Most of them are lacy and boho-esque because that's just the style I personally really like in wedding dresses. But there are other styles available on Lulu's (strapless, spaghetti strap, halter, cap-sleeve, etc.), and there are other price ranges as well, if you want to pay a bit more. But for this post, I kept all dresses under the $100 mark.
This first dress, the In Dreams White Long Sleeve Lace Maxi Dress at $82 is really lovely. It's thick, and "substantial" feeling. The top part is so gorgeous and has a really unique pattern. I think if you're looking for something conservative, but not boring, this is a really cool option.
I also haven't seen many wedding dresses with turtlenecks or mock turtlenecks, and I love this so much. It reminds me of late 70s hippie brides such as the 1979 photo of Shaun and Ann Cassidy's wedding (a look I am obsessed with).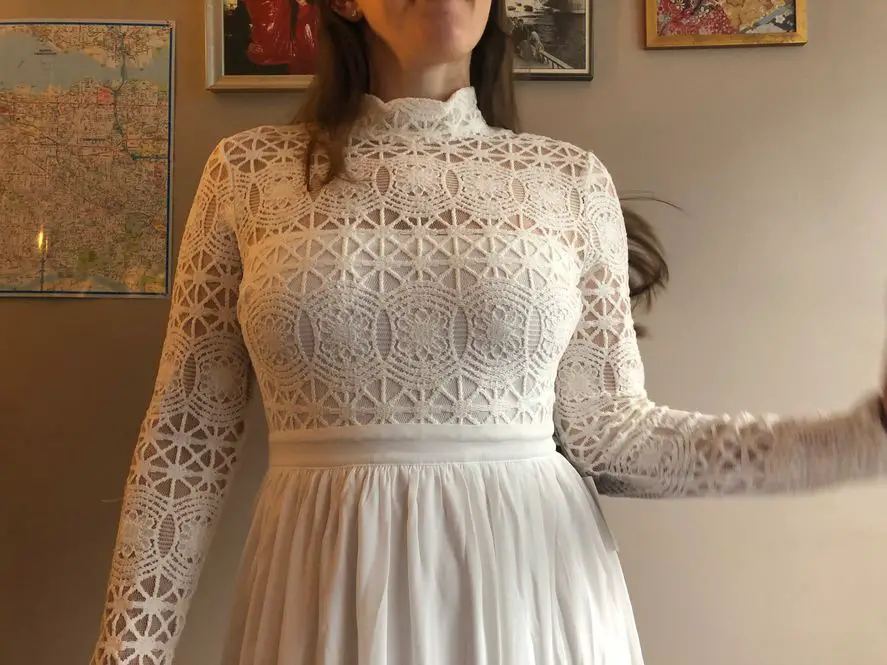 The bottom part of the dress is a basic chiffon maxi skirt with a slit. I think Lulu's is able to make some of these dresses affordable because they pair simple bottoms with more intricate, detailed tops.
The skirt felt very flowy, "twirly" and fun. It would definitely need some steaming — it's pretty wrinkly out of the box, as you can see. However, I don't actually think this one would need any alterations (for me). I felt really good and comfortable in it as is. The sleeves were a perfect length for me.
The skirt length was good for me too, with about a couple of inches of fabric 'dragging' which is perfect for wearing heels (or not… just leaving a bit of a train and wearing flats would work too).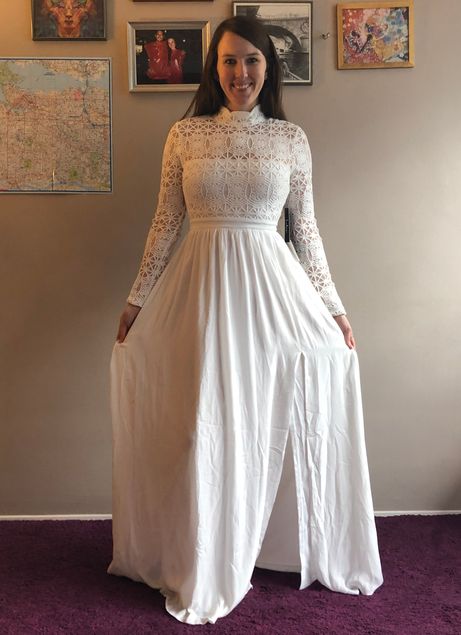 The back of the top part is also really pretty. If you're having an outdoor wedding that may get cool at night (such as mine, which will be in a field in Quebec, Canada), this could be a good option for you to keep you warm!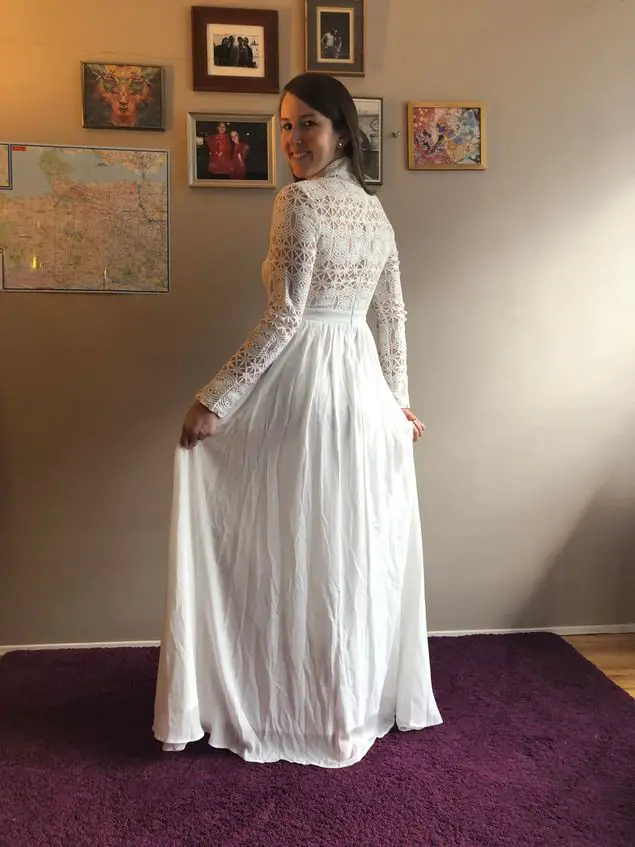 Overall, I found this to be a really pretty choice and very much my own personal style preference. I wanted to keep this one on!
---
Dress #2: GRAND BEAUTY WHITE RUFFLED ONE-SHOULDER MERMAID MAXI DRESS
Price: $82.00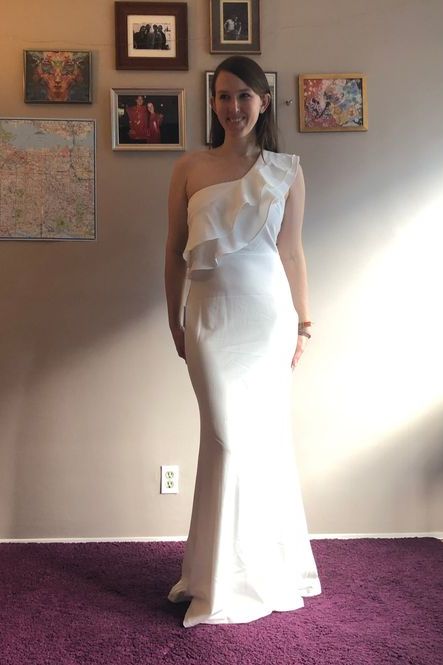 Now, on a completely different note, this is the Grand Beauty White Ruffled One-Shoulder Mermaid Maxi Dress at $82...
This one was my least favorite, not because of the dress itself but just because I didn't love the way it looked on me (and clung to me), and I didn't feel super comfortable in it. It's one of those that outlines and highlights your gut whiiiich just doesn't make me feel all that cute, personally!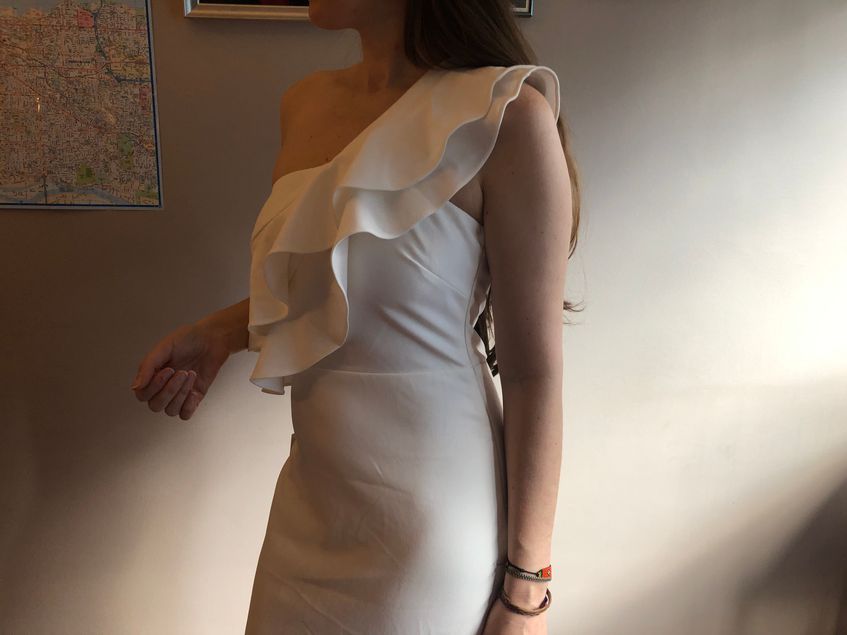 It's a mermaid silhouette, and very classy-looking (on the right person). It's made out of a thick shiny material. I liked that it was different for a wedding dress– not your typical fluffy princess look, but more mature-looking.
The simplicity of it would be great for many people, but for me, someone who really loves lace details, it's a bit tooo simple. Although the ruffly part in the front is really fun.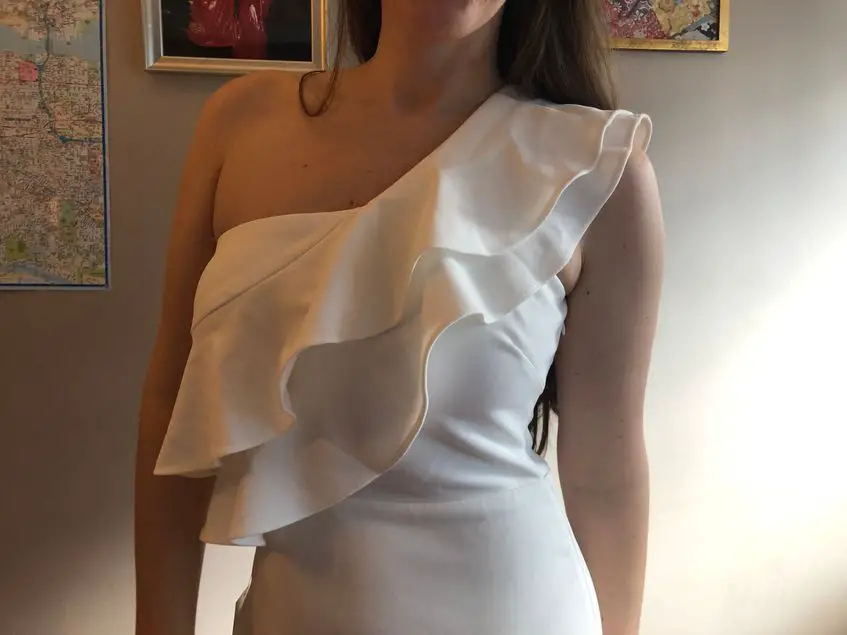 It's shaped to your body and shows off curves, which I guess is sort of the whole point of a mermaid dress. It also hit the floor with a couple of extra inches, leaving space for me to wear heels.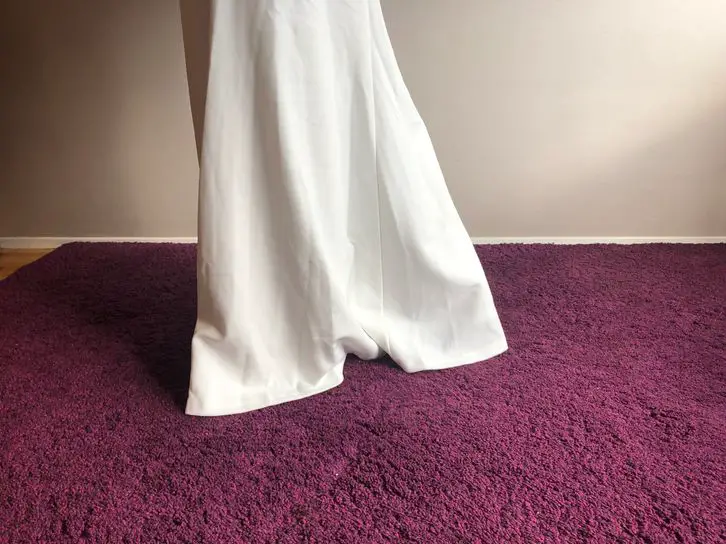 If you want a clingy, simple dress with a bit of interesting detail, that shows off your curves, this might be the one for you!
---
Dress #3: FARIDA WHITE LACE LONG SLEEVE MAXI DRESS
Price: $84.00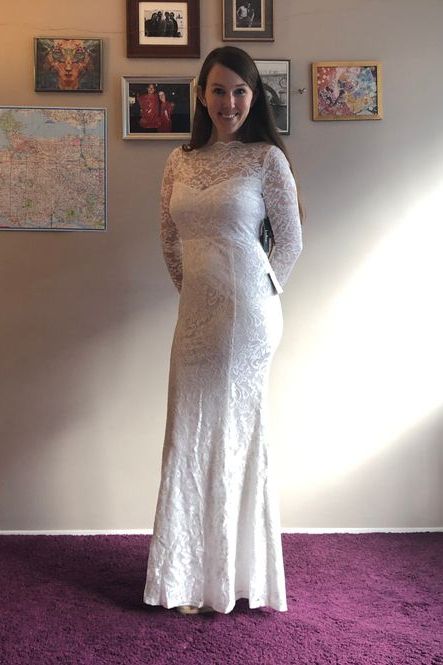 I liked the $84 Farida White Lace Long Sleeve Maxi Dress a lot more than I thought I would. I didn't expect to love it, just because it's a mermaid dress and I'm not usually that into mermaid silhouettes.
But I found it so romantic and lovely, and the lace gorgeous: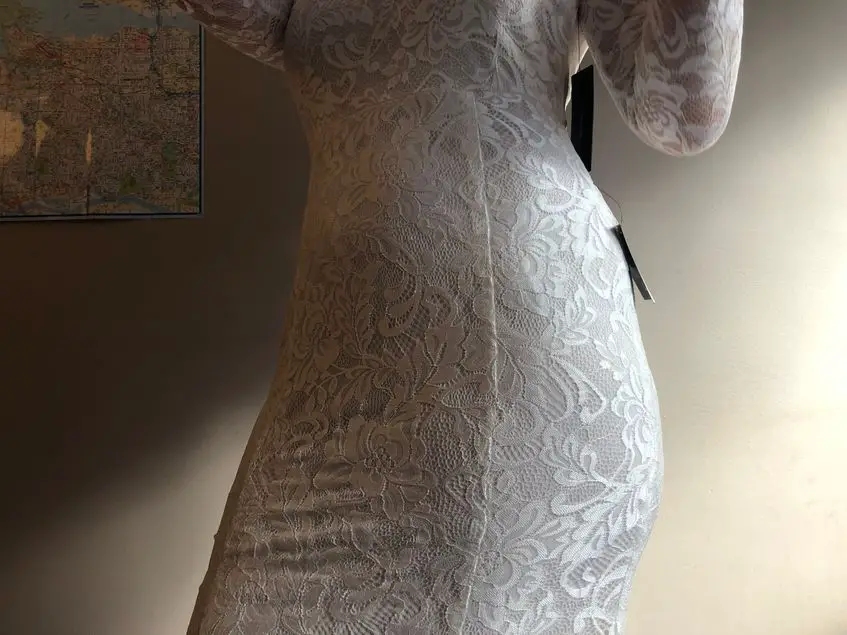 Being a mermaid dress, it hugs your curves.
I wore 4-inch wedges to test the length, and the dress is lifted off the floor by a couple of inches: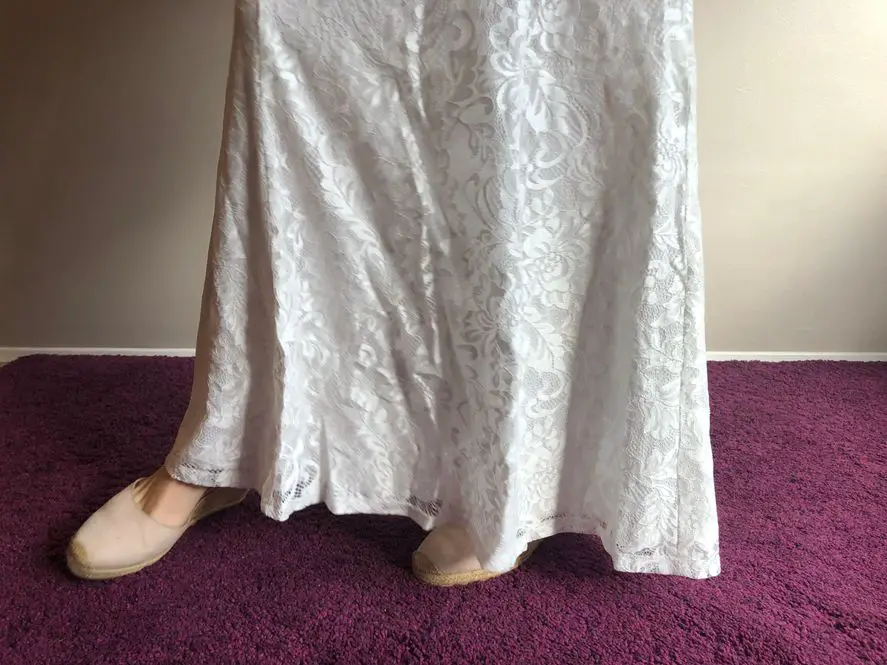 The combination of the sweetheart bodice and the lace bateau neckline is also really, really pretty: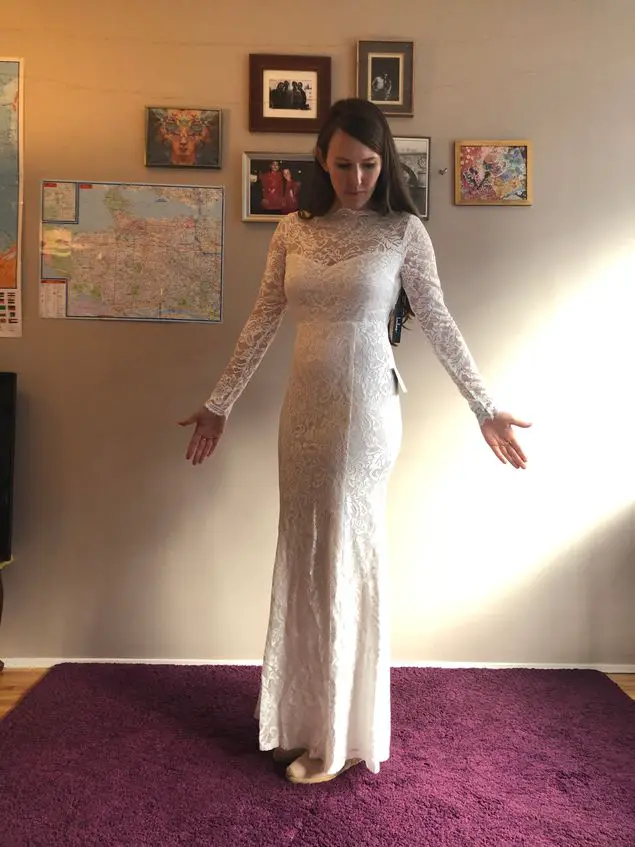 Here you can see the back and more of the lace sleeve detail. I love it (!):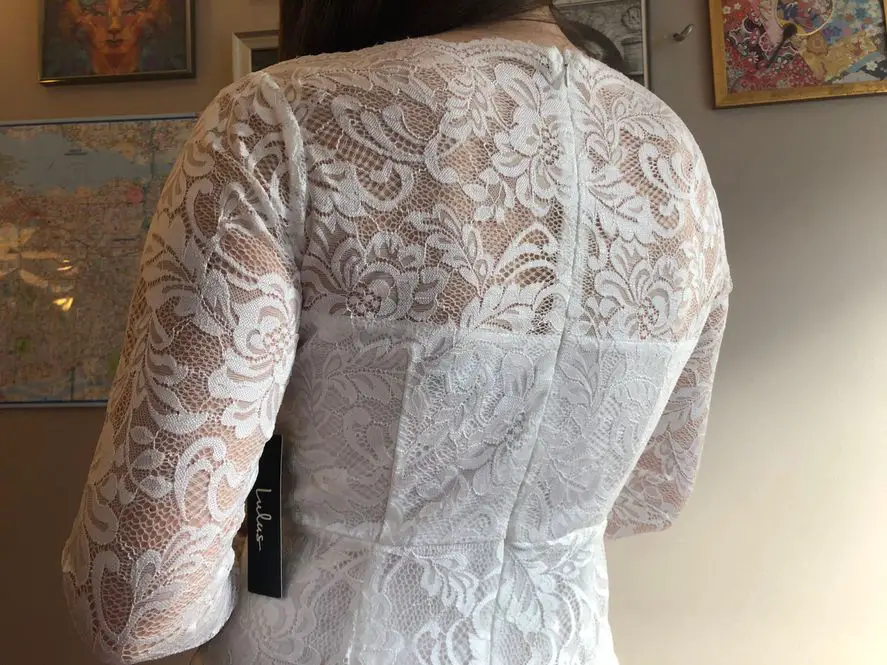 ---
Dress #4: ALWAYS BY MY SIDE IVORY LACE LONG SLEEVE MAXI DRESS
Price: $99.00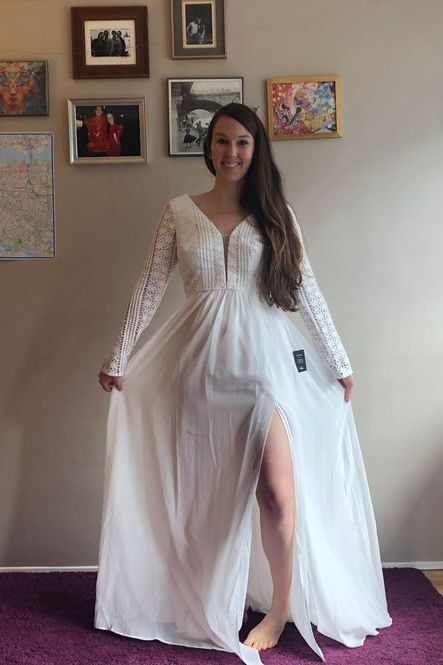 As the most expensive dress of the bunch at $99, I was a little bit disappointed with the way the Always By My Side Ivory Lace Long Sleeve Maxi Dress fit me… although there were some things I really loved about it.
What I didn't like was how one sleeve was sort of twisted, and I couldn't seem to get it adjusted to match the pattern of the other sleeve. So you can see in the photo above, on the right side, the sleeve pattern goes straight down my arm, while on the left, the design twists all the way down.
You can sort of see it happening here as well: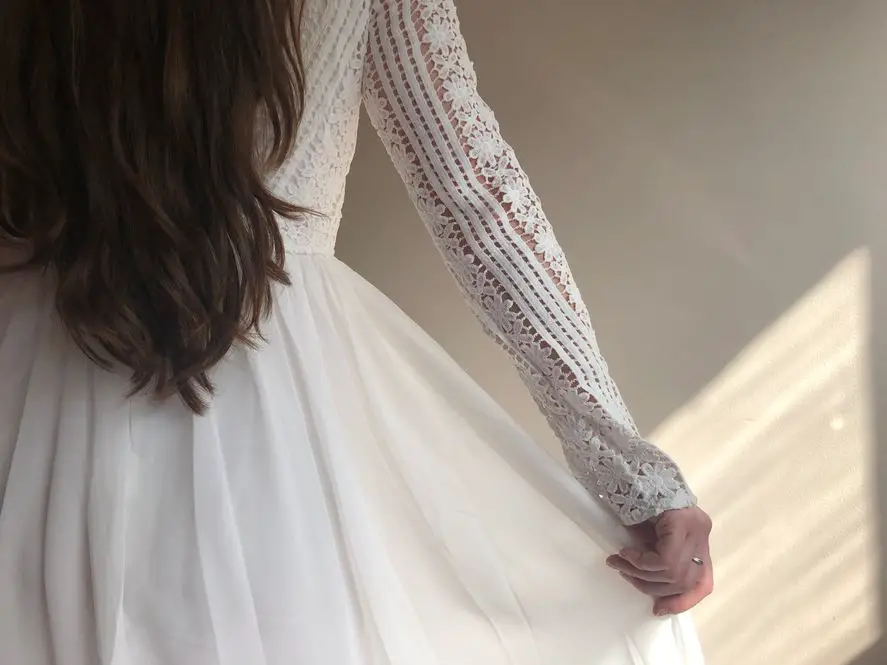 But that might jut be something I needed to play with a bit more or could fix easily with a steamstress (?).
Because on the other hand, what I love about this dress is this particular sleeve pattern! I think it's really beautiful and unique. I love the juxtaposition of the daisies and the stripes going down the arm: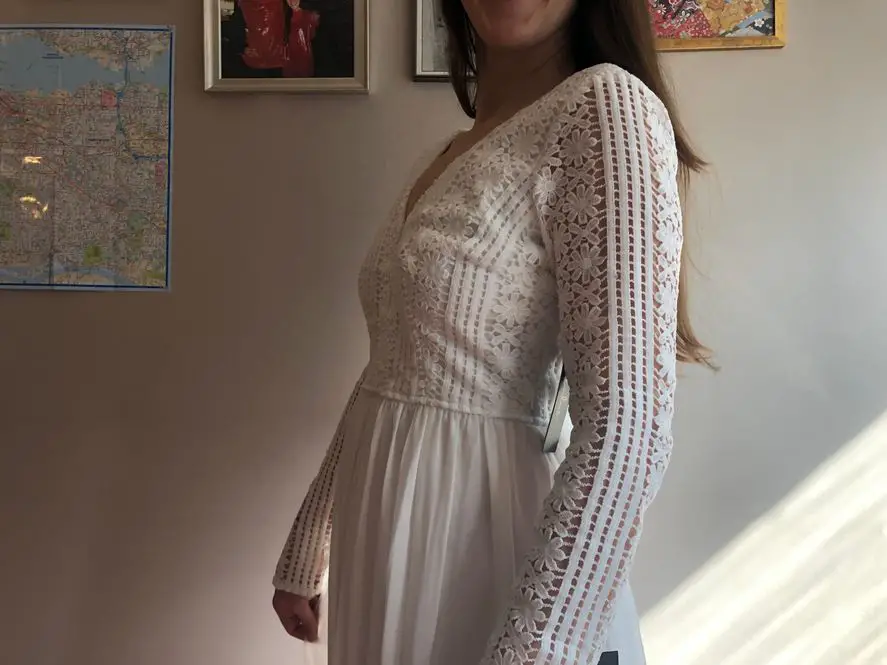 I also really like the transparent open piece detail thing in the middle of the chest.
Ultimately, my problem with this dress was that I would need serious alterations to the top to make it work for me. My boobs didn't fill out the top correctly so I had a slouchy, extra material thing going on: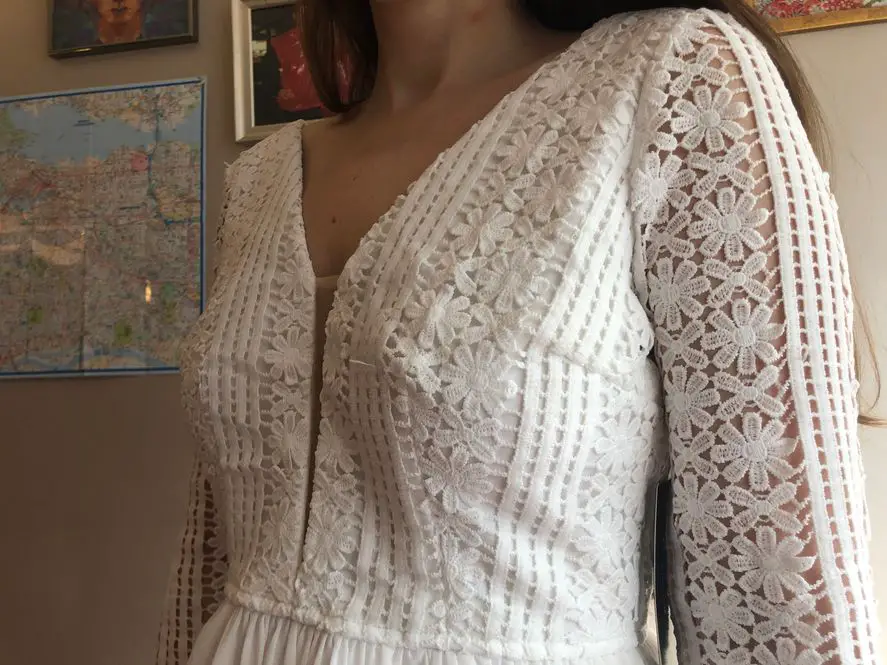 Still, super pretty lace design… impressive for less than a hundred bucks: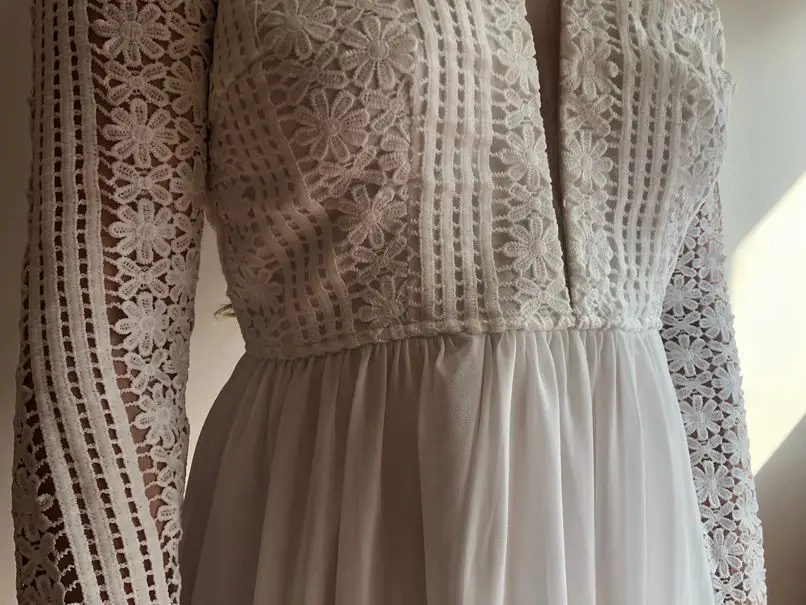 ---
Dress #5: REMARKABLE WHITE LACE DRESS
Price: $59.00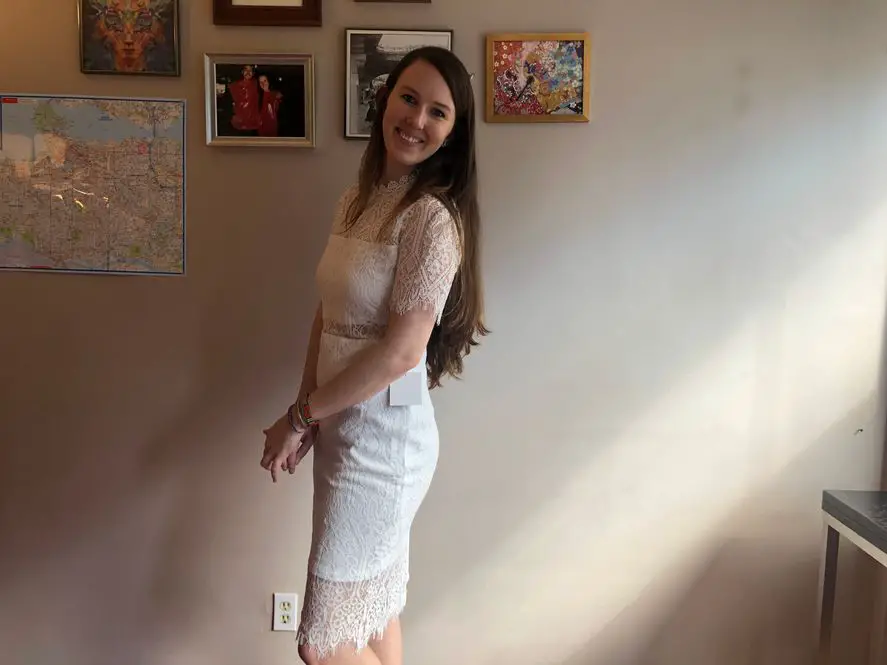 This is one of the cheapest dresses I bought at $59, the Remarkable White Lace Dress which I considered wearing to either our rehearsal dinner/night-before-the-wedding hangout OR for a casual pre-wedding party we're throwing a month before our wedding.
It's short which makes you think 'casual' but lacy which makes you think 'classy'… Also it's got a midriff detail but still manages to stay quite conservative… it's kind of the best of all worlds, and I really like this one.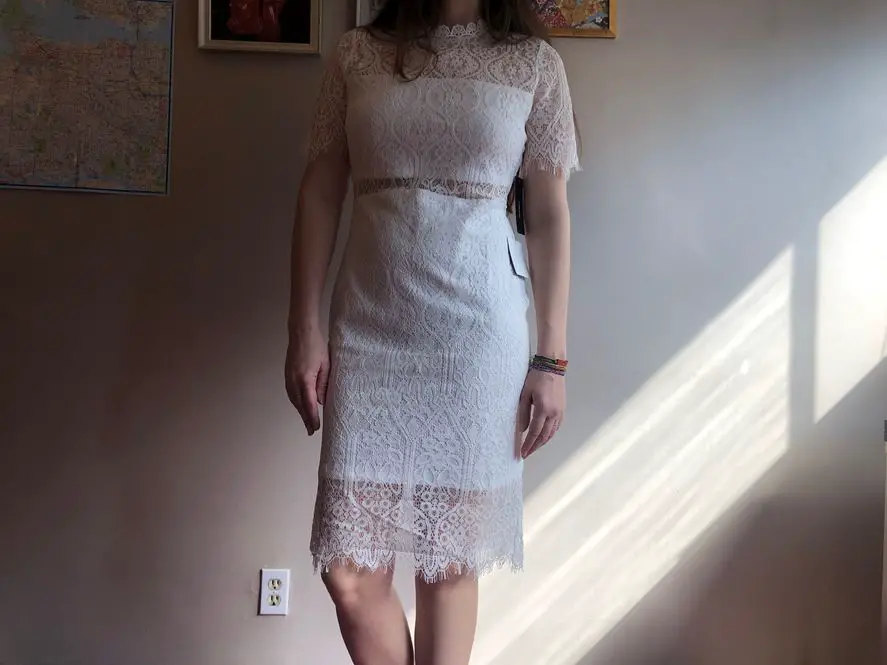 I really love the delicate lace detail and overlay on the white: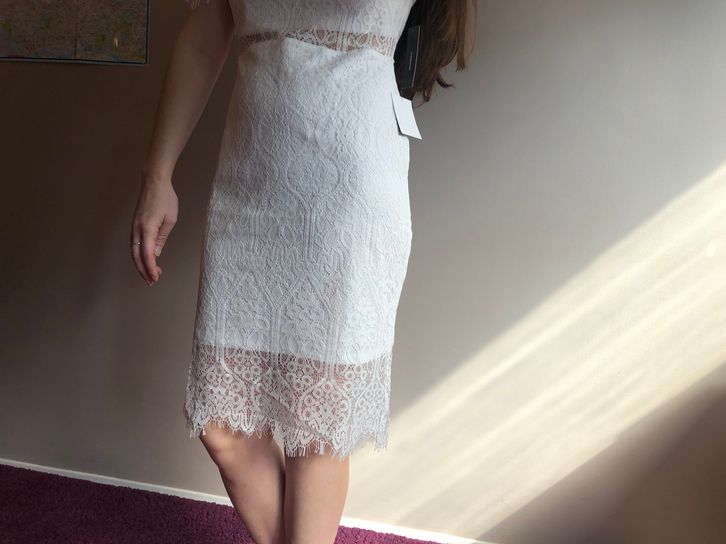 And here's the back: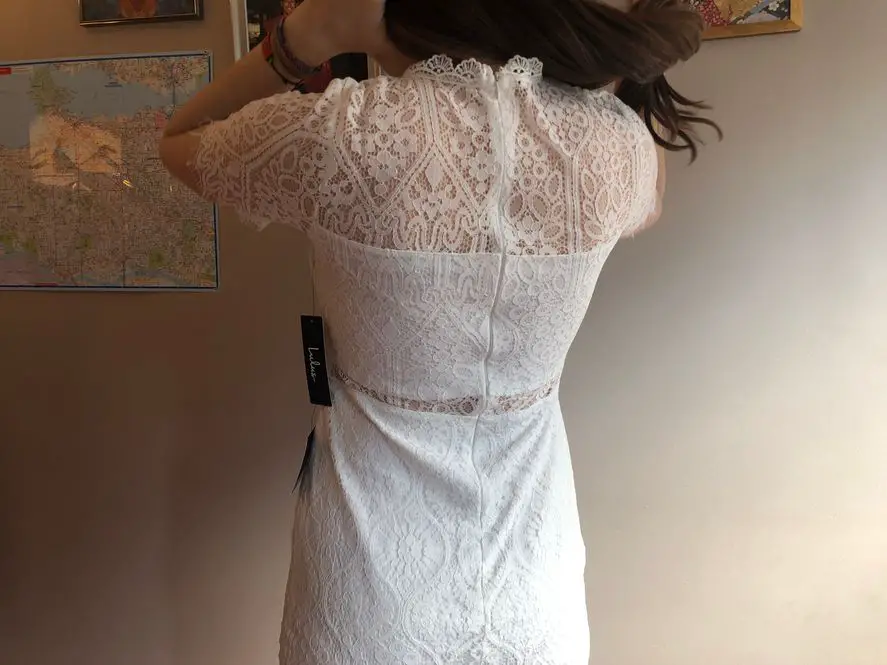 I think this one is perfect for a more laid-back wedding. I didn't wear a bra when I tried it on, which maaaybe I could get away with… but I'd probably end up wearing a strapless just to feel more comfortable.
---
Dress #6: MOONLIT PATH WHITE SMOCKED LONG SLEEVE MIDI DRESS
Price: $59.00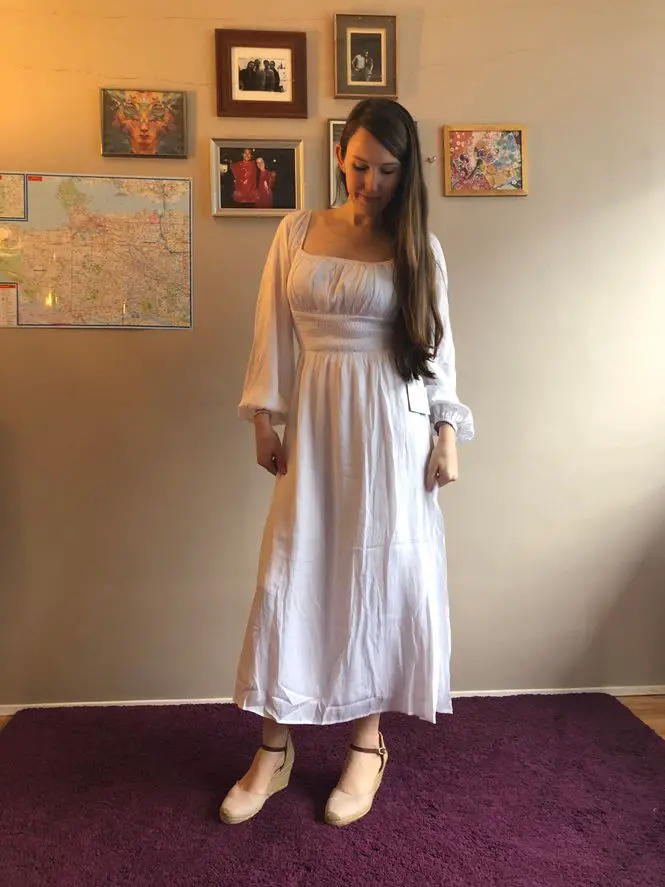 The Moonlit Path White Smocked Long Sleeve Midi Dress is $59. It reminded me of an undergarment for a renaissance costume… which for me is actually a good thing because I love flowy. hippie dresses, but it's definitely not the look that most people are going for on their wedding day. It's also pretty thin and wrinkly out of the box: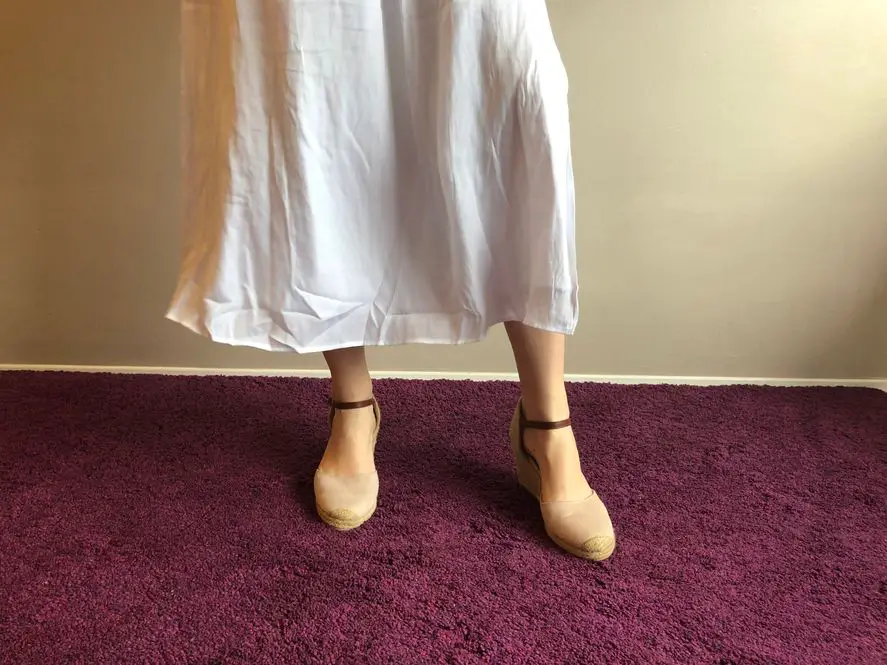 So I feel conflicted writing about this one, because it's a dress I felt so comfortable and romantic in, but I'm just not sure that it's really the best wedding dress.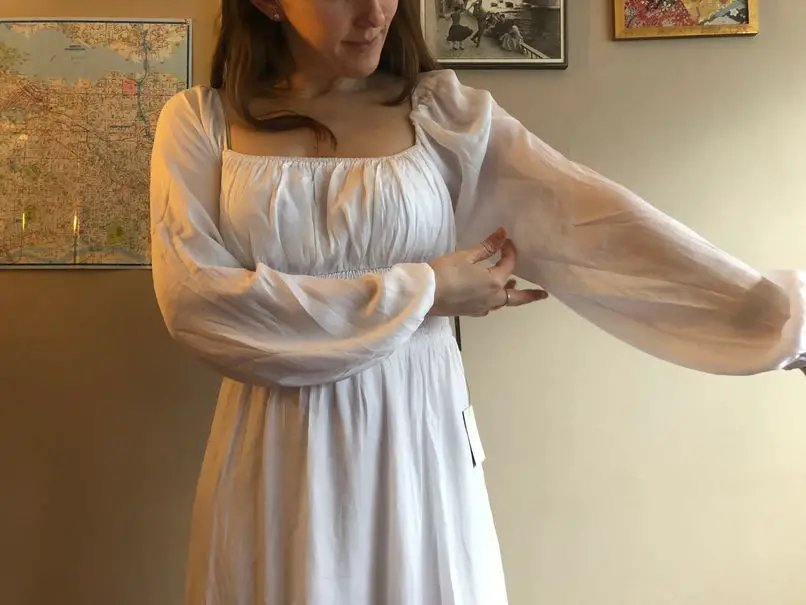 ---
Dress #7: AWAKEN MY LOVE WHITE LONG SLEEVE LACE MAXI DRESS
Price: $86.00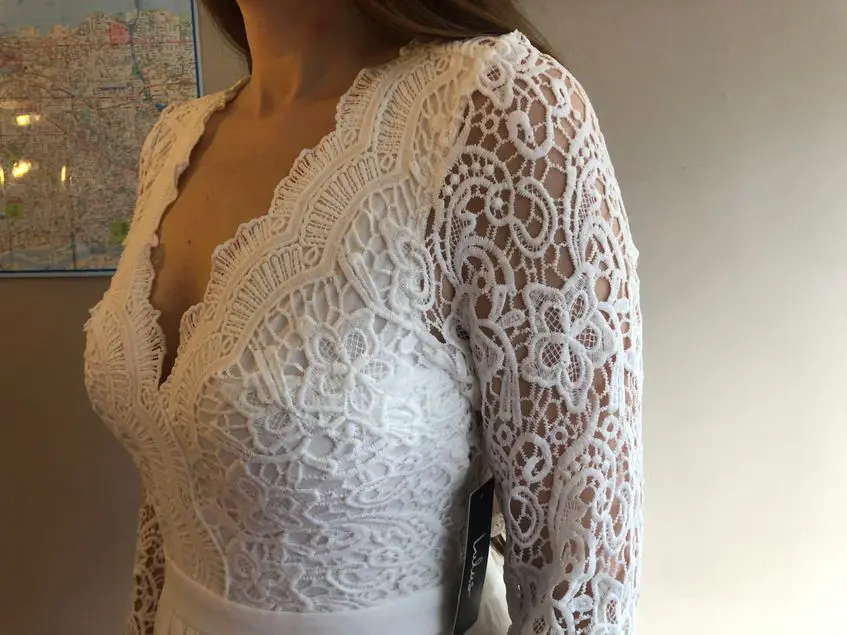 Sooo this one, the Awaken My Love White Long Sleeve Lace Maxi Dress at $86 was my favorite of the 8 I tried on! I felt like it fit really well and was flattering, and that it would be flattering on a lot of different body types.
I found the lace sleeves so gorgeous: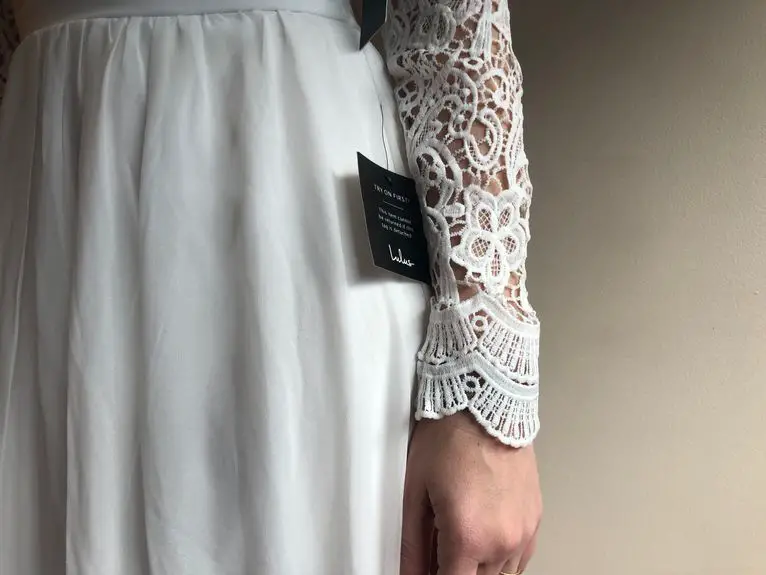 Also, the back is really unique and romantic. I really love the back: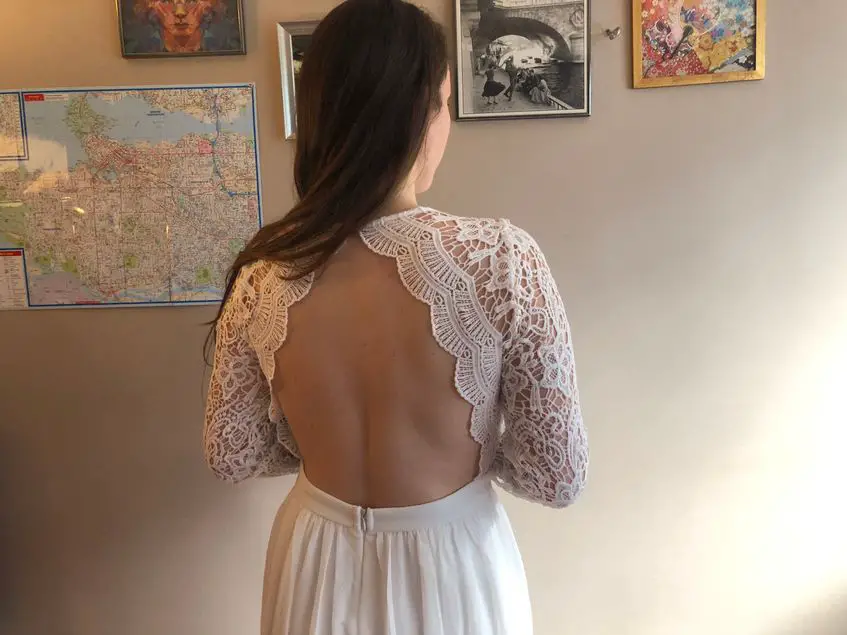 You couldn't wear a bra with this, but for me, I felt like there was enough structure in the front for my medium-ish sized-boobs. Not wearing shoes, the dress drags maybe 2-3 inches on the floor: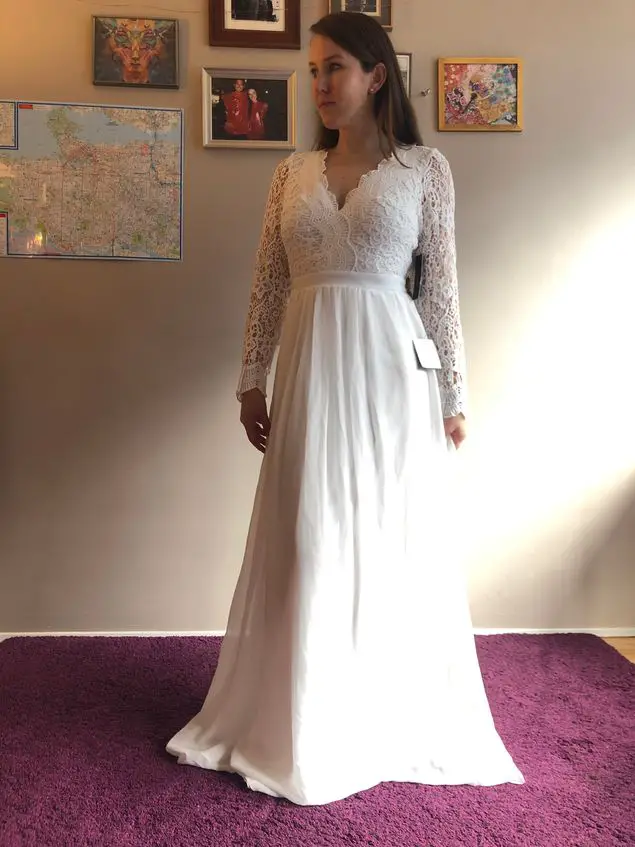 ---
Dress #8: EVERLASTING LOVE CREAM LACE OFF-THE-SHOULDER MAXI DRESS
Price: $95.00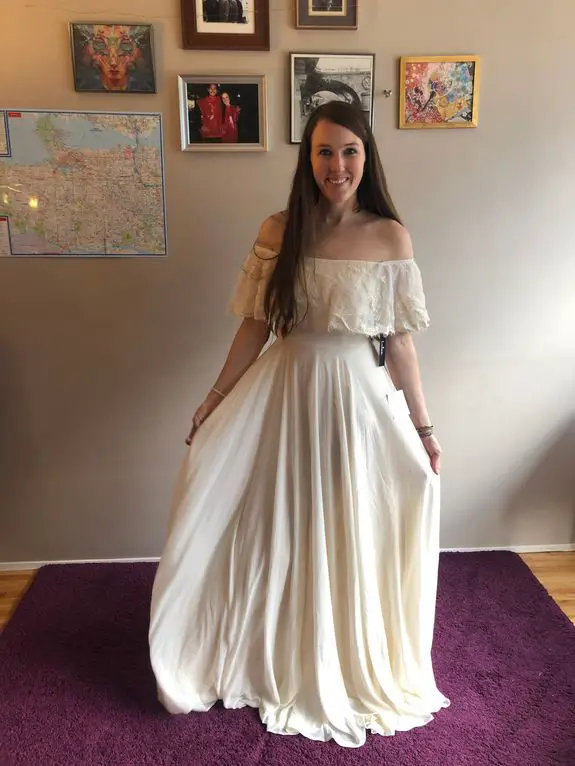 The Everlasting Love Cream Lace Off-the-Shoulder Maxi Dress is a $95 dress that, unlike all the others, is more of a creamy color… more yellow-y or ivory (compared to all the others which are white-white).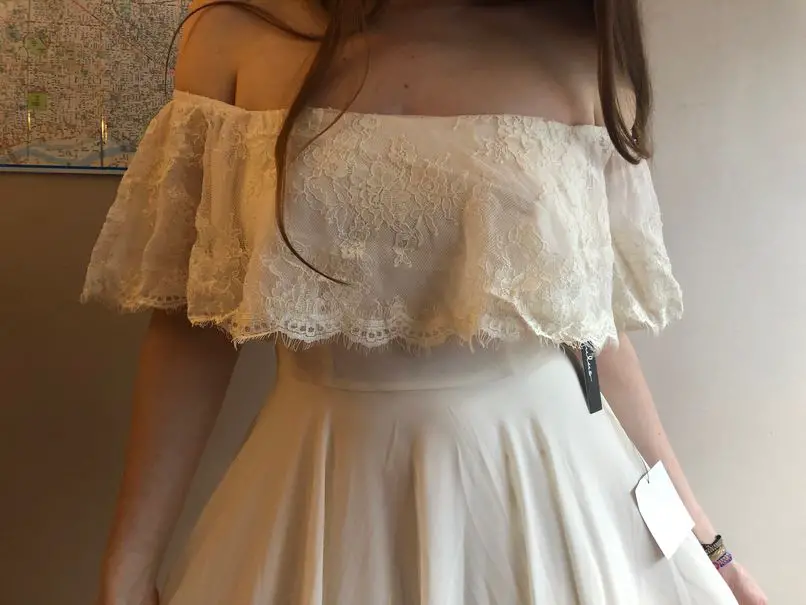 As you can see, the top part is pretty wrinkled so that would need to be steamed. But overall, I loved this dress and found it quite "dreamy."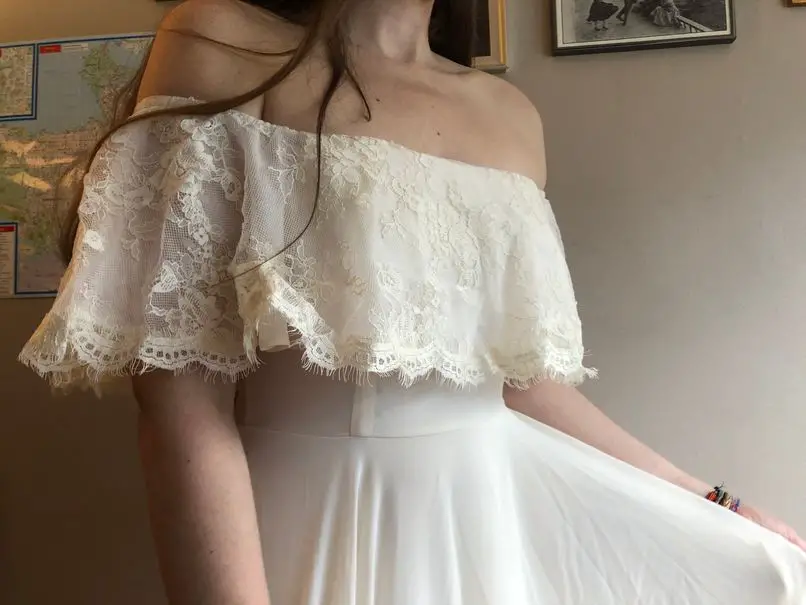 It's heavy and the skirt is soooo flowy with lots of fabric. It was a lot of fun to spin around in! Without shoes on, it pooled on the floor (maybe 3-4 extra inches).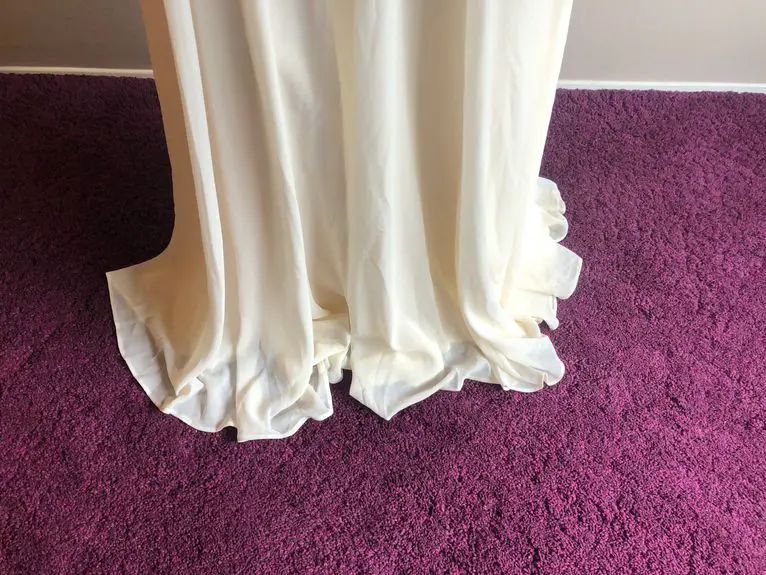 Off-the-shoulder dresses can be kind of annoying to wear all night (you know, not being able to put your arms up and all that!) but I really love them. And I love the off-white color so much. For me, it's the skirt that makes this dress. It's weight just made me want to twirl around and around…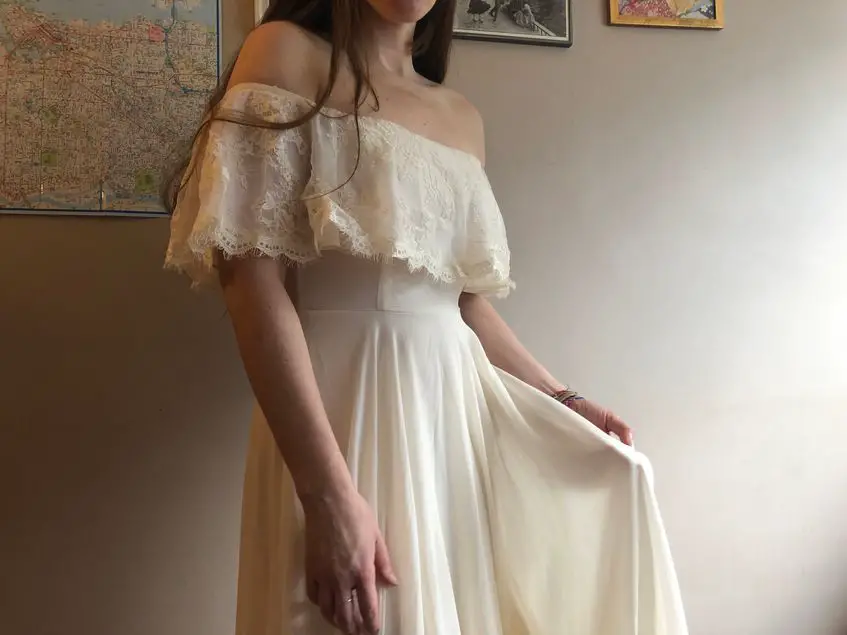 ---
My Lulus Shipping & Customer Service Experience
I have to warn anyone living outside the U.S. that you may have some unexpected duties and taxes to pay on your package when it arrives! I didn't read that information closely on the website… And because I currently live in Canada, I had a $112 (Canadian dollars) bill to pay the post office when my box arrived. Yikes.
I initially emailed Lulus customer service because I thought it was an extra shipping fee and a mistake. They wrote me back right away (like in 15 minutes) and explained that it was an international taxes and duties fee, and they apologized that I hadn't realized that before ordering. It is on their website — I just didn't look closely enough. So just be aware of that!
How long does it take to get your Lulus package? Three days after I ordered, the package was sent, and then a little over two weeks later the box arrived here. So, not bad at all for an international delivery. I imagine delivery within the States is much faster though.
Lulus Return Policy
Of course, I can't wear a bunch of dresses to my wedding, so I will be returning these! Or at least most of them. Lulus does have a return policy. If you're in the U.S., Lulus policy is this:
"Returns postmarked within 10 days from delivery qualify for free return shipping. Don't care about free return shipping? Return up to 30 days from your delivery date with only a $7 return fee- we'll just deduct it from your refund!"
If you're in Canada, you can return your order within 45 days of delivery by placing your original packing slip or a piece of paper with your order number written on it inside your package and then sending it to:
Lulus.com Returns
2336 Park Ave
Chico, CA 95928
USA
More Alternatives for Affordable Wedding Dresses
In addition to Lulu's, there are other inexpensive wedding dress alternatives out there! This includes:
Blushfashion which has dresses in the roughly $100 – 400 range. I ordered a dress from here and am excitedly waiting for it's arrival! They have a lot of lace and boho-style 'romantic' wedding dresses:
Cocomelody also has really beautiful wedding dresses that are a bit more expensive, although they start at around $300+ and most are still cheaper than the average!
---
That's it! I hope this post helped guide you a bit and made it easier for you to choose your wedding dress. I would always recommend staying within your budget and not feeling pressured to buy an expensive wedding dress that's going to stress you out! Good luck 🙂
Some other posts of mine that may be helpful to you include:
Here's my YouTube video of the try-on 🙂 too:
---