There are many companies offering a selection of so-called "boho" or "Bohemian" -style wedding dresses, and this list reveals the MOST affordable of these places that I have been able to find in my research.
For a relaxed, outdoor, or laid back ceremony, this is really the perfect bridal look. Boho styles are romantic, soft, and sometimes even dramatic. For me personally, ethical and eco-friendly wedding dress manufacturing is also important, and although not all companies listed here are green, I have tried to fill it with a majority of designers that support these values.
This list features boho wedding dresses that are affordable at any price point, for the laid back bride not looking to break the bank for that gorgeous romantic look (like myself!). I've listed a cost approximation for many of the dresses, but be sure to check out their respective websites for the latest and most precise prices.
I hope you'll be successful finding "the one"!
WORD OF WARNING: When I was searching for affordable boho wedding dresses online, I came across many scammy, shady websites with little to no available information about the companies or their origins. The dresses were very cheap and looked beautiful in the photos but without proof of the company's reputation, third-party reviews on an unbiased website, or real-life experience buying from that company, don't do it! Don't be fooled by the low prices that seem to good to be true. They usually are.
---
11 Best Places to Shop for Affordable
Boho Wedding Dresses
Blush Fashion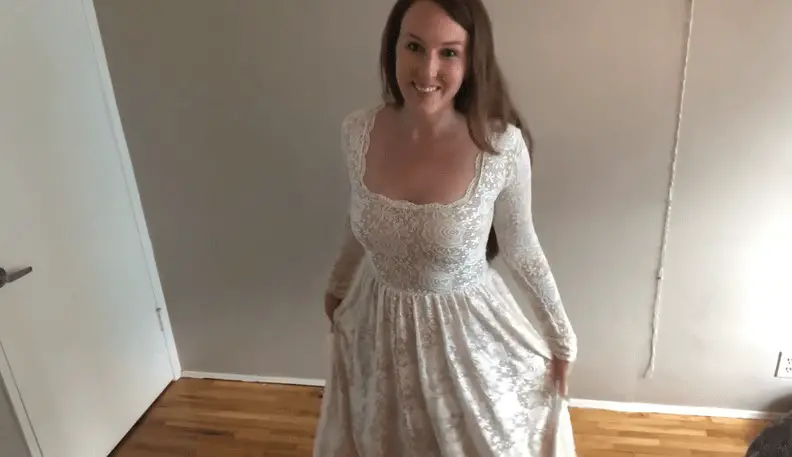 Price range: Approx $200-$400
One of my favorites for this list is Blushfashion, which is also an eco-friendly and ethical fair trade company. They offer a range of affordable, lacey and romantic boho options. Many of their dresses have sleeves AND EVEN POCKETS! Can you believe it?! Pockets!
I love their small-company, client-centered philosophy and just think their dresses are gorgeous and so amazing at this price point.
---
Lulus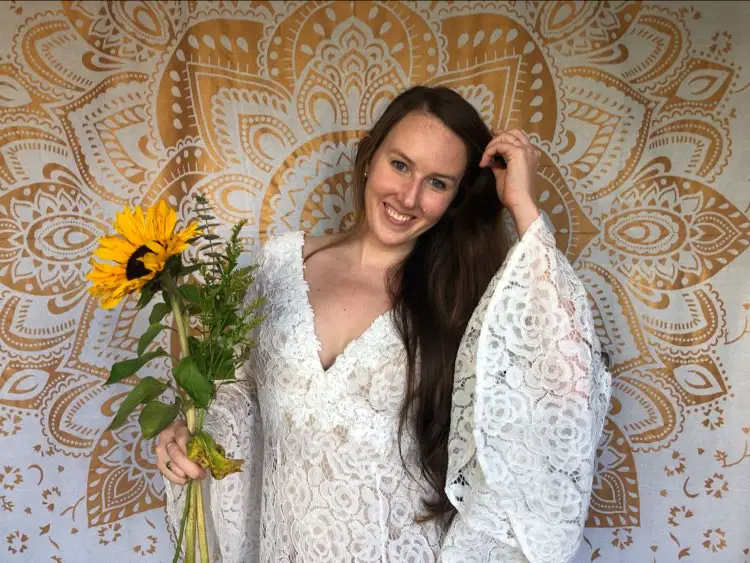 Price range: Approx $40 – $300
Lulus is a popular clothing line based in California (that ships all over the world) with a bridal line that is extremely cheap. There are literally full-length wedding gowns listed on their site for $68 USD.
In addition to many others, they have some very cute boho dresses available at super low prices.
Also be sure to check out my review of Lulu's wedding dresses under $100. I tried on 8 dresses and really liked all but 2! I put tons of photos + my thoughts of each dress in this post.
---
Reformation
Price range: Approx $460 – $810
Reformation is an eco-friendly and sustainable clothing line with a small collection of beautiful, highly-reviewed bridal (and bridesmaid) gowns.
They're also unique and not exactly the same silhouettes you see on every other bridal shop website.
I think their philosophy and ethical practices truly embody the "boho" spirit many brides are looking to promote on their wedding day.
---
Nordstrom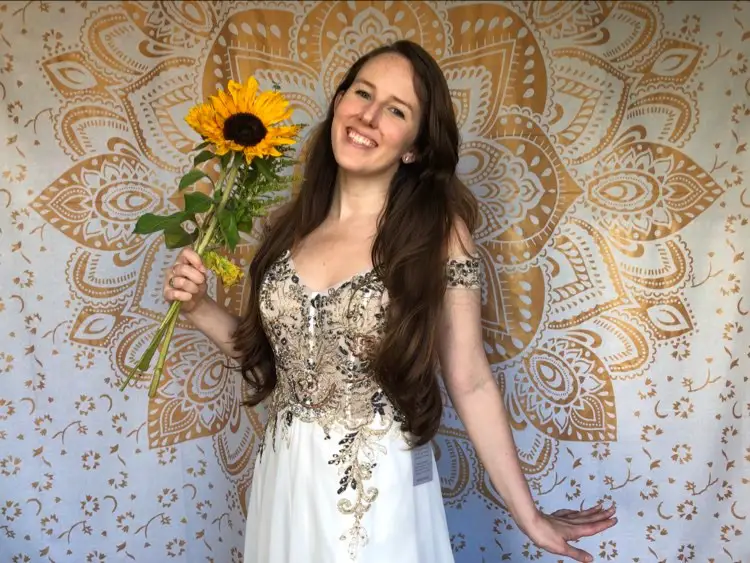 Price range: Approx $280+
Nordstrom is a well-known brand with reliable customer service and dress sizes – important factors when wedding dress shopping!
They also, surprisingly, have a few affordable boho styles available for purchase online. Check out their website and decide for yourself.
---
ASOS
Price range: Approx $95 – $180
ASOS is an ethical and fair trade company based in the UK. Their bridal line features very affordable gowns, some of which are boho chic material.
As far as fair trade and sustainable wedding dresses go, you can't do much better than these prices.
---
Etsy
Price range: All
I've mentioned Etsy and this seller on this site before because I think their dresses are lovely, but they are on the pricier side (for me).
There are many other boho dresses available on Etsy with affordable price tags and you can choose to sort by price for whatever range is in your budget.
---
Nearly Newlywed
Price range: All
Okay, this one is a little bit more unusual, and like Etsy, it requires a bit of shopping around and interacting with merchants that are really just normal people.
Nearly Newlywed lets brides resell their designer dresses, but for way less than their original price because they have been worn.
And by "worn," they have been worn for a few hours on someone else's wedding day, and then cleaned. So, basically a brand new designer gown for a fourth or a fifth of the sticker price.
You'll have to do some searching but there's a decent chance you'll find the designer boho dresses you've been looking at in bridal magazines from previous seasons, marked waaay way down.
SHOP NEARLY NEWLYWED BOHO DRESSES
---
Show Me Your Mumu
Price range: Approx $78 – $248
Show Me Your Mumu is a company selling a whole heck of a lot more than mumus.
They also have tons of very affordable bridesmaid dresses that look like wedding gowns and wedding gowns! Boho styles reign supreme. Good luck deciding though, they are all so so cute…
---
Amazon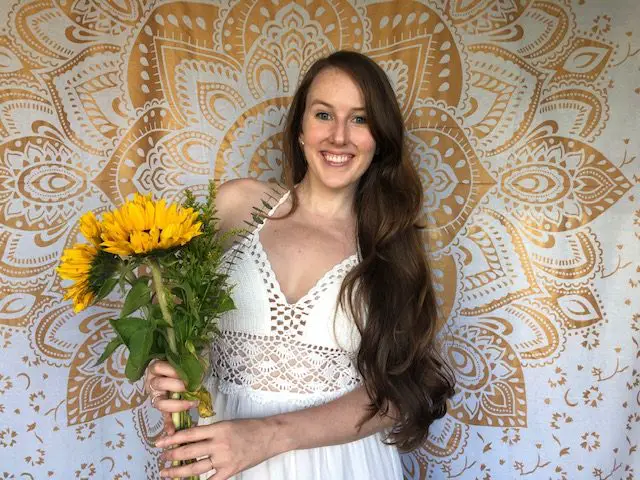 Price range: $30+
Really! Some brides have been successful in buying cheap wedding gowns on Amazon. Simply do a search for the parameters you're interested in, such as "long white boho dress."
I would say that you have to plan on possibly getting alterations done if you go for this option, which takes time (usually a few months at least) and tacks on at least a couple hundred dollars to the overall price.
That said, there are some very cheap dresses on Amazon! If you know a decently-priced seamstress (or you're handy at alterations yourself), this could be a very affordable option.
Check out the prices and options and weigh whether or not this will work for your wedding.
SHOP AMAZON BOHO WEDDING DRESSES NOW
---
Self-Portrait
Price range: Approx $340 – $750
Apparently Self-Portrait's ready wear dresses have been worn by a bunch of A-list celebrities and royals.
I don't know much about that, but I can see why they're popular. Their bridal line is highly unusual and may appeal to the off-beat boho bride. One of the pricier companies on this list, it's possibly also one of the most unique.
---
David's Bridal
Price range: Varies
I mention David's Bridal on this list simply because they are so prolific in the industry, with so many designs, that you are bound to find a boho dress in a price range you're comfortable with if you just do some searching around.
---
That's it! I hope we're all able to find the affordable boho dresses of our dreams!! Good luck out there 🙂