A recent report found that 72% of couples are opting for an open bar at their weddings, and we are planning on following suit! But we're also wondering: how much is an open bar going to cost us on our wedding day?
The average cost of an open bar at a wedding is $3,406. This is based on a 131-person guest list* at the typical price of $20/guest, and includes an added 15% for both taxes and services/gratuity. Although prices will vary among locations, this number gives couples a decent idea of what to expect. 
*average number of guests according to the 2020 WeddingWire Newlywed Report (Source).
Additionally, we saw the prices of beer and alcohol rise at the beginning of 2022 due to inflation, and couples must take that into consideration as we plan for our open bar costs. 
I don't know about you, but I think this is a pretty steep price to pay for an open bar, as important as I think open bars are to a wedding. And there are ways to do it so that it isn't as expensive as this. It just requires a bit of planning and asking around.
PRO-TIP: f you're going to DIY your open bar, remember to pick up some heavy duty, rustic stainless steel ice buckets with ice scoops from Amazon (as well as various other accessories) well in advance of the big day!
I'm going to talk more about how to save money on booze at your wedding and what you can expect to have to pay for when you agree to an open bar (including those pesky hidden/additional fees). If you're interested in checking out the best DIY bar accessories, you can find them by clicking here.
---
Cost of an Open Bar: Go Limited Bar or Full Bar?
Remember that a FULL open bar isn't your only option.
You can save money on your open bar by choosing to serve just beer and wine (no hard liquor), for example. I tend to think that it's better to have a limited bar than to make your guests pay for some or all of their drinks at your wedding (but that's just me).
Here are some cost options (approximated) for different types of open bars:
Limited beer choices and house wine (plus soda and juice): $15-$20 per person
Full bar with limited beer choices and house wine (plus soda and juice): $20-$35 per person
Full bar with premium brand liquor with domestic and imported beer choices and house wine: $35-$40 per person
Of course, prices will vary as well as options, depending on your venue. It also depends which city or region you live in, as alcohol in New York City will probably cost a lot more money than alcohol in a small town in a rural area.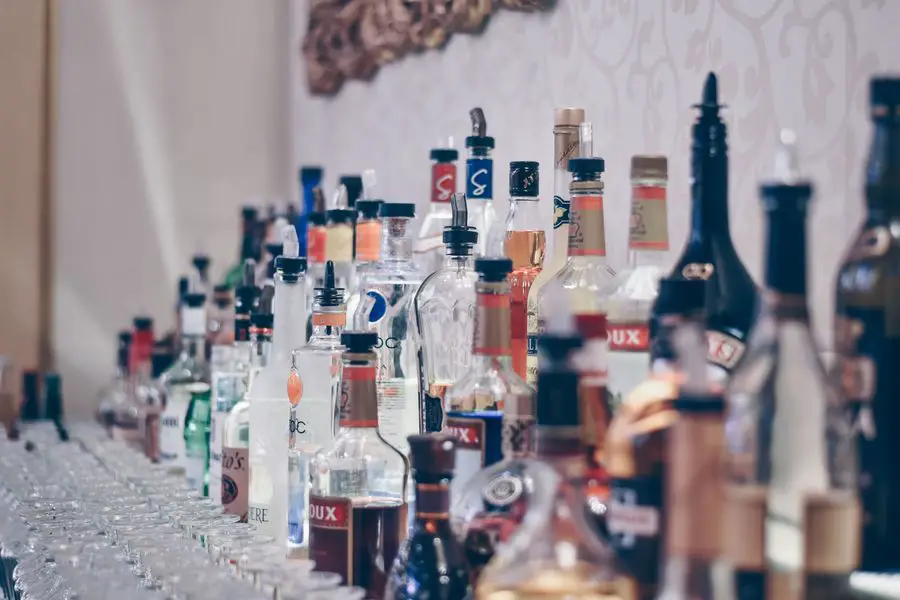 ---
Types of Pricing for Your Open Bar that are Venue-Dependent
The way that open bars are priced are very different from venue to venue, and you really need to check on how this is done before putting a payment down on a space. If you don't, you may end up paying way more than you budgeted for to get the open bar that you wanted.
First of all, venues usually charge either by consumption, which means that your guests drink, and then you're charged for exactly how much they drank at the end of the night; or the venue will charge a flat rate, which means just that: you're told to pay $2,000, for example and you pay that price no matter how much your guests drink.
I personally tend to feel more comfortable with a flat rate, but if you have a lot of guests who you don't think will drink very much, perhaps a consumption rate would end up being cheaper for you.
To calculate a consumption rate, check with your venue! Ask them to give you a calculation such as 2.5 drinks per person at $6.00 per drink. If you were to have the average 126 guests, at this rate the cost before taxes and fees would be $1,890.
With a consumption rate, you can mentally take out all non-drinkers, pregnant women, etc. from your guest list and get a general idea of what it will cost you. Some venues also offer you a maximum cap, so if your guests drink, say, $1,500 of booze and that's your cap, your guests have to start paying for drinks after that. You can let them know this in pre-wedding correspondence so that they know to bring cash with them.
To calculate an open bar flat rate, it varies by venue! Check with your venue to see what they charge for each tier of booze (limited and open bar). Some venues will charge one flat rate per person for the whole night. For example, $20 per person, period. And all guests are included in that price whether they are drinkers, pregnant, or not.
Some venues charge a flat rate per person PER HOUR. So for example, you may pay $5 an hour per person per hour of your event. Another venue may charge you $20 per person until a certain hour, and then $5 for each additional hour after that.
I have heard really (in my opinion) high, outrageous prices from pricey venues that charge in the ballpark of $35 per person for the first hour and then $15 per person for each additional hour!! That would add up to $95 per person for the entire wedding night, and cost a grand total (with the 2019 average of 126 wedding guests) of $11,970!! I can't even imagine paying this bill but many people do it!
---
Additional Costs of Having an Open Bar at Your Wedding
There are certain costs that you may not realize as you're calculating and budgeting for an open bar. Did you factor in the taxes? The gratuity (tips) and service charge for the bartenders? Don't forget these important costs!
If not, you could be surprised with hundreds of dollars added onto your bar bill, and that won't be fun at all.
Often taxes can be 15-20% depending on where you live, and gratuity the same. That means that if you have calculated $20 per person for 126 guests, you would need to add another $756 (for the case of 15% taxes and fees) for a grand total of $3,276! And for the same base price and number of guests, you'd have to add another $1,008 (for the case of 20% taxes and fees), for a grand total of $4,536! Yikes!
Some other fees that venues or caterers might add include a setup cost before the event ($20-$300), a corking fee for wine ($1-$15), and an hourly fee for the bartender ($20-$35).
The number of bartenders you'll need depends on your number of guests. You should have 1 bartender per 50 guests.
Don't be shy to ask about these additional fees (and any others) that the venue may add onto your bill. Get everything in writing and read your contract carefully before agreeing or paying for anything!
---
What Should Be Included?
Your venue should include certain items in your open bar flat rate or per head fee. Make sure the following items are included in your contract for an open bar:
Glasses or cups
Corkscrews
Bottle openers
Shakers
Ice
Ice tongs or scoop
Coolers
Ice buckets
Garnishes
Rags
Cocktail napkins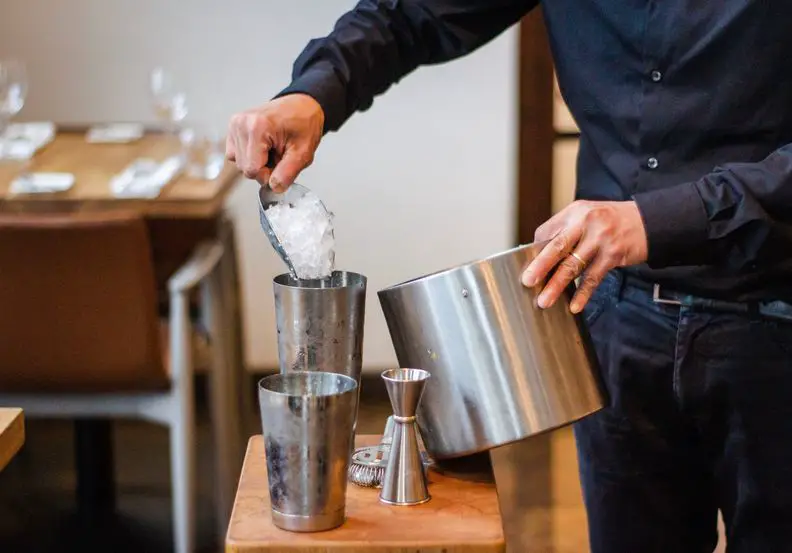 ---
Tips to Save Money on the Open Bar at Your Wedding
If these prices seem too steep for your budget, don't lose hope! There are ways to save money on an open bar at your wedding. You can take some of the following actions:
Ask if you can bring your own alcohol
Some venues allow you to bring your own alcohol and even your own bartender(s). If this is the case, you may need to get an alcohol permit – make sure to ask your venue. With this option, you can select cheap alcohol yourself, maybe from a wholesaler, and even opt for a keg. You can often RETURN unopened bottles and get your money back, which is another perk.
Replace the labels
If you can buy your own alcohol, try this trick: I heard of one couple buying bottom-shelf wine and replacing the labels with custom wedding labels so their wedding guests wouldn't feel like they were being cheap, and the bottles would look cute and fit their wedding theme!
Do a limited bar with drink tickets
Offer your guests 2-3 drink tickets each, and then they pay for any more after that. People who don't drink can give their tickets to others who want to drink more.
Ask if you can exclude any guests who won't drink
If your venue is charging you a flat rate per guest, ask if you can exclude pregnant guests, underage guests, or any others who don't or won't be drinking. It's worth asking!
---
How to DIY Stock Your Own Open Bar
If your venue allows you to bring your own alcohol, plan carefully to make sure you have enough for every guest all night. Try to buy from a place that will let you return whatever you don't drink and then you'll be all set!
Here are some general guidelines for what to buy, but remember that kegs are always an option too, especially for less formal, outdoor weddings!
These guidelines are from the calculator on Woman Getting Married (Source) for guest lists of 100 and 150 people, which I think are really good estimates:
Open Bar for 100 GUESTS:
70 bottles of wine
175 bottles of beer
15 bottles of liquor (750 ml)
20 bottles of champagne for toast (optional)
Open bar for 150 GUESTS:
105 bottles of wine
266 bottles of beer
22 bottles of liquor (750 ml)
30 bottles of champagne for toast (optional)
---
Having a Cash Bar Instead of an Open Bar
There's always a cash bar if you really can't afford an open bar at all.
Like I said before, this isn't the route I would go, but if you gotta, you gotta! Plus, in Canada, it seems that cash bars are much more common than in the U.S., probably due to the higher price of alcohol in Canada. I'm American but I'm getting married in Canada, so I feel your pain, guys! I understand the desire to set up a toonie bar and call it a day!
Anyway, do what you need to do and just communicate your decision to your guests so they know what to expect.