If you're like me, you are trying to find a way, any way, to save money on your wedding dress. Hopefully one or more of these tips will take some pressure off of you and help you through the process of finding the perfect, most budget-friendly wedding dress option possible!
Before doing any dress shopping at all, however, remember to set your budget first and stick to it! That way, you won't fall victim to any "upselling" by bridal shops and will only spend the amount that you are comfortable spending. Happy dress shopping!
---
#20 Get a dress that's not a "wedding dress"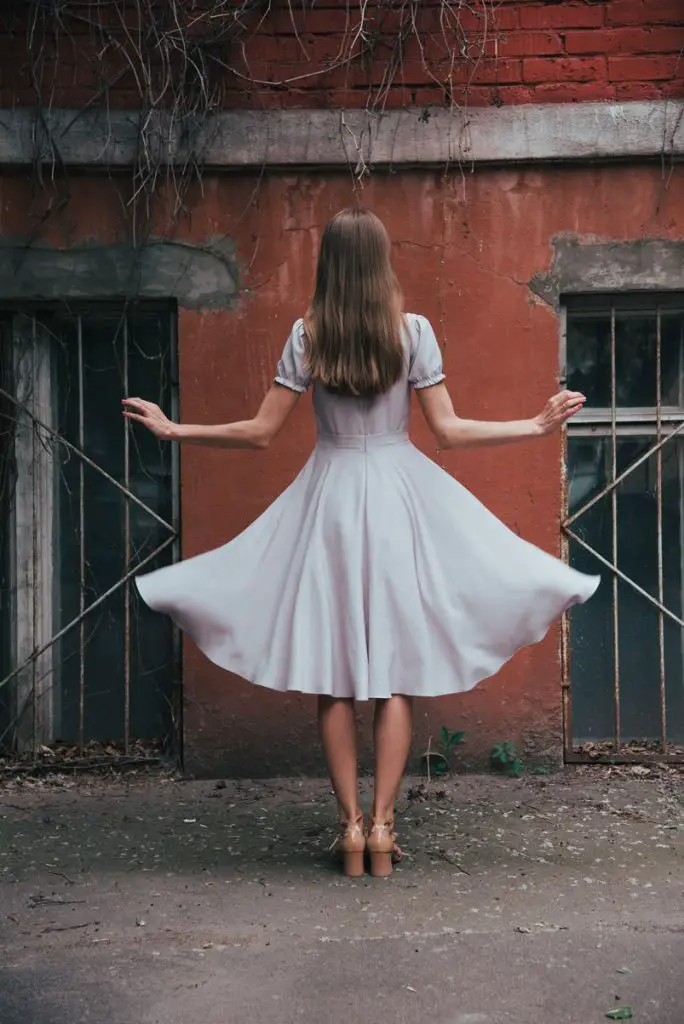 Instead of searching for "wedding dresses" and "bridal gowns," search the evening gown section of your favorite shops and look for white, cream, and ivory-colored dresses!
They may not be called wedding dresses, but they are white dresses, aren't they? What exactly is the difference? Nobody will be able to tell that your dress wasn't intended to be a wedding dress.
And without the "wedding dress" label, you may find that the price drops significantly.
---
#19 Wear a family heirloom gown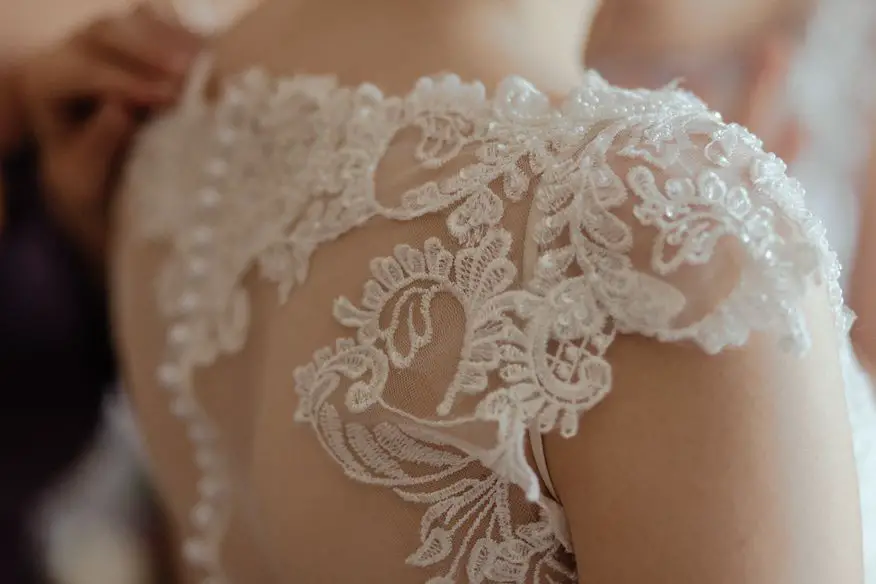 Some of these options are totally free, or almost totally, free, and this is one of them. Ask your mom or aunts or other family members if they have any white gowns lying around in the back of the closet. Maybe up in the attic? You could be surprised.
A friend of mine was dropping in on another friend and her mom one day. She happened to mention that she was looking for an affordable wedding dress. The friend's mom went and grabbed her old, still gorgeous, wedding dress from her closet and offered it up! Just like that, voila – my friend had a completely free wedding dress!
A family heirloom gown also has the potential to be more meaningful and special than a dress bought off the rack with no shared memories attached to it.
This can get more expensive if you make extensive alterations or need dry cleaning, but it's still a much cheaper option that a brand new designer dress. And eco-friendly!
---
#18 Buy during the right season
Did you know there's a season of the year that is best for saving money on your wedding dress? It's true! Although it is debatable when exactly that season is…
One school of thought says bridal shops sell for cheaper during the "off months" of November and December, when customers are more scarce and shops more "desperate" to make a sale.
Others say January is the best time to buy and save money on a wedding dress. Following the holidays, many people are newly engaged and beginning their dress shopping in January. Summer brides are preparing to order their dresses in January to leave enough time for 4-5 months of alterations, and fall brides are just starting their hunt.
Dress makers know this! And so they often offer sales at the beginning of the year. January means a new stock of dresses and designs for many stores, meaning that older designs need to be cleared out and therefore go on sale.
---
#17 Buy a bridesmaid's dress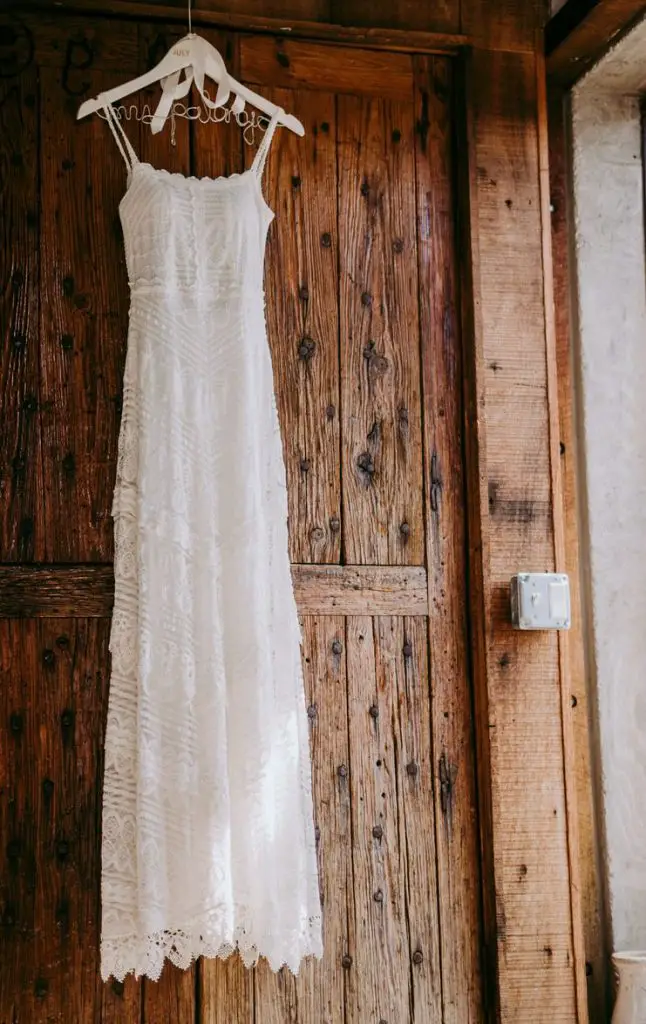 Have you ever noticed how bridesmaid dresses cost a fraction of what brides pay for their dresses? Sometimes not even for good reason. A simple wedding dress can sometimes cost 6 or 7 times more than a bridesmaid dress that looks very similar to it, just a different color!
Instead of looking for a wedding dress, shop the ivory and cream-colored bridesmaid dresses at a shop that you like. It's a simple thing, but sometimes dropping the "bride" label and the high "wedding expectations" label brings everyone, everything, and prices down to Earth again.
---
#16 Ask about changing the fabric
If you've fallen in love with a dress that's too expensive, don't fret just yet. First ask if it's possible for the manufacturer to swap out the fabric for something less expensive. It isn't always an option but it's definitely worth asking. You can sometimes save hundreds of dollars and no one will know the difference.
---
#15 Buy a vintage dress
Search for vintage clothing stores in your hometown and cities nearby and stop in. You may be surprised by the gems you can find. And often at a very low price compared to conventional clothing stores and bridal dress shops. Romantic, Victorian, and 1920's fashions are all amazing possibilities you may come across.
---
#14 Shop consignment stores
Look for consignment and thrift shops in your area and go looking for dresses! Just like vintage shops, you'll be surprised by what you could find. Some consignment shops sell wedding dresses for 50 percent or more off the original price.
If you prefer to try this same process from the comfort of your own home, check out your local listing of Pre-Owned Wedding Dresses, where you can browse consignment (as well as new wedding dresses).
---
#13 Use a credit card
This is actually a tip to protect you from bridal shop theft, something many of us wouldn't even think to put on our radars!
If you were planning on making all bridal dress purchases with a credit card anyway, great! If you were on the fence, remember to always use your credit card for wedding dress deposits.
Due to steep competition, bridal shops sometimes mysteriously shut down and leave town, taking their deposits with them and not following through. Scary, but not as uncommon as you'd think. Use your credit card so if anything goes south, your credit card company can reimburse you.
---
#12 Rent a gown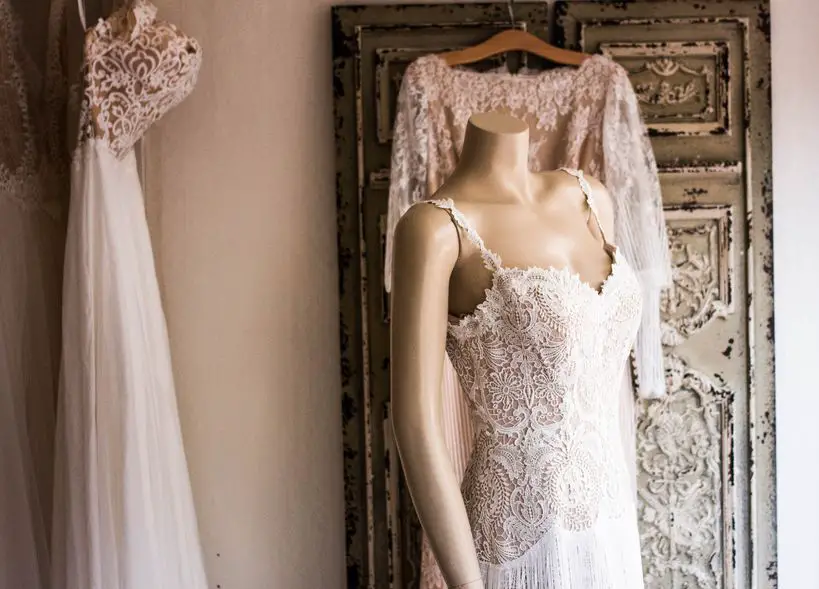 Renting a gown kills a bazillion birds with one stone. First of all, if you shop from a reputable dress rental company, they will help you find a fit that is good for you and you won't have to spend months and months before your wedding stressing about going to fittings to make your custom wedding dress fit "perfectly."
You can choose a dress from a designer who you've worn before, or tried on before, whose size whatever you know fits you like a glove.
You also don't have to pick it up in some cases. Rent the Runway, for example, will ship the dress to you, along with another close size just in case the size you ordered doesn't fit quite right. AND you don't have to worry about getting it cleaned. Customers just have to ship it back afterward.
This is a good option if you're minimalistic and don't want to hang onto a dress afterward, or worry about cleaning it and reselling it. It's also – environmentally-friendly!
---
#11 Know what makes one dress more expensive than another
It's not a pretty thought, but in the wild wild west of the bridal gown business, not everything is always on the up and up. Salespeople can sometimes try to sell dresses made of certain fabrics and materials for more than they are worth.
Before shopping for wedding dresses, do some research to find out which materials cost more than others and why. Know what natural fabrics versus synthetic usually go for. It will prevent you from falling victim to salespeople trying to catch you off-guard and unfortunately, overcharge you.
---
#10 Buy your dress "off the rack"
If you're not concerned with having a custom-made, designer wedding dress, buying off the rack will save you a TON of money when wedding dress shopping.
My guess is that if you're looking at this list, you're not too in need of a $7K+ custom-made dress anyway, so go into your wedding dress-shopping knowing that you'll be shopping off the rack!
---
#9 Buy a floor sample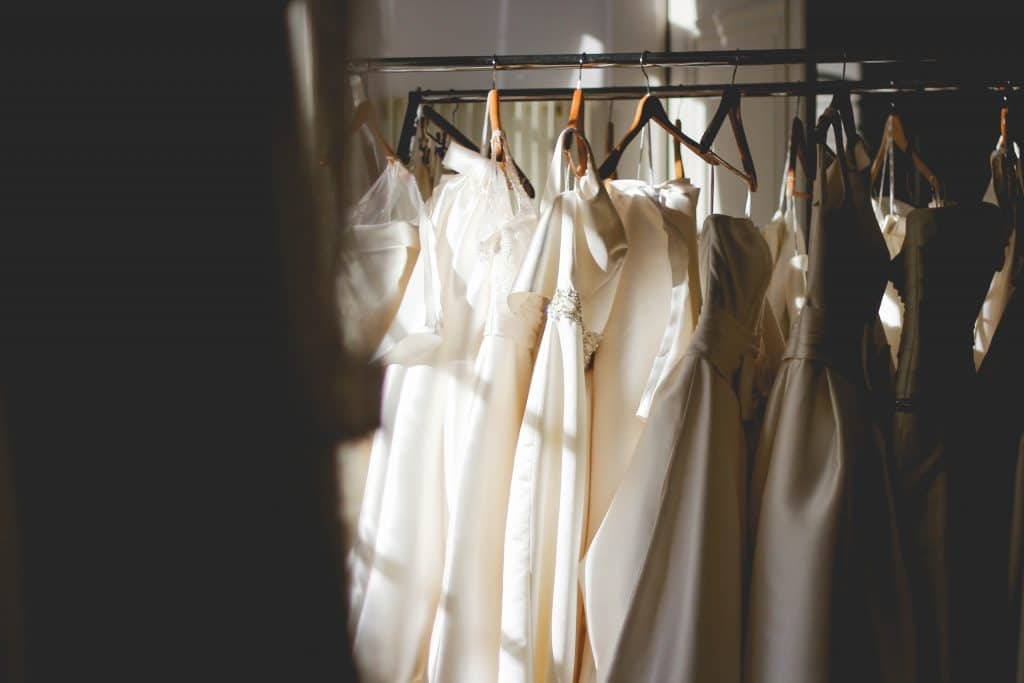 Instead of ordering a brand new dress, consider purchasing a floor sample in your favorite bridal shop. It may have been tried on by many brides and require cleaning and alterations, but it still will be cheaper than ordering new.
Examine the dress, consider the amount of money that will be required to get it altered and cleaned, and negotiate a price that works for you.
---
#8 Ask about discontinued styles – from past seasons
Don't forget to ask about this! If you don't NEED to have a certain style that just hit the racks, ask the bridal shop owners or sales team about discounted styles from previous seasons. These dresses will usually be significantly discounted from the new dresses that were just released.
---
#7 Buy a secondhand dress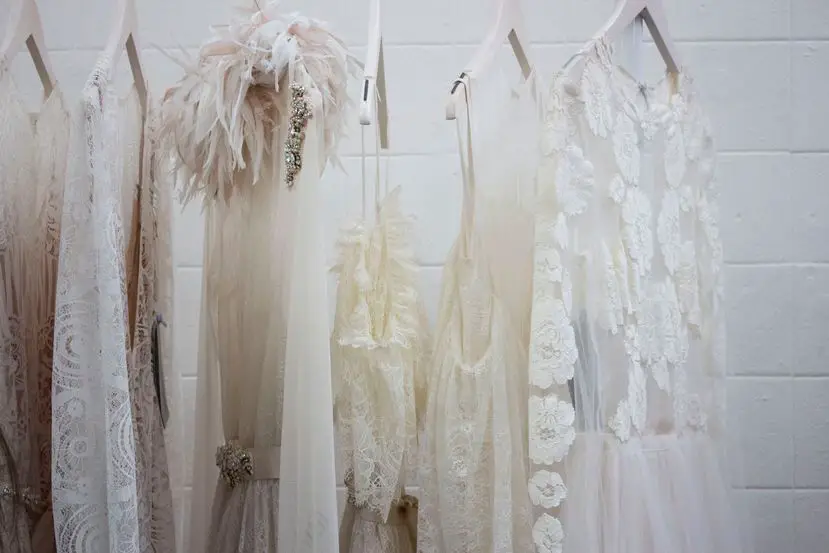 This should be at the top of your list to check out. A secondhand, "used" wedding dress has really only been "used" for about 5 hours tops. It's crazy that we wear these dresses once and that's it.
For a more environmentally-friendly, and budget-friendly, option, check out secondhand wedding dresses being sold by brides on sites such as Nearly Newlywed. Here you can find designer wedding dresses for sometimes as much as 80 percent off their original price!
---
#6 Opt for a simple style
Usually the more jewels and sequins on a dress, the more expensive it will be. So think about browsing styles that are "less busy" and instead upping the "wow" factor on accessories such as jewelry or a veil. Or just keeping the look simple all together.
---
#5 Consider buying a short and/or lightweight dress
The more excessive the material of your dress, the more it will cost in general. So, if you're planning on having a low-key wedding, perhaps on a beach or in a park, consider looking for short and/or light weight wedding dresses instead of long (expensive) trains, and layers upon layers of tulle.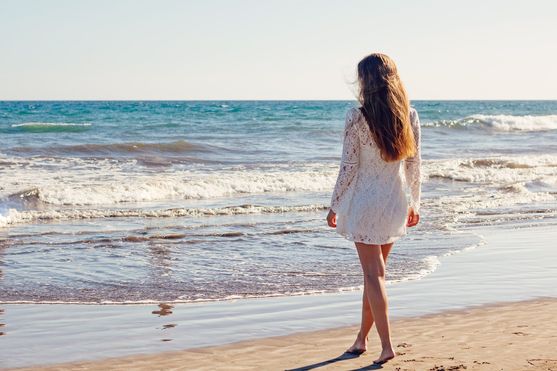 ---
#4 Don't get custom alterations
Alterations to a wedding dress can quickly rack up into the hundreds of dollars. When you were only planning to spend a few hundred dollars in the first place for your dress, this can seem very scary.
Instead, look for dresses from brands you know. Brands with dress sizes that you know fit you well off the rack. Don't worry about whether or not they are labeled as "wedding dresses" – you can just search their evening dress collections for white dresses.
You have a very good chance of needing zero alterations and can save yourself a stack of cash, AND months of alteration visit headaches! Buy a dress you like exactly the way it is.
---
#3 Order your dress on Amazon
Seriously! There are tons of wedding dresses and long white dresses that are not necessary called "wedding dresses" available on Amazon. There are a range of styles, from long and elegant to the simplest of beach-style gowns.
Many of them are decently priced as well. Consider buying an affordable wedding dress on Amazon and then spending on the custom alterations afterward.
---
#2 Buy dress accessories separately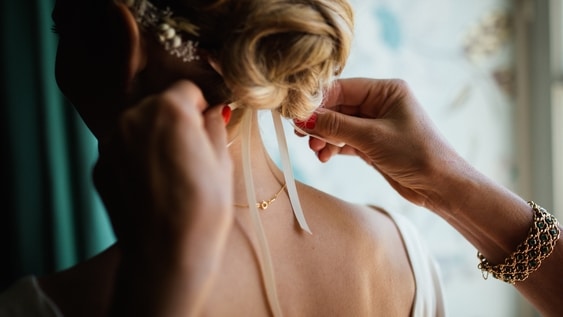 In fact, don't buy accessories at all! Hear me out. At bridal shops, accessories such as veils and shoes tend to be waaay overpriced, yet many brides feel pressured to buy them anyway. What's another $300 tacked onto the already-costly wedding dress price tag? But I urge you not to give in!
Search elsewhere for shoes (such as Amazon) and consider making your veil yourself.
Really! There are many veil-making patterns available online for even the most craft-phobic brides, and it could save you literally hundreds of dollars. It's absolute highway robbery for bridal shops to charge hundreds of dollars for a piece of fabric and some beads on a comb!
---
#1 Buy a lace-up corset dress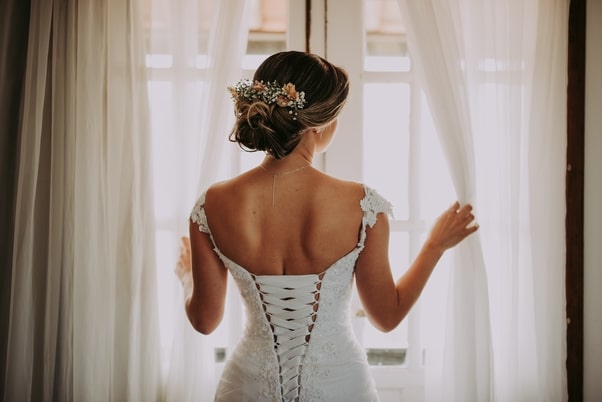 If you're trying to lose weight for your wedding, or worried that alterations may not be ready in time before your wedding, consider buying a dress with a lace-up back. Not only are these dresses figure-flattering on everyone, not to mention very sexy, they are also money-savers.
You won't have to get any last-minute, costly alterations, or stress about your dress not fitting you right as you sweat at the gym in the weeks before your wedding (if this is your plan!).