Are you just starting to plan a wedding on a budget, but not sure where to begin? That's the position I'm in, and I've done a ton of research to find the best, most useful information to actually help create an affordable, budget (not cheap!) wedding.
This post will walk you through tips and practical advice that you can use now to start planning a wedding on a budget and save thousands of dollars. I hope you'll take them to heart, internalize them, and then really put them to use in your wedding planning process!
My own wedding is coming up in 4 months and I feel so much less stressed than many of friends and family members at this point in the process, because I simply refuse to pay the "going rate" for what weddings "are supposed to cost." I really take budget-wedding planning seriously and I think that's what we have to do to avoid being the 45% of couples who underestimate their wedding budgets and end up overpaying and stressed out (Source).
There are, of course, many obvious budget tips out there for keeping your wedding low-cost such as keeping your guest list low, or holding your wedding at home in your own backyard. And that's great advice! We ARE doing those things!
But for this post, I wanted to find "lesser known" or lesser-used, perhaps, tips that are essential from the very start of our budget wedding planning journey and that will keep us from falling victim to the wedding industry's tricks.
---
Let's start with the BASIC budget wedding tips…
Before beginning our essential tips, let's get those obvious wedding-money-saving tips out of the way. These are the tips that you should already be aware of and using before approaching any vendors or venues, or making any purchases.
In starting your budget wedding planning, make sure that you at least consider the following, because each one could save you thousands of dollars:
Invite fewer guests and have an "intimate" wedding of immediate family and close friends only.
Ask local art students to be your photographers and/or ceremony musicians (much cheaper than professionals). Call the local university and ask.
Have your wedding in your own backyard or in a public park (or beach). Ask your local government office if you need a permit.
Ask for help/services from friends and family in lieu of gifts. This can cover the cost of your cake, photography, flower arrangements, decorations, and more, potentially.
Create your own playlist and rent speakers, instead of hiring a DJ.
Follow these 20 ways to save money on your wedding dress and avoid paying the average $1100 that brides spend on their dresses. I wrote this in-depth article to help brides avoid paying these ridiculous wedding dress prices.
Skip the transportation for wedding party and guests! Everyone has Uber and Lift these days! They'll be fine.
Don't spend a fortune on your shoes. No one will see them, or care.
Have a BBQ, buffet, or hors d'oeuvres or get a local family owned business to cater.
Buy used decorations from wedding and bridal Facebook groups and other online marketplaces. Used/secondhand = cost effective AND eco-friendly!
Stock your own bar, get a keg, or go for a wine-and-beer-only bar.
Check out this cost breakdown for having a wedding at a price point of $8,550 and see how to do it.
---
How to Start Planning a Wedding on a Budget: 25 Essential Steps
I want to encourage anyone reading this to recognize that we're all easily influenced by pretty things dangled in front of us by the wedding industry, that we all have the potential to fall victim to the fantasy of the perfect day… and then I want to encourage you to strive to stand apart from that.
Try to prioritize the meaning of the day over all the "stuff"… What I mean is that, ultimately, your wedding day should be about celebrating your love for your partner, surrounded by family and friends who want your love to succeed into the future. What exactly does a centerpiece have to do with that?
To get swept up into a fantasy frenzy of expensive dress, flower, and cake expectations is, in my opinion, to do a disservice to the true meaning of the day. Often, couples lose the true meaning altogether and forget why they're planning this thing in the first place. And all that's left is stress. Terrible, dark, financial stress!
Let's try to avoid all that by taking the following steps, and let's start planning a budget-friendly wedding together:
---
Step 1: Have a shorter engagement
It's true that a longer engagement of 12 months or more can be good for allowing more time for bargain hunting to occur. However, if you're flexible, a SHORTER engagement of 6 months or less can actually save you a lot of money.
Vendors and venues that have had cancellations will be more desperate to book you and you can more easily negotiate price with them.
It'll be too short of a time window to order an expensive, custom-made wedding dress so in a strange way, you'll luck out because your hand will be forced… You'll have to choose a more frugal dress option of buying online or off-the-rack, checking local consignment and vintage shops, or renting or borrowing your dress.
TIP: Don't fall in love with any vendor or venue and don't impulse buy, even if you have a short time frame. Remember that the more open you are to many options, the more power you have and the more money you can save. Let desperate vendors and venues offer you the price you want… if they don't, then walk away knowing that you'll find another one, because you're just that flexible!
---
Step 2: Pick a November to March wedding date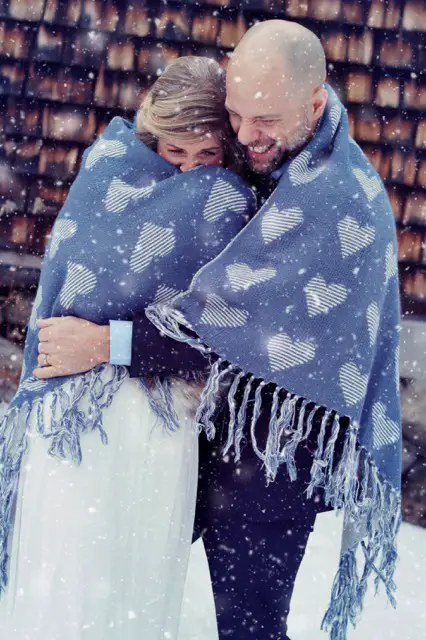 Getting married between April and October is the height of wedding season. The trend used to be more toward summer weddings (and they still are very popular) but more and more couples are looking for autumn wedding dates.
So if your heart is set on a late spring, summer, or fall wedding, you're not going to have a heck of a lot of bargaining chips to use in terms of venue and vendor pricing. And you'll be competing against other couples who are also trying to get booked on those precious dates, perhaps even delaying your wedding by another year.
So if you've always wanted a winter wedding, or don't really care when you get married, you could save 20-30% percent on your venue and vendors by booking your wedding between November and March!
A few winter dates to beware of however: Christmas, New Year's Eve, and Valentine's Day may be pricey because many couples do actually want to get hitched on these special holidays. You might also find that it's difficult to book in December with the amount of business holiday parties going on.
Also consider getting married on a day that isn't Saturday, or having a daytime wedding instead of evening — all of which can save you thousands if these are possible options for you!
TIP: If you don't care when OR WHERE you're getting married, think about getting hitched in Las Vegas — and I don't mean at a little chapel with Elvis. You can get married at a luxury hotel with an upscale flower, cake, and limo package for waaay cheaper than what it costs in other cities. I'm talking 50-75% cheaper. Bringing people to Vegas for the casinos is big business and you'll find that the bang for your buck is much larger in Vegas than in other cities.
---
Step 3: Go with modern and minimalist decor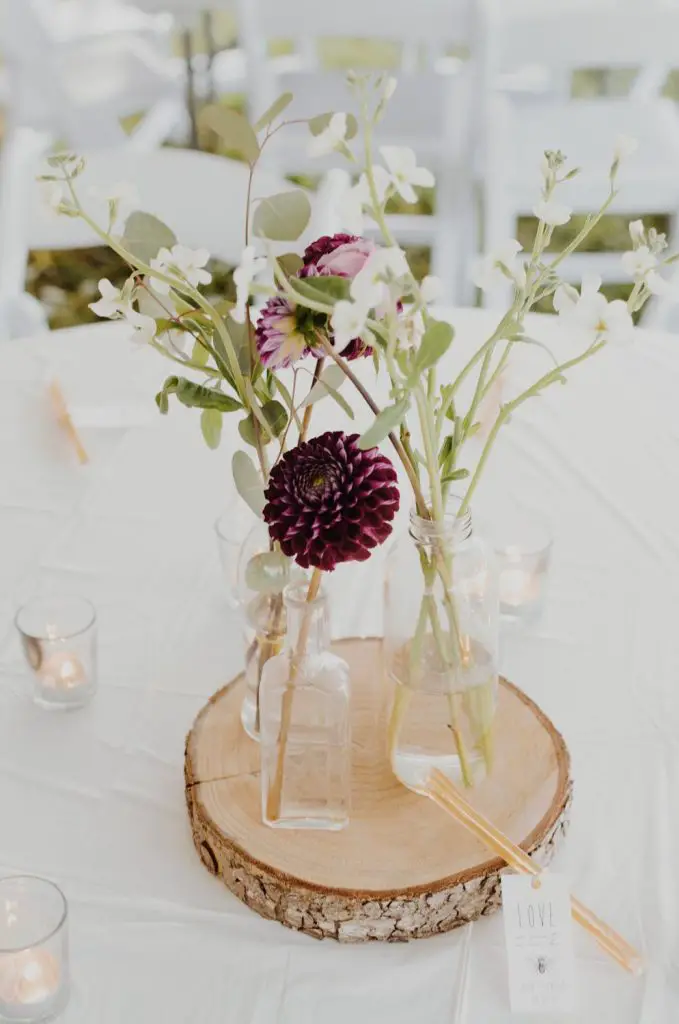 When choosing your venue, look for one that has natural beauty. I mean, choose a venue that is lovely as it is and won't require a total (and expensive) overhaul of decorating in order for it to look good.
When venue-hunting, think about the elements that you're going to need to add to the space to achieve your vision. Are you going to have to fill it with tons of expensive flowers and plants? Do you have to bring it boatloads of Victorian furniture and paintings to jazz it up?
A budget-saving, and eco-friendly, option is to go minimal. Instead of enforcing a complicated and expensive themed-design scheme, consider opting for bare-minimum, clean lines and modern simplicity. A look common in many modern restaurants.
You could choose an all-white or all-neutral color scheme, with pops of one or two accent colors. Your centerpieces and decor can be candles floating in bowls of water, potted succulents, clusters of candles of different widths and lengths atop elegant wooden boards, orchid blooms, tall cylindrical clear vases full of lemons… the options for cheap, easy minimal decor that looks expensive are endless!
TIP: Save money and make your reception look more interesting by alternating your centerpieces so they aren't all matching on every table. You can have mismatching candles of different heights and widths at one, orchids in water at another, etc…
---
Step 4: Make a dream wish list (together) at the start… and then be prepared to slash it
Clear some time for this and sit down with your partner to make a "dream wish list." This means that each of you should brainstorm the absolute must-haves for your wedding day together. What can you not live without, or you'd regret not having at your wedding?
What elements of the wedding represent you as a couple, and therefore you need to have them? Are there any religious or cultural elements that you must have? Put these items in order on one list, from most to least important. And as you talk to each other, see if there are any initial "dream wish" thoughts that you can agree to eliminate right away.
The way you talk to each other during this exercise is a good indicator of how the rest of the wedding planning will go, so remember to be respectful and treat each other's "wedding dreams" with kindness.
This "dream wish list" will come in handy later on in the planning process, when you've seen vendor prices and have to make some hard choices about what to spend money on. When push comes to shove and you need to eliminate some items, you'll start from the bottom of this list…
---
Step 5: Get a day-of coordinator… Not a wedding planner
If you're having a budget wedding, which to me is anything under $20,000, and for my own personal wedding price range, less than $5,000–then a wedding planner is probably not worth it for you, and that money can be better allocated to another part of your budget.
Instead, especially if you're going to be hosting a lot of guests, and doing a lot of the traditional activities of a wedding (having a wedding party, cake-cutting, groom-mom dance, etc.), then you should look into getting a day-of-coordinator.
This is a person who will make sure everything runs on schedule and smoothly, and puts out mini fires, on the day of your wedding, but who doesn't plan the wedding beforehand. A day-of coordinator is also much cheaper than hiring a wedding planner, but obviously won't be as familiar with your wedding as a full-on planner.
I've had friends who had amazing type-A friends volunteer to step into this role on the day of, so if that's an option for you, consider it! But keep in mind that not hiring a professional with a lot of wedding coordinating experience will have its drawbacks.
---
Step 6: Get your FULL budget into an Excel sheet, immediately!
This should actually be at the top of this list, because you should do it at the beginning.
Going forward with your wedding without a clear budget from the start is guaranteeing yourself that you'll spend more than you want.
Do yourself a favor and plan a budget immediately with your partner. Account for everyyythhiing, as detailed as possible.
And then stick to it! If you start to spend more than you planned on one item, other items in your budget will get sacrificed and you're going to have to make some cuts somewhere down the line.
---
Step 7: Don't do paper invitations — Seriously, it doesn't make sense to still be doing this
This includes save-the-dates as well. I mean, if you're so in love with beautiful paper invitations that you absolutely need to have them, then go for it… But just know that they are an unnecessary wedding luxury that doesn't add anything to your wedding experience. And digital invitations are so much more convenient for your guests!
Paper invitations in a time of digital everything are not only an extra and unnecessary cost, but they're also going to end up in a bunch of landfills… While the week before your wedding, your guests will be looking for information about your wedding, and wishing they could just do a quick search in their email inbox on their phones…
Send your wedding invitations online, which you can do beautifully and cheaper with a company like Greenvelope, or simply create send your invitations using one of the free wedding websites like Joy. And definitely collect your RSVPs online to save money on postage.
You will be saving money and making the eco-friendly decision as well.
---
Step 8: Plan to do your own catering with help from family
This will probably depend on how many guests you have and how helpful your family is. I often feel like we're too reliant on catering and service people for weddings in our modern American culture. We just don't have the army of helpers that some other cultures can rely on in their family circles. We also put ourselves on really strict timelines for the modern wedding, and nobody has time to cook. And so we outsource to caterers.
If you do happen to have more time in your wedding day and you have family members that can band together and help with the preparation, cooking, and serving– I say you should accept the help.
It's a lot of work to do something like this, so make sure they know what they're in for. It could be really authentic and better than the bland, canned wedding food normally served. You can save tons of money by buying everything in bulk from Cosco, and save time in preparation by freezing items and preparing in advance.
---
Step 9: Don't go all-inclusive
An ali-inclusive venue may sound like a good deal, but it's usually not. It means that you can't shop around for your own vendors that might be a lot cheaper. For example, your own caterer and bartenders.
Sure, you'll be saved the stress of shopping around, but you're often going to lose some cash going this route.
---
Step 10: Cut vendor hours where you can
Vendors will charge you by the amount of time they're present at your wedding, and so by reducing the length of your package, you can save some money. Do you really need your photographer to be there the entire night? How important to you are professional photos of your cousins dancing?
Can you pay for four hours of photography versus eight? See where you can cut vendor hours and potentially save a boatload!
---
Step 11: Always get the FULL cost of everything upfront, in writing
It's a bit sickening but in a Vox video about why the wedding industry is so expensive (on YouTube), one vendor explains how they are taught to HIDE the pricing from customers:
As the video explains, many vendors will try to stall telling you their prices on purpose as long as possible… at which point you often feel like you've invested too much time to say no to them. This is gross, in my opinion.
Always ask for pricing upfront (politely), the FULL cost, and in writing before agreeing to anything or any services. Don't get sucked in and pay more than you're comfortable with.
---
Step 12: Don't buy diamonds that are mined from the Earth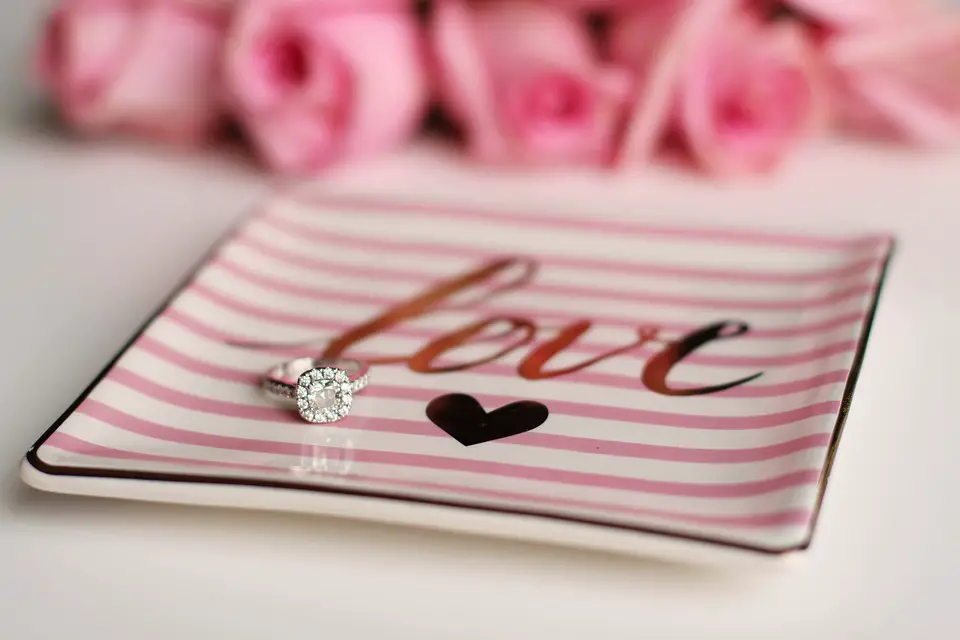 I've written about this topic here on this website a lot because I strongly believe that we shouldn't be buying diamonds that are mined.
Lab-created diamonds certainly aren't perfect either in terms of the energy that they require to create, but you may avoid certain ethical issues that are still surrounding mined diamonds.
Not to mention, you can save a fortune by buying lab-created diamonds over mined diamonds, and they are EXACTLY the same chemically and physically in every way (lab diamonds are actually MORE pristine). The only difference is that lab diamonds weren't pulled from the earth.
I created a list of 25 eco-friendly and ethical wedding ring companies and I suggest you take a look if this is an issue that's important to you.
---
Step 13: Advertise your vendors for a reduced rate
This one is controversial, I know. But some couples are able to get reduced prices from their vendors in exchange for advertising. That means putting out vendor cards on welcome tables, vendor logos in programs or on signs, sponsoring them in a post if you have a large social media presence, etc…
If this is something that appeals to you, more power to you. Just make sure and get the full agreement in writing and follow through on your end of the deal to a T.
---
Step 14: Don't underestimate the number of guests who will actually come
Imagine you've invited 100 people but only expect 60 to actually accept your invitation and so you've gone through with all of your budgeting based on 60 people. And then suddenly those RSVPs start flooding in in the month before your big day and suddenly your guest list is looking closer to 100 after all!
What do you do?! It's much easier to start from a budgeting mindset of factoring in the number of guests you've actually invited… rather than finding yourself scrambling at the last minute.
Plan for those 100 people to be there, and then if they don't end up being able to come, you have lots of wiggle room in your budget for last minute projects in other budget buckets.
---
Step 15: Never go into debt or take out a loan to pay for your wedding
I hope this is a no-brainer for you. Please, please don't plan your budget with 'going into debt' or 'taking out a loan' as part of the plan!
It's just not worth the stress. Work within your means. There is a beautiful wedding for every budget.
If you can afford a small backyard wedding, do THAT. You'll enjoy it so much more than the gigantic 200-person princess wedding that is going to force you to eat Ramen for the next year.
---
Step 16: Never agree to an upgrade until getting the exact cost in writing
Some vendors will offer you an upgrade after you've already come to an agreement. There's very rarely such thing as a FREE upgrade. If anything is offered to you, ASK ABOUT THE COST. Don't assume. It's so easy to get talked into things that you don't really need or even truly want.
Always get the exact cost in writing before ever agreeing to an upgrade.
---
Step 17: Don't fall victim to a pretty wedding cake
I'm not personally a fan of cake so this is easy for me to say, but even if you LOVE cake, there are ways to save money here and to do it in a more delicious way…
First of all, a tiered cake is not necessary. They're usually covered in yucky fondant and can cost $9 or $10 per SERVING!
And if you're doing it for the show… Nobody cares about the cake cutting (I'm sorry!) and it's actually annoying to have to pause the dancing to watch it happen. Speaking of that: I would either put the cake-cutting at the beginning of the evening (if you insist on having your guests watch) or do it off to the side without stopping the party. Your guests will appreciate this!
As for saving money on a wedding cake, just have a beautiful one-level cake for cutting, and serve cupcakes to your guests. Or offer a dessert table full of choices for them. They won't miss the tiered cake, trust me!
---
Step 18: Don't pay for live entertainment during cocktail hour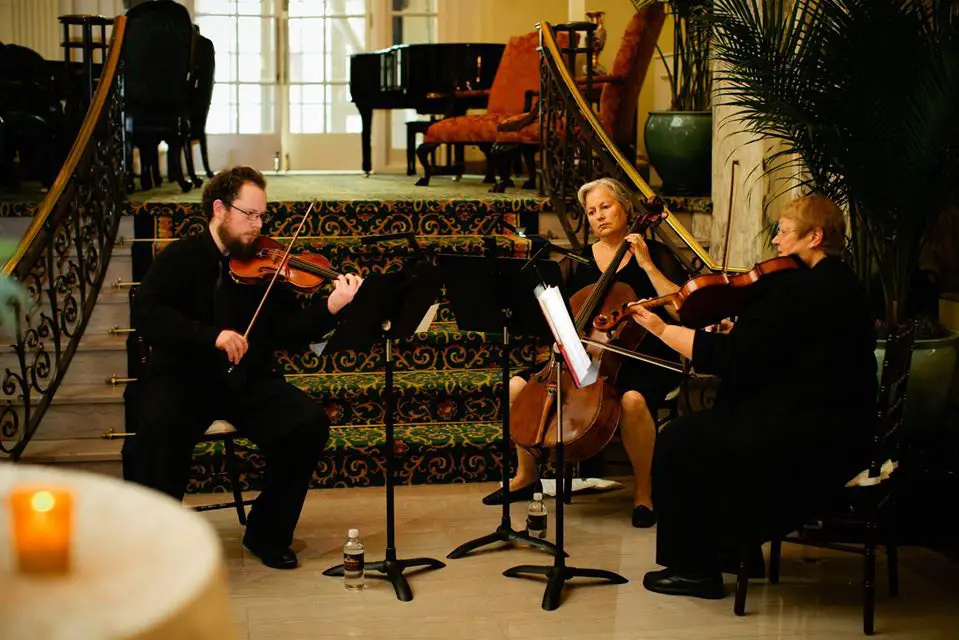 If you were planning on hiring musicians, perhaps a string quartet, for your cocktail hour… don't do it! Save your money. Nobody is going to notice if you simply have a playlist for ambient music during cocktail hour. No one will miss the string quartet!
Put together an hour and a half playlist of Sinatra, Buble, Leon Bridges, other soft and beautiful voices… and you'll be just fine!
---
Step 19: Do not spend more than $10 per centerpiece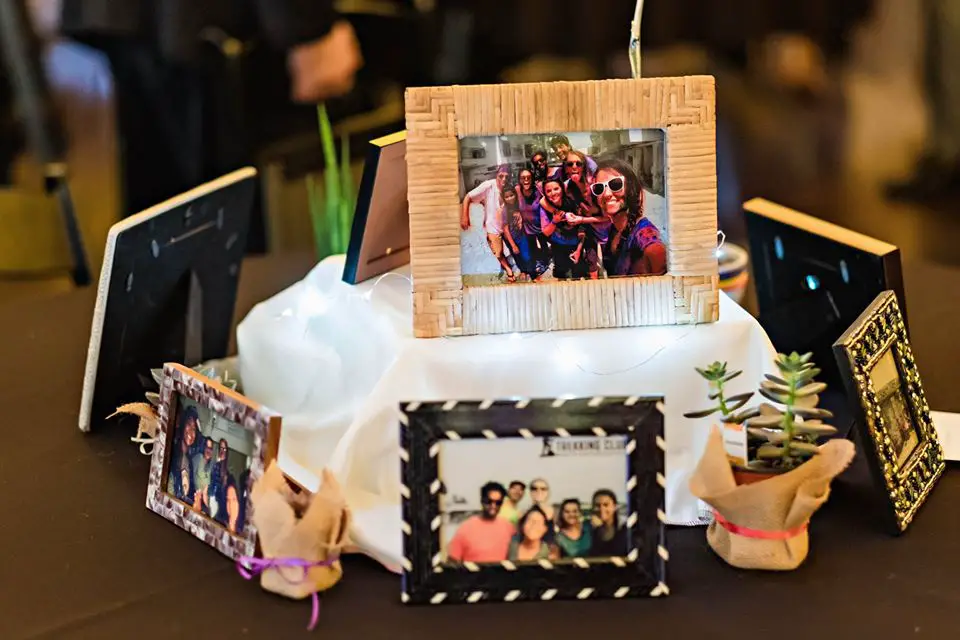 Nobody notices or remembers centerpieces. Not really. Not the majority of folks. So don't splurge on super expensive floral centerpieces! Instead, get candles, potted plants you can use to decorate your home later, photo frames of the two of you… simple and reusable decor that won't be thrown in the garbage the next day.
---
Step 20: Just say NO to menu cards, place cards, programs, and wedding favors!
Skip all the paper and save hundreds of dollars that you can put somewhere else in your budget! You'll also save yourself the stress. Your guests don't need menu cards, place cards, and individualized programs… and they definitely don't need wedding favors!
Here are somethings you can do instead if you want to do some of these things/share this information with your guests…
… have a sign with the program on it for everyone to see as they enter your ceremony; have a sign with the seating chart at the cocktail hour and reception; have a menu sign at the reception; and as for favors… Have a sign explaining that in lieu of favors, you'll be making a donation to your favorite charity, or purchase ethical, socially-conscious favors if you must.
---
Step 21: About bridesmaid and groomsmen attire…
It's both the economical and eco-friendly choice to ask your bridesmaids and groomsmen to wear something that they already own.
To save money on bridesmaid dresses, choose a color or color palette and ask your bridesmaids to either wear something that they own it that color or to find a dress in that color. They'll feel more comfortable choosing something that's in their own style, and won't be forced to spend hundreds of dollars on a dress they may not even like.
For the groomsmen, most guys have a dark suit in their closets. Just have them all wear dark suits and bring the look together with matching ties or matching boutonnieres. The groom can wear a light-colored suit if he wants to stand out.
---
Step 22: About bridesmaid and groomsmen gifts…
Just say no. It's lovely to give and receive personalized bridesmaid and groomsman gifts,but when you have 5, 6, 7, more… of each of them, at $20 + per gift, you're looking at spending hundreds of dollars.
Your bridesmaids and groomsmen, if they're real friends anyway, are not expecting gifts from you. And if they know that you're trying to have a budget wedding, they will especially understand why you're not splurging for personalized flasks and tote bags.
If you're absolutely insistent that you need to buy these gifts, go with something extremely simple such as a mini bottle of wine for each of them with a ribbon around it and a personalized note.
---
Step 23: Reuse your florals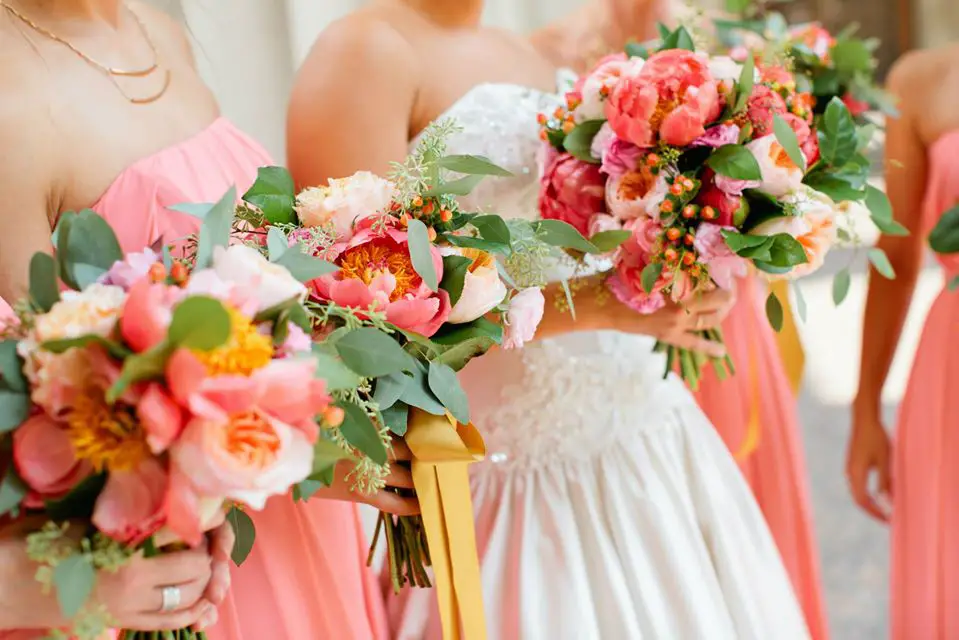 Your ceremony will only be about 30 minutes compared to your 4 hour plus reception, so you should definitely take all of your bouquets and any florals used to decorate the aisle in your ceremony area, and use them to spruce up your reception area.
Once you're done with photos, your bridesmaid bouquets can transform into centerpieces. Your archway flowers can decorate the cake and welcome tables, for example, in your reception area. Give your flowers a longer life than just that half an hour at the reception, and get your money's worth.
---
Step 24: Don't do a fancy lounge area
They look beautiful in photos but a fancy lounge area is not worth much after the photos you take in it. And that's a really expensive and time-intensive set-up for a photo shoot!
Don't be swayed by the pretty Pinterest pictures, Put this money elsewhere and no one is going to miss it.
---
Step 25: Don't do champagne toasts
Champagne from the champagne toast often gets wasted because many people don't drink it! Sacrilege! It's heartbreaking for us to spend all that money on champagne and then have it go to waste. You also have to pay people to serve it and possibly spend extra to rent the champagne glasses!
Instead, have the toasts and guests can simply lift the drinks that they're holding–the ones that they themselves already chose at the bar!
---
That's it! I hope you can take away a few of these ideas and save yourself some moolaahh! 🙂