In this article, I'll review a wedding dress that I bought from Nordstrom that cost me under $200! It's an off-the-shoulder "princess style" (with a built-in figure-flattering corset) affordable wedding dress I ordered online from Nordstrom's website.
If you're not crazy about this particular dress, DON'T WORRY — there are plenty of affordable wedding dresses on Nordstrom's bridal website, some under $200 and $300. Waaay under the "average" wedding dress cost of about $1700 (which is just crazy in my opinion).
Take a look at all of the information I provide below, including photos, shipping and refund information, and more and hopefully this will help you determine whether or not to order and try out a Nordstrom wedding dress (ordered online)!
I ordered this dress and even made a video of myself unboxing it, which I'll drop at the end of this article when it gets published. Make sure you're subscribed to my YouTube channel so you don't miss any of my wedding videos!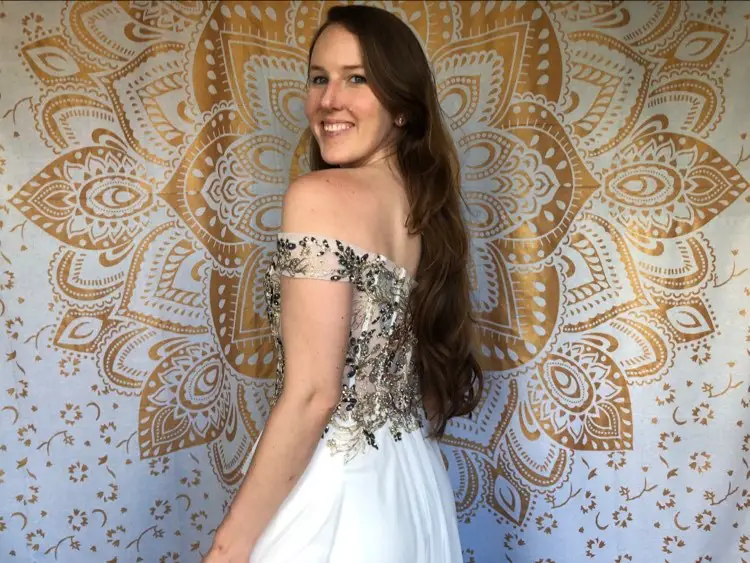 Searching for Affordable Wedding Dresses Online
In addition to my Nordstrom wedding dress, I've been trying on wedding dresses from other affordable online companies to compare them, and I urge you to check them out too before dropping bug bucks on a $$$ designer wedding dress you'll only wear once for about 6 hours (!!).
Here are my favorite affordable online wedding dress shops (in addition to Nordstrom):
And friends of this blog, you can find ALL of my recommendations for wedding dresses and more here 🙂
My Nordstrom Wedding Dress Try-On Experience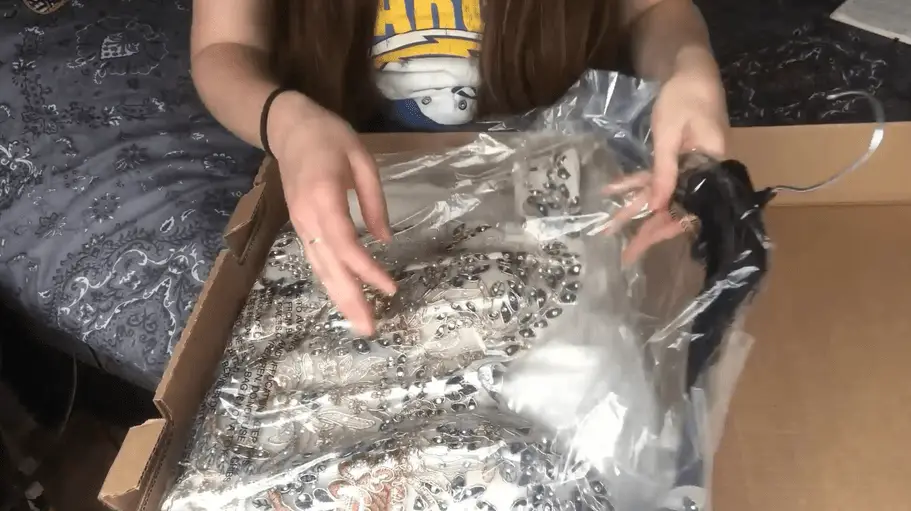 The Price
This particular dress that I ordered is called the Xscape Embellished Off the Shoulder Gown and cost me $241.80 Canadian dollars (which is about $178.26 US dollars, depending on the conversion rate of the day).
There are wedding dresses of all price ranges on the Nordstrom website, ranging from about $100 to over $1,000. So you can surely find something that'll work for your budget!
Remember to factor in the cost of alterations — if the dress doesn't fit you correctly, you'll most likely want to get alterations which can run you usually between $200-$500 depending on what you have done to the dress! If you're not careful, ordering online can end up being pricier than you think.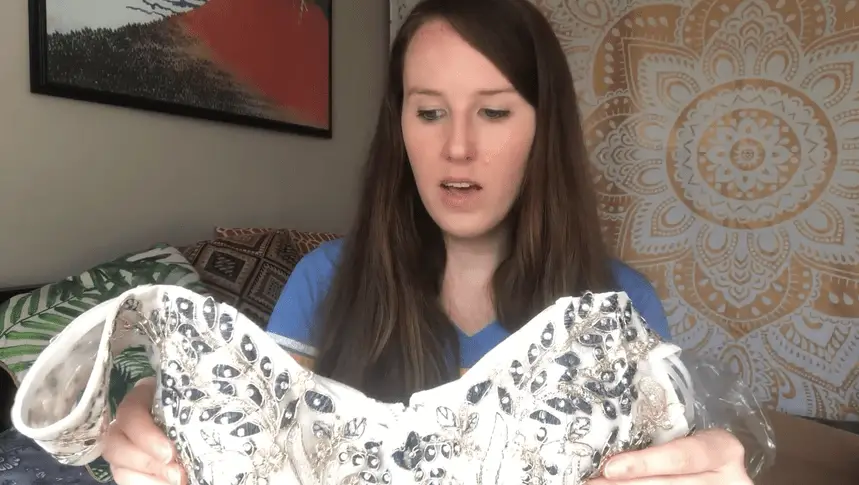 My Size and Measurements
I'm 5'7″ and weigh about 140 pounds (I usually order a size 6 or 8, or a Medium in most dresses) and for this dress, I ordered a size 8. I felt like it fit me perfectly!
My Try-On Experience & Unboxing the Dress
When I got the dress in the mail, it arrived in a box, with the dress inside wrapped in plastic and on a hanger. It also came with a note that said returns are super easy if I found that the dress wasn't right for me. I have a video of myself unboxing the dress, as I mentioned earlier, which I'll put at the end of this review if you're interested!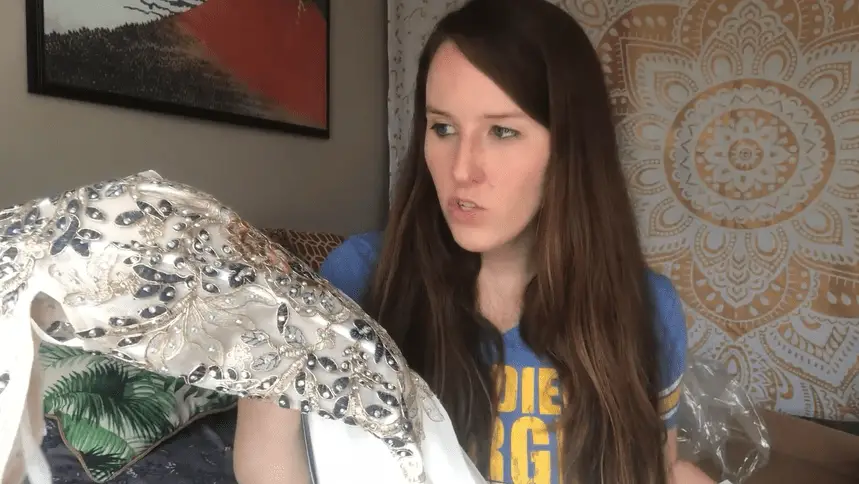 What I Love About the Dress
I love the bodice of this dress. It's so intricate, beaded, and unique and keeps the dress from being all-white. It just makes it… different! And I love that. The boning in the corset makes the top super figure-flattering as well.
I really love how the beading goes down past the bodice a little bit into the white part of the dress so it looks a little more organic, instead of a stark contrast between top and bottom.
The bottom of the dress itself is quite simple — just a plain white floor length piece of fabric with a white underlining/slip and a more transparent layer on top. There's also a slit in the side for added sexiness!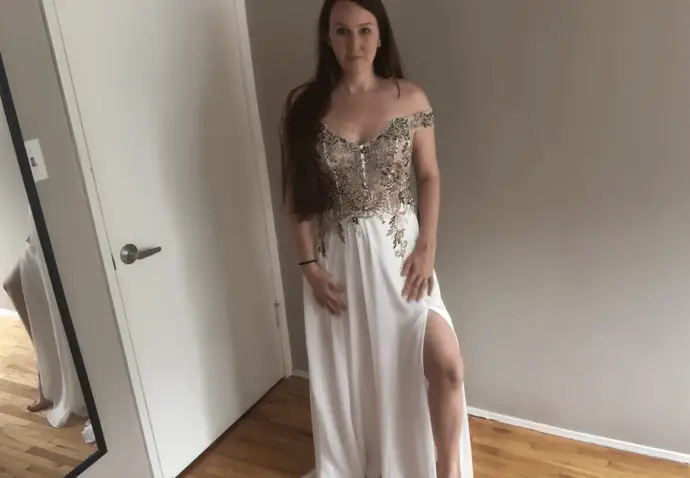 Nordstrom Shipping and Delivery
I ordered from the Canadian version of the Nordstrom online store because I live in Vancouver. This was actually really convenient for me, because usually when I order from online dress shops (such as Lulus or ASOS), I have to order from the U.S. store and I get charged extra in international duties and fees (SO CANADIAN BRIDES — keep that in mind when ordering online!).
There's also of course a U.S.-based online Nordstrom store to buy from. Shipping itself was free and delivery was very fast — I want to say my package came in under a week… maybe a week and a half max.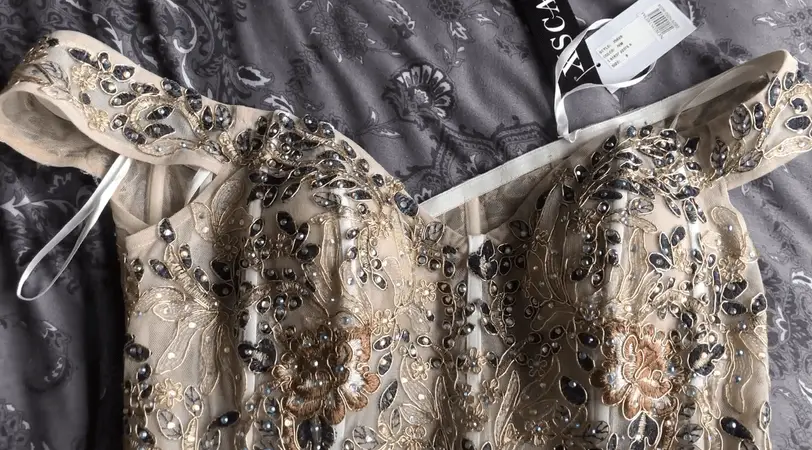 Nordstrom Return Policy
Nordstrom has, apparently, a very easy and lenient return policy in which you can return your dress online or in-person to any of their retail locations. It says this on their website and also in the note that came in the box with my dress.
I haven't tried this out yet personally because I actually really loved this dress and don't want to return it. I'll let you know what ends up happening if I do end up needed to bring it back!
Other Dresses from Nordstrom: Bridesmaids, Wedding Guest Dresses, etc…
Keep in mind that even if you don't find a wedding dress that you love from Nordstrom, they're a huge retailer with affordable dresses for bridesmaids and wedding guests too. Check out some of their other collections (not just wedding dresses!) below: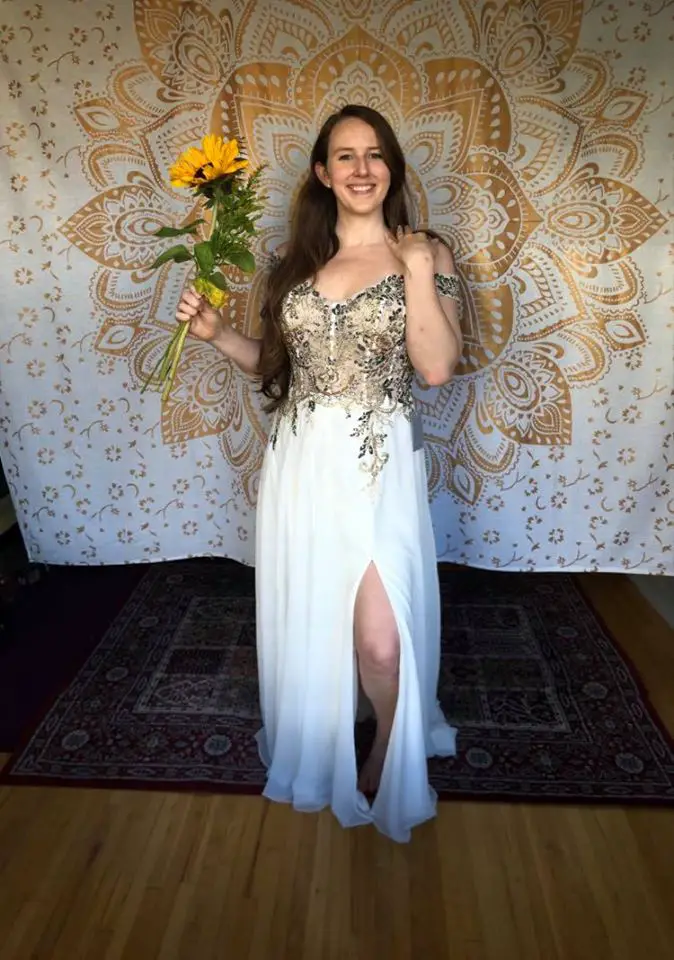 ---
That's it! Here's my Nordstrom try-on video. Check it out for more information and good luck with your wedding dress search! 🙂