If you've never heard of affordable wedding dresses from Blush Fashion (this links to their bridal collection page), I have some very exciting news for you my friend! I found Blush Fashion months ago when I was searching high and low for wedding dresses within my budget (under $300) that were also quality and unique.
I have to say that so far, Blush Fashion has blown me away and is one of my VERY favorites among the affordable online wedding dress shops (I've tried on A LOT of affordable wedding dresses from Nordstrom, Lulus, Modcloth, ASOS — these are links to their bridal websites — which were also really great in their own ways).
In this article, I'll review my Blush Fashion purchase with details, and if you want to see me try it on in full audio-visual, I made a YouTube video where I do just that! I'll put it at the bottom of this article as soon as I release it on my YouTube channel 🙂 Be sure to subscribe to my channel so you don't miss any of my try-on videos!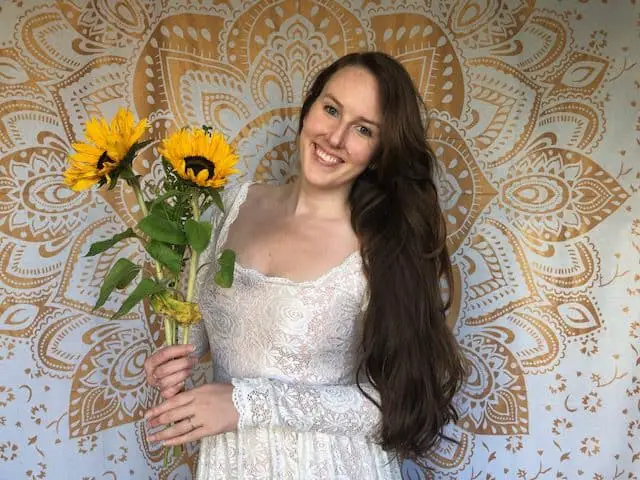 I'm sharing this review today without pictures of me on my actual wedding day, because it hasn't happened yet! Our wedding was supposed to be in June, 2020 but due to the pandemic, we had to postpone. So I share these photos and my opinions in hopes that someday our wedding will take place and I can share MORE BEAUTIFUL reeeaal live wedding pictures with you!
The name: I also haven't quite determined if the name of this company should be written as "Blush Fashion" or "Blushfashion" as I've seen it written both ways! I'll try to stick with "Blush Fashion" for this article to be consistent!
My Blush Fashion Try-On Experience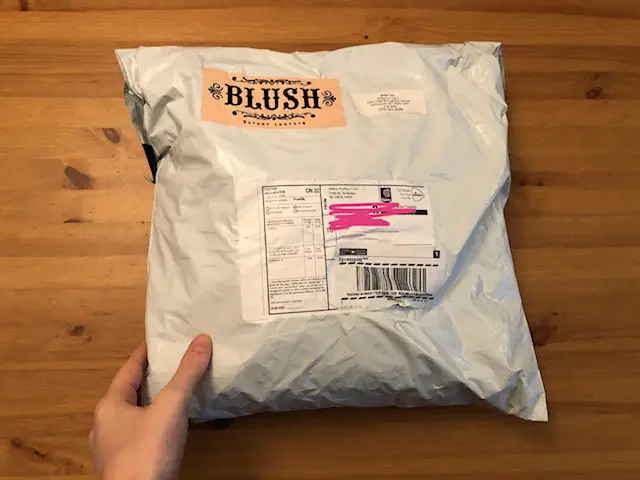 The Cost
I ordered a dress called the Square Neckline Vintage inspired Wedding Dress,1207 which was originally priced at $320.10 in U.S. dollars.
However, I'd signed up for the Blush Fashion newsletter earlier on and they sent me a coupon code for my birthday month! So just by ordering during my birthday month, I got $96.03 (30% of the original price) taken off! YAY!! I checked their website recently and it seemed like they were no longer offering this discount, but definitely keep an eye out for other coupon codes!
The shipping was $20 for a grand total of $244.07 for the order. And I didn't have to pay any taxes or fees.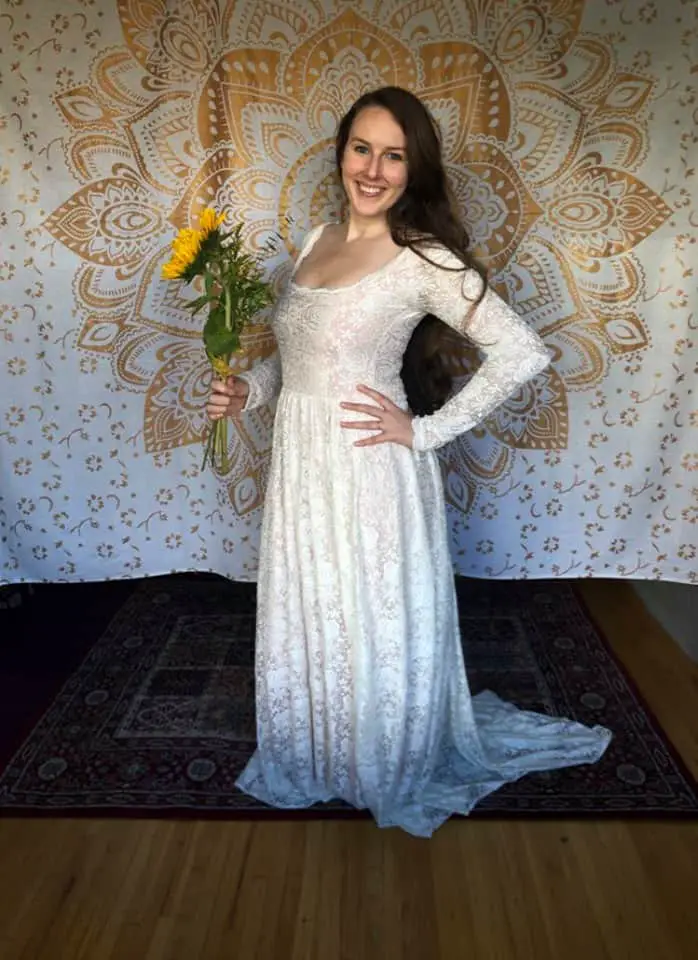 My Size and Measurements
I'm 5'7″ and about 140 lbs. I usually order a 6 or 8 U.S., or a medium, in most dresses. For this dress, I ordered a size S-M. The length was perfect, with a couple of inches of "pooling" at the bottom to either leave alone or wear heels with. This particular dress also has a small train in the back.
Blush Fashion also does custom orders. You can send in your measurements and the designer Sheryll Raz Gold and her team will make your dress to fit you perfectly! How cool is that?? You can even mix and match tops and bottoms of different dresses and create a custom dress that you like. I didn't have the time, patience, or extra cash for this option but I think it's amazing. If I were to do it, I'd order a dress just like mine but with POCKETS!
My Try-On Experience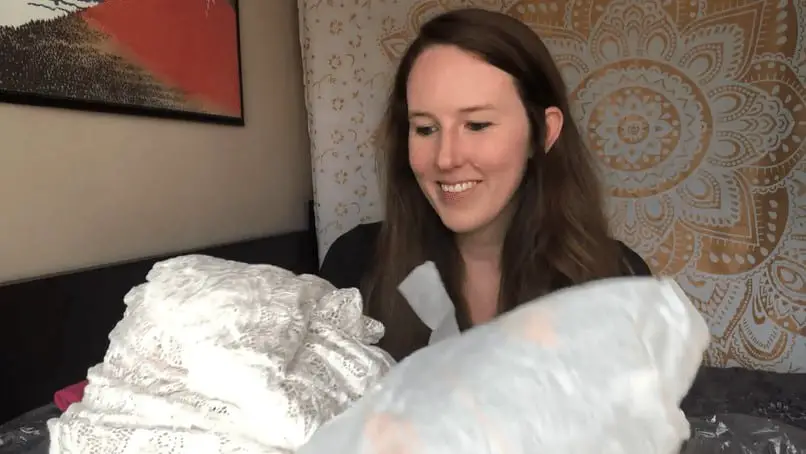 I was really excited to get my package in the mail. I hadn't spoken to anyone who had actually bought a Blush Fashion dress for themselves, and I hadn't found any online reviews other than the ones posted on Blush's own website. So I felt like I was taking a risk! But that's always the case when ordering anything online! But honestly… it was mostly just exciting…!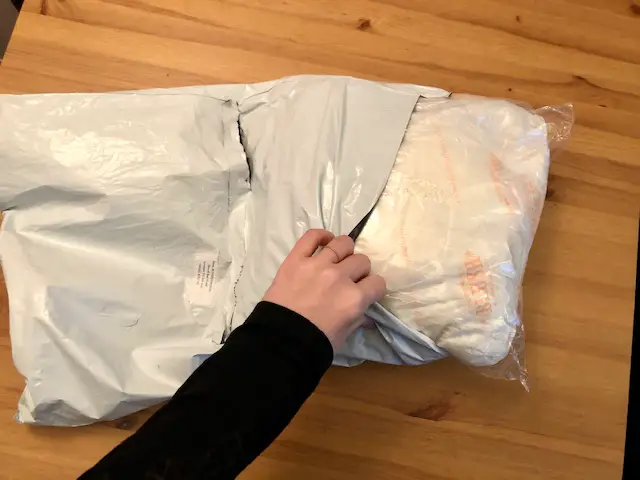 What makes Blush Fashion unique, I think, is that the designer has a definite vision that you can see throughout all of the dresses.
They all have a similar "feel" to them, which I would describe as romantic and adventurer-like (if that's a word?!). You'll see what I mean if you check out the bridal collection page on the Blush Fashion website (which also includes curve and plus-size dresses).
They all seem like they should be worn in an enchanted forest wedding 🙂 Many of the dresses have lace details, beautiful sleeves, and even pockets! There are some two-piece dresses, some short, some long… but despite their differences in style, they all have a cohesive "voice" which really drew me to this website in the first place.
And Blush Fashion doesn't only do white wedding dresses. They also sell:
I haven't personally purchased any of these (above) yet but I'm very interested in giving them a try in the future! I always thought a black wedding dress was a cool idea, but I was too tempted by all the pretty white and pink lace gowns!
I was further and very pleasantly surprised when I received my dress in the mail and the touch of the fabric was SO soft and luxurious. The lace of my dress felt buttery smooth compared to some other low-cost lace dresses I've purchased. It was so well-made and I just fell in love with how comfortable it was and how well it seemed to fit me.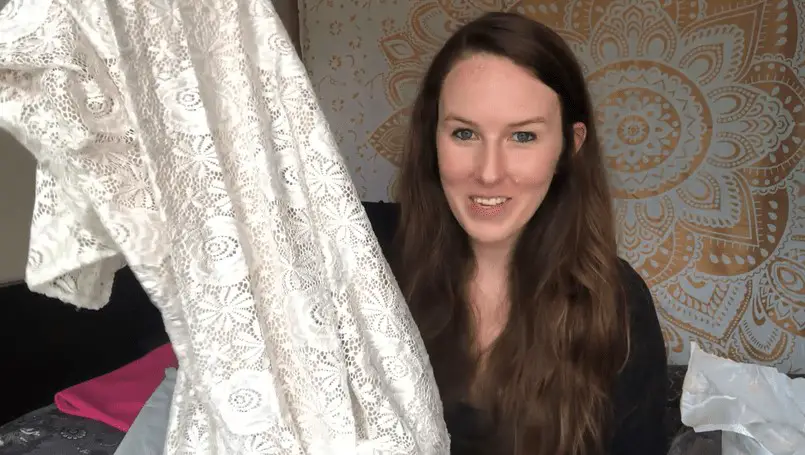 It was packaged up really tightly but because the fabric is so soft and pliable, the dress wasn't wrinkled at all. I've actually kept it in this package since trying it on (I know, I should hang it!) and when I took it out to film it for my YouTube video the other day, it was still perfectly fine and unwrinkled.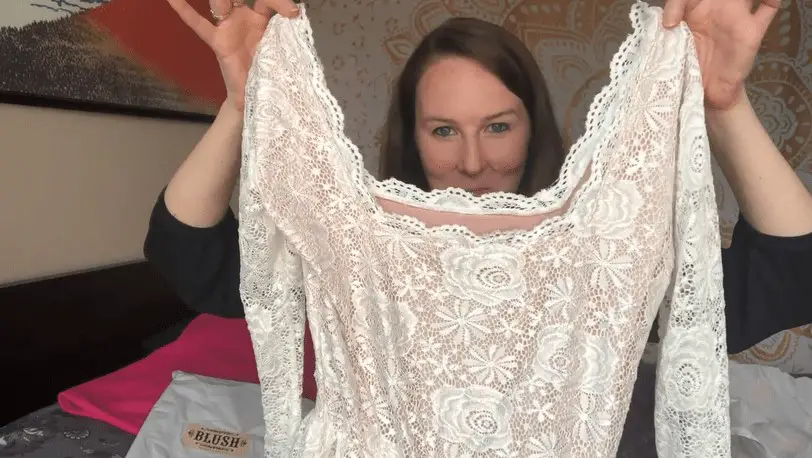 Another thing I liked about this dress in particular is the square neckline. I feel like it makes it look like an old-fashioned 1700s-style dress (google it!) or dresses worn during Queen Elizabeth I's time. I'm a nerd and I like these nods to vintage dresses from other time periods.
Then I tried it on!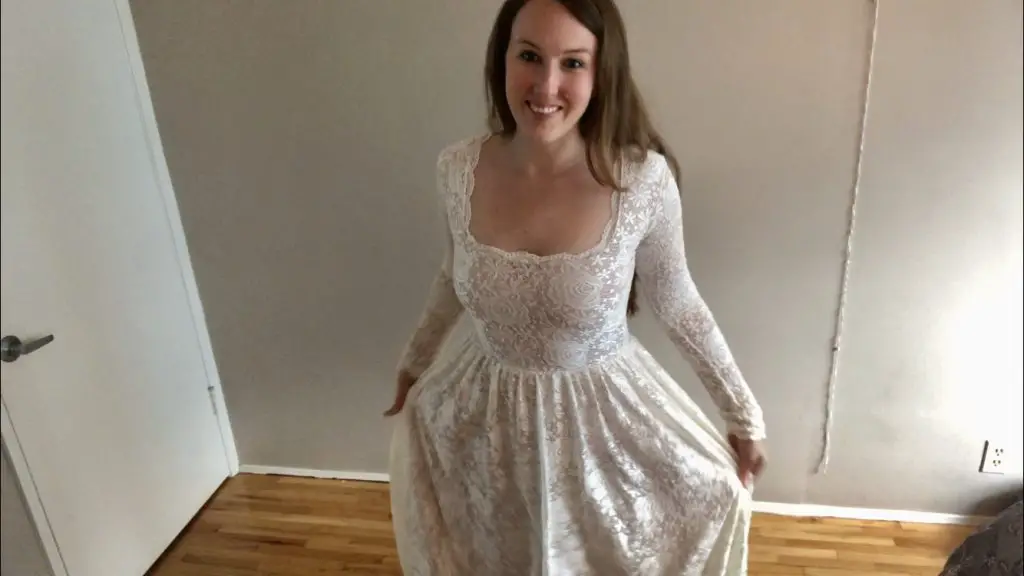 Despite this dress not being custom-made for me, I thought it fit me pretty well! I mentioned in my video that the only thing I'm a bit worried about is that after a while, the shoulders start to do an "off-the-shoulder" thing and I have to pull them back into place, which tells me that I might need to make a couple of small alterations. But other than that, it fits like a glove. The length is perfect and I just feel… pretty in it! I don't know!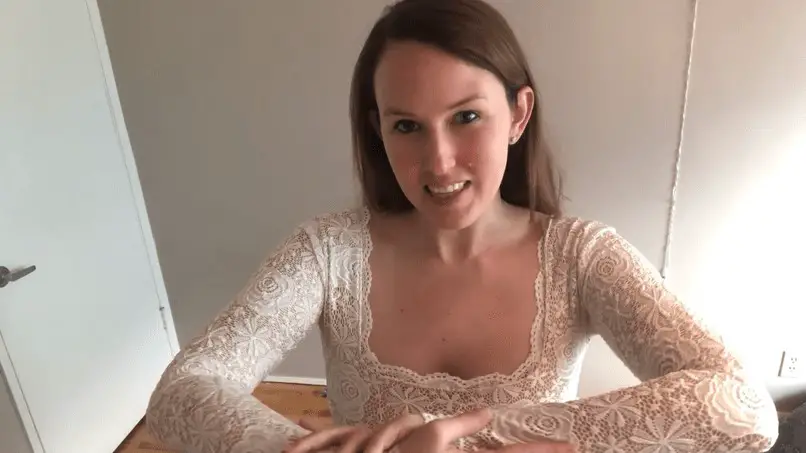 I'm a big fan of sleeves on wedding dresses so here I am touching and admiring my lace-y sleeves! Unlike some other affordable lace dresses I've tried on in the past, the lace on this dress is really soft and comfortable. Not AT ALL itchy or stiff, which I'm always worried about with 'affordable' lace.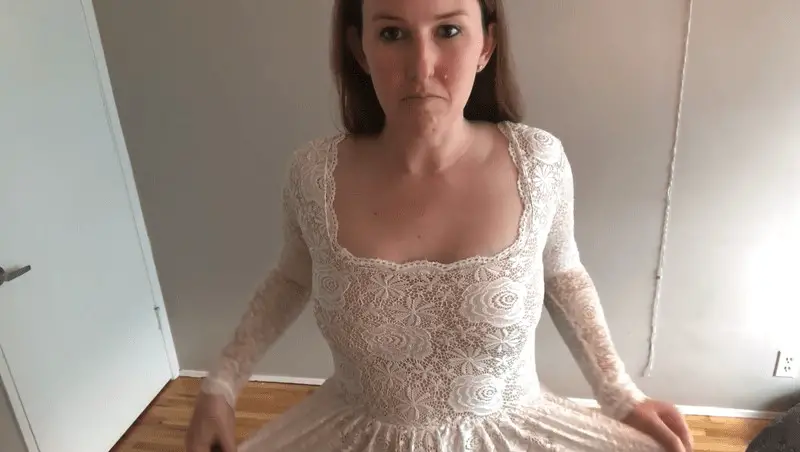 I tried to get the waist line in this shot (above). Many of the dresses sold on Blush Fashion seem to have a similar gathered waist line (which you can see here in this photo). I imagine this is because they can mix and match different tops and bottoms for the custom orders, like I mentioned above, and this makes it easy to do that.
If you don't want a gathered waist line showing, Blush Fashion has a collection of bridal "belts" in all shapes and styles that you can place on your waist line.
Wearing Underwear With Your Blush Fashion Dress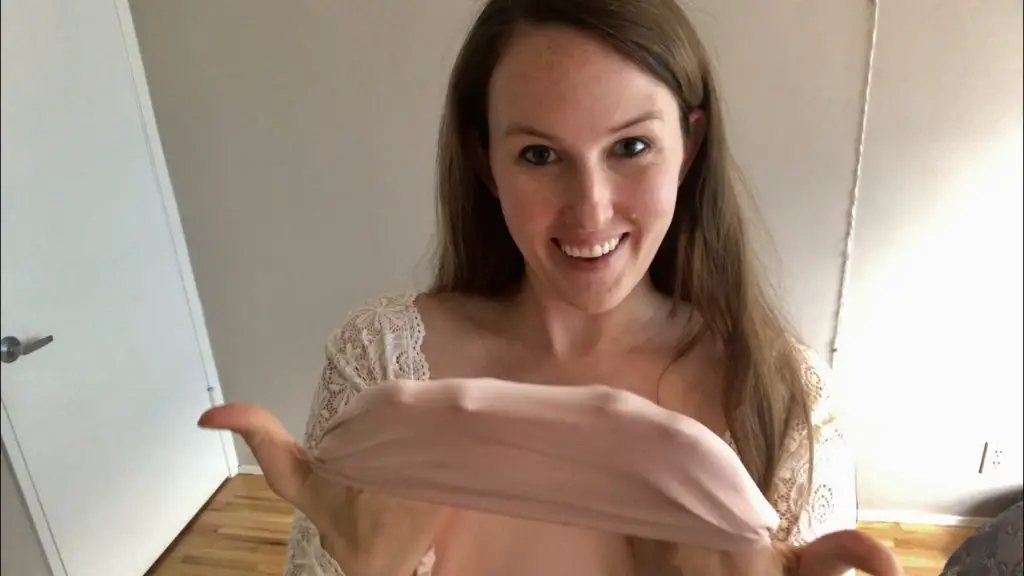 In the picture above, I'm trying to show the under "slip" of my dress, which is a blush pink color. The dress has two layers: this pink slip and the lace overlay. Both are incredibly soft and comfortable. I felt like I was wrapped in a cozy blanket and didn't even want to take my dress off 🙂
With the style dress that I bought, you could definitely wear a bra and the straps would be hidden. For some of the other styles, such as dresses with open backs, bra support will be a little bit trickier to figure out (just like any wedding dress). You could really wear any color bra or underwear with this dress because it's thick (and not form-fitting) so no colors or underwear lines will show.
Blush Fashion Shipping and Delivery
As I said, shipping costs $20 from Blush Fashion (in Israel) to Canada, where I'm currently living! I think it took between 2-3 weeks for my dress to arrive. The standard delivery language from Blush Fashion's website states:
"Shipping is made from Israel by standard-registered mail (include a tracking number) and delivery can take 7-18 business days to Europe, Canada, Australia and overseas. Delivery to the USA can take 7-14 business days to arrive."
So if you're ordering to the U.S., it looks like you have a good chance of receiving your package even faster.
Blush Fashion Return Policy
Now, this is important! Whenever you're ordering any clothes online, but especially a wedding dress (which typically costs you a bit more both monetarily and emotionally), it's important to order from a place with a good return policy. If your dress doesn't suit you, you have to be able to return it, in my opinion.
This is the language regarding returns from Blush Fashion's website, which I honestly think is very fair:
"If the item does not suit you, you can contact us, up to 14 days after you receive the package. We will provide you with all the instructions for returning the item.
We give you a full refund for the item (not including shipping costs) through PayPal, within 10-15 business days after we receive the return items back to us. Refunds are charged with 5% or $27 restocking fee whichever is cheapest You are responsible for the products' return until we receive it back to our studio."
You can return your dress for a small fee basically, which in my eyes is similar to the "try-on" or "appointment" fee that bridal boutiques charge you.
Blush Fashion Blog
Finally, Blush Fashion likes to show off their couples wearing their dresses, and so you can submit your wedding photos and be featured on their blog. Check it out now to see a bunch of real couples wearing these dresses before you order one for yourself. And then someday maybe you (and maybe me too!) can be featured on the blog 🙂
---
That's it, everyone! I hope this helps you decide whether or not to order a Blush Fashion wedding dress! I highly recommend them for the price, quality, and comfort level of these stunningly romantic gowns. Don't forget to check out my YouTube video review and good luck with your planning and dress shopping!