Wondering whether to have a wedding shower or a bridal shower and not sure what the heck the difference is? Hopefully this will help:
A bridal shower is an event traditionally thrown for the bride by her maid of honor, and typically includes an all-female guest list. A wedding shower is the more inclusive version of this event, with both members of the couple in attendance and a guest list that is not limited by sex or gender.
Most couples choose to have one or the other but not both.
The word "bridal" can be problematic for some couples. If there is no bride, then it doesn't really work to call it a "bridal shower." The term "wedding shower" therefore is more and more thought to be more inclusive for all couples and their guests.
In this article, I'll break down the differences between these two kinds of pre-wedding events so that hopefully you can feel great about choosing the one that works best for you and your partner!
PRO-TIP: Both events typically involve a wedding gift registry, which you can set up online at a variety of stores — if you are going to have one, consider signing up at a "catch-all" place like Amazon by clicking here so you aren't pigeon-holed into only requesting one type of gift.
Or, try Honeyfund, to set up a registry that is based on experiences (fun things to do on your honeymoon) instead of physical gifts.
Why have a Wedding Shower or a Bridal Shower?
The reason for having either one of these pre-wedding events is simply to get presents (sorry, but it's true!) from your friends and family who adore you. It's literally a "showering" of gifts on you and your partner to be used in your future life together.
I have a very unpopular opinion that wedding showers and wedding registries of all kinds are sort of outdated in this day and age (I know, I know!), but I also acknowledge that most people still love to have them because… well, presents.
I've actually written about why I don't think wedding registries are necessary and what you can do instead which you should definitely check out if you're on the fence about having one.
Ultimately, this event is a nice excuse to get people who you love together before your wedding day, and there are many different ways to do it.
It can take any shape or form, so don't feel like you HAVE to have a traditional party with cheesy decorations and an hour-long gift-opening session (unless you want to do this!). 🙂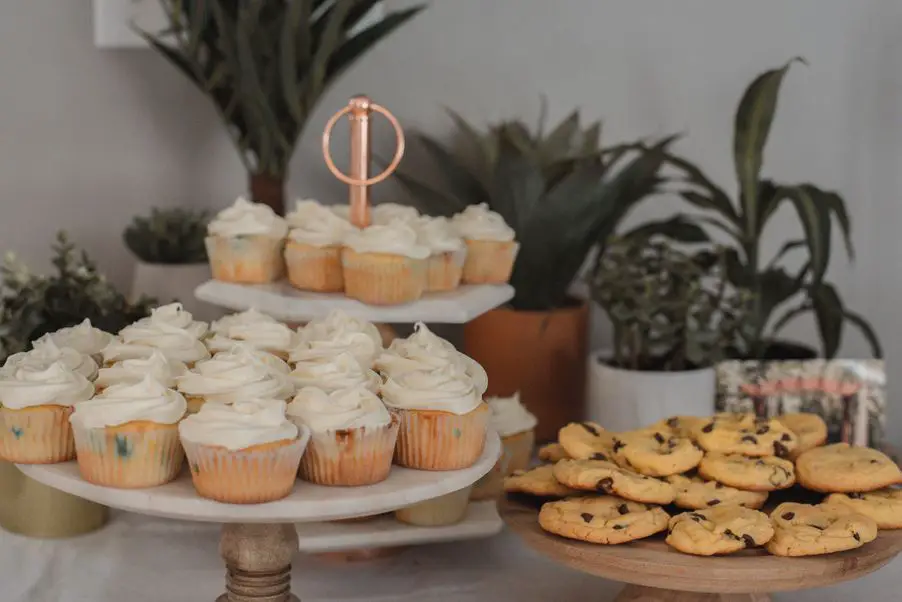 Does the Groom Attend the Bridal Shower?
Some couples prefer to attend their wedding or bridal shower together, while some couples prefer to have the whole thing be "women-only" with only the bride attending.
More and more, we're seeing grooms attend their wedding showers (better to call them wedding showers than bridal showers in this case). And we see more guests giving gifts that suit the couple, rather than just the bride.
The Guest List of a Wedding Shower vs. a Bridal Shower
The guest list for a bridal shower, as I mentioned at the top of this article, is traditionally all-female. If we're talking about a heterosexual couple, the groom might attend as well, but not always. The bride opens up the gifts in front of all of the important women in her life, which may include her mother, sisters, friends, and other female relatives.
The guest list for a wedding shower, on the other hand, includes guests of all genders. More and more, couples these days seem to be opting for this type of pre-wedding gift event, because it's more inclusive and doesn't lead to any confusion about who is and isn't invited.
If you're concerned about your guest list for your wedding shower growing too large and out of hand, you could invite your immediate family and wedding party only.
How do gifts work at a Wedding Shower vs. a Bridal Shower?
Traditionally, for a bridal shower, guests included all or most of the women who would be invited to the wedding. And gifts from these women might include practical household-type things that the couple could both benefit from (such as a blender or a washing machine) and also more "frivolous" gifts such as household decor items and even lingerie.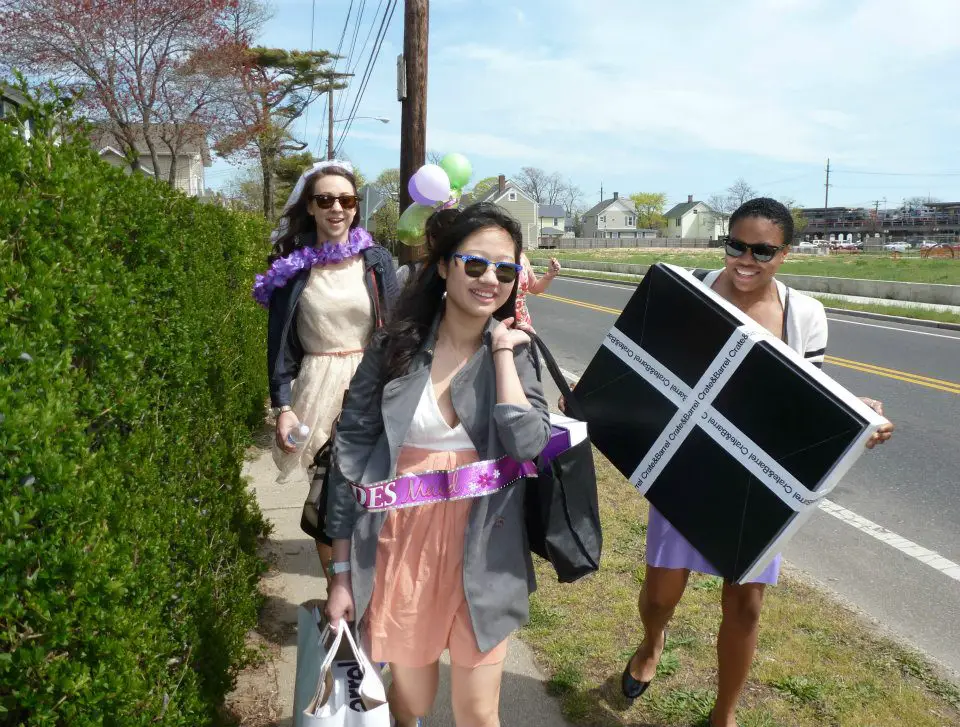 Many couples, if not most, set up a registry for their wedding showers. I've read traditional wedding books say that guests should purchase a gift for the wedding shower AND a wedding gift, but honestly I think that this is outrageous! Yeah, I said it! It's too much. I don't think a guest should be expected to buy two presents for a couple's wedding. That's just crazy to me.
For a wedding shower, gifts are really about the same. The couple decides what they want to put on their registries and the guests can choose what they want to give the couple from that list. Some couples use their registries as an opportunity to "upgrade" stuff that they already have which… I don't know, if it's not necessary, this can be a bit wasteful. I would recommend at least trying to donate or sell your old stuff if you go this route.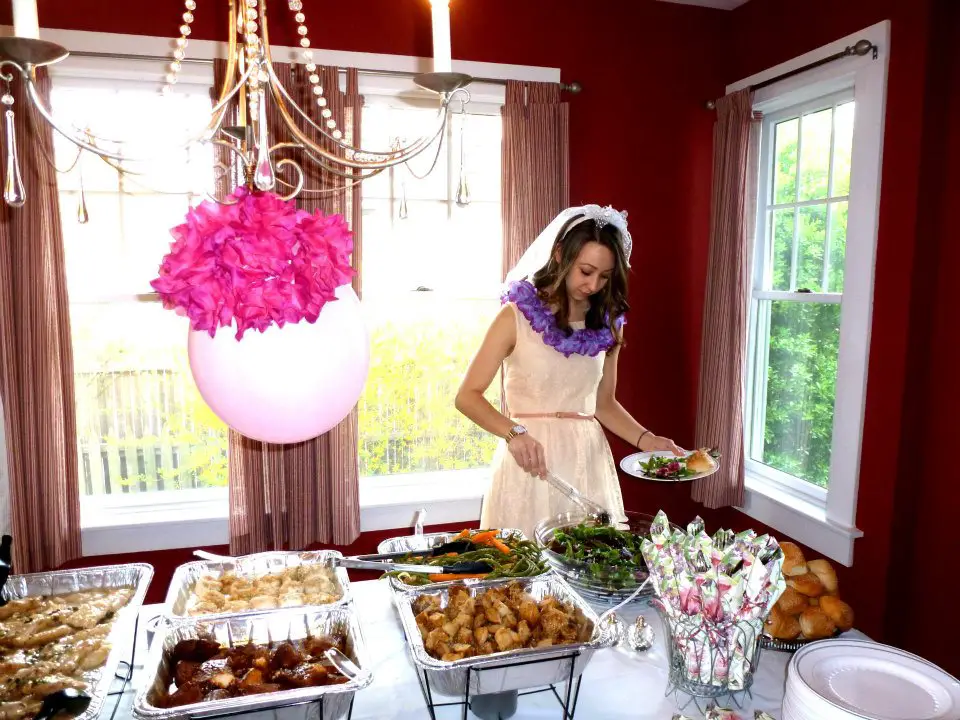 Some couple don't want anything and would prefer money. This is because many couples these days get married later and already have all of the things that they want and need in their homes together. To this day, there's still no acceptable way (at least in the cultures I'm familiar with) to straight out ask for money for a wedding shower or wedding gift.
This can be kind of a bummer for many people. If you really just want money or nothing at all, one way to do this would be to NOT set up a registry at all. Then ask your parents, wedding party, and friends to spread the word that you don't want STUFF but that a small contribution to the wedding would go a long way. I know this is controversial, but I don't care! Do what works best for you 🙂
What do you DO at a Wedding Shower vs. a Bridal Shower?
There aren't any rules anymore and both a wedding shower and a bridal shower can take any shape or form! From a daytime brunch to an evening of cosmic bowling… really, you can celebrate any way you want!
Traditionally, a bridal shower would be a daytime thing and often still is. Many brides chose to have their celebrations at a restaurant, at home, or at some kind of event hall. There's usually a light lunch, brunch, and/or desserts and maybe some alcoholic drinks. The all (or mostly all) female guest list usually plays some games together during the bridal shower.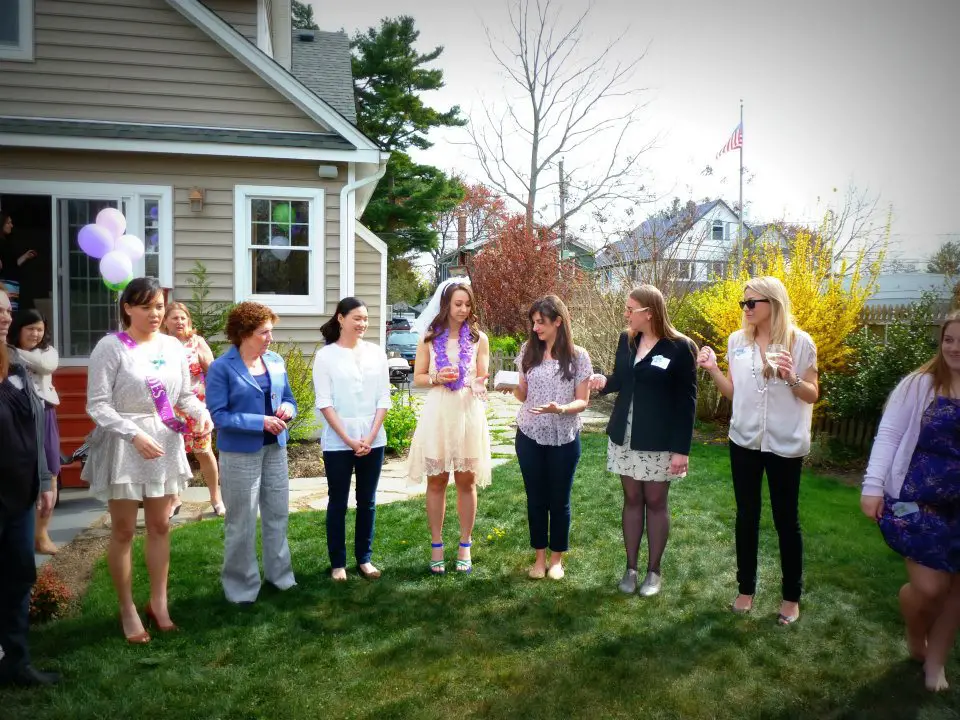 Some popular games that I've played at bridal showers in the past include:
Trivia about the bride
Bingo of things that you hear or see at the event
A contest to make the best wedding dress out of toilet paper (followed by a fashion show — this is really fun actually!)
Hot potato (with a prize)
It's a good idea to have several small prizes (gift cards work great) for the winners!
Some more modern wedding showers are not limited to activities such as trivia about the bride, but include more activities about the couple, such as a "Newly Weds" style question and answer game or the "shoe game" (which is also popular at weddings and rehearsal dinners).
For a quick video explanation from my wedding YouTube channel, check this out: