I think the first time I shopped online at Modcloth was about 10 years ago when I saw a 50's-style retro flower-patterned dress that I loved and had to have. Now here I am, shopping for vintage and retro WEDDING DRESSES on their site!
Modcloth has a small collection of bridal dresses and dresses that can be worn as bridal dresses on their site at the time I'm writing this article, and they have tons of cute options for bridesmaid dresses too! There are some simple white dresses and some short, casual dresses, like the one I eventually chose.
I bought a short, unique wedding dress called Back in the Daisies to try on at home. I loved the 70's sleeves on this dress and wanted to give it a go! I also purchased a pair of blue suede heels called Refreshed Zest T-Strap Heels to complete the look (and fulfill that age-old "something blue" requirement while I was at it) 🙂
This article is my full review and photos of my at-home try-on with my wedding Modcloth experience! I also made a YouTube video about my experience for all of you audio-visual peeps out there, which I'll drop at the bottom of this article when it's released (be sure to subscribe to my channel so you never miss any of my wedding videos!).
All in all, I definitely recommend Modcloth for the bride who wants something special, not too formal… and definitely out of the ordinary. Remember also that, as I've said before on this blog, your wedding dress doesn't have to be white!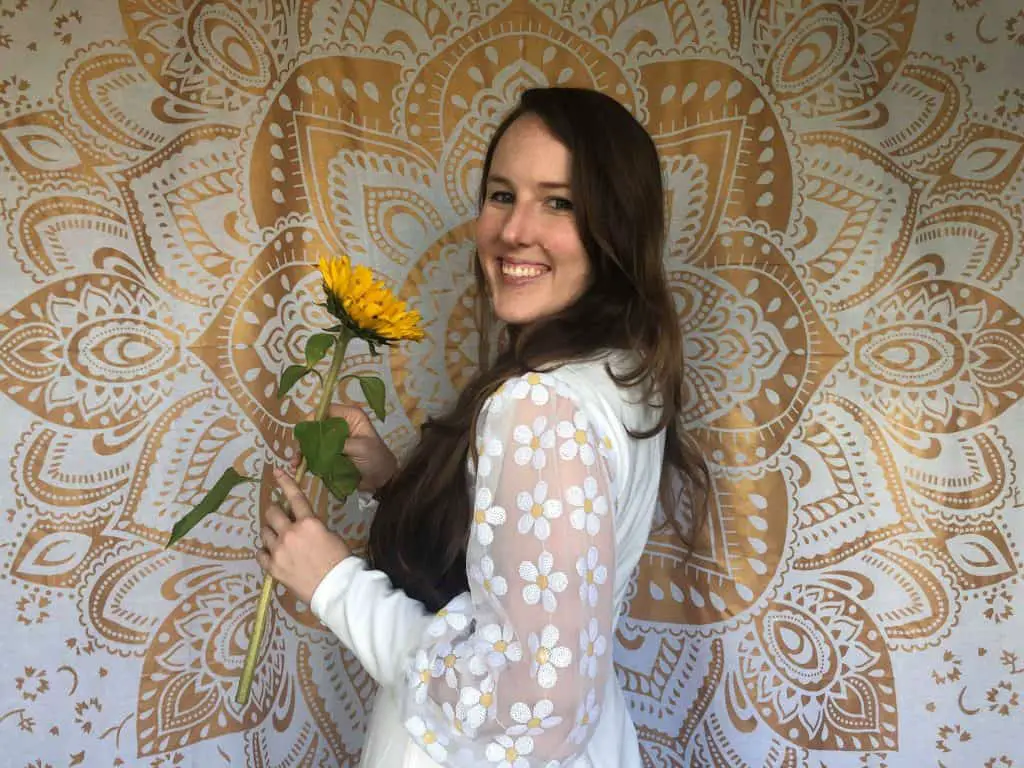 ---
More Affordable Wedding Dresses Online
If you don't find something that you LOVE on Modcloth, but you want a wedding dress that's affordable (under $500), I suggest you also explore dresses on the following AMAZING websites:
Friends of this blog, be sure to check out my recommendations page for all of the dresses, shoes, and other wedding products I love 🙂
---
My Modcloth Try-on Experience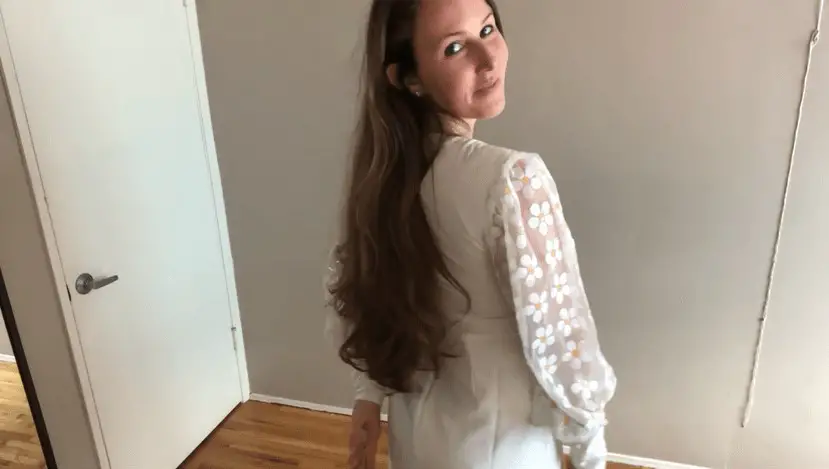 The Cost
I spent $151.20 in Canadian dollars (which is $111.48 U.S. dollars) for the Back in the Daisies Mini Dress and $39.90 in Canadian dollars (which is $29.43 in U.S. dollars) for the Refreshed Zest T-Strap Heels.
Because I'm currently living in Canada (in Vancouver), I also had to pay duties, taxes and fees which is pretty standard I believe for clothing packages being delivered internationally and that was an additional $58.07 Canadian (or $42.83 American)… which isn't ideal, but that's how it is!
Shipping was free! I think shipping over a certain amount is always free on Modcloth.
All this to say that, for a grand total of $249.17 Canadian (which is $183.81 American), for both a unique wedding dress and nice shoes, I still felt like I got a pretty good deal.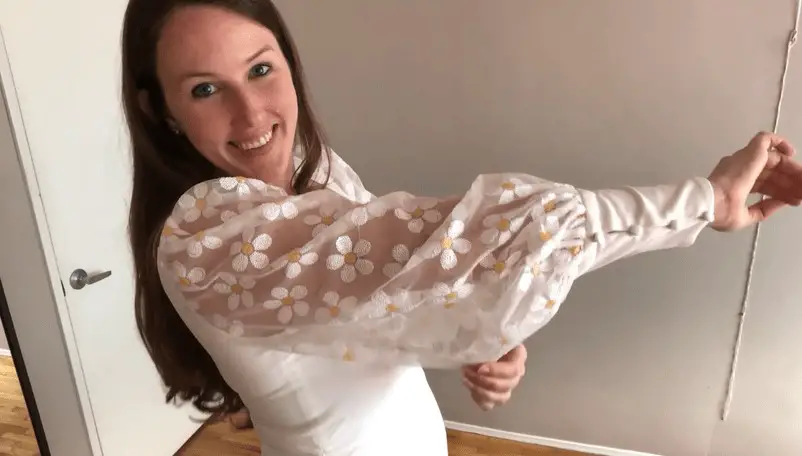 My Size and Measurements
I'm 5'7″ and about 140 lbs and I usually order a size 6 or 8 (or a medium) in most dresses that I buy in life! So I went with a size 8 for this one as well, and I ordered a size 8 in the shoes.
I thought the dress fit well — like a standard U.S. size 8 I would say!
My Try-On Experience
So if you've seen any of my videos or read any of my past dress articles, you'll know that I AM OBSESSED with sleeves on wedding dresses. And let me tell you: The sleeves on this dress are the most interesting and unique I have seen so far!
You can see in the picture, but I'm not sure if photos really do it justice — the sleeves are poofy, with buttoned-cuffs at the bottom. They're made from a tulle material and covered in SEQUINED DAISIES! OMG. I love them so much.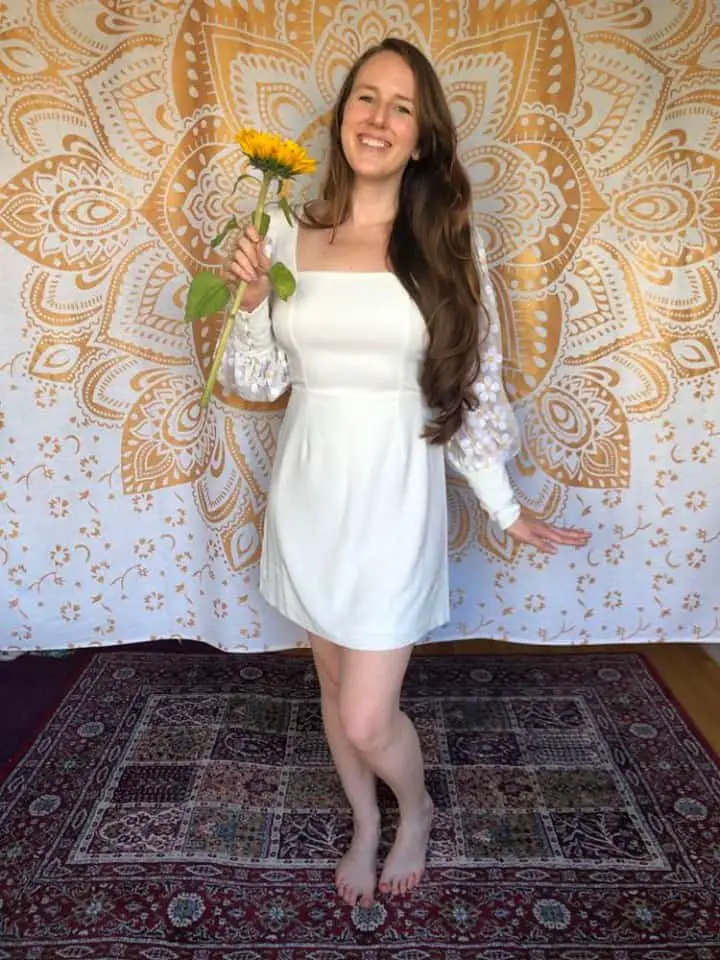 This particular dress has a square-cut neckline. The body of the dress is simple and white with two seams running down the front. I think it could do with a little steaming coming out of the box but other than that, it's ready to wear.
The skirt hit me about mid-thigh. I love a short dress for a more informal wedding — perhaps a backyard wedding or a courthouse wedding. Or maybe for an elopement. My mom wore a short white dress to my parents' elopement in Vegas in the eighties! 🙂
The Shoes
As mentioned earlier, I ALSO bought shoes from Modcloth to fulfill that "something blue" — these are retro-y suede high heels called the Refreshed Zest T-Strap Heels on the Modcloth website.
I'm not exactly a high heel person (just because of the comfort factor), but I do love vintage-inspired shoes. So when I saw this pair on Modcloth, I really wanted to try them out. It turns out that they also come in other colors, including a mustard yellow which I really love too.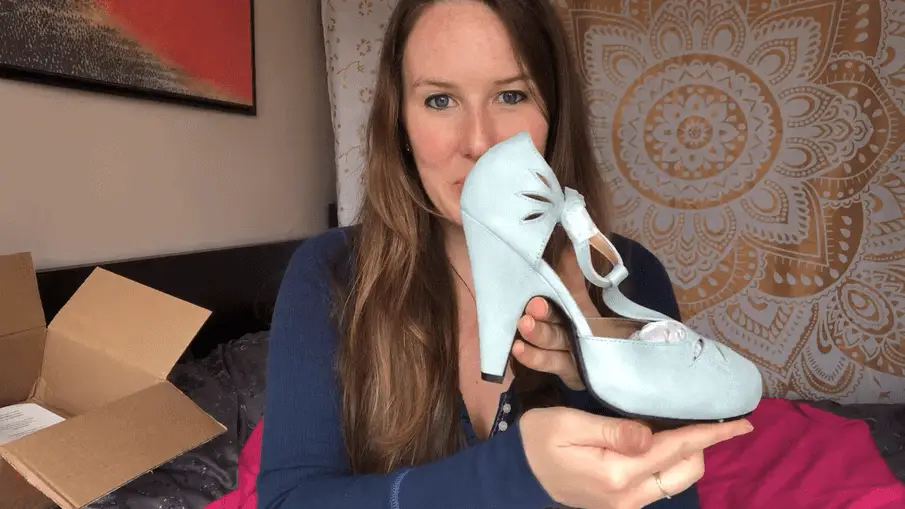 They're heels so of course they're not the most comfortable option for your wedding day. As much as I love them, I know that I won't be comfortable enough in heels on my own wedding day. So I'm going to take a look at the other options on Modcloth's shoe collection to find something flat or a lower heel.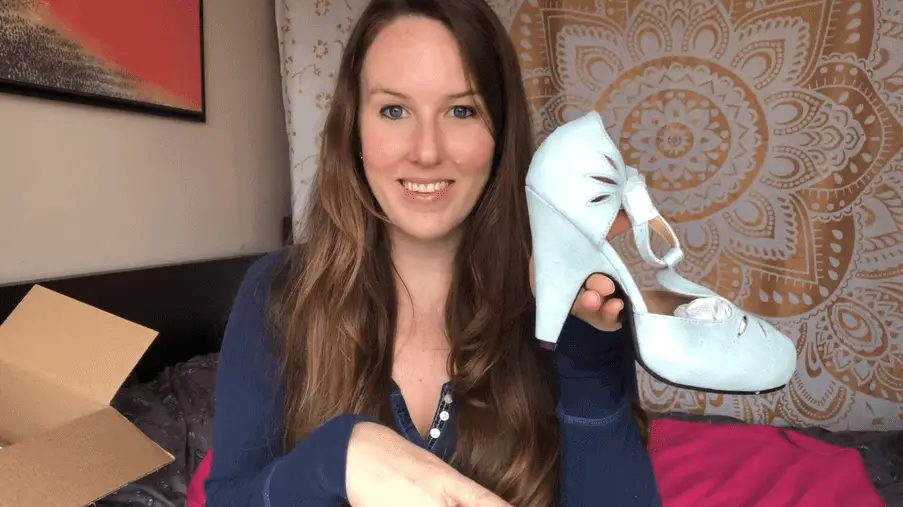 The great thing about Modcloth is how unique and just DIFFERENT their shoes are. If you're into patterns and bright colors, you'll definitely be able to find something.
Discounts on Modcloth
Modcloth seems to be a very conscious company that offers discounts to students (25% off at the time I'm writing this!) — As well as to teachers and military members!
Shipping, Delivery, and Returns
My box was delivered within 2 weeks from the time I ordered it. And I live in Vancouver, Canada — I believe it would arrive even more quickly if you live in the U.S.!
As far as returns and exchanges, you can do both but the time frame is dependent on where you live, so take a look at Modcloth's website for specific details.
---
That's it! I hope this review helped you out and that you find something on Modcloth that you love! It's really one of my favorite companies for unique clothes and I'm so excited that they have options for casual weddings. Check out my YouTube video for more details 🙂 GOOD LUCK!!