I bought a wedding dress from Amazon for $34.99 that is meant to be worn at a simple beach or backyard wedding. You can check out the current price of this dress here.
It's a dress that I had been eyeing for a long time and that I ultimately didn't LOVE on me, but that definitely had some strong points and might work for other brides.
Many of us don't want to spend thousands of dollars on a wedding dress these days!
Did you know the average bride in the U.S. spends $1,700 for a wedding dress?! To me, that's just crazy as I plan my $5,000 backyard wedding (this link will take you to my own wedding budget breakdown!).
For those of you who prefer audio/visual, I also made a video on my wedding YouTube channel about my try-on experience:
---
Bottom Line: Go For it.
If you're interested in ordering a wedding dress (or bridesmaid dresses) off of Amazon, I would say go for it. You can always return them if they don't fit or don't suit you and there are tons of options that are very affordable.
Just be sure to spend a lot of time with the customer reviews, try to gauge your size as best as possible, order a dress (or a few!) and do a little try on session at home with your close family and/or friends.
---
Searching for Affordable Wedding Dresses Online
In addition to my Amazon wedding dress, I've been trying on wedding dresses from other affordable online companies to compare them, and I urge you to check them out too before dropping bug bucks on a $$$ designer wedding dress you'll only wear once for about 6 hours (!!).
Here are my favorite affordable online wedding dress shops (in addition to Amazon):
And friends of this blog, you can find ALL of my recommendations for wedding dresses and more here 🙂
My Amazon Wedding Dress Try-On Experience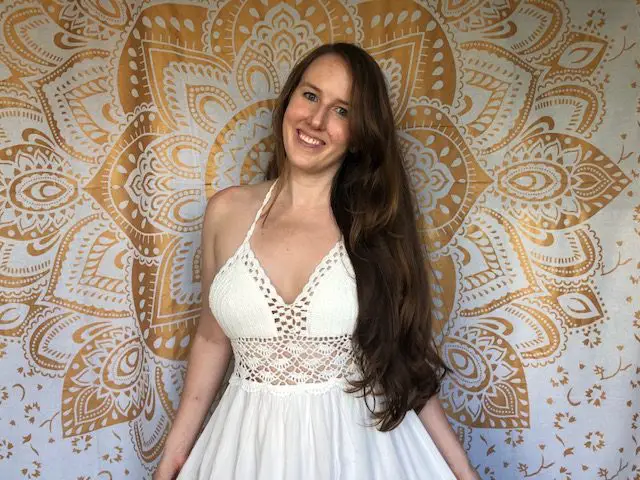 The Price and Quality
This dress was $34.99 when I bought it, which is exactly what it should cost.
It's a light-weight dress with two layers of fabric in the skirt. The underlayer stops at about the knees and the top layer goes down to about the ankles.
I would still recommend wearing skin-toned underwear because darker fabrics might show through.
The top is the unique and interesting part of this dress. I love all things crochet and macrame so I was excited to see the top of this dress in person. It's VERY breathable, and makes it perfect for a summer wedding in the backyard or on the beach.
There's a section in the middle of crochet holes, and the dress is a backless halter which makes it very cool for summer and I suppose somewhat revealing: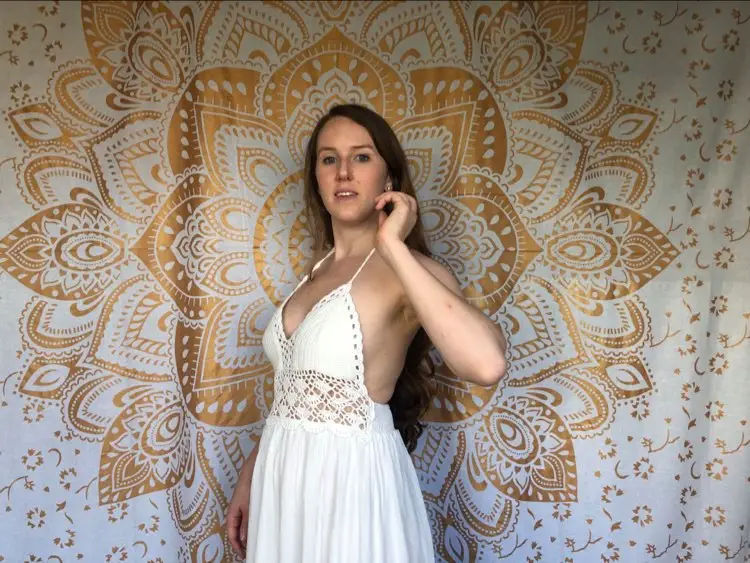 The Size and Fit
I thought the length was good on me. I'm 5'7″ and about 140 lbs and I got this dress in a medium (I buy most dresses in a medium). It hit me at about my ankles, maybe a bit lower.
My problem with this dress was the BOOBS. I'm a 36C and the top looked… weird on me. It made my breasts look flat and there was extra fabric on the sides. If I were to wear this to my wedding, I would definitely need to do some alterations on the top (which would cost more than the dress itself).
I discuss this in my unboxing and try video (up above) which shows it a bit better than these photos: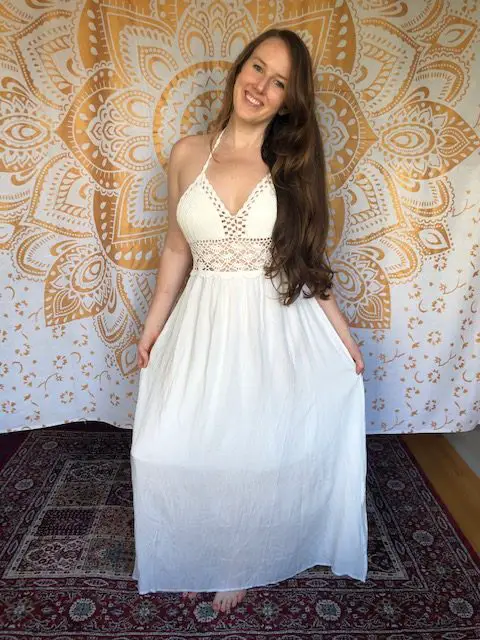 Shipping and Delivery
Obviously, Amazon usually ships quite quickly and delivery can be 'free' if you have Prime. I ordered this dress from the U.S. Amazon and had it delivered to Canada, which usually costs a bit more (ah the joys of ordering retail from the U.S. when you're in Canada!).
Good Luck!
I hope this was helpful!
Again, I would encourage you to try any wedding dresses on Amazon that you think are pretty and that have a decent amount of good reviews.
Because we're all different shapes and sizes, it's often just impossible to tell how a wedding dress will look on us based on a photo online. We really need to order it and see for ourselves and ask our friends and family members what they think!
Just remember to order from a company with a good return policy!
Good luck and happy affordable wedding dress hunting! I'll leave you with a video I made with my fiance trying on 6 affordable wedding dresses (all under $300!) — He rated them all 1-10 and picked his favorite: