We're getting married next June and as grad students and teachers, weren't willing to shell out lots of cash for our wedding. But we still wanted to have an epic party. So we designed the following $5,000 budget, which focuses on the things that are most important to us and we let all the rest slide away.
I hope it helps you in your own wedding planning, and makes you feel like you're not alone in refusing to overspend and get stressed out about every little detail.
Fair warning: We had to viciously slash our guest list to get to this budget! We're planning on having about 50 guests. Which meant not inviting our extended families. For you, this might not be possible and you may need to make cuts in other parts of your budget.
Our $5,000 Wedding Budget Breakdown
| | |
| --- | --- |
| ITEM | AMOUNT |
| Catering | $1,000 |
| Alcohol | $1,200 |
| Tent | $800 |
| Photography (1 hour) | $500 |
| Decor | $500 |
| Dress | $300 |
| Furniture | $400 |
| Entertainment | $200 |
| Glassware, Flatware, Utensils, etc. | $150 |
| SUBTOTAL | $5,050 |
| 15% For miscellaneous fees, taxes & buffer for all we forgot to include | $757.50 |
| TOTAL | $5,807.50 |
---
The "Specs" of Our Wedding
We're having a backyard wedding in Quebec, Canada, in June at the home of my partner's family. Because we don't have to pay for our venue, we're able to save A LOT of money. However, it also means a lot of DIY-ing and bringing in things that a venue would normally provide… But on the other hand, we can shop around and choose the cheapest vendors we can find!
Another great benefit of having our wedding at my partner's family's home is that much of the kitchen "stuff" and any other little things we may need are already there. For example, serving utensils, cleaning products, etc.
If you aren't able to use someone's backyard for your wedding, look into cheaper venue rentals, such as community centers or public parks. It's crazy to have to spend $5,000 just to RENT a space!!
Here's a look at our "backyard" space which is actually a pretty huge chunk of land on which to have a wedding! Of course, in June there won't be any snow and hopefully Phil won't be wearing his pajama bottoms: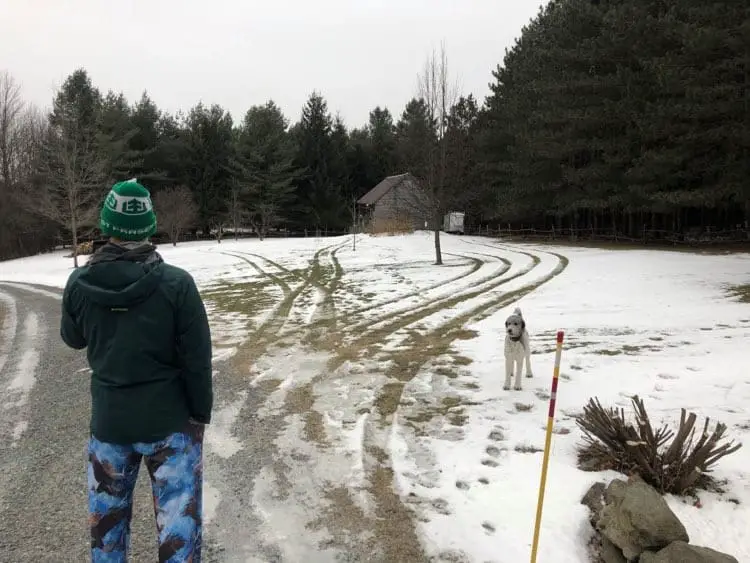 Bathroom: $0
At this moment, we're not planning on renting bathrooms for our outdoor wedding because we think 2 bathrooms in the house will be enough for 50 guests. We might reevaluate this later, but we'll see! Typically, you want to have 1 bathroom for every 30-50 guests at your event, or else you're looking at having long, terrible waiting lines for the bathrooms.
If you're not going to be able to offer your indoor bathrooms to your guests at your backdoor wedding, you're going to have to rent some. And there are more options than just the ugly, blue bathrooms that we dread going into. I wrote a guide to backyard wedding bathroom rentals here which I recommend you check out!
Catering: $1,000
We budgeted $1,000 for catering which works out to $20/person for 50 guests. I think that we can actually find something that costs less than that and use the "extra" money for a midnight snack and appetizers.
Our plan is to find a local place in Quebec to cater, buffet-style. I've heard of other people finding extremely good deals on things like tacos and Italian food.
Another option that we might explore is to have a barbecue and grill our own food. This will totally depend on how much we're willing to prepare beforehand and whether or not we have volunteers to help with the cooking and serving. I actually wrote another article on how to pull off a backyard BBQ wedding and save a TON of money.
Alcohol: $1,200
We budgeted $1,200 to create our own DIY open bar. We're planning on stocking up on alcohol in the months leading up to our wedding, picking some up whenever there are deals.
The bar itself will either be self-serve or we'll have help from a couple of volunteers to keep it looking semi-nice. I think we'll go with a lot of beer and wine, possibly a keg, and then some liquor for people to make their own cocktails. A "make-your-own-drink" bar might get out of control pretty quickly, but that's okay!
I've written a couple of different articles on this website about how to stock and create your own open bar, which might be a big help to you as you plan your own:
Tent: $800
A tent is a necessity, as we'll be having our event outside. In case it rains, we want to be covered! And even if it doesn't rain, we want a place for people to have shade from the summer sun.
We also plan on keeping the food under the tent. I think having a tent is worth it if you're having a semi-big guest list for a backyard wedding (50-ish like us) who won't all fit in the house if there's bad weather.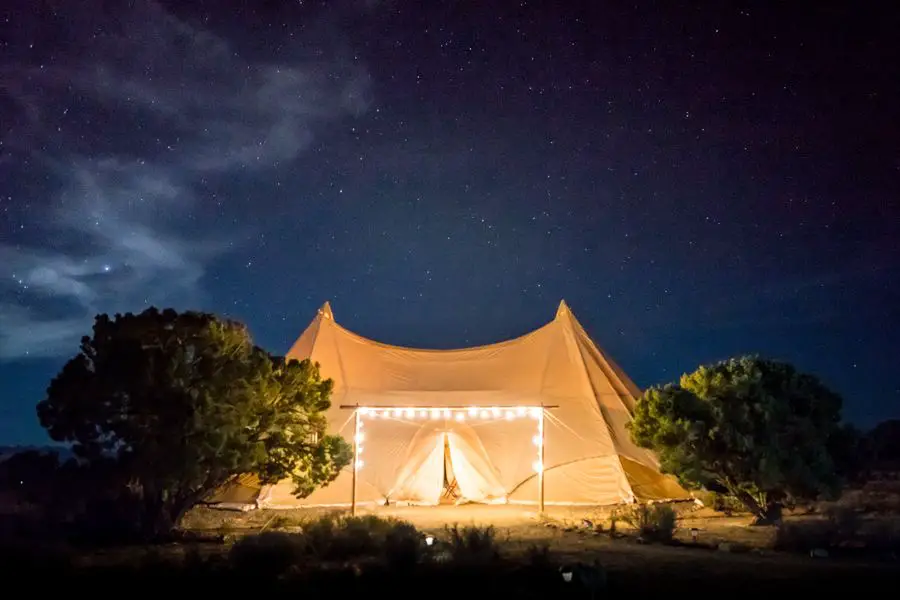 Photography: $500
This is where I'm still unsure! We were originally just going to have our friends and family take photos, because we don't even really like posed photos anyway.
But after reading SO MUCH about weddings and wedding photography, I'm feeling more and more unsure. Now I'm at the point where we've budgeted $500 for one hour of photography, perhaps for the ceremony only.
Everything else would be covered by friends and family members.
Decor: $500
We're going to thrift and buy secondhand all of our wedding decor for $500 or less. This include things like candles, lights, hay blankets, sola wood flowers, etc. It'll involve more DIY-ing and also SIMPLIFYING our decor.
Sometimes we (I) get distracted by the complicated and intricate designs on Pinterest, as evidenced by my Pinterest boards. But I don't think we should let ourselves get too swept up in the madness! Minimalist, simple decor is not only beautiful and elegant, but also WAY CHEAPER and EASIER to do. Not to mention much more eco-friendly…
If you're interested in eco-friendly sola wood flowers (made from cassava roots and other woody plants), I wrote an article about them here. Also, you can get a 20% discount on your order with the coupon code Wayfaring20 (limited to one per customer) at my favorite online sola wood flower shop, Oh You're Lovely.
Dress: $300
I knew that I didn't want to spend the average $1000-$2000 on a wedding dress and that there were beautiful and cheaper options available online. I've talked before on this website about how I do NOT think an expensive wedding dress is worth it.
So I looked around and I ended up finding a dress for a little less than $250 already from Blushfashion, which I adore.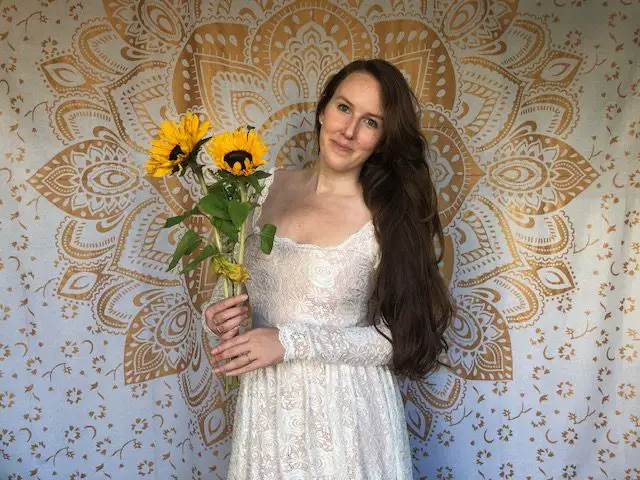 However, after MORE searching, I could have found one even cheaper from Lulus Bridal. I even tried on 8 dresses from Lulus Bridal and wrote a review about them here if you're interested in saving money on your own wedding gown!
The best choice we could make for eco-friendly wedding dresses is buy our dresses secondhand, which I totally SHOULD have done. A great site for finding once-worn dresses (i.e., worn for about 6 hours!) is Nearly Newlywed.
My partner is just going to wear a suit he already owns from the affordable men's collection on ASOS linked here, in attempts to be as eco-friendly and budget-friendly as possible, and we're not having a wedding party so no need to worry about that! Everyone can just wear whatever they want 🙂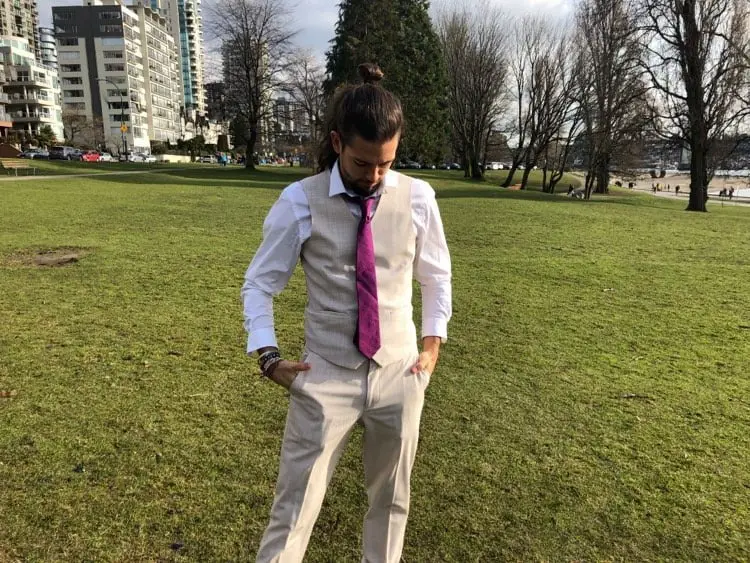 Furniture: $400
We're not having a sit-down dinner, but more of a "roam around" backyard-style meal. So we're not getting a bunch of tables, centerpieces, linens, etc. But we DO want our guests to have places to sit and eat, and to be comfortable.
So we're doubling up, making the ceremony space also part of the eating area. We'll design the ceremony seating in a big circle using hay stacks covered with blankets. We'll have pallets placed in from of the stacks for people to eat on (and put their welcome drinks on during the ceremony).
We're also planning on renting some high boy tables to place around the yard for people who prefer to stand and roam while eating/drinking.
So our furniture budget, which will also be spent on secondhand items as much as possible, will pay for hay stacks, pallets, high boys, and folding tables for the food. We'll also be thrifting carpets for the dance floor, aisle runners, and "altar" space.
Entertainment: $200
We're making our own music playlist and pressing play! Viola! As much as I appreciate the work that DJs do, which I wrote about in another article, we don't want to pay for one for such a small gathering.
So our budget will go to renting speakers! We won't have all of the perfect timing and perfectly cued music throughout the night that a DJ would provide, but that's okay with us.
Glassware, Flatware, Utensils, etc.: $150
For all of the miscellaneous kitchen gear, we've budget $150. But we might actually not end up spending all of this because my partner's mother has a bunch of glassware that she's going to let us use. We just budgeted it just in case 🙂
15% For miscellaneous fees, taxes & buffer for all we forgot to include
Soooo because there are most likely many things I've forgotten in this list AS WELL as the fact that many things end up costing more than expected (with fees and taxes, etc.), I decided to add 15% on top of everything.
So the subtotal of all of the items listed above is $5,050 (I know! 50 dollars over my $5K budget! Sorry!), and 15 percent of that is $757.50. That 15% is a buffer for all of the "things" we may have forgotten plus any miscellaneous budget items that pop up.
TOTAL
…Which brings the grand total to $5,807.50. I know this is closer to $6K now than $5K but I'm still calling this a $5,000 budget because we don't expect to pay the full $5,807.50. We just know that if we do, we're comfortable with it!
That's it!
I hope this budget is helpful for you, and maybe you can take some of our pointers! I made a YouTube video about this topic as well, so head over there and tell me in the comments what I forgot in this budget! Thanks, guys!