This is a sometimes overlooked detail and expense of outdoor wedding planning that is actually enormously important. Like, much more important than flower arrangements or cake cutting etiquette. The bathrooms of course! Where will your guests pee??
If you're having the wedding in your backyard, are you prepared for the bathroom situation? How many bathrooms will you need for the number of guests you're expecting? Will they all use your house bathroom or will you need to rent a portable bathroom? Are you stocked with enough toilet paper and soap? So many questions!
It's perhaps not the most exciting wedding detail to plan, so put it at the top of your list and get it out of the way fast so you can move onto more fun things. Hopefully this guide will shed some light on a less-than-glamorous wedding detail.
This article will address the following concerns:
Number of outdoor bathrooms you will need
Types of outdoor bathrooms
Cost of outdoor bathrooms
How to make your outdoor bathrooms look nice AND classy at your wedding!
Things to keep in mind when renting outdoor bathrooms (contracts, delivery, set up, etc.)
Where to rent portable bathrooms for your wedding
NOTE: For ambitious eco-friendly couples having a wedding in their own backyard, consider making your own compostable toilet for your guests!
---
First, why rent portable bathrooms for your wedding?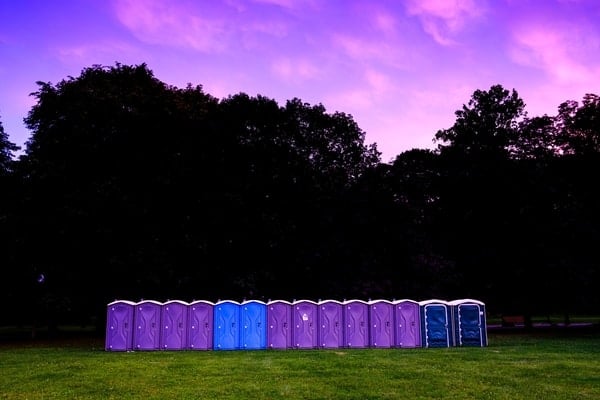 Many couples cringe at the idea of portable bathrooms or "porta potties" at their outdoor weddings, but they don't have to be the disgusting concert toilets you're imagining. And for many venues, they're essential.
Some couples don't want 100 plus guests going in and out of their house or the property they're renting to use the bathroom. This brings up security issues, "snooping" guests, potential broken property due to drunk guests, and the clogging or backing up of toilets.
Also, the bride, groom, or wedding party may want to use the indoor bathroom(s) to get ready.
Sometimes, it's just easier to rent a portable toilet!
---
How many bathrooms do you need for an outdoor wedding?
A general rule of thumb for event planning is 1 bathroom per 50 guests. If you're planning on having 50 guests or less, it might still be a good idea to get two bathrooms just in case one of them has any issues.
Hopefully it won't happen but you just never know if a drunk guest is going to make a mess of the bathroom, unfortunately. And it would suck to be down a bathroom with no backup plan.
Also, if your event is going to last more than 24 hours, you should double the amount of toilets. So, for a two-day wedding weekend of 50 people, you would need 2 portable toilets.
Think of the comfort of your guests when looking into renting portables. It really is one of the most important aspects of your wedding. You don't want your guests totally grossed out going to the restrooms, or having to wait in a long line and miss important parts of the festivities.
---
Cost of outdoor bathroom rentals
This will depend on your city, region, etc. and on the type of portable bathroom you rent. The standard portapotty will be cheaper than a fancier bathroom trailer with amenities and space. Many of the companies won't post their prices on their websites and you'll have to call or email them to request a quote.
Don't be afraid to ask many different places and negotiate the price you want. Look at their reviews carefully and if possible, ask other people in your area what they've paid for bathroom rentals.
Typical "construction site" style portable toilets cost about $75-150 USD to rent per day (again, this is super variable depending on where you live). An additional delivery/setup fee usually is added to this.
For the fancier bathroom trailers with running water, lights, and extra space, you're going to pay much more usually. These can cost anywhere from $600- $2,000 USD to rent per day!
So decide what you want and shop around. Request quotes from several companies and compare.
---
Types of outdoor wedding bathroom rentals available
You're probably familiar with the lovely, usually blue, porta potties found on construction sites and at many a festival. These are your cheapest option for your outdoor wedding, and honestly — they're not as bad as you think.
They come very clean and un-smelly and you can set them up in an appealing way (more info on this below) so that guests will keep them in this condition throughout your wedding. You usually also have the option of getting the bigger handicap version of the classic porta potty for guests that may require additional help and/or space.
These traditional port potties don't have a "flush" but instead have a really strong blue chemical that deodorizes and disinfects.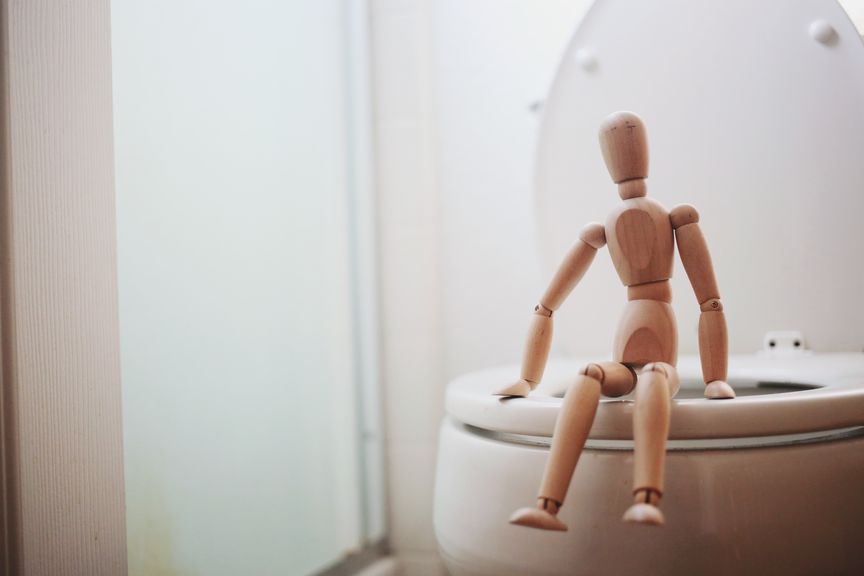 Another option, as previously mentioned, is the trailer bathroom. These are essentially little bathroom buildings that roll up and get parked at your event. They generally have full amenities, including electric lighting and running water. They are FANCY and PRICEY.
For a wedding on a budget, the construction-style porta potty, dressed up with a bit of DIY, is probably your best option.
Any guests that are elderly or that you think might not be able to use the porta potty for whatever reason, you can just "secretly" have shown to the inside bathroom if you have one.
---
How to make your outdoor bathrooms look nice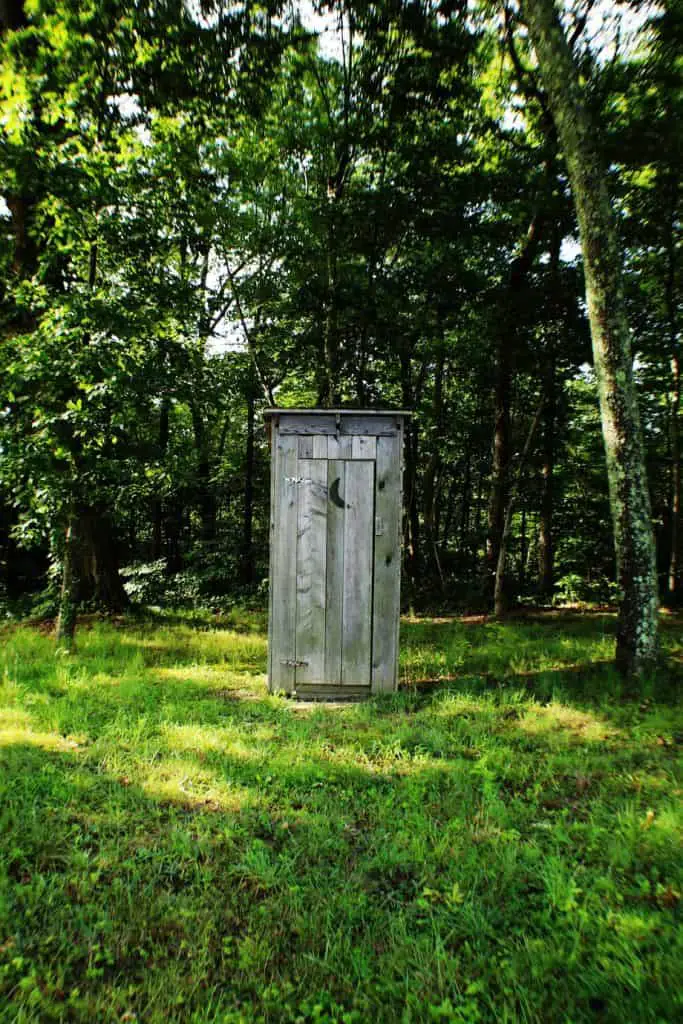 Your outdoor bathroom doesn't have to look shitty (even though it WILL be shitty… heheh… gross). There are ways of "dressing it up" if you want to.
Drawing a bit on the "broken windows theory" whereby making a place look nicer reduces crime, maybe you can make your toilets look pretty in hopes that your guests will be respectful and keep them clean!
Here are a few ideas to make your bathroom station look nicer and classier:
You could place your porta potties under a rented white tent (although yes, this increases costs).
Place a (thrifted or used) carpet outside the porta potties (yes, right on the grass!).
Create a "waiting area" outside of the porta potties using thrifted furniture, such as couches and arm chairs.
Set up potted plants or use flowers to decorate the porta potties.
Set up a hand washing station outside of the porta potties. Thrift or get a used dresser or table. Place a large bucket or bowl of water on it, along with a cup and some hand soap. Guests simply soap up, and pour a cup of water over their hands over the grass. You could make a simple, framed "instruction" sheet to help them.
OR instead, place a giant dispenser of hand sanitizer on the dresser/table.
Set up some "amenities" for guests to use next to the hand washing, such as cologne, hair spray, and mints.
Create cute, funny "toilet" signs for the porta potties (such as "wedding shitter") or put pictures on the doors.
Consider taping some entertaining "bathroom poetry" inside the bathroom door and on the bathroom walls for your guests to enjoy.
HIDE your porta potties completely, such as in the image at the top of this section. You can do this with wooden doors (like in the photo), room dividers, flowers and plants, or curtains.
NOTE: Porta potties come with hand sanitizer dispensers, but it's such a nice touch to have a little station outside of the bathroom with a few little cleanliness amenities.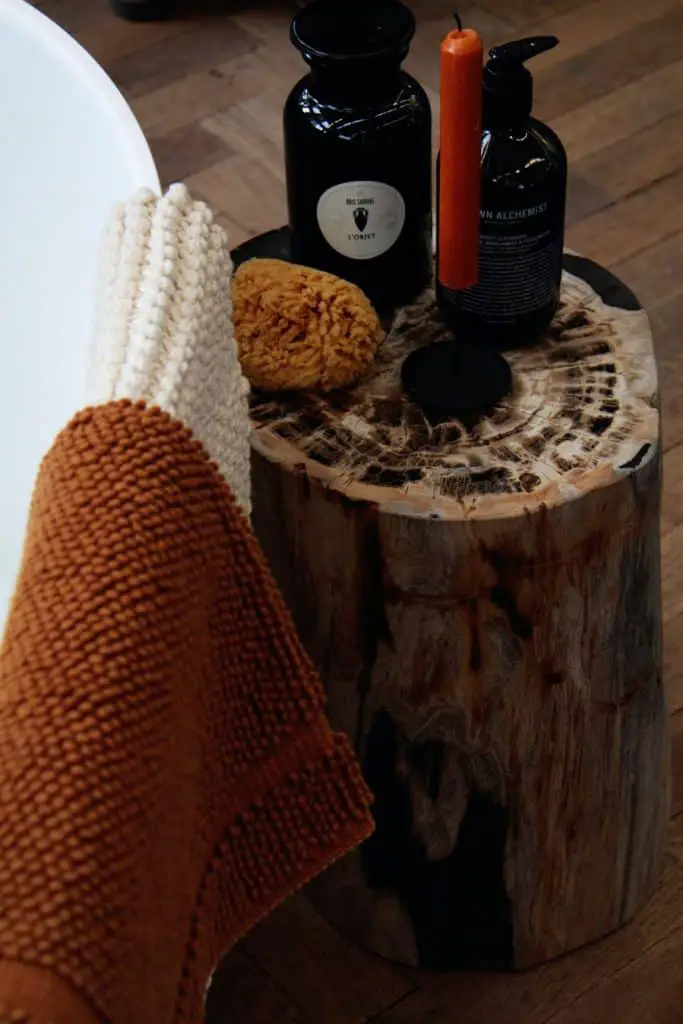 ---
Rental contracts and delivery/setup/pickup issues
There are some important things to note before signing any contracts with a bathroom rental company. Make sure and read your contract completely.
Make sure you know the date and time of delivery and pick up and how much you're paying in total, including setup costs. Don't put yourself in the position of being surprised by hidden fees.
They should come to set up the portapotties a day in advance (at least). They should help you scout out the best location in your backyard for the bathrooms. You want them far enough from the festivities to avoid any unwanted sounds or smells, but not so far that it's a burden for your guests.
You also need to make sure they're set up properly and safely so you don't have porta potties tipping over at your wedding (gaahh!). The company should properly install the toilets to avoid this.
You should also ask them before signing what the capacity is for the toilets. Make sure you have enough for the amount of guests you're expecting so that you don't have any overflowing toilets (again… gaahhhh!!).
---
Where to find portable bathrooms for your wedding
Start googling! Ask your friends and family for advice and suggestions.
But don't just accept the first company you find. Your area is sure to have several competing bathroom rental places to choose from and you can use this to your advantage to get the best price possible.
Remember that it may seem like an annoying item on your wedding budget list to have to shell out for, but it's sooo important.
And if it makes you more excited about it, think about the decorating and beautifying aspect! Think about how much fun it will be to make those construction toilets look cute and fit in with your wedding decor! Heheh… have fun and happy plumbing!