Today we're going to be talking about how you can best keep your wedding guests safe!
Of course, the safest thing to do (at the time I'm writing this at least) is to postpone your wedding or to have a zoom wedding — this link will take you to an amazing video by yours truly explaining how to have a fun and successful Zoom wedding!
After scouring many Facebook groups and event regulations and protocol websites, I have come up with six main guidelines (as well as tons of tips big and small!) that I would use right now if I were having my own backyard wedding tomorrow.
If you're reading this from somewhere in the future and you're like… "Why is this girl recommending that we don't have mixed drinks at our wedding?!"
…Then I'll be happy that all of my recommendations in this article sound totally crazy and that the world is back to some semblance of normalcy (or wedding world at least).
Here's the video I made on my wedding YouTube channel breaking down all things wedding safety for my friends who prefer a little audio-visual:
---
The following are the 6 guidelines and precautions that I might put into place to keep my guests safe…
Obligatory disclaimer: Please look into the precautions that are set up in your own specific area where you live — because honestly these things are changing everyday, and every place around the world. Don't take what I say as complete gospel and also go do a little bit of research specific to your local area:
Risk mitigation tool for gatherings and events in Canada
CDC Considerations for Events and Gatherings
---
#1: Guidelines for Preparation Before Your Wedding
What should you do before your wedding and what should you be communicating to your guests in the days leading up to your wedding?
Be sure to limit your guest list to the number of people that are allowed (which will differ depending on where you live).
The communication part is going to be key, so make sure that you have a messenger group or something set up so that you can easily inform all of your guests with the latest information.
What to tell your guests before your wedding:
Don't show up early. Many venues won't let guests arrive early anymore for safety reasons. You know there's always those people who arrive 30 minutes or even 1 hour early to weddings, but they may end up having to sit in their car and wait.
Don't attend if you have any symptoms. I would hope this one would go without saying but if not, please tell your guests that if they are sick — not to come to your wedding! You can give them a checklist of symptoms from a reputable website (such as the CDC) messaged or emailed to them. Let them know explicitly that they CANNOT attend if they are experiencing ANY symptoms.
Don't attend if you've been traveling recently. This one might seem harsh, but you might want to limit out-of-town guests and only invite guests that live close to you. For faraway guests or guests who have been traveling, consider setting up a Zoom stream or some other form of virtual option for them.
Masks are required. Tell them that they will have to wear masks either the entire time, or maybe except for when they're eating and drinking. It's up to you whether or not you want to provide cute, wedding-themed masks or ask them to bring their own.
We're sorry but we may need to un-invite you! You may even find yourself having to cut some guests at the last minute due to changing safety regulations so make sure your guests know that this is a possibility. And again, think about the possibility of providing a virtual feed for those who can't attend.
Prepare a short (10 second) video message for the video guest book. A traditional guest book may not be the best idea because it usually requires a shared pen and shared surface contact with the book itself. To limit the amount of touched surfaces, consider a video guest book instead and let your guests know to prepare a little something to say.
Don't greet each other with hugs and kisses. Let guests know that they should approach each other carefully, asking before reaching out to hug, kiss, or shake hands with any of the other guests.
---
Other things for you to consider:
You may want your guests to have their temperatures taken or even get tested beforehand. It's up to you and dependent on where you live.
You might also want to prepare care packages (kind of like a favor) for your guests, placed at each of their seats. It could include an individual hand sanitizer (which you can buy here on Amazon — in bulk, which could end up saving you $$ in the long run) and a mask (which can also buy on Amazon, in multiple colors and styles).
You may also want to include a note explaining the safety regulations for your wedding.
Care packages can be really cute (themed-masks for example) so be creative! The money that you save from cutting your larger guest list can go toward nice touches like this on your smaller guest count.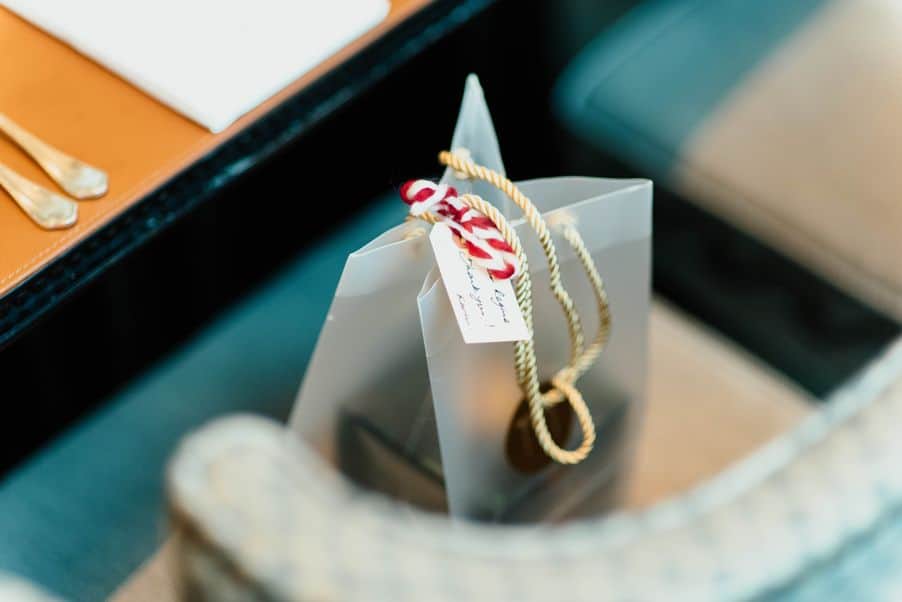 If you don't want to have physical notes or safety protocols printed out, you can simply put them all on your wedding website.
You could place some QR codes around your wedding ceremony and/or reception that link to your wedding website and this would (1) provide your guests with information and (2) limit all physical contact. Kind of like digital menus that many restaurants are doing these days! 🙂
---
#2: Guidelines for Food & Logistics
There is a lot to consider when preparing the food and logistics for your big day, and even more so when you throw in necessary safety precautions.
Here are some things to keep in mind:
Carefully plan your ceremony seating. Have assigned seating at the ceremony and keep guests from different households 6 feet (or 2 metres) apart.
Make an announcement and/or have signs to inform guests of expectations. Let guests know (or ask the officiant to let them know) to respect social distancing rules (6 feet) at all times, to wear their masks, to ask before entering someone's "bubble" and to stay in their assigned seats/areas for the safety of all other guests.
Keep tables at the reception six feet (2 metres) apart. Regulations have been to stay 6 feet apart from anyone who isn't in your household or "bubble." So keep that mentality as you're planning the seating for your reception.
Make each table a household. Take this a step further and only seat people at a table who are living together.
Do all assigned seating. Assign seats to guests at both the ceremony and reception to avoid confusion.
Enforce social distancing at all times. This just be reiterated regularly.
Try to keep events outside if possible. If you can, try to have your ceremony and reception outside.
Have a sanitation station or a few sanitation stations spaced out throughout your event. This will allow guests to sanitize their hands regularly.
Don't do passed appetizers. Avoid this as it increases possible contact with other people.
Don't do a buffet dinner. If you are going to do a buffet, start the plates and utensils at each individual table setting (not stacked at the buffet for everyone to possibly touch). Call up guests to be served one table (household) at a time. Only the server/s should be touching the tongs and should be wearing masks and gloves.
Do bento box dinners. Bento boxes are cute, individually-served dinner options. You can also include appetizers and desserts.
Do family-style dinners. Since each table is a household, family-style dinners, in which everyone serves themselves from shared plates, could be a good option.
Avoid shared/communal food items. Such as bread baskets, salt and pepper shakers, ketchup bottles, butter, etc. Instead, try to do individual-sized and wrapped versions of these items when possible.
Hire someone to constantly wipe down touched surfaces. If you can swing this in your budget, it could be helpful.
Consider having a picnic wedding. Each household can sit on their own blanket, spaced six feet apart from the next household. Dinner, apps, and dessert is provided in a picnic basket. No need for passing around or serving food!
Consider making each centerpiece a small cake. Instead of one big cake that needs to be cut and passed around, consider having each table centerpiece be a dessert!
Instead of dancing, consider other activities. Such as trivia, jeopardy, music bingo, and board games (within each individual household).
---
#3: Guidelines for Drinks
Okay, let's talk about how to do drinks at your wedding in a safe way! We can't dance at a lot of weddings these days and guest lists are limited… but we can have alcohol!
Here are some things you may want to consider:
Don't do mixed drinks. Mixed drinks require a lot more contact with the product: slicing fruit, touching ice, the shaker, etc. So instead, think about just doing canned or bottled mixed drinks (of which there are many on the market!)
Have someone tending bar if possible. For my wedding, we were just planning on having big buckets of ice full of bottles and cans and guests could serve themselves. But it may be safer to have someone, even a little cousin or something, tending the bar (while wearing a mask and gloves). This will limit the amount of contact guests have with other guests if they were all touching the cans and bottles.
Have an open bar or cards-only bar. You should have an open bar, or at the very least don't allow cash transactions. Passing around paper money isn't ideal.
Consider providing straws. I know straws are not great environmentally but using straws allows guests to keep their masks on while drinking. You could get a bunch of biodegradable straws in bulk from Amazon.
---
#4: Guidelines for Bathrooms
Even if you're having a small guest count, it's important to take into consideration the bathroom situations. Here are a few things to keep in mind:
Have enough bathrooms. For a larger wedding, this usually means one bathroom to every 30-50 guests. For a smaller wedding, you'll probably only need one bathroom. But consider having at least two just as a backup!
Hire someone to manage the bathroom if possible. If you can, this would be useful for wiping down the handles and the faucets, and making sure paper towels and hand sanitizer is fully stocked.
---
#5: Guidelines for Entertainment and Dancing
A lot of venues are not allowing dancing at weddings. You can do a first dance I think at most places but as far as the guests dancing, a lot of places have banned it. So if you're completely sad you don't know what to do, here are some options!
Also, some of the alternatives to dancing at a wedding and other options that I discuss in this video might be right for you:
Ditch the photo booth. The shared props are too touchy-touchy. Instead, do a video guest book or create some custom fun digital wedding filters.
Do wedding trivia or Kahoot. Have teams/tables compete against each other! Kahoot is great because it's contact-free. Guests just use their own phones to answer questions, and less-tech-savvy guests can team-up with more-tech-savvy ones and play together 🙂
Play wedding jeopardy. Guests (in teams) answer questions about you and the stuff you love!
Play the shoe game. In this game, the couple sits back to back with one their own shoes and one of their partner's shoes in hand. A host asks a series of questions where the answer is either you or your partner. For example, "Who is the messiest?" Each of you lift up the shoe of the person who is the messiest (or whatever the question is!). Everyone watches and laughs! It's fun 🙂
Play the Newlywed Game. This is similar to the shoe game but more classic. If you have no idea how to play, fear not! I made a video that explains how to set it up:
---
#6: Guidelines for Everything Else
Other things to consider for your wedding might be:
A lot of venues are only allowing very minimal decor which can be good and bad. It's a lot cheaper in general — but sucks if you had your heart set on a more complex aesthetic or if you've already bought your decor! SO just check in with your venue asap on this!
When determining the number of people allowed at your wedding, make sure to include your photographer/s, officiant, and other vendors in your head count!
Have a backup plan for last minute changes, either due to safety regulations or bad weather. This might mean a bigger space (a bigger tent, for example — for bad weather) or an emergency "move to Zoom" / move to virtual plan.
Did I miss anything? Head over to my YouTube channel and let me know 🙂 Thank you and good luck to you all in this difficult time!