So I had been eyeing ASOS wedding dresses for a while, knowing that they're affordable (many under $300 and $200) and gorgeous.
I took the plunge a few weeks ago and bought one for myself to see what the quality and fit were like. And honestly, guys, the conclusion that I came to is that there is NO reason to buy an expensive thousand-dollar or more wedding dress! No reason! I know I've said this before and I will continue to do so!
In this article, I'll show you pictures of my ASOS try-on and when it comes out, I'll drop the YouTube video of my try-on at the bottom for all the audio-visual people out there 🙂 Be sure to subscribe to my YouTube channel so you don't miss any of my try-on videos!
In addition to my ASOS wedding dress, I've been trying on wedding dresses from other affordable online companies to compare them, and I urge you to check them out too before dropping bug bucks on a $$$ designer wedding dress you'll only wear once for about 6 hours (!!).
Here are my favorite affordable online wedding dress shops (in addition to ASOS!):
And friends of this blog, you can find ALL of my recommendations for wedding dresses and more here 🙂
My ASOS Wedding Dress Try-On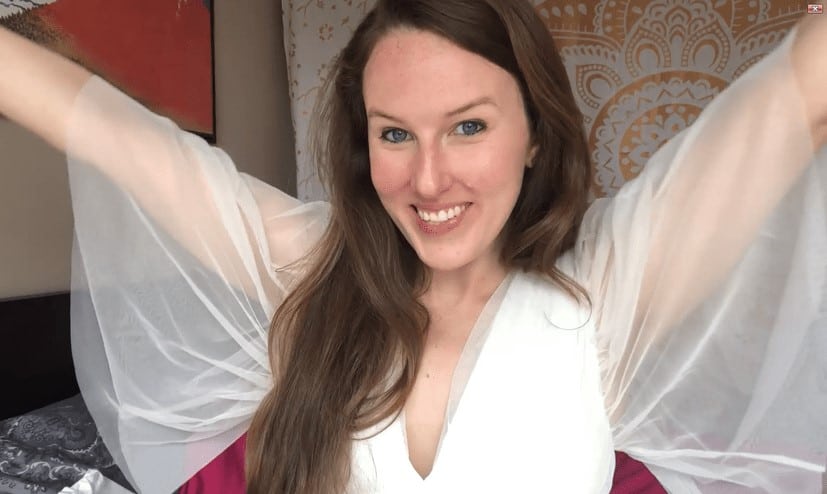 The Cost
I spent: $126.84 in Canadian dollars which is $93.24 in U.S. dollars! So… yes, these dresses are very affordable!
My Size and Measurements
I'm 5'7″ and about 140 lbs. I usually buy a U.S. size 6 or 8 in dresses, or a medium. I'm a 36-C. I found that this dress, which I ordered in a US size 8, fit me well, and hit the floor with about an inch or two to spare. I think I could wear it as is, without any alterations.
My Try-On Experience
So I received my ASOS wedding dress in the mail and couldn't wait to try it on. I bought one called the Anaya With Love tulle plunge front tulle maxi dress with cape detail in white (it always makes me laugh how they have these looong descriptive names!).
But there are TONS of other wedding dresses on their website in so many other styles, so don't feel like this is the only choice of wedding dress you have from ASOS! 🙂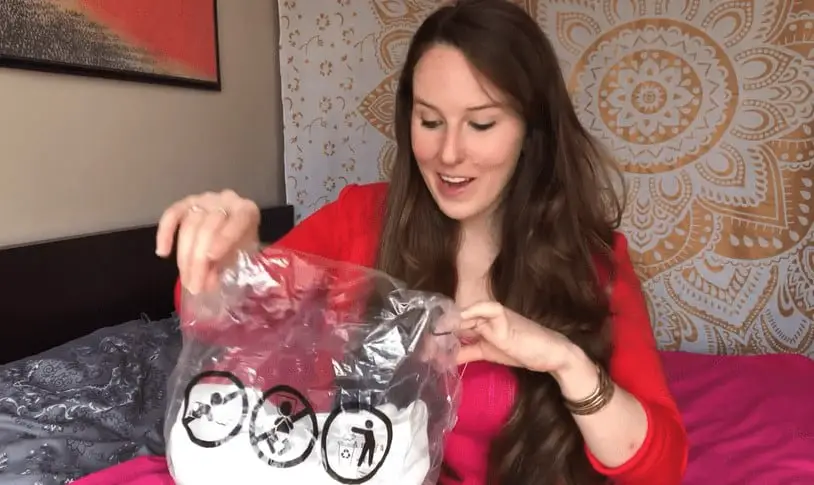 I chose this one because it was (1) cheap and (2) different from all of the other wedding dresses I'd tried on before. It was very TULLE-y! Kind of ballerina-esque, which I hadn't considered trying on before.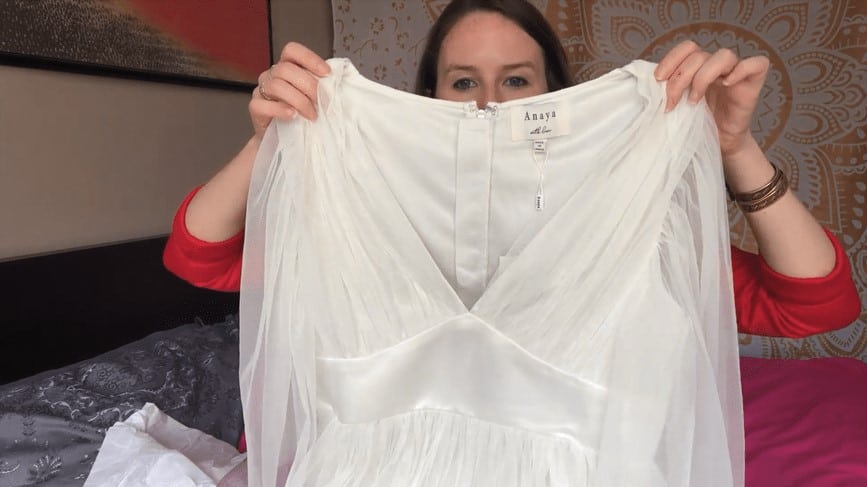 Some things I usually look for in wedding dresses (besides price of course!): Comfort, unique-ness, sleeves, and "flowy-ness." They tend to have lace details and be "hippie" ish. So this dress from ASOS, covered in tulle, was new for me.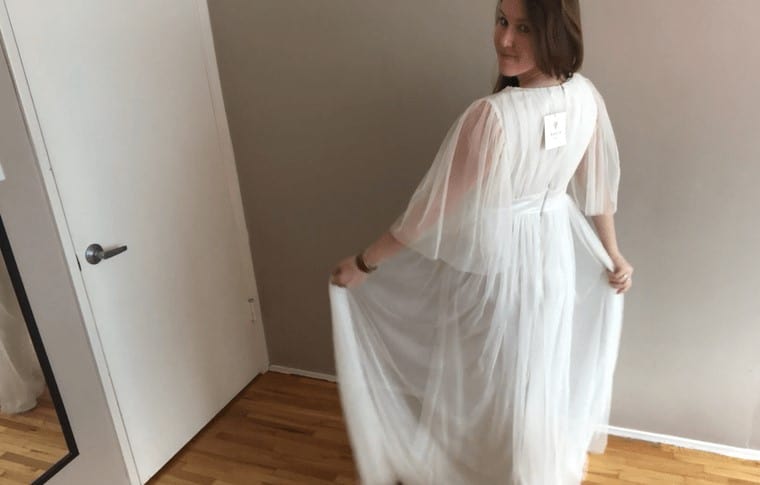 My initial reaction was that it was very comfortable. It's light and flowy and I described it in my try-on video as "ethereal" and "goddess-like" which pretty much hits the nail on the head. I felt sort of like a Roman statue, if you will let me indulge myself here for a second!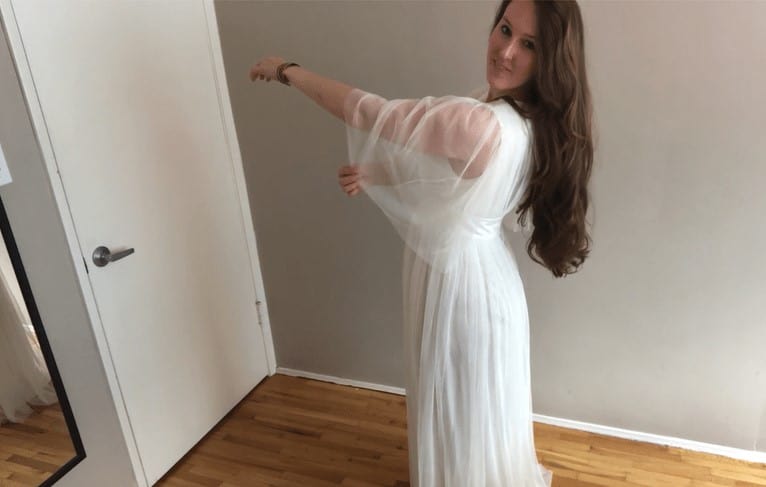 I also found it quite modest for a wedding dress. The only thing that is somewhat "revealing" at all is the V-neck line in front. Other than that, the back is totally covered, as are the shoulders, so you could totally wear a bra with this dress and the straps wouldn't show.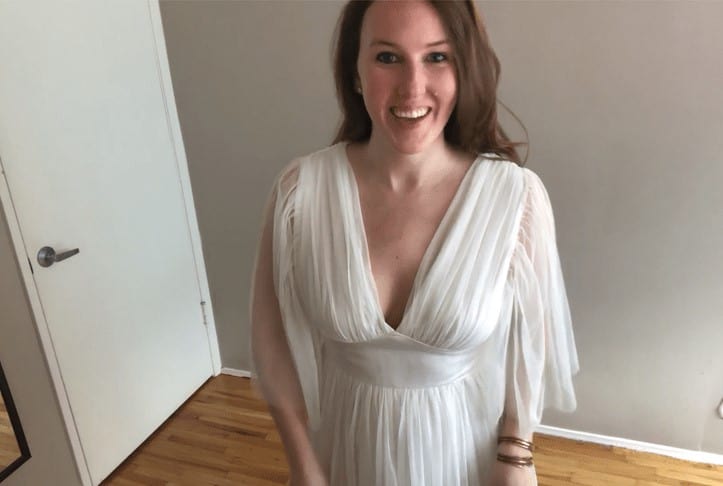 As far as the underwear situation, this dress doesn't require specifically skin-colored underwear, in my opinion. It's a thick dress, with a layer of white fabric underneath and a layer of tulle on top. So any underwear color should be fine to wear with it. I would say that it still feels light and breezy though when I was wearing it — not stuffy or hot.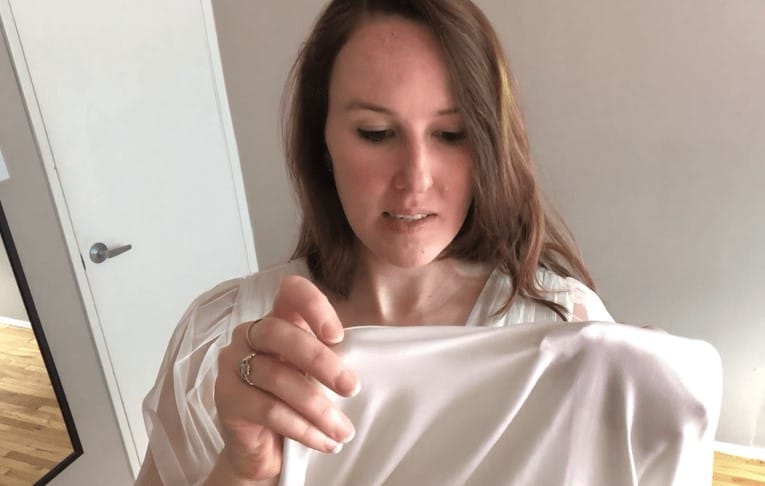 ASOS Shipping and Delivery
I'm from the U.S. originally but have been living in Vancouver, BC, Canada for a number of years. And so I'm used to converting prices and paying extra for shipping or duties/fees for certain clothing companies to deliver to Canada. This was the case for ASOS as well.
Shipping over a certain amount of money spent is FREE on ASOS, for both US and Canadian customers.
Although my shipping was free and I managed to get a discount code of about $20 by using the Honey plugin in my browser (which you should definitely install if you don't already use it!), I still had to pay a little over $30 in duties and fees when I went to pick up my package at the post office.
So keep that in mind for those in Canada, and probably in other countries as well 🙂
As for delivery, my package came in about 2 weeks. I think this is usually faster in non-Covid times, and definitely faster for orders within the U.S.
ASOS Return Policy
ASOS accepts returns from Canada, as long as you return your order within 28 days of delivery (to get a refund) or within 45 days of delivery (to get a gift voucher). The US return policy seems to be almost identical!
The reason return policies are especially important to note for online wedding dress shops is of course, because we don't know if these dresses are going to fit us! We'll probably have to alter them a bit anyway, but we need to be able to return them if there's just no hope of making the fit work. Or if the dress doesn't fit our vision in real life when we receive it in the mail.
So always double check the return policy before ordering a wedding dress (or flower girl, bridesmaid, groomsmen outfits, etc.) online.
ASOS: Eco-Friendly Wedding Dresses?
One of the things I am also mindful of as I shop for wedding dresses is their eco-friendliness, which I've written about previously on this blog. My ASOS dress came with a tag that stated, "The luxury fabric used in this garment is also made from recycled plastic."
This brought me some relief as I'm always a bit skeptical of tulle and polyester-like materials…
The tag also says "When you no longer need this dress, please consider gifting it to our partner charity Wedding Wishing Well Foundation." I didn't know what this organization was, so I did a bit of research on their website and it's a foundation that organizes and funds weddings for terminally ill people. I'm very interested in learning more about their work and I'm happy ASOS seems to be supporting it.
Other Dresses from ASOS: Bridesmaids, Flower Girl, etc…
ASOS can be a full-stop shop for your entire wedding party if you want! They also sell flower girl, bridesmaid dresses, and more (including men's wear which I'll get to in a second). If you plan well enough in advance, you could even buy your dresses, organize a full at-home try-on event with your friends and family… and then return the items that don't suit your party.
ASOS for the Groom and Groomsmen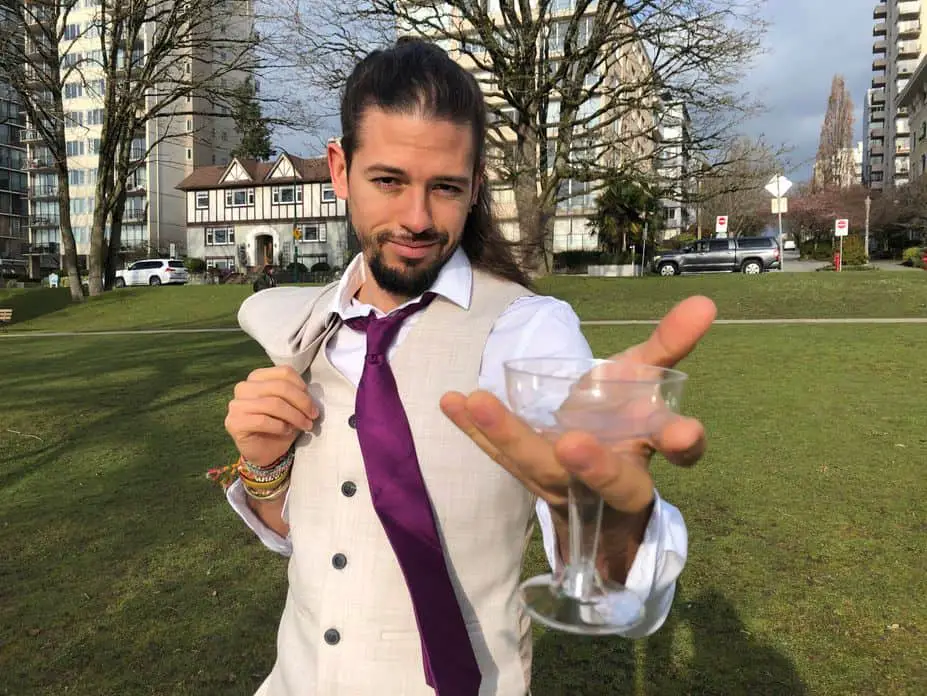 My partner, Phil, bought a men's suit from ASOS for another wedding we went to, and in trying to be as eco-friendly as possible, he's planning to wear it again to our wedding. They have a bunch of really cool suits in all different colors and styles — many full outfits for under $200!!
---
So that's it, guys! I hope this review helps you decide whether to give ASOS a try. I certainly would recommend it before you go looking into crazy expensive thousand dollar dresses!! 🙂 Good luck!! Here's my YouTube video review so you can see this dress "in action" —