I wanted to compare affordable wedding dresses that cost under $300 so I ordered and tried on 6 different inexpensive dresses from Lulus Bridal, Nordstrom, ASOS, Modcloth, Amazon, and Blushfashion.
(All of the links above will take you directly to each company's bridal gown page so you can see what I'm talking about!).
In planning my own wedding, that's what my dress budget was: $300 …And ideally, I'd be able to find something even cheaper than that.
I always tell people you can save tons of money by getting your wedding dress online — And by buying from a shop with a good refund policy, you know that you'll be able to try on and return the dresses that don't fit you or that just aren't for you.
Buying wedding dresses online is the perfect way to go for brides who want to save $$$ and don't want to spend the average $1,700 on their dress — BLEH! (which I get into in more detail in this other article I wrote)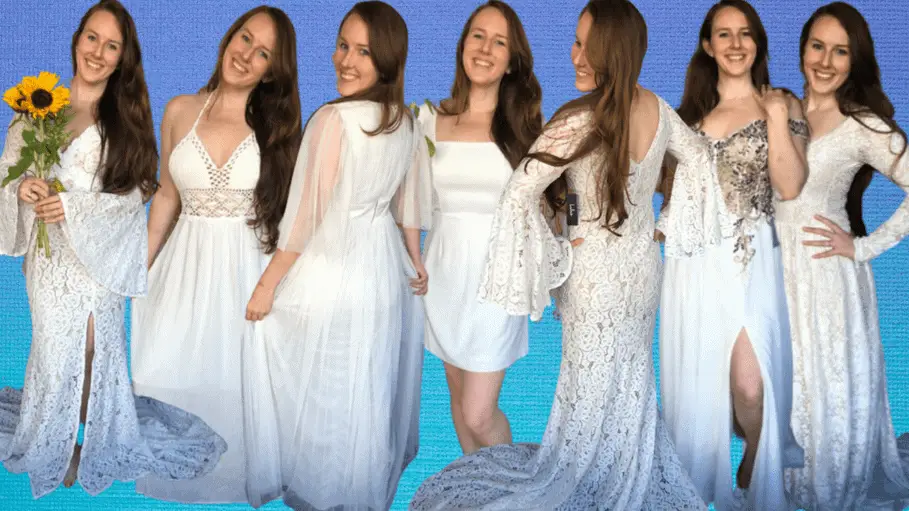 In this article, I'll briefly review each of the 6 dresses which ranged from $34.99 (on Amazon) to $244 (on Blushfashion — a lesser known but absolutely gorgeous wedding gown company) and show you some photos of my try-on experiences. I'll also tell you about the delivery and shipping process for each!
Hopefully this will help you choose an affordable wedding dress that you can order straight to your door without the hassle of making a try-on appointment at a fancy wedding dress boutique! It will save you a ton of time and money that you can spend on other areas of your big day!
---
My Fiance Rated the Dresses Too
To make my affordable wedding dress try-on session more interesting, I also showed them to my fiance and asked him to rate the dresses on a scale of 1-10 and give me his opinion!
I know, bad luck much? But we aren't very traditional and so we did it anyway! We even made a YouTube video together about the experience which I'll drop at the end of this article for my audio-visual friends out there 🙂
You can SEE WHICH OF THESE DRESSES IS THE BEST! At least, according to my fiance…
---
My Size and Measurements
I'm 5'7″ and about 140 lbs. I usually order a 6 or 8 U.S., or a medium, in most dresses. For most of these 6 dresses here, I ordered either a size 8 or a medium, but I'll give size details for each one below.
---
My Wedding Dress Style
I tend to like wedding dresses that are unique, have sleeves, are "boho-y" and maybe even have a splash of color in them. It can be tough to find unique-looking dresses that are also affordable (under $300) but that's what I tried to do in this online try-on session!
I also tried to choose dresses that differed from each other in style so you can get an idea of ALL the different choices out there. This is just a drop in the bucket and you really have SO MANY options for buying an affordable wedding dress online these days.
---
#1: Modcloth Wedding Dress Try-On & Review
To make sure you don't miss a single detail about Modcloth wedding dresses, read my full, in-depth Modcloth try-on review here and watch the video of my review on YouTube here 🙂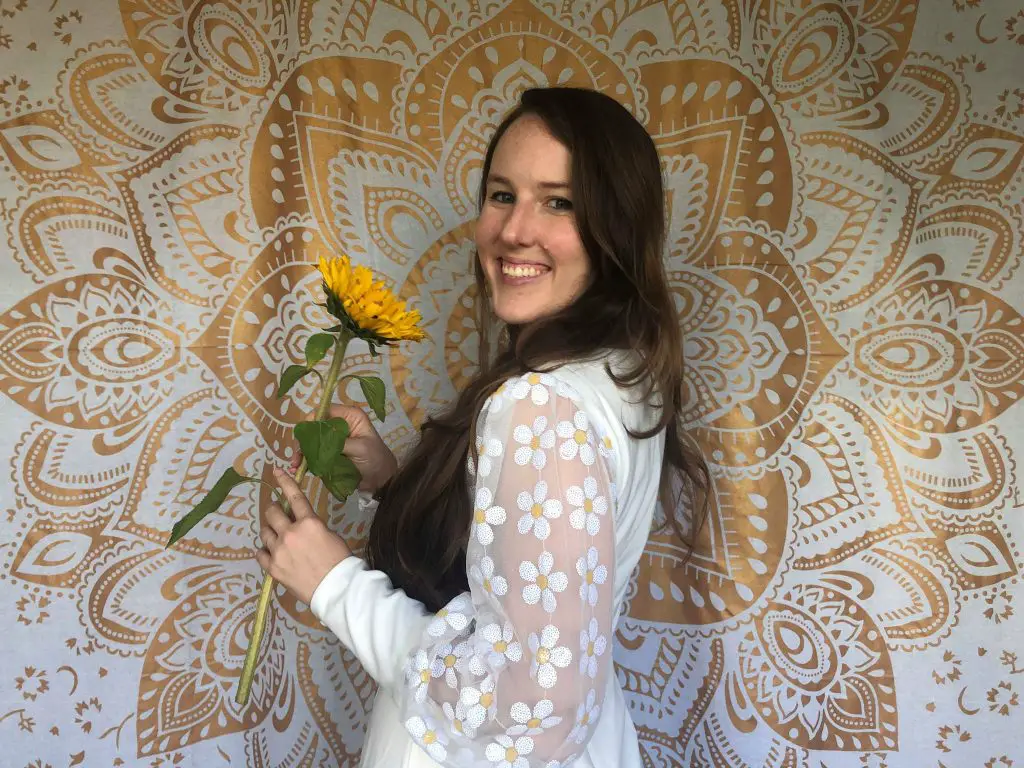 Name of this dress (pictured above): Back in the Daisies Mini Dress
Cost of this dress: $151.20 in Canadian dollars (which is $111.48 U.S. dollars)
Shipping cost: FREE!
Size I ordered: Size 8 US
Return Policy: As far as returns and exchanges, you can do both but the time frame is dependent on where you live, so take a look at Modcloth's website for specific details.
It took about 2 weeks for my Modcloth dress to get delivered. I chose it because I wanted to try something simple and casual for a backyard wedding or maybe a small courthouse wedding or an elopement.
My thoughts on this dress: I wanted to have one short dress for this review and Modcloth has all kinds of adorable vintage-y short dresses. I've actually been buying dresses from Modcloth for years so this was a no-brainer for me.
The best thing about this dress are the SLEEVES. They're covered in sequined daisies and are just the COOLEST. I love anything retro or vintage-inspired and Modcloth definitely has tons of unique dresses like this (also great for retro-inspired unique bridesmaids dresses and wedding guest dresses!).
I love this particular dress for a casual, backyard wedding or a courthouse wedding.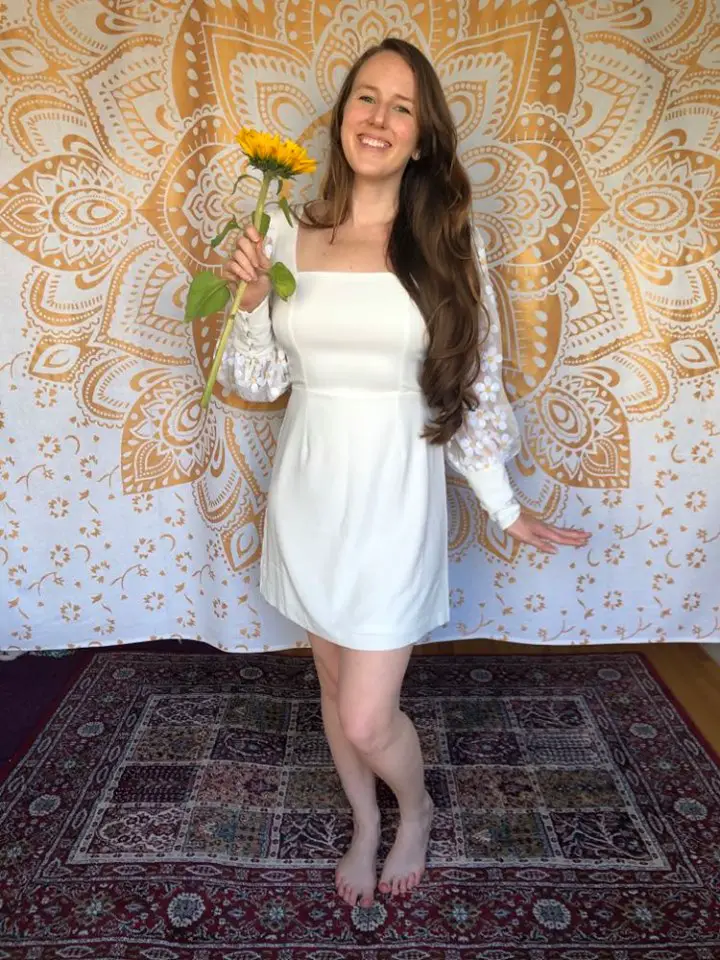 When I showed my fiance Phil this dress in our video, he gave it an 8 out of 10!
Here's me looking kind of surprised because even though I love this dress, I didn't think a man would really appreciate how awesome it truly is (I was wrong!):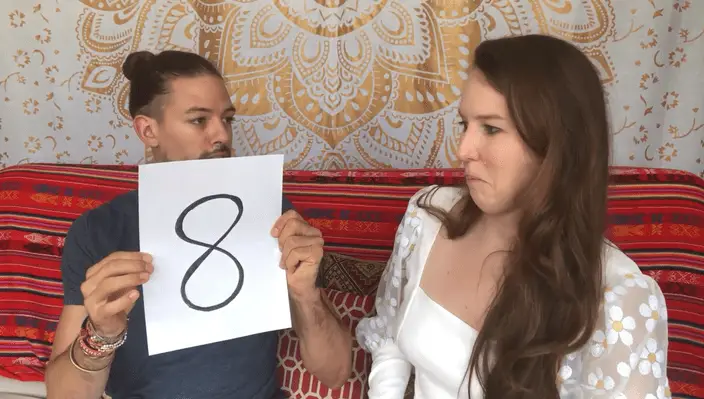 ---
#2: ASOS Wedding Dress Try-On & Review
Next, I tried on a dress made from recycled plastic from a company I adore: ASOS!
This also happens to be wear my fiance Phil got his suit from, as they have a huge collection of affordable men's suits in all different colors and styles. I think he paid under $200 for his!
For all the nitty-gritty details, read my full ASOS try-on review here, or check out my video review on YouTube here!
Name of this dress: Anaya With Love tulle plunge front tulle maxi dress with cape detail in white
Cost of this dress: $126.84 in Canadian dollars which is $93.24 in U.S. dollars!
Shipping cost: FREE!
Size I ordered: US 8
Return Policy: ASOS accepts returns from Canada if you return your order within 28 days of delivery (to get a refund) or within 45 days of delivery (to get a gift voucher). The US return policy seems to be almost identical!
My thoughts on this dress: This dress is made from recycled plastic which I LOVE, and also came with a tag that recommended donating the dress to a specific charity after use. Generally I find that ASOS is quite an ethical and mindful company from what I know about their practices. I appreciated these elements of my purchase!
As far as the dress itself, I thought it was very pretty and modest (besides the low V-neck line). The back is completely covered (making it really easy to wear a bra with this dress) and it's floor-length with a few inches to spare barefoot (I'm 5'7″).
The sleeves are "cape" sleeves which I found unique and the dress is covered in a layer of TULLE — a material I hadn't originally considered for my wedding dress but I liked the "twirling" movement effect it provided!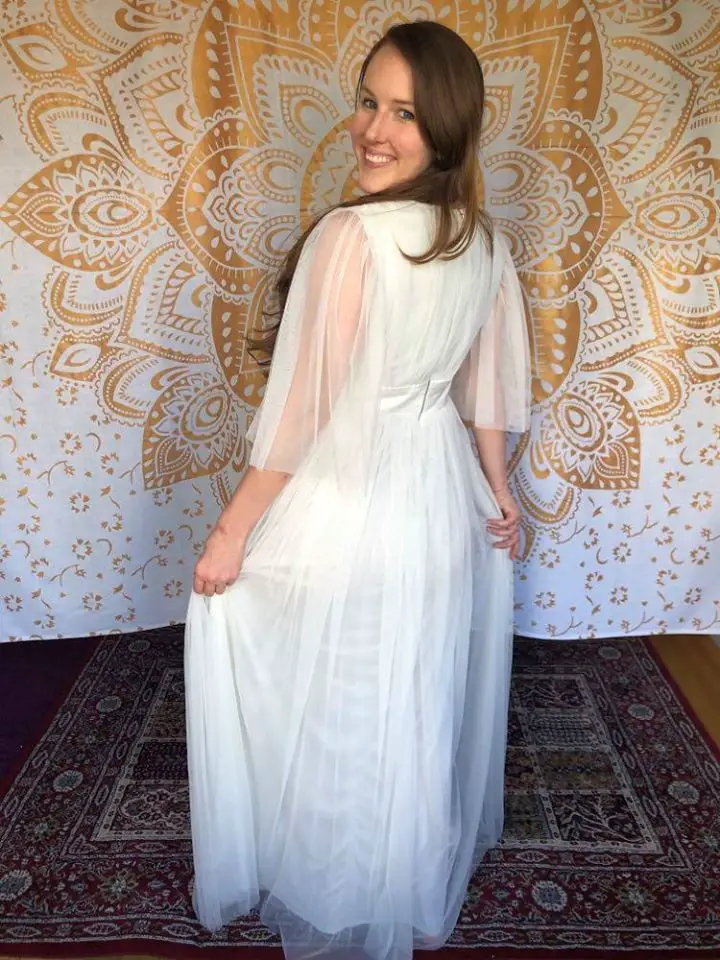 In our video, Phil ended up giving this particular dress a 7 out of 10, so not too shabby! Although I guess I don't look all that enthused in this screenshot: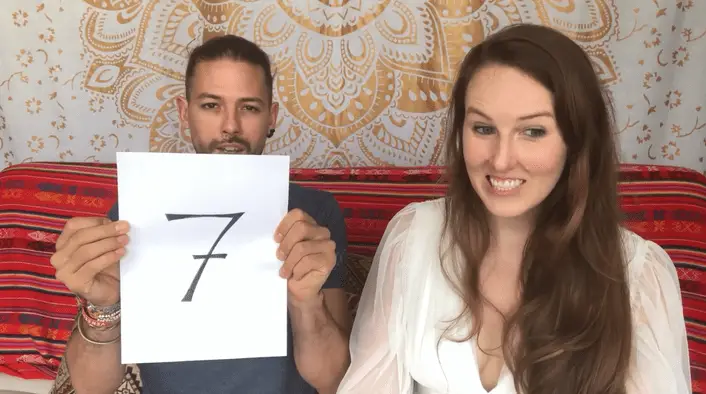 ---
#3: Lulus Bridal Wedding Dress Try-On & Review
I have to say that for this next dress, I'm a bit biased for a couple of reasons. I just love Lulus bridal dresses in general (and their low prices) and have even made a video in the past and written a review on this blog about 8 Lulus wedding dresses I tried on that were less than $100!
The other reason I love this particular Lulus dress is the SLEEVES (YES! I know! I'm a sucker for cool sleeves on a wedding dress!) and the body shaping magic of this dress: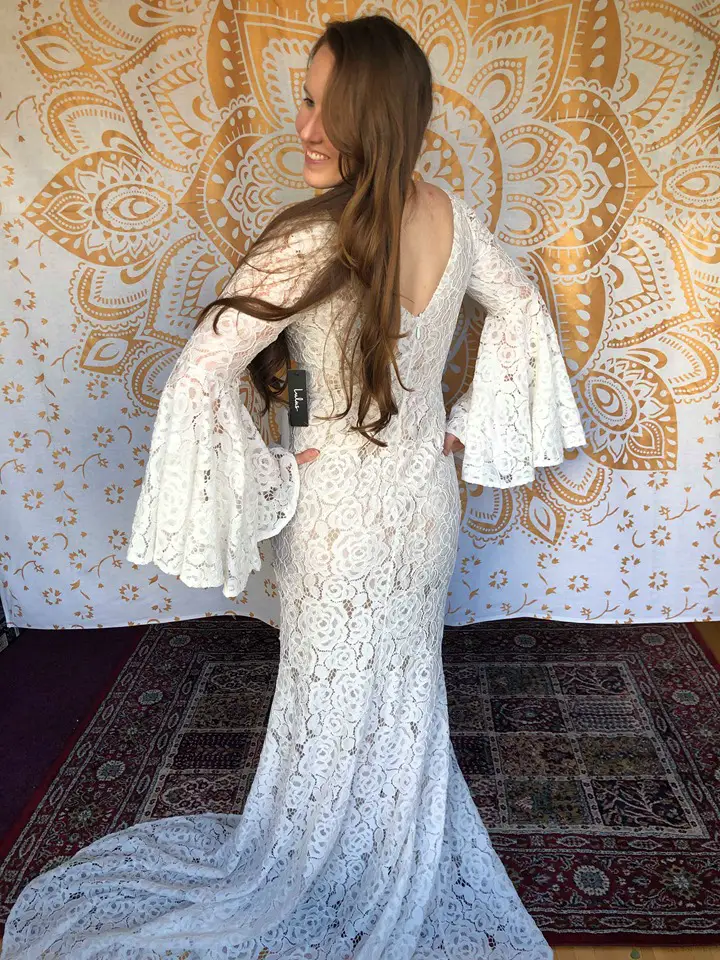 Of course, you can read my full Lulus Bridal try-on review of this dress here, and watch the YouTube video about it here!
Name of this dress: Duchess Ivory Lace Bell Sleeve Maxi Dress
Cost of this dress: $142 US dollars (or about $193.65 Canadian dollars)
Shipping cost: $12 US dollars
Size I ordered: Medium
Return Policy: Returns postmarked within 10 days from delivery qualify for free return shipping (45 days for Canada). I've returned clothes to Lulus before and the process was really painless.
If you're in Canada, be aware (as you probably already are) that you'll need to pay additional taxes and duties when your package arrives — this kind of sucks but many of us are used to it by now living in Canada!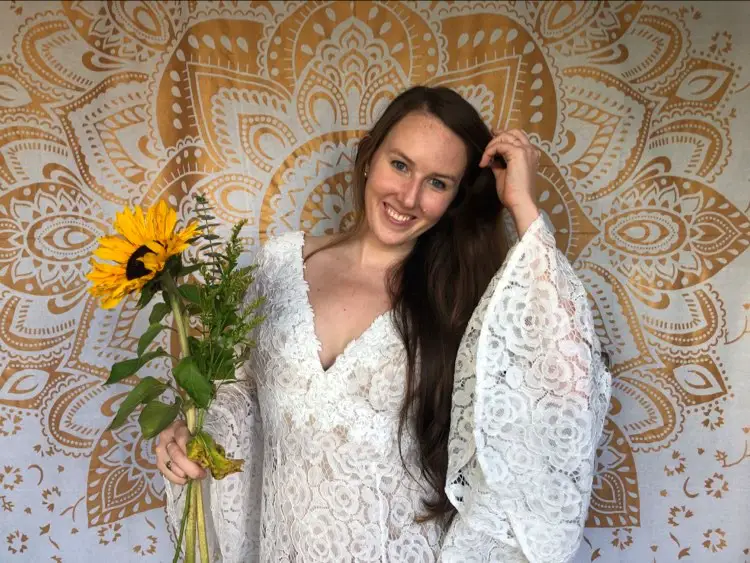 My thoughts on this dress: I LOVED IT. I really love this dress, and I can see why it's so popular — it is ALWAYS out of stock and I had to wait until it came back in to order it. I suggest putting yourself on the waitlist because it's worth it.
I love that it's body flattering. I love the deep-V neckline and the train. The sleeves look incredible but are NOT easy to like, live your life in! Everyday activities, such as pouring yourself a glass of water, become quite difficult with giant sleeves! Oh well, small price to pay…
The only hesitation I have with this dress is the thickness of it. It's quite thick and my wedding is in the summer so that probably isn't going to work…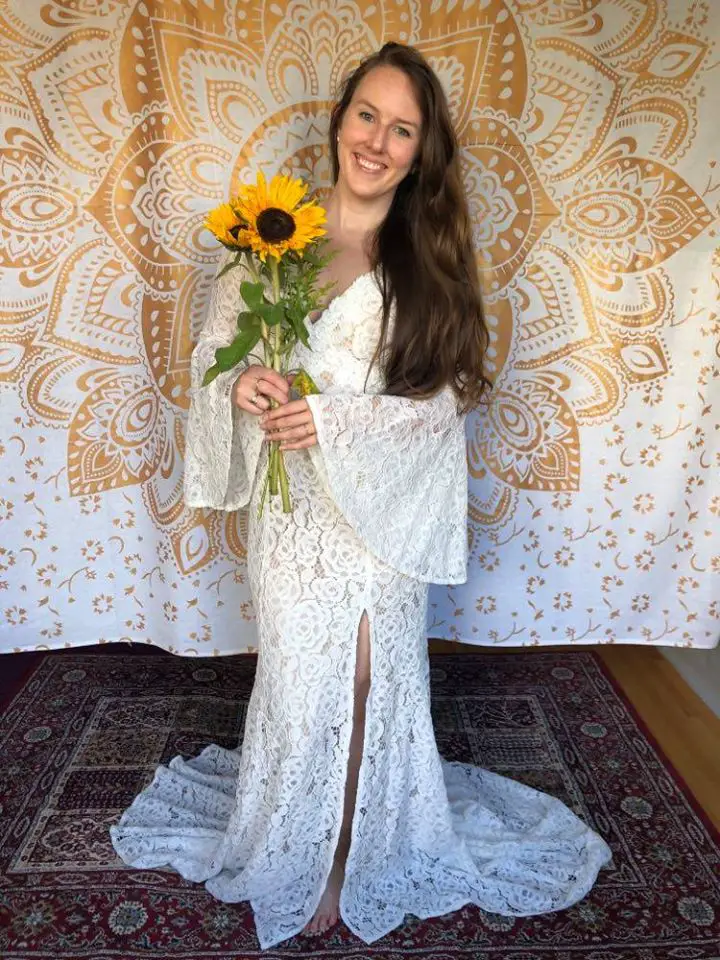 Phil gave it a very high-scoring 9 out of 10! Good job Lulus: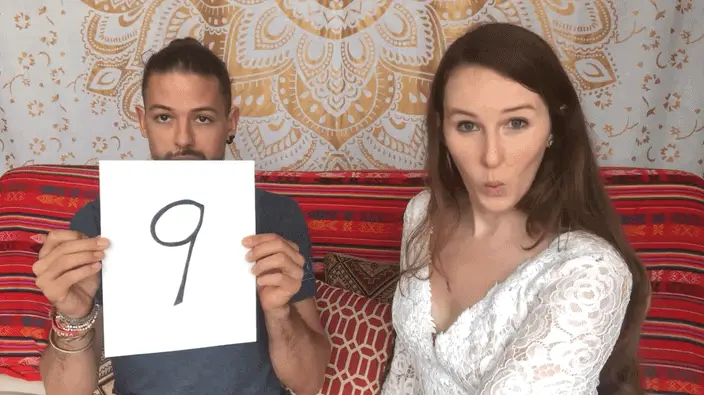 ---
#4: Amazon Wedding Dress Try-On & Review
Next up is a BEACH wedding dress from Amazon! A suuuuper cheap one…
I say in my YouTube video reviewing this dress that it could also make a good bridesmaid dress option for a beach wedding (it comes in all different colors).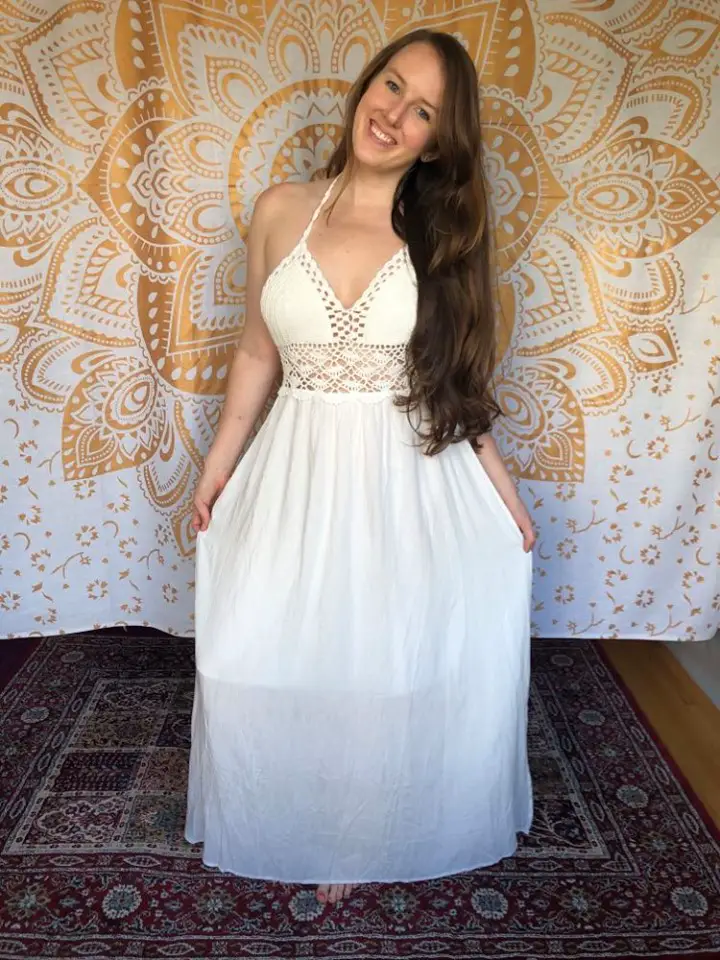 Name of this dress: LILBETTER Women's Beach Crochet Backless Bohemian Halter Maxi Long Dress
Cost of this dress: $34.99 US
Shipping cost: FREE
Size I ordered: Medium
Return Policy: See latest Amazon Return Policies which seem to vary.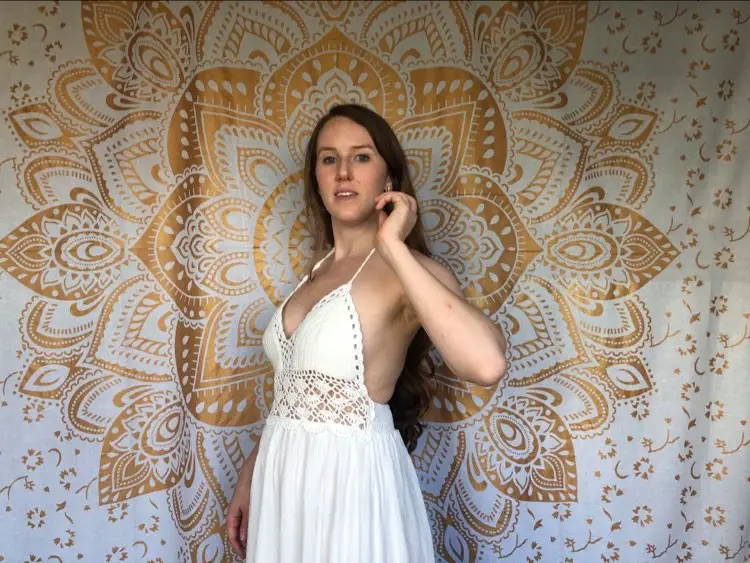 My thoughts on this dress: This is the cheapest dress on this list. I wanted to try one on that would be good for a beach or casual summer wedding and this dress always popped up in my suggestions! Probably because I loved crocheted things…
SO I tried it. I still like the IDEA of this dress. It's light, it's simple. The top has pretty detail. But it fit me kind of funny in the top part, which Phil points out in our video! And for that, he gave it a 4 out of 10, the lowest score of all the dresses on this list: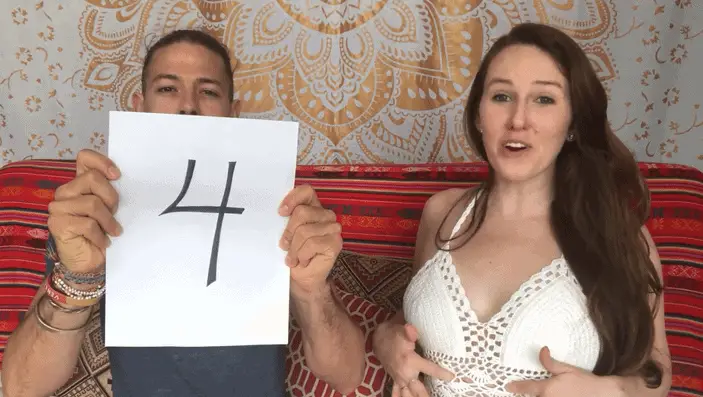 But you know what, I don't blame the dress, I just don't think we were a great fit together! It wasn't meant to be! 🙂
---
#5: Nordstrom Wedding Dress Try-On & Review
Read my full Nordstrom try-on review here, and watch my Nordstrom YouTube video review here 🙂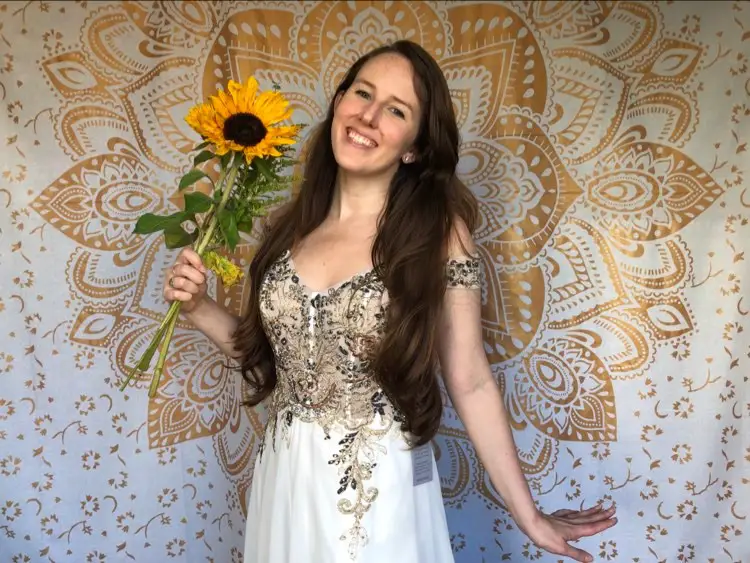 Name of this dress: Xscape Embellished Off the Shoulder Gown
Cost of this dress: $241.80 Canadian dollars (which is about $178.26 US dollars, depending on the conversion rate of the day)
Shipping cost: FREE!
Size I ordered: 8 US
Return Policy: You can supposedly return anything to Nordstrom, either in person or online. I haven't yet tried returning this dress because there wasn't a "return by" date listed. I LOVE this dress but I don't think it's "the one" and so I'll be testing their return policy soon.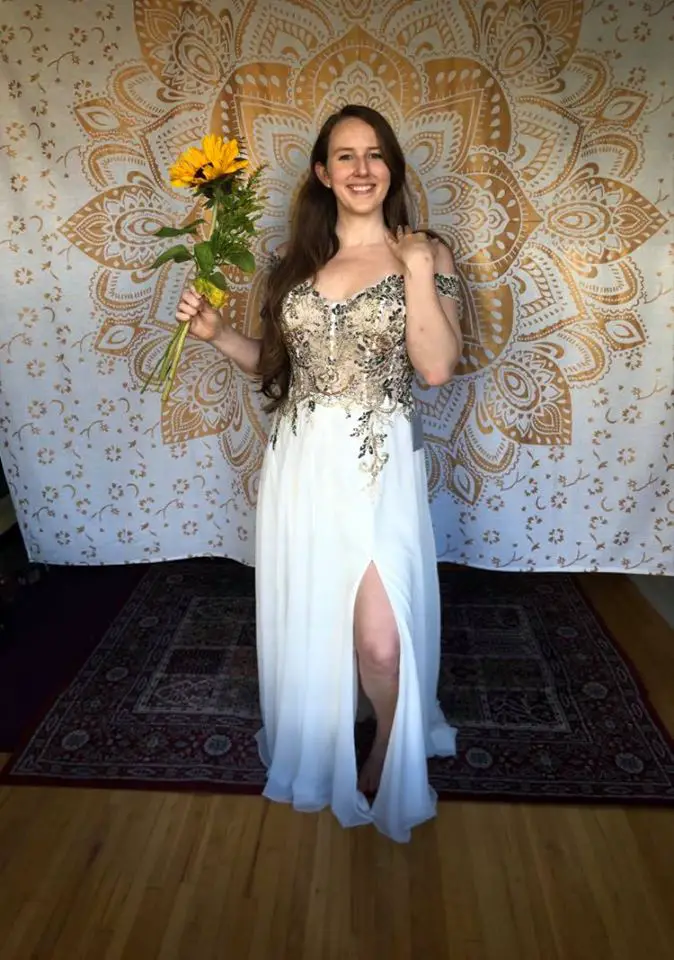 My thoughts on this dress: I adore this dress. I love that it's not completely white, but has some different colors in the top. I love that the top sort of stretches into the bottom and that the top parts aren't clearly defined from each other.
I think the corset is really figure-flattering and I felt sexy and princess-like in it. It was also clearly made out of quality material and is from a really reputable company, which makes a difference. It came in very nice packaging and with a solid return policy.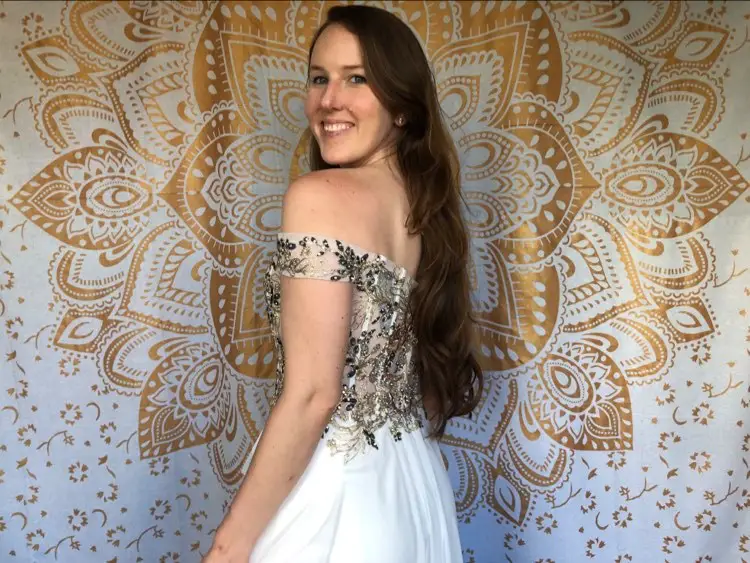 Phil gave this dress a solid 8 out of 10. He agreed with me that the less traditional non-white part on top was really cool: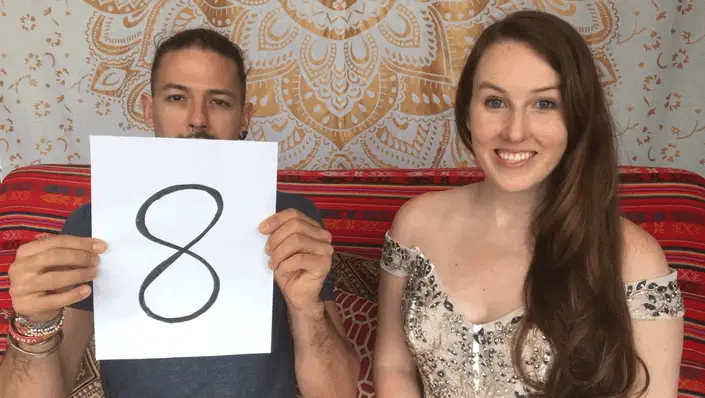 ---
#6: Blushfashion Wedding Dress Try-On & Review
This is the first wedding dress I loved and bought with all intentions to wear it to my wedding which ended up getting postponed.
Because I have had more time now to try on other dress options, I've become conflicted and I also realized that as much as I love this dress (and Blushfashion in general)…
…it's much better for a FALL, WINTER, or SPRING wedding and probably too hot to wear to my June wedding.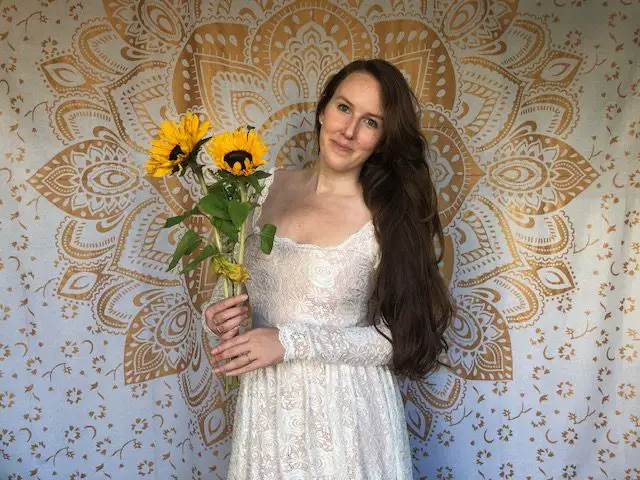 Read my full Blushfashion try-on review here, and watch the review video I made of this dress here 🙂
Name of this dress: Square Neckline Vintage inspired Wedding Dress, 1207
Cost of this dress: Originally priced at $320.10 in U.S. dollars.
Shipping cost: $20 US
Size I ordered: S-M
Return Policy: This is the return policy copied from Blushfashion's website, which I find very fair:
"If the item does not suit you, you can contact us, up to 14 days after you receive the package. We will provide you with all the instructions for returning the item.
We give you a full refund for the item (not including shipping costs) through PayPal, within 10-15 business days after we receive the return items back to us. Refunds are charged with 5% or $27 restocking fee whichever is cheapest You are responsible for the products' return until we receive it back to our studio."
My thoughts on this dress: This dress fulfills my desire and love for wedding dress sleeves, obviously. But what I reeeaally noticed about this particular dress from Blushfashion that was different from the other dresses was the feeling of the dress material.
It was BUTTERY smooth and soft. The lace of this dress feels so comfortable — like wearing a blanket. It's not itchy, or pokey, or scratchy AT ALL.
Trying this dress on seriously felt like trying on pajamas and I loved that.
What I didn't love about it was that the sleeves tended to fall off my shoulders after a while which tells me that I probably need slight alterations or to go up a size (?) — I'm actually not sure how to fix this problem!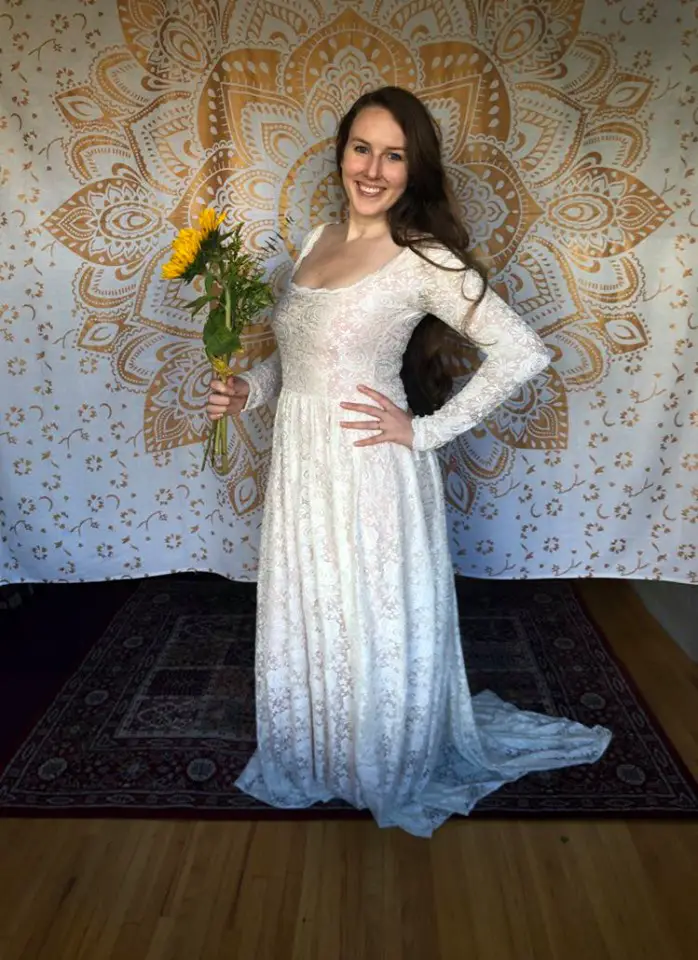 But the overall look and feel of the dress is super romantic, I love the company and the owner and this was my FIRST choice for where I wanted to buy my wedding dress in the first place because I loved soooo many of the dresses on the front page of this boutique, and loved that I could order unique, boho dresses for such a low price!
Phil agreed with my love of this dress and gave it an 8 out of 10! Still lower than the bell-sleeve lace dress from Lulus (the third dress on this list and reigning champion if you've been keeping score) but not bad!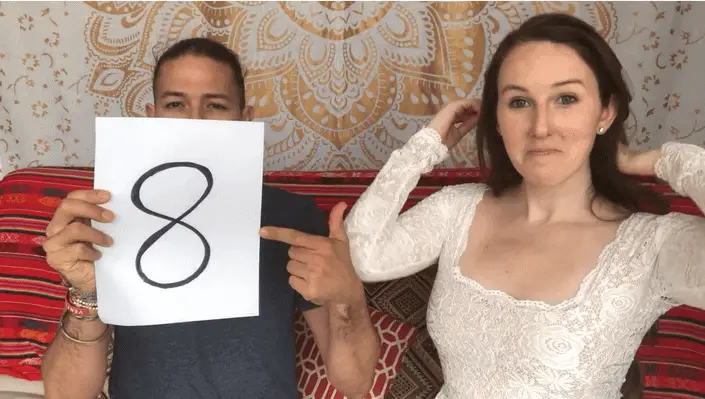 ---
Sp that's it, guys! Phil's favorite was Lulus! I was pretty split between Lulus and Blushfashion if I had to choose a favorite, but I really loved/liked all of these dresses for different reasons.
And where you're getting married and the vibe you're going for will determine which affordable dress company will work best for you! I hope this review helps you find something.
Be sure to check out my YouTube video of these dresses which I made with my fiance, below: