I'm going to review a Lulus wedding dress that has lace and really amazing bell sleeves! It's really shape-fitting, and I LOVE it! In this article, I'll go through all of the details of the dress, the online ordering experience, return policy, prices, and more 🙂
If you can't find this exact dress on Lulus by the time you read this article, DON'T WORRY! There are tons of beautiful (and affordable) wedding dresses on Lulus Bridal website to choose from!
I hope this helps you in deciding whether or not to also buy an affordable wedding dress from Lulus Bridal and that you find the perfect, inexpensive wedding dress for you. I've written in the past about how an EXPENSIVE wedding dress isn't worth it (in my opinion) and so I think buying a cheaper dress online is the perfect alternative.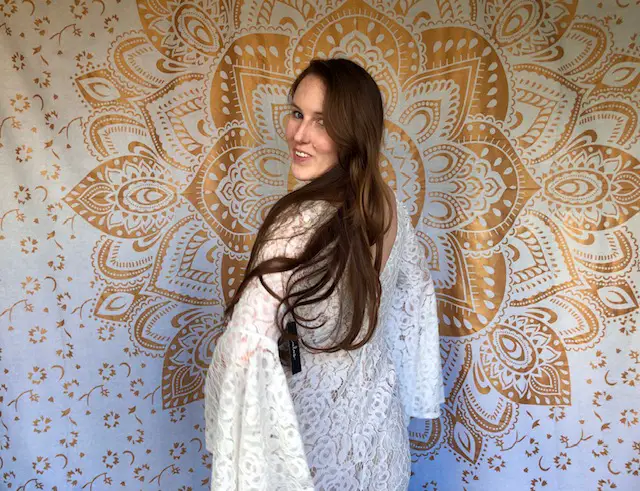 This particular dress is a Lulus wedding dress that I've been excited to try on for SO LONG! I reviewed 8 Lulus wedding dresses under $100 recently in another post but this one, being a little bit over that price point (at $142), didn't make the cut.
So I waited, and here I am finally writing up a review of the Duchess Ivory Lace Bell Sleeve Maxi Dress.
I ordered the dress and even made a video of myself unboxing it, which I'll drop at the end of this article when it gets published. Make sure you're subscribed to my YouTube channel so you don't miss any of my wedding videos!
Searching for Affordable Wedding Dresses Online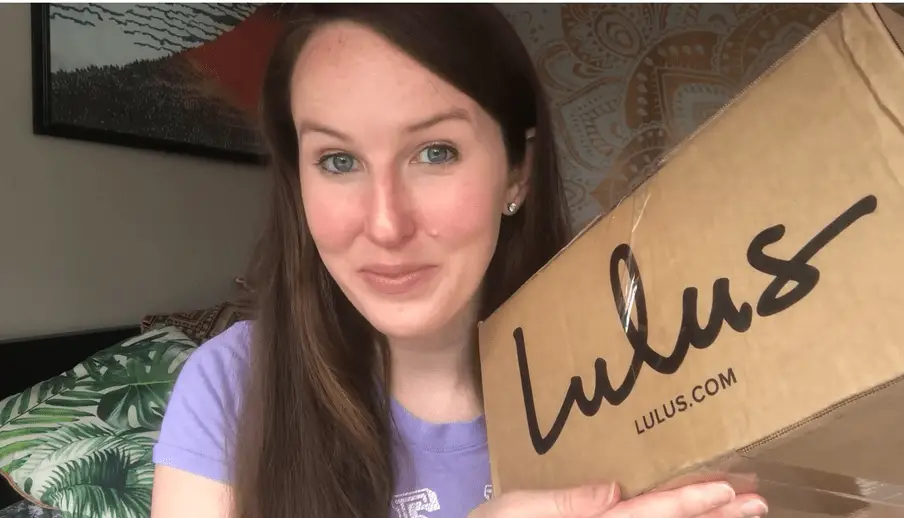 In addition to my Lulus wedding dress, I've been trying on wedding dresses from other affordable online companies to compare them, and I urge you to check them out too before dropping bug bucks on a $$$ designer wedding dress you'll only wear once for about 6 hours (!!).
Here are my favorite affordable online wedding dress shops (in addition to Lulus):
And friends of this blog, you can find ALL of my recommendations for wedding dresses and more here 🙂
---
The Review: My Lulus Try-On Experience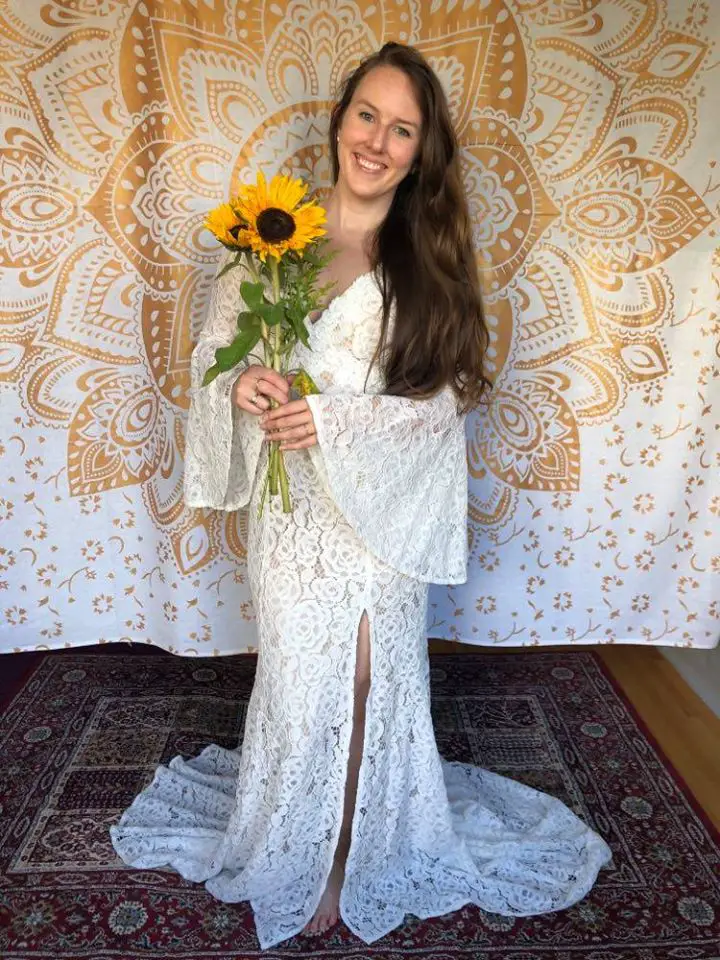 The Cost
So for this dress, I paid $142 US dollars (or about $193.65 Canadian dollars* depending on the conversion rate of the day). I have a Honey plugin on my browser to get discounts (which I highly recommend you get too!) but I didn't use it for this particular purpose.
There are many wedding dresses on Lulus under $100 and more between the $100 – $400 price range, so waaaay under the average wedding dress cost of $1700. Don't feel like you have to spend a fortune on your wedding dress!
My Size and Measurements
I'm 5'7″ and about 140 pounds and I ordered this dress in a size Medium. I thought it fit me really well. I actually wouldn't even get alterations on this dress!
The only thing that I didn't like about the fit, which my partner also pointed out in the YouTube video we made together comparing 6 wedding dresses under $300, was that the slip under the dress poked out a little bit from the side slit. So you could see it a little bit. I think it's easy enough to cut, tuck, and sew that myself and it was quite minor.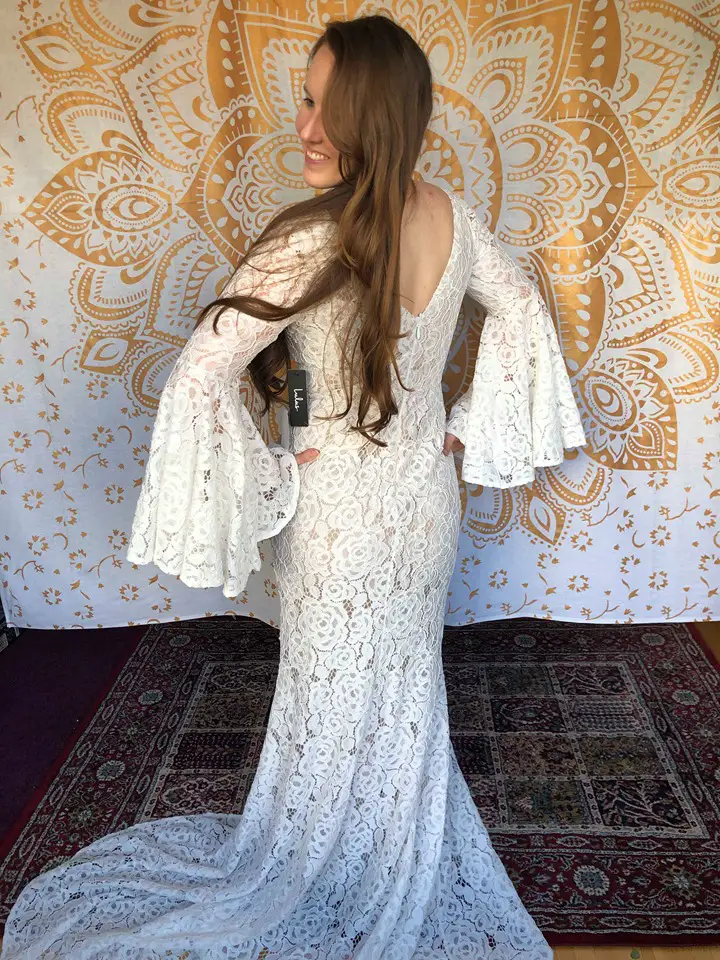 My Try-On Experience
Of the 6 wedding dresses I tried on as part of a series I was filming for my YouTube channel to find AFFORDABLE wedding dresses online, this dress was my favorite. The price was right, it was shape-flattering (bodycon-like) and the sleeves were to die for.
I also love lace wedding dresses and I loved the plunge neck line. I had reservations about the thickness of the dress, however, because I'm getting married in June in Quebec! So I know that this dress is probably going to be TOO HOT for me to wear unfortunately.
My partner gave this dress a 9 out of 10 when I asked him to rate it in that YouTube video, which was the highest score of all 6 dresses! So I guess he really liked this one too 🙂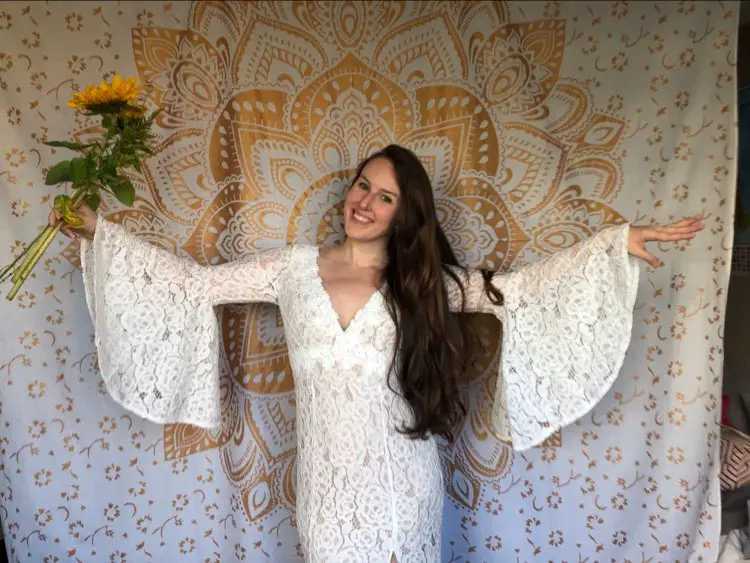 Lulus Shipping and Delivery
I live in Vancouver in Canada so usually things take a little bit longer to arrive than when I lived in the States. And this dress took even longer than usual (because of the Covid-19 backlog I believe, but I'm not sure). I think it was a little over 3 weeks before it arrived but usually Lulus delivers much quicker than that.
Because I live in Canada, I also have to pay additional fees and duties whenever I pick up my Lulus packages from the post office (which I was around thirty-something dollars this time I think), so yeah… that kind of sucks! Beware of additional fees, my fellow Canadian shoppers!
And shipping on this order was $12 US dollars.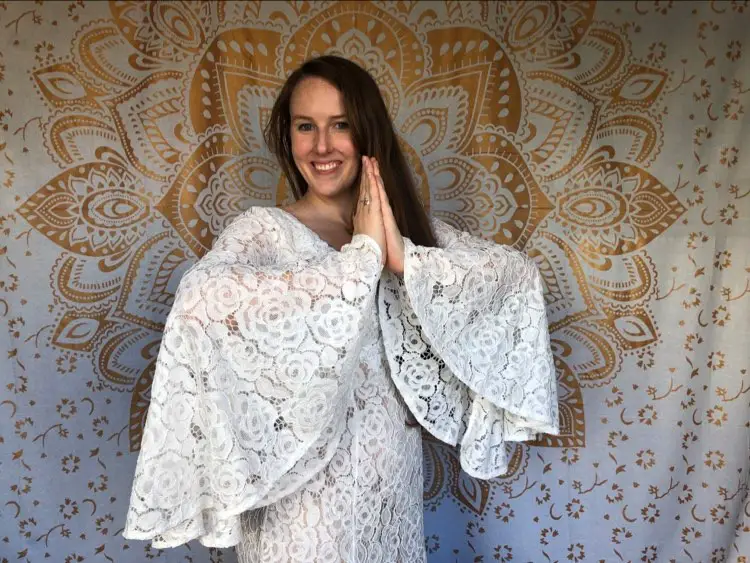 Lulus Return Policy
It's really important that the company you're ordering your wedding dress from online (or really anything you're ordering online) have a good return policy. Because you never know if it's going to fit you, or if you just won't like it in person when it arrives!
So make sure and read the return policy carefully before ordering from anywhere online. Thankfully, Lulus does have a really good return policy.
When I bought 8 dresses from Lulus under $100 a couple of months ago to try them on, I decided that none of them were perfect for me so I returned all of them. And Lulus promptly refunded my entire order. I only lost out on the cost of shipping and those pesky taxes and fees. But I consider all of that my "try-on fee" 🙂
Other Dresses from Lulus: Bridesmaids, Wedding Guests, etc…
In addition to wedding dresses, Lulus also sells super affordable bridesmaid dresses and dresses for wedding guests (as well as bridal shoes and accessories). For that easy one-stop-shopping online experience. You can check them all out here:
Review of this Dress and More on YouTube
So that's it for now guys! I hope this was helpful for you! To watch me unbox this dress and to see more of the details, check out my YouTube video review 🙂 Good luck finding that perfect wedding dress that won't break the bank!