If you're reading this, you're probably on the look out for eco-friendly and sustainable (and most likely ethical) wedding dress options! It's not super hard to find that perfect "green" wedding dress, but it does perhaps take a bit more effort than booking an appointment at the local chain bridal shop.
So first of all, it's great that you've made this decision and are trying to reduce waste, starting with the "centerpiece" of your wedding — your dress! It really makes a statement to choose one that's friendly to the environment on such an important day of your life. I hope this information helps you find the eco-friendly dress of your dreams 🙂
In this guide, we'll look at:
The Importance of Choosing an Eco-Friendly Wedding Dress
The Most Eco-Friendly Wedding Dress Choice You Can Make: Go Secondhand
Where to Shop for the Most Sustainable and Eco-Friendly Dresses Online
Eco-Friendly & Sustainable Wedding Dress Materials/Fabrics to Look For
Shoes to Wear with an Eco-Friendly & Sustainable Wedding Dress
Accessories and Veil to Wear with an Eco-Friendly & Sustainable Wedding Dress
Related Post: 20 Ways to Save Money on Your Wedding Dress
---
The Importance of an Eco-Friendly Wedding Dress
We've all most likely heard the statistics on the amount of waste caused by the wedding industry. It's actually quite shocking when we stop to think about all the new paper, decorations, dresses, etc. that's piped straight from the event to the landfill. If this makes you even a little bit sad or disheartened, then I know I don't have to tell you the importance of looking for eco-friendly wedding alternatives, starting with the dress…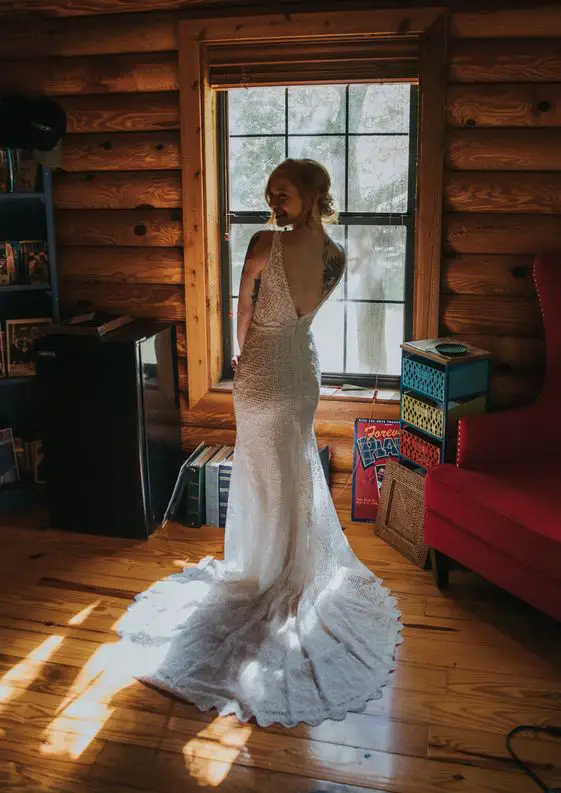 We can't be perfect. Almost no decisions that we make for our weddings will be completely eco-friendly and waste-free. But we can make an effort, and be a bit more conscious of our actions. And for me, this is a good start. I definitely haven't been perfect in my own green wedding planning, but I hope that by sharing all that I've learned I can help others make better decisions and learn from my mistakes.
Things like ordering our dresses online, as eco-friendly and ethical as they may be, requires transportation of the dress… often from very far away. Which means a lot of carbon emissions. But not everyone has the option of buying, making, or finding something borrowed or local. We all can only do the best that we can do where we are, continue to learn, and embrace the lessons that come from our mistakes in the process!
Related Post: 11 Best Places to Shop for Affordable Boho Wedding Dresses
---
The Most Eco-Friendly Wedding Dress Choice You Can Make
The most eco-friendly and sustainable wedding dress choice you can make, hands down, is to buy or borrow your dress secondhand, vintage, or sewn yourself with used materials.
This option ensures that dresses or materials are getting a second (or third, fourth, fifth…) life, and that we aren't contributing to wasteful energy practices in the creation or transportation of new dresses.
It can also be a whole heck of a lot cheaper to buy secondhand dresses. Nearly Newlywed is a good place to start for a secondhand dress. Here, brides sell their previously-worn wedding dresses, often beautiful handmade designer gowns, for a fraction of the price they were bought for. And all because the dress is "used" — AKA has been worn for 5 hours once (!).
Online secondhand and rental options to check out include:
Also check out your local thrift and consignment shops. I've been amazed at other brides who have come across the most unique, gorgeous vintage treasures at regular old thrift shops. Even if the dress you find isn't perfect, you can bring it to get alterations and still end up paying way less than what a new wedding dress would cost.
Another friend of mine got her dress for free from a family member. Let people around you know your plan to have an eco-friendly wedding, and that you want to borrow or find a used wedding dress, and you might be surprised what others find FOR you! Remember that if you receive the dress for free or very cheap, you can always personalize it in alterations and truly make it fit like a glove.
Related Post: What is an Eco-Friendly Wedding?
---
Where to Shop for the Most Eco-Friendly & Sustainable Wedding Dresses
I personally didn't have much luck with thrift shops near me (I currently live in Vancouver, BC— which actually has tons of great thrift shops, but I didn't come across anything I liked), and I don't have many friends or relatives close to me that are super crafty when it comes to sewing and making clothes.
I would have LOVED to make my own wedding dress— to have turned the vision in my head into a reality… But alas! I also have no sewing or designer abilities.
My criteria for my own wedding dress was to find something as eco-friendly and ethically-made as possible (ideally supporting a smaller, local shop) that was under $300. I didn't completely succeed on all fronts, but I don't think I was a total failure either…
Actually, it's yet to be decided for me because I ordered my dress from Blushfashion for just $220 U.S., but it hasn't arrived in the mail yet… so I'll let you know! It's a beautiful, ethically-made dress, but it had to be shipped from the designer in Israel so that isn't ideal from an eco-friendly standpoint.
So I suggest doing better than I did and finding out where your dress is shipping from before buying.. maybe even trying to offset the carbon emissions by buying carbon credits or planting some trees!
In this section, I just want to bring to light some of the eco-friendly shopping options for wedding dresses that you can find without having to leave your home! You won't get the whole bridal dress appointment experience (like in "Say Yes to the Dress!"), but in my opinion, that all sounds pretty intimidating and embarrassing anyway!
---
Here are some of the more affordable options for you to take a look at (ranging in price from about $200 – $3,000 depending on the dress!):
---
Reformation
Reformation is an eco-friendly clothing company in California that has the most beautiful wedding dresses using fabrics such as Tencel Lyocell — which is made of renewable wood materials.
Their dresses also contain recycled cotton, organic cotton, linen, recycled cashmere, regenerated nylon, alpaca wool, "deadstock" fabrics, vintage, and Recover yarns — which are made from old clothes and fabric waste.
For my own dress, the prices were just a bit too high, although they are still much lower than the average bridal gown. And not at all bad prices considering the care and quality that are taken with these dresses.
There are also "non-bridal" dresses available on their website as well, if you aren't concerned so much with having a conventional bridal gown.
---
ASOS
ASOS has both very affordable and eco-friendly wedding dresses. They have a Carbon 2020 Strategy to reduce their carbon intensity per customer order every year between 2015 and 2020 — by minimizing energy consumption and emissions from delivery and packaging and increasing renewable energy usage.
Additionally, their packaging (garment bags and boxes) is 25-100% recycled, and then can be recycled. ASOS seems to take their corporate responsibility quite seriously, and also manages to sell really affordable clothes.
I personally also really like ASOS for men's wedding suits. This is where we got my partner's suit for another wedding that we attended, and he's just going to re-wear it to ours!
---
Wear Your Love
Wear Your Love is a company specializing in "soft and dreamy" dresses, which are made of "luxurious organic cotton or silky soft bamboo."
Seriously, these dresses are just heartbreakingly beautiful. But unfortunately, also out of my personal price range. I ended up buying from Blushfashion in part because I felt like they were the less expensive version of Wear Your Love!
You can buy them online and give them your custom measurements so that they fit perfectly.
---
Etsy
Etsy has tons of vintage and secondhand dresses at all price points. You can also buy from smaller businesses which is pretty cool.
Take some time and fall down the rabbit hole of Etsy sellers and I'm SURE you'll be able to find something in your price range that is also eco-friendly and ethical.
Etsy is also really great for finding accessories like veils and jewelry, which I talk about in another section of this post.
---
Christy Dawn
Christy Dawn is an affordable California-based clothing company that sells wedding dresses online. Their wedding dresses (and other clothes) are made of "deadstock" or discarded upcycled fabric and won't cost you a fortune.
Related Post: 9 Most Affordable and Eco-Friendly Wedding Dress Options
---
Eco-Friendly Wedding Dress Materials/Fabrics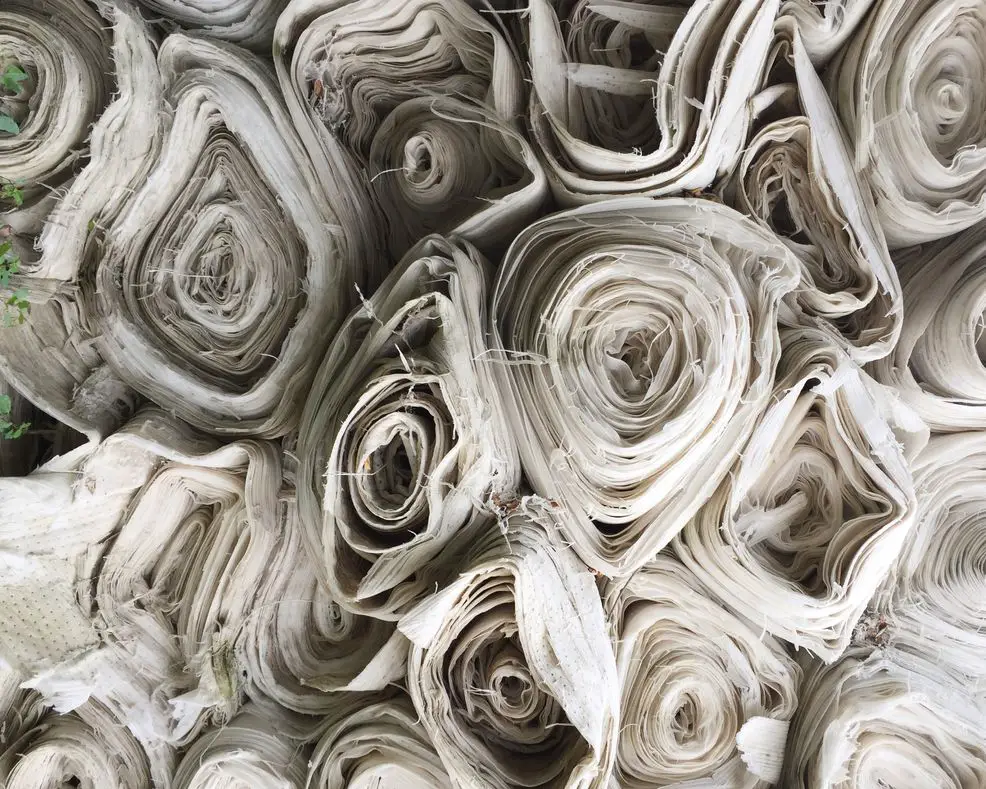 When we go wedding dress shopping, we can do our part for the planet by simply doing a bit of research. We can ask the company we're buying from, or check the dress labels (if they exist!) for the materials and fabrics they're made of. But what should we be looking for?
Many wedding dresses (and other clothes we buy) contain harmful petroleum-based chemicals we should try to avoid, such as:
Non-organic cotton (grown with pesticides and insecticides)
Polyester
Acrylic
Rayon
Acetate
Nylon
A better, more sustainable, and more environmentally-friendly choice would be to find wedding dresses made with natural, organically-grown fabrics that are biodegradable, washable, and that come from renewable resources.
The materials we want in our eco-friendly wedding dresses might include:
Organic hemp
Abaca
Silk
Organic cotton
Organic linen
Tencel or Lyocell
"Deadstock" fabrics that have been discarded
Recycled cotton
I've written about these materials in more detail in my post Best Sustainable and Eco-Friendly Wedding Dress Materials. When you're looking for wedding dresses online, sometimes there isn't a whole lot of information about how the dresses are made or what they're made of. You can always reach out to companies directly and ask some questions. Send an email and say something like:
Hello!

I'm interested in having an eco-friendly and sustainable wedding, and I would like my dress to be eco-friendly as well. Could you please tell me more details about how your bridal dresses are made, and provide a list of the materials and fabrics used to create them? I would be very appreciative.

Thank you very much.

Best regards,
(Your Name)
If they don't get back to you or if you're not satisfied with their response, you can always go with another brand that lives up to your expectations! Don't feel like you don't have choices.
It's probably not possible to find a PERFECT dress made of completely sustainable, eco-friendly materials produced in an ethical manner AND make it affordable. But we can try!
---
Shoes to Wear with an Eco-Friendly & Sustainable Wedding Dress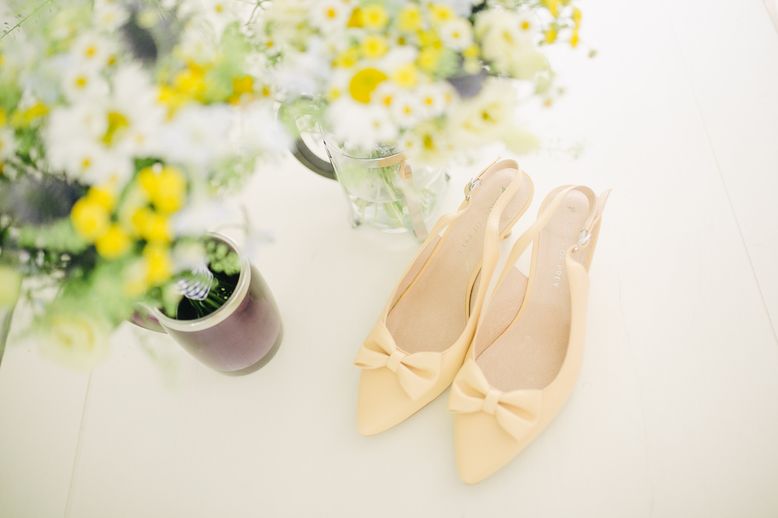 Once you've found that perfect, eco-friendly wedding gown that you're SO happy with, it's important to finish the look with sustainable shoe (and accessory choices).
I've written a post that gets more into detail on this topic, but I'll break it down here right now. When looking for eco-friendly, sustainable wedding shoes, try to follow these principles:
Wear shoes that you already own or borrow shoes from someone
Again, the most eco-friendly choice we can make is to wear something we already have and not contribute to more trash. We could also borrow or buy used, secondhand, or vintage. If this isn't an option for you, look for new wedding shoes that you'll wear again after your wedding, to guarantee that the shoes you buy will have more than one life.
If you buy shoes online, get ones with zero carbon footprint from shipping
You can buy your wedding shoes from some online companies that will offset their carbon footprint from the transportation that it took to get that package to you. One company that does this is Made Trade, which sells not just shoes, but clothes, accessories, jewelry, etc… using fair trade, ethical, and vegan processes and promoting artisans from around the world. You'll find really unique, one-of-a-kind or rare-type products here for your wedding.
Buy shoes made of bamboo, wood, or vegetable resin
If you're interested in wearing comfortable flats for your wedding (which I personally would recommend so your feet can also enjoy your wedding day!), there are companies that sell beautiful shoes online that also use environmentally-friendly materials in their products. One such company is BauBax, which has a very simple line of comfortable and classy shoes made of bamboo, wood, and vegetable resin!
Wear vegan shoes
Finally, there are companies out there making vegan shoes that are so lovely to wear with your wedding dress. I recommend the company where I bought my wedding dress, Blushfashion which sells the most beautiful vegan wedding shoes in flats, low heels, and high heels. I really love these blue heels from Blushfashion (which also check off that "something blue" box on your list):
Related Post: 21 Best Ways to Do Eco-Friendly Wedding Shoes
---
Accessories and Veil to Wear with an Eco-Friendly & Sustainable Wedding Dress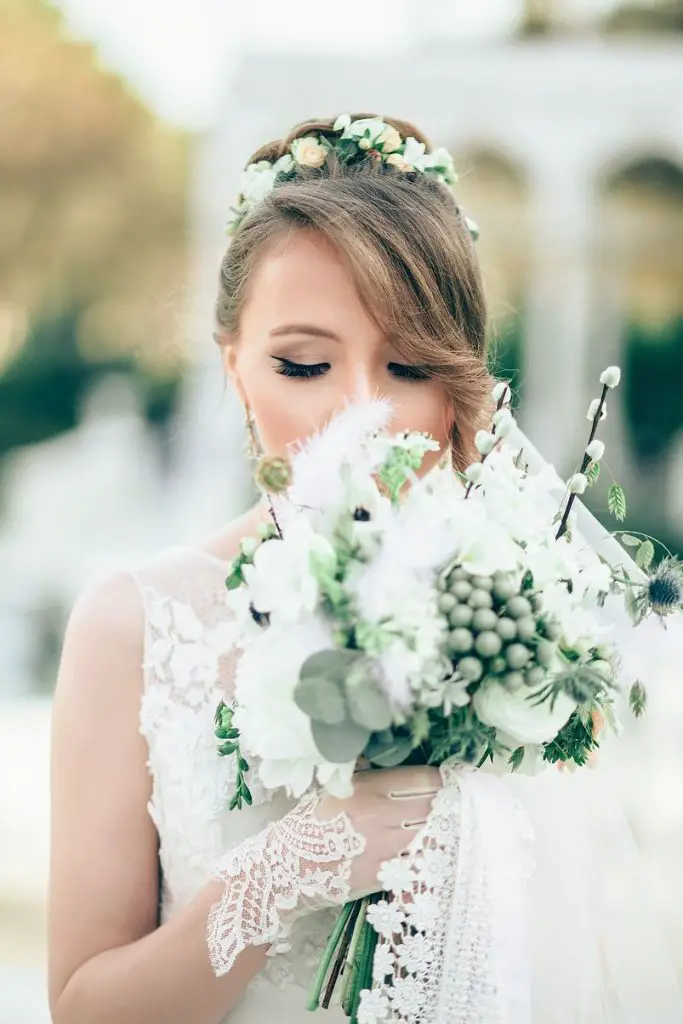 Now that you have your eco-friendly dress and shoes, don't ruin your good work by buying a ton of disposable, junky, or unsustainable accessories. This can also be an area to save some money!
A lot of brides spend a fortune on their veils for example… For me, it doesn't make sense to spend until $300 on my wedding dress and then buy a $300 veil. Here are some both eco-friendly and budget-friendly options for wedding dress accessories:
Sola wood flowers for a headpiece or crown
You can buy sola wood flowers (which are made of wood and last forever) and create your own flower headpiece or flower crown to wear with your wedding dress. They look and feel like real flowers but are long-lasting and don't contain dangerous pesticides like many real wedding flowers do.
They're also MUCH cheaper. For a florist to make you a flower crown or headpiece, the cost is usually very high because they have to make them at the last minute in order for them to stay fresh and look good. Even then, they're often drooping and browning by the end of the night.
Get sustainable and eco-friendly jewelry
For eco-friendly jewelry to wear with your wedding dress, keep it simple. Don't let your jewelry overpower or overwhelm your look. If you can borrow something from a friend or family member, or wear something you already own, all the better. If not, look into buying jewelry from sustainable companies that use recycled metals and preferably lab-created diamonds over diamonds that have been mined from the Earth. Consider buying your wedding diamonds and jewelry from somewhere such as Clean Origin or Capsul Jewelry.
Related Post: 25 Eco-Friendly & Conflict-Free Wedding Ring Companies
Make your own veil
If you really want to wear a veil on your wedding day, consider making it yourself! The fabrics don't have to be expensive. You can use recycled materials (just visit your local thrift shops and find dresses that you can cut up!) or some of the eco-friendly materials mentioned above. Try not to buy new fabrics.
Here is a nice, short tutorial on how to DIY two different types of wedding veils. You'll save so much money and be good to the planet at the same time, by not buying more stuff:
Related Post: Wedding Veils Aren't Going out of Style and Here's Why
---
That's it for now! I hope this guide helps you to find an eco-friendly and sustainable wedding dress that works for you and won't break the bank! 🙂