Looking for eco-friendly shoes to wear for your wedding? I've done a bunch of research and found the following options for eco-friendly footwear for every kind of bride and every kind of wedding!
Whether you're planning on wearing formal designer dress shoes, or elegant but casual TOMS bridal crochet flats, I'm sure you'll be able to find your perfect eco-friendly pair here 🙂
This list has MANY options for finding that special pair of bridal eco-friendly shoes, but don't be overwhelmed and feel like you need to fulfill ALL 21 suggestions! That would be impossible! If you just choose one of the options below, you'll be doing your part toward making your special day more environmentally-friendly.
---
1. Get Your Shoes Online But With ZERO Percent Carbon Footprint from Shipping
You may be aware that shopping online has the non-eco-friendly drawback of a huge carbon footprint due to the transportation of all those goodies we want delivered to us. So what are we brides to do??
The eco-friendly and socially-conscious company Made Trade sells awesome shoes made by artisans around the world! The gold shoes below are a great fit for the low-key unconventional bride seeking comfort and just a bit of wow. And the coolest part? You can buy shoes on Made Trade without the carbon footprint guilt of all that non-eco-friendly transportation.
How can you buy your shoes online and have your shipping and returns be 100% carbon neutral at the same time?
Made Trade offsets their carbon emissions from the shipping transportation of their products with the purchase of carbon credits.
This means that they fund projects (specifically a project in the Brazilian Amazonian Rainforest) that pulls greenhouse gases out of the atmosphere or avoids the creation of greenhouse gases altogether.
2. Insist on Fair Trade Shoes
Shoe companies that are treating their employees fairly and ethically are generally also treating the environment kindly, and so I recommend buying fair trade shoes as an option for your wedding.
A company that I admire is The Root Collective. Besides making really beautiful women's flats and sandals, they partner with small, independent existing workshops in Guatemala and they ensure that these already-established local businesses receive fair trade wages.
They source their fabric from two Guatemalan cooperatives and ensure that the women workers in these cooperatives are paid fairly.
3. Use Your Wedding Shoes to Support Charitable Giving
TOMS is a high-ranking Certified B Corporation, which measures a company's entire social and environmental performance. Its famous one-for-one charitable model means that every time you buy a pairs of TOMS, a pair is given to a child in need.
The shoes are also produced locally, to support and sustain local communities.
For bridal options, you will find (available on Amazon) lovely TOMS crocheted flats, or the classic white TOMS. I also really love the canvas flats, but they may be a bit too casual for many brides. From this casual bride, I personally think they're all perfect for being comfortable AND eco-conscious on your big day.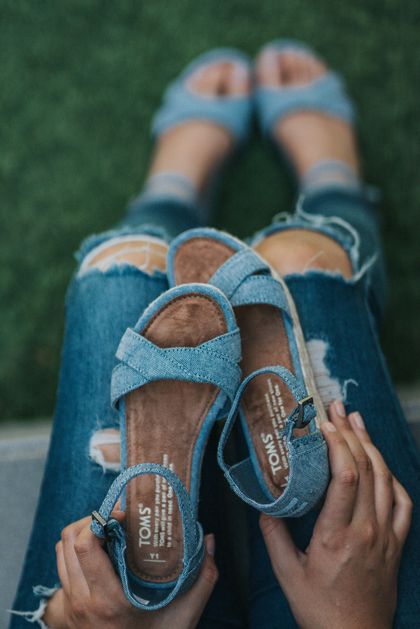 4. Search for Shoes that are Certified Eco-Friendly
It's a good idea to check if the shoes or the company that you love is certified as eco-friendly. Who determines this? I wasn't totally sure either, so I did a little digging and I found that, unfortunately, there is no one eco-friendly certification process for shoes and clothing.
Instead there are many certifying organizations, including the Global Organic Textile Standard (GOTS), Fair Trade International, and OEKO-TEX. If the shoes that we fell in love with on the shelf don't have a "certified" label from one of these organizations, there's no need to panic right away!
We can do a quick check of that shoe's website, or ask the store owner if the product is certified eco-friendly by another organization. And then check out THAT certifying organization's reputation in online forums and other communities to see if it is well-respected. It may be that your particular country or region has its own certification process for eco-friendly clothing.
If you're having an outdoor wedding and want to wear RAIN BOOTS with your wedding dress (remember, I said this list has something for everyone!), you could check out Alice + Whittles which uses 100% natural Canadian FSC-Certified fair trade natural rubber in their shoes. Alice + Whittles boasts that they are "The only boot that keeps trees firmly in the ground." 🙂
As someone who has lived in the Pacific Northwest for a while, I can tell you that a good pair of rain boots is essential — maybe even on your wedding day!
5. Buy Shoes Made from Fruit Peels (Really!)
So, yes, this one is a little weird. I heard about Veerah, a company that has some pumps made of apple peels, as well as other sustainable materials. Veerah is a vegan, luxury brand of shoes created by designer Stacey Chang, who has a location in New York City and also sells these beautiful and cruelty-free shoes online.
It amazes me the things that designers can use to make eco-friendly, sustainable footwear and clothes!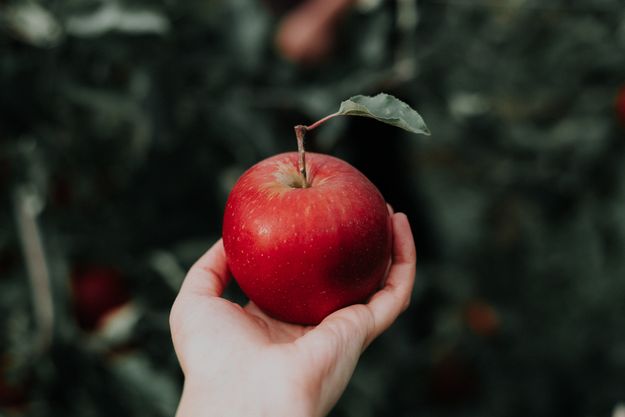 6. Search for Quality Shoes that Will Last as Long as Your Marriage
It's important when searching for eco-friendly shoes to also find shoes that are going to last, and won't be thrown on the trash heap the day after your wedding. You could accomplish this by going the luxury route.
The company Mink by Rebecca Mink creates handmade vegan pumps in Italy that are crafted by fourth generation shoe masters. They've created shoes for Chanel, Christian Louboutin, Jimmy Choo, Dolce & Gabbanna, and Gucci.
Mink also names all of its shoes after animals, which is adorable…
Mink uses sustainable materials such as cork, wood, bamboo, vegetable resins and fabrics that have been recycled in their designs.
7. Consider Wedding Shoes Made of Cork & Fish Nets
When I first went to Portugal, I couldn't believe all of the awesome products it was possible to make out of CORK! There were bags, wallets, hats, umbrellas, shoes (!) all made out of cork. I thought that this would also be a lovely and unique (and of course, eco-friendly) way of doing wedding shoes.
If you love unique eco-friendly shoes, you're going to DIE for these. Verdura is a company that uses cork to make the insoles of their shoes. The soles are made of recycled rubber or vegetable-tanned leather and the material of the shoe is made of RECYCLED FISH NETS!
They're dyed naturally, the fabric softened, and viola — beautiful and unique recycled shoes! These shoes are handcrafted in Tuscany by Andrea Verdura.
8. Tell Your Feet to Go Vegan
Your number 1 choice for many brides looking at this list may be: vegan shoes.
Many shoes on this list check the "vegan" box along with other great eco-friendly qualities. Vegan shoes are cruelty-free, made without animal leather or chemical harmful to the environment.
The company BHAVA makes luxury dress shoes from animal-free, eco-conscious materials and also strives to provide fair wages and good, safe working conditions for its employees.
Also, don't forget to check out Lulus, the extremely popular shop for all shoes vegan.
9. Buy RECYCLED Polyester Shoes
We know that natural materials are generally better for the environment than synthetic fabrics such as polyester blends. Having said that, if you can buy recycled polyester (or other synthetic fabric) shoes, then you're in fact making an eco-friendly decision for your wedding.
One company that uses recycled elements in its shoes is Beyond Skin. The satin in the shoes is made from recycled polyester and all linings are recycled with a vegetable polymer coating.
Asking questions or searching the websites of your favorite shoe companies for information on what your shoes are made out of and where they're from is all part of this process!
10. Wear Shoes Made of Recycled Water Bottles
Sooo I don't mean strap water bottles to your feet and walk down the aisle, although I guess that would be one way of reusing old water bottles!
A company called Rothy's actually makes really beautiful (mostly casual and flat) shoes out of water bottles. You would never know it!
They've taken 39 million plastic bottles so far that would have gone into landfills and and used them to make fabric for shoes! Just incredible. I love bright colors which makes these ones my favorite:
11. Buy Versatile, Interchangeable Shoes
One way of making your wedding shoes more eco-friendly could be simply making sure that you can reuse them later. What if you could turn your wedding shoes into a different style or color with a simple snap?
The company Alterre sells interchangeable shoes, in which you choose a base shoe and then can switch out the style of the strap for whichever occasion you desire!
They donate 5% of proceeds to a non-profit that supports the rehabilitation of sex-trafficking survivors in New York City. All shoes are created in fair trade conditions in Brazil.
12. Borrow Your Shoes
This one is easy enough if you have a friend or family member with the same shoe size as you. It can also save you a lot of money that you could put toward other budget items that you're worried about.
Simply ask around! People are so happy to help a bride for her wedding. And it's perhaps the least wasteful option you could choose. Bonus: It also counts as your "something borrowed." (If you're in need of a last-minute 'something blue' check out my other post for some ideas!)
13. Get Shoes Approved by Greenpeace
Greenpeace is a well-known environmental NGO operating all over the world. Greenpeace held a Fashion Duel in 2013 which gave brands a score based on pollution issues in the fashion industry. …And luxury brand Valentino topped the list!
Valentino uses all natural vegetable dyes and tanning processes and says that it will eliminate discharges "of all hazardous chemicals from the whole life cycle and all production procedures that are associated with the making and using of all products the Valentino Fashion Group produces and/or sells by 01 January 2020." (Source)
14. Buy Shoes From Transparent Companies
I like when a company is not afraid to show their cost breakdown. I like to see how much workers are getting paid, how much manufacturing costs, and everything in between versus what I'm paying in the end. It seems like so often we're way overcharged by companies for products that they source and assemble far away for a much cheaper price.
Everlane is a company that is very transparent about their shoes (and other products), offering quality items that aren't overpriced, meant to last beyond the fast fashion crazes. Check out their cost breakdown chain on their 'about us' page.
Many of their neutral flats would be great for a casual wedding shoe.
15. Buy Your Shoes Secondhand
Have you shopped around in local thrift shops? Sometimes you can find almost-new shoes for nearly free. Buying your shoes used is very eco-friendly. You're giving new life to something instead of allowing it to become just another item in the landfill.
If you can't find anything good in-person, definitely check out Nearly Newlywed, a platform where brides buy and sell their once-worn wedding gowns. They also have a collection of shoes, veils, and other gorgeous, waaaay marked down accessories!
You can find designer shoes for up to 80% off the store price!
16. Buy Your Shoes From a Local Company
Because transportation and shipping can wreak such havoc on the environment, sometimes the most eco-friendly option is just to shop locally. Are there any small business shops near you that make gorgeous shoes for nice occasions? Maybe this is the time to pay them a visit.
Do a quick google search of your hometown and "wedding shoes" or just "dress shoes" (for a better deal since everything "wedding" -related tends to be marked up!) and see what you find!
17. Look for Hand-Made Shoes
Of course, any time you can skip the mass production and find handmade shoes for your wedding, it's going to be more eco-friendly. It'll usually cost you more too for the laborer's time, and most-likely better, more sustainable, quality materials. But you're more likely to be satisfied with the results and keep the shoes longer too.
If this is something that interests, you, you might like Handmade Barcelona, which makes all their shoes in family-owned factories in Spain. They even host a workshop through an Airbnb partnership where you can learn how to make traditional shoes!
18. Buy Shoes Made of Bamboo, Wood, or Vegetable Resin
Read the labels of the shoes you're interested in. Ask the store clerks. Check the website descriptions. See if the designers have taken the time or care to note what materials are in their shoes.
If possible, avoid shoes that are made with a lot of synthetic materials and instead look for shoes made of bamboo, wood, or vegetable resin. Also note that the eco-friendliness of bamboo is debated, as it depends on how it's processed.
One company that follows these guidelines is BauBax, which makes both dressy flats and dressy heels out of coconut fiber, natural latex, Australian merino wool, and BAMBOO!
But you would never be able to tell. It's amazing really and makes you wonder why other shoe companies would use unsustainable materials when we have these eco-friendly options available to us.
19. Buy Shoes that Support Women Workers
Many fashion industry workers do not make "a living wage" and can't support their families on the low wages they receive. This especially impacts women workers who make up 75% of the fashion industry workforce.
Able is one company that has implemented a social impact reporting tool to assess their supply's chain's impact on workers and especially women workers around the world.
They don't claim to be perfect but are trying to be more transparent, and ask that we, as consumers, demand more of companies. Which we should. Did I mention they also make really cute shoes?
20. Search for Shoes Made in Family-Owned Factories
If possible, using shoe companies that source from family-owned factories can be more eco-friendly than buying from companies that use gigantic corporate factories.
Matisse is a shoe company that uses family-owned factories, ethical and fair trade practices, and tries to use recycled leather and textiles when possible.
21. Go Barefoot
So this is perhaps not the most practical option.. nor is it an option if you're getting married on rocky walkways or stones, but if you're having your ceremony in the field, it actually might be the perfect eco-friendly option for you, you free-spirited bride, you! Do it and don't worry about spending a dime!