This is a guide to sustainable and eco-friendly wedding dress materials and fabrics, for the bride concerned with environmental impacts of her big day. If you're like me, you'd like to find a wedding dress that's both eco-friendly and affordable, something I've written about previously and continue to scout out and learn about here on this blog.
Unfortunately, the fashion industry is currently one of the world's most offensive polluters, and we're all complicit as consumers who buy fabrics and materials that we don't need, don't use enough, or don't take the time to learn the origin of. In addition to wastefulness and adding to landfills, many fashion companies also employ child laborers and grow cotton in fields requiring harmful pesticides and insecticides.
But change is happening in many small ways, and one way of making a small difference is to make a statement of wearing sustainable fabrics on our wedding day, a day that is to celebrate LOVE after all. Love between the couple, love for our family and friends, and love for the planet.
In this guide, I discuss sustainable alternatives to harmful wedding dress fabrics and materials.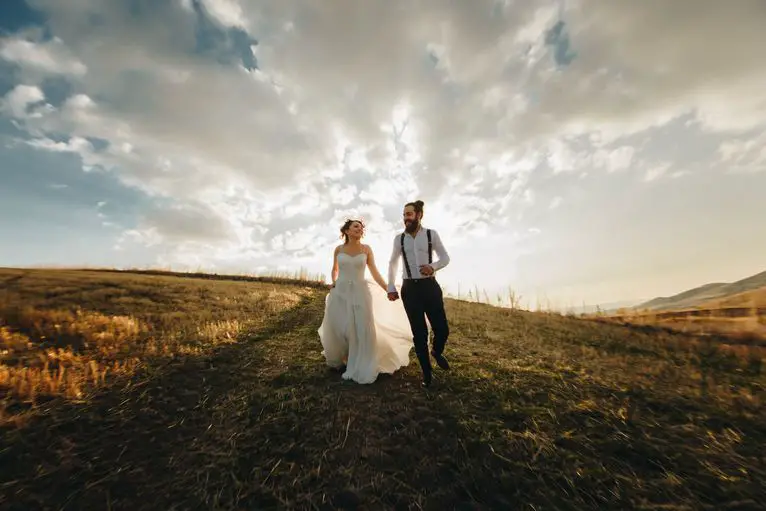 First, what NOT to look for in a wedding dress…
It's easy to walk into a bridal shop and cough up cash on the "dress of our dreams" without asking many questions. It looks beautiful! It's everything we ever wanted!
But if ethics and sustainability is truly something we care about, we'll need to ask and find out the answers to difficult questions. We need to know where the dress was made, what it's made of. If harmful chemicals were involved in the production of the dress, or child labor, is this really the dress of our dreams?
And as a side note, if the bridal shop is not upfront with you or refuses to answer these questions, walk away. There are plenty of shady bridal shops out there, brick and mortar establishments and online, that are just sadly not at all concerned with sustainability and will tell you whatever it takes to make the sale. Ask around your area for the reputation of particular bridal shops, and shop eco-friendly options online.
Materials to avoid in wedding dresses might include:
Non-organic cotton, grown with pesticides and insecticides
Synthetic materials including –
Polyester
Acrylic
Rayon
Acetate
Nylon
Synthetic fabrics are not breathable and terrible for your skin. They're also made using thousands of harmful and toxic chemicals and can have unpleasant consequences when in contact with your skin for a prolonged period of time. Not to mention… they trap body odor. Lovely thought for your wedding day, eh?
Think about the long evening and night of dancing and moving around in your wedding dress, and avoid the synthetic fabrics if you can.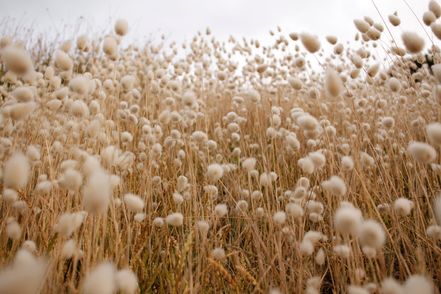 Best Sustainable and Eco-Friendly Fabrics
Many of the harmful fabrics mentioned above are made from petroleum-based chemicals. A better choice would be to go with natural, organically-grown fabrics that are biodegradable, washable, and that come from renewable resources.
We can either get these fabrics ourselves and bring them to a dressmaker or we can look for designers and companies that use these materials already in their designs.
It's probably not possible to find a PERFECT dress made of completely sustainable, eco-friendly materials produced in an ethical manner AND make it affordable. But we can try! Even if we're doing a little bit on this front, even if we're simply more conscious of the actions we're taking, trying to be less wasteful, that is a step forward I think.
Here are the best sustainable and eco-friendly fabrics for wedding dresses, according to my research:
Organic Hemp
Hemp is a very sustainable choice for wedding dress fabric because it's strong and doesn't need harmful pesticides to grow. It also doesn't require much water and re-fertilizes the soil that it grows in.
Hemp doesn't require large crop fields, grows quickly, and is extremely durable.
Abaca
Abaca is a fabric made from the leaf stalks of a plant native to the Philippines and now grown in many tropical climates around the world. It's been known to help promote biodiversity and promote erosion control. It can be weaved into fabric as well as ropes, bags, and other accessory pieces. A truly unique option for bridal fabric.
Silk
Silk is natural and renewable, made from a spinning process using the threads inside the cocoons of silkworms. It is important to purchase from ethical silk manufacturers that don't use child labor.
And if you're concerned about the well-being of insects, know that silkworms are killed in the process of making silk (and silk is thus not on animal rights organizations', such as PETA's, 'good list').
However, I believe that, in general, and if done correctly, this is an ancient (originating from imperial China) and very eco-friendly process for making fabric.
Organic Cotton
As mentioned above, non-organic cotton farming methods are not at all sustainable and do great damage to the land and the people who work it, by using harmful and destructive chemicals.
An alternative, sustainable option is organic cotton, which is currently more expensive but could become more affordable if we as consumers refused to buy non-organic cotton.
Also consider the option of recycled conventional cotton. Instead of heading to a landfill, perhaps you can find cotton that can be re-purposed as a bridal or bridesmaid gown.
Organic Linen
Linen is not only comfy, light, and breathable, but also a natural and renewable fabric that comes from the flax plant. It is completely biodegradable and grows easily, even when it's not grown in the most ideal soil conditions.
Just like many of these natural fabrics, it has to be grown in an organic manner in order for it to be eco-friendly, so ask questions and check the manufacturer's reputation before purchasing this (often expensive) material for your gown.
Tencel or Lyocell
Tencel (or lyocell) is actually a light, cellulose synthetic fabric, sustainably produced using wood pulp. It is much more sustainable to produce than cotton, and is non-toxic. It feels as soft to the touch as cotton too!
---
And what about other materials… Bamboo?!
There are a few other fabrics commonly debated in the fashion arena about whether or not they should be considered sustainable. Some of these include bamboo, wool, and cashmere.
The bottom line seems to be, it depends. It depends on the specific manufacturer and there are often some less-than-sustainable processes going on to make these fabrics. If you can't find out the details of how the fabric is made, it might be a sign that it isn't eco-friendly or ethical. For example, many bamboo products are actually a form of rayon, and require a harmful chemical-releasing process to produce.
What can we do now?
Let's all do a bit of research on the dresses we end up buying for our weddings, and find out where they're made and where the materials they're made of come from!
We can't be perfect but awareness is better than nothing, and the first step in making the wedding industry more accountable, sustainable, and less wasteful.
If you're interested in shopping for wedding dresses online that use sustainable and eco-friendly manufacturing methods, check out some of the companies I love below:
Blush Fashion – gorgeous and affordable bohemian hand-made dresses
Nearly Newlywed – sustainable option of designer dresses being 'resold' by other brides
Wear Your Love – boho options for the "free-spirited" bride