Have you settled on a mermaid wedding dress but aren't sure what kind of shoes to wear with it? Fear not! You actually have many shoe options for a mermaid silhouette:
Almost any shoe can be worn with a mermaid wedding dress, especially if your dress is structured and your hem hits the ground, because no one will even see your shoes. If your dress is not structured, however, a sexy, strappy heel in a statement color, pattern, or neutral is ideal.
Mermaid silhouettes are very sexy and shape-fitting, and make for amazingly stunning wedding gowns. But pairing the right shoes to get that "wow" factor can be tricky. Make sure to choose shoes that fit the style of your dress, and your own personal style and comfort level.
Matching your own style and comfort level will be essential for rocking your mermaid gown with confidence on your wedding day! Don't fall into the trap of choosing shoes that others choose for you, or that you feel pressured to wear. Take your time and buy the shoes that YOU love 🙂
In this post, I will show you some beautiful, perfect shoe options to pair with your mermaid wedding dress, in case you need a good starting point!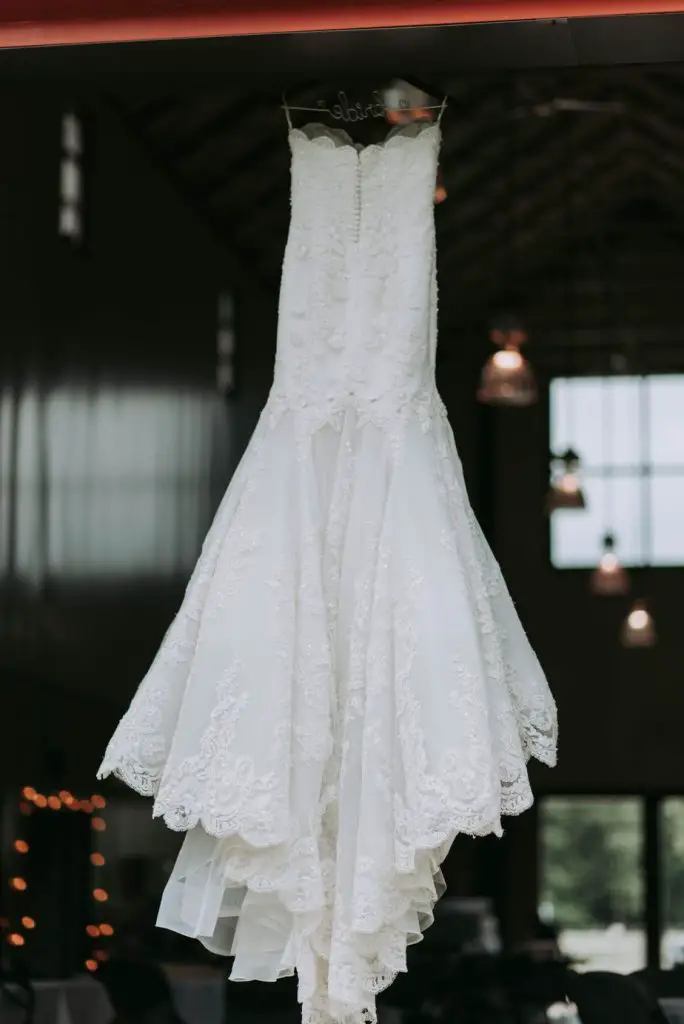 For structured mermaid wedding dresses
A structured mermaid wedding dress is one that simply stays "in place" or doesn't move much when you walk. It's not "flowy" and therefore does not reveal your shoes (or not much) when you move.
The hem of your dress should also hit the floor, so really nobody will see your shoes at all.
If you aren't sure whether or not your dress is structured, just try it on with a friend, and ask your friend to tell you if your feet are showing, and how much, when you walk!
If your dress is structured, you don't have to stress at all about which shoes you choose to wear. What you should look out for is the right HEIGHT. Make sure your heels aren't so high that they lift your dress off the floor, and ruin the effect of your mermaid skirt.
You should also be careful that your dress isn't dragging on the floor such that you trip on it when you walk. Get it tailored to the perfect length, preferably with your chosen shoes on your feet during the fitting.
Besides that, the sky's the limit! Here are some amazing options to consider:
---
Statement Shoes
Because your shoes will just be poking out a little bit from under your hem, why not use the opportunity to add a pop of color? It can be a tiny, fun surprise that you can reveal in your photo shoot or while sitting down at your reception (perhaps during the garter "search" and toss).
If you don't yet have a "something blue" picked out, here's your chance! Find a statement shoe in royal blue, such as these royal blue stilettos from Amazon, or perhaps these sweet heeled sandals from my one of my favorite online bridal shops, Blushfashion (pictured above). Blushfashion uses really high-quality, luxurious materials but yet their bridal shoes and dresses are super affordable.
Some other statement shoe options I LOVE are hot pink block heels and classic yellow teardrop cutout pumps!! (both also available on Amazon)
---
Comfortable Flats
Because your shoes won't really show, you can choose to simply wear comfortable flats with your mermaid wedding dress. Just make sure, again, that you test beforehand how your gown hits the floor (and make sure it doesn't drag).
Comfortable flats come in all styles, but I personally really like something like the peep toe vintage sandals (pictured above), also from the wonderful Blushfashion's bridal collection! Something strappy, sparkly, but still comfy…
Ballet flats are also nice and comfortable, such as these VERY popular and super simple ballerina flats on Amazon that come in a bunch of different colors — including rose gold and silver. If you want no muss, no fuss, blend-into-the-background kind of wedding shoes, go with these.
---
Pointed-Toe Heels
If not much of your shoes will show, as we've discussed, then consider making that tiny bit worth it by wearing a pointed-toe heel (or flats for that matter). This option also saves you the trouble of getting a pedicure… just as an added bonus!
These ones are from ABLE, a company that specializes in ethical clothing and fair trade.
Amazon also carries pointed-toe heel pumps in a TON of different colors.
---
Sneakers… Yes, Seriously!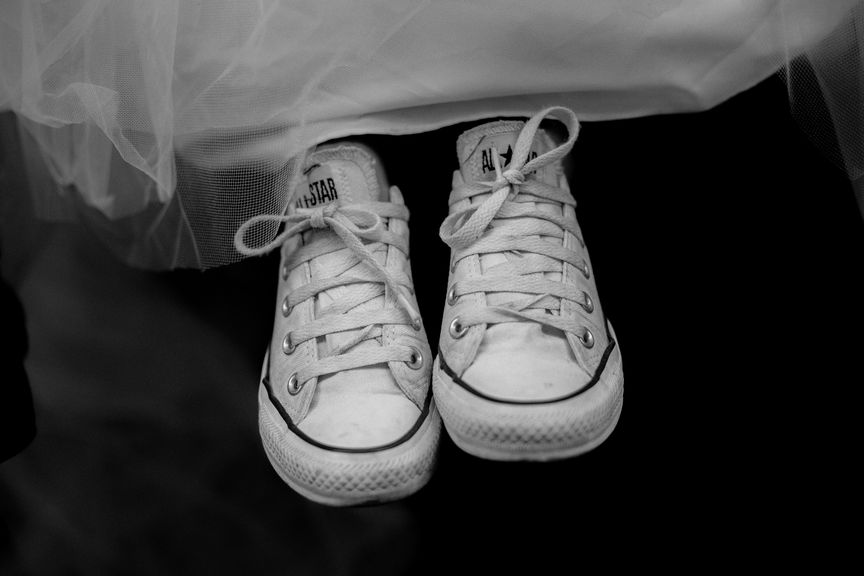 Remember that if no one can see your shoes… what is the harm in wearing sneakers?? I actually think it's a very cute look. Pick out some pretty, new sneakers that you love and then proceed to have the comfiest, happiest wedding… dancing the night away!
You may want to go with classic white Converse Chuck Taylor low tops for your wedding, OR perhaps these ones WHICH I ADORE — sparkly bridal Converse Chuck Taylor low tops. So cool!! Maybe it makes me a child but I really love the idea of sparkly shoes with a wedding dress…
I also love these gold glitter running shoes (hopefully for dancing and not for running away from the altar) and these crochet lace sneakers from David's Bridal.
The possibilities are endless but hopefully these recommendations will make the search and decision-making a tiny bit easier for you 🙂
---
Wedges for Height AND Comfort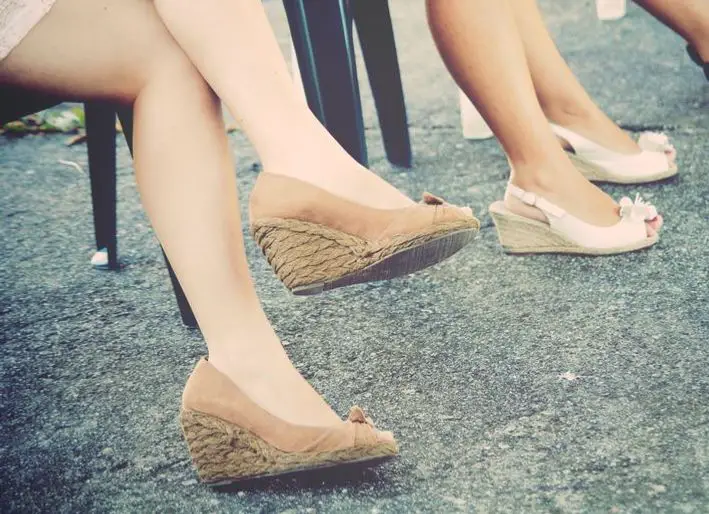 What happens when you want your shoes to match the sexiness of your mermaid wedding dress, but you also don't want your feet to hurt?? Why, wedges of course! Wedges truly are a girl-who-wants-to-look-taller's best friend.
I am in love with two pairs of wedding shoe wedges from Amazon: These ones, all white, lined with white roses and these ones, which are actually demi-wedges covered in jewels! But find the perfect pair that suits your own unique taste and comfort level!
---
For unstructured mermaid wedding dresses
If your dress is unstructured, meaning it moves and flows behind you when you walk, revealing your shoes… or perhaps has a slit that reveals your shoes, then your shoe selection becomes a bit more important.
In this case, you'll want to wear a sexy, strappy heel to match the "feeling" of the dress. Mermaid gowns are wonderful for showing off your curves, and so this is the perfect opportunity to flaunt a sexy shoe as well.
For unstructured mermaid wedding dresses, here are some great options:
---
Strappy, Sexy Block Heels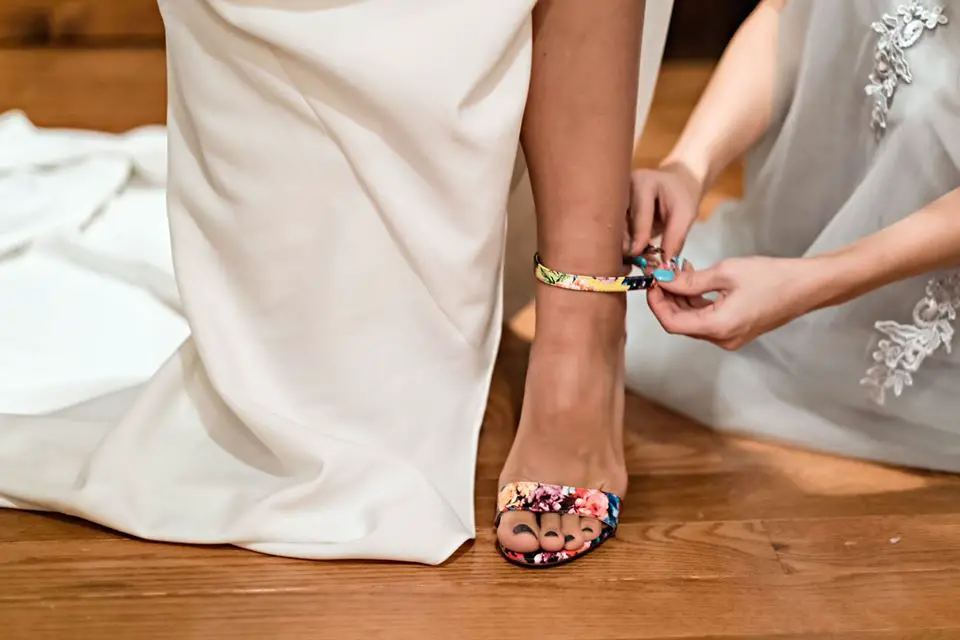 Block heels with straps (in any color) are the perfect shoes to wear with your mermaid wedding dress. The pair pictured above are Steve Madden Women's Carrson Dress Sandals from Amazon. They have a 4-inch heel and an ankle strap and toe strap. My friend wore these ones to her wedding and they were absolutely gorgeous.
But remember that comfort isn't what high, sexy block heels are known for so be sure to pack a comfy pair of flats to wear for dancing when your feet start to ache!
---
Sexy Platform Heels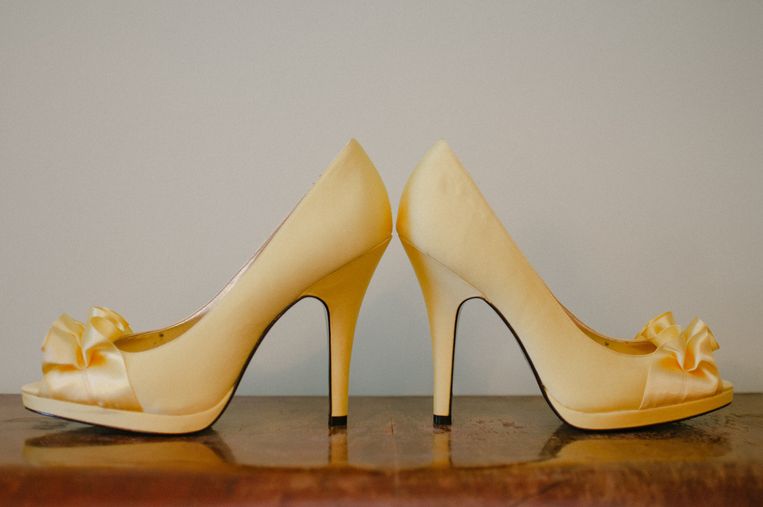 If you're not feeling the strappy heels, or simply don't feel like getting a pedicure, consider sexy platform stiletto pumps instead. They are classic, classy, and you won't feel like your feet are "under-dressed" if that's what you were worried about!
If you're not looking to incorporate bold colors into your shoe choice, consider nude pumps such as these ones found on Amazon (available in 4 different neutral colors actually).
---
Sexy Bejeweled and Sparkly Heels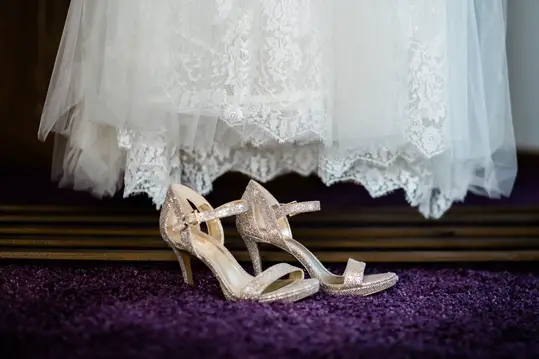 I've said this before, but don't be afraid of a little sparkle! For your mermaid wedding dress, don't forget about heels that are glittery, sparkly, bejeweled… etc.! Especially if you don't find many other opportunities in your life to wear these kind of shoes… this is your time!
I REALLY LOVE these sparkly open-toe stilettos on Amazon and highly recommend you check 'em out!
---
That's all! I hope you find a pair of perfect shoes to wear with your mermaid wedding dress!! 🙂