The truth is that wedding dresses are NOT ALWAYS white and haven't always been white, despite popular modern belief. You should wear whatever color you want to wear on your wedding day, as was done for most of Western history before Queen Victoria popularized white wedding dresses in 1840 following her marriage to Prince Albert.
If you're feeling like wearing a color other than white on your wedding day and tell people about it, even your non-traditional friends might be surprised or even resistant to the idea. Why do people feel so strongly that brides have to wear white? Before you submit to a white wedding gown, consider the following:
1. The white wedding dress is a fairly modern trend.
2. If you're worried about "not looking enough like a bride" you can always add a veil.
3. Many celebrity brides have chosen to wear fabulous non-white wedding dresses.
4. Around the world, brides wear many different wedding dress colors – not just white!
5. It's your day and you should wear whatever you want!
---
1. The white wedding dress is a fairly modern trend
Before Queen Victoria set the trend for white wedding dresses, royals used to take advantage of royal weddings to show off their wealth via expensive fur-lined, sometimes colorful wedding dresses.
Queen Victoria was trying to display frugality by choosing a simple white dress. "Common" people before this time would wear whatever their best dress happened to be on their wedding day. Usually this wouldn't be white, as white dresses were difficult to keep clean (Source).
Apparently, white dresses were not even always the symbol of innocence that we imagine. Before the Victorian era, the earliest color of "purity" was actually blue, and may even be the source of the "something blue" rhyme.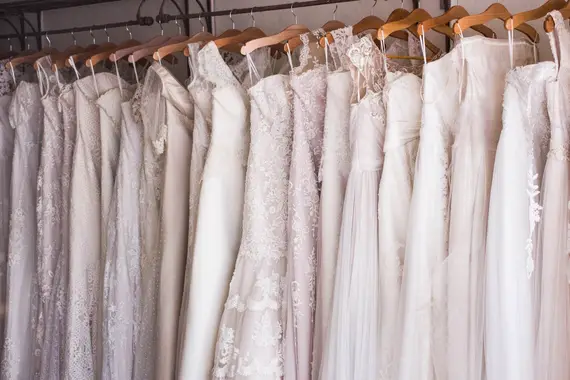 Since Victorian times however, the wedding industry and popular culture has seemed to push white wedding dresses at us like crazy. "It's a nice day… for a… white wedding day!" Some people still associate white with purity and insist that a bride should wear white to show her "innocence" on her wedding day. This notion alone is enough for some people to opt for a different color in protest!
I'm definitely not saying that brides shouldn't wear white. White wedding dresses are beautiful! But if you love another color and are only wearing white because you feel like you have to for the sake of "tradition," just realize that traditions used to be different in this regard! You can change it back and wear what you want if you can handle the resistance from "traditional" friends and family.
---
2. If you're worried about "not looking enough like a bride" you can always add a veil
Yes, I know… trade in a white wedding dress for yet another traditional element – the wedding veil? Why?! But if you feel that the colorful dress you've fallen in love with is not going to make you feel "bride-ish" enough, a veil can accomplish this for you!
Maybe you don't want to look like just another guest at your wedding, or you feel like you'll be dressing up for senior prom all over again. First of all, who cares? You probably looked awesome at prom. And the guests know who the bride is!
But if these fears are bothering you, a veil could be a simple solution. Try on some veils with your dress and see if you like the effect. There are a million different styles of veil to choose from so don't feel like you have to be locked into one particular style that you may have in mind when you think veil.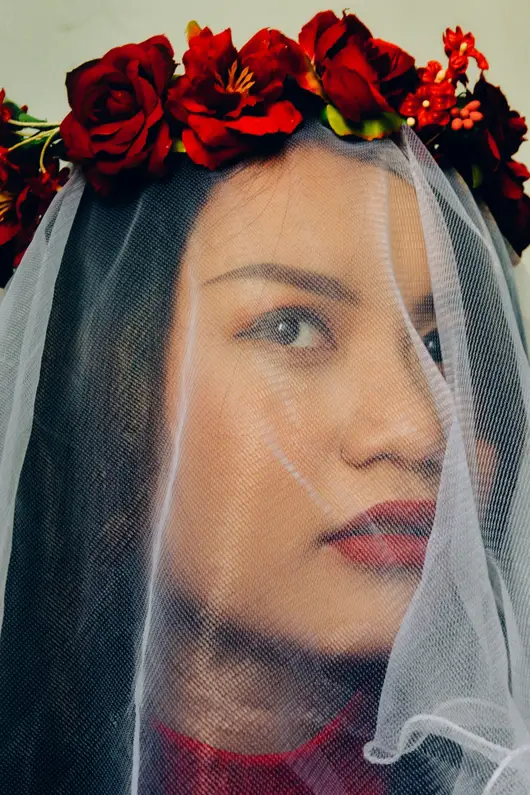 ---
3. Celebrity brides who chose NOT to wear white on their wedding days
There are a number of famous celebrity brides who wore colorful wedding dresses and might give you some courage to try on those colorful dresses you've been thinking about wearing as a wedding dress.
I talked about celebrities and royals such as Meghan Markle and Kate Middleton in regards to their wedding veil choices in my other article here if you're interested in learning more.
Elizabeth Taylor was a married a whopping 8 times and in some of those ceremonies, she decided not to wear white. Even back in the day, she was bold in her choices. She wore an emerald green dress to marry Eddie Fisher in 1959. When she married Richard Burton the first time in 1964, she wore a yellow wedding dress, and when she married him a second time in 1975, she wore a RAINBOW dress!
In 1997, fashionista Sarah Jessica Parker wore a black Morgane Le Fay dress when she married Matthew Broderick.
Sharon Stone wore a blush pink Vera Wang wedding dress for her 1998 marriage to Phil Bronstein.
Gwen Stefani wore a nontraditional ombre pink dress by John Galliano for Christian Dior when she married Gavin Rossdale in 2002.
Julianne Moore wore a pink Prada slip dress when she married Bart Freudlich in 2003.
In 2012, Jessica Biel married Justin Timberlake in a pink Giambattista Valli haute couture dress. She later commented that she'd just never really been into all-white traditional wedding dresses.
In 2012, Anne Hathaway married Adam Shulman in a light pink Valentino gown.
In 2012, Amber Tamblyn wore a bright yellow dress for her wedding to David Cross.
In 2013, Kaley Cuoco wore a pink Vera Wang gown for her wedding to Ryan Sweeting.
In 2018, Mandy Moore wore a tiered pink gown by Rodarte for her wedding to Taylor Goldsmith.
Jessica Simpson wore a Carolina Herrera gold dress in her 2014 wedding to Eric Johnson.
In 2013, Kristen Bell wore a simple black dress to her courthouse wedding to Dax Shepard.
So, as we can see, many celebrity brides have had no qualms about wearing colors other than white on their wedding days and neither should we. For first, second, third… whatever number marriage it happens to be!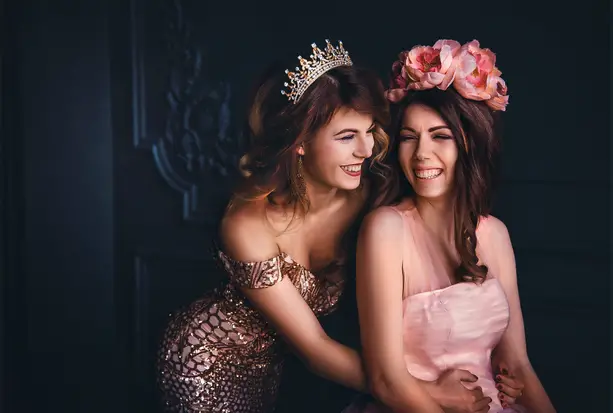 ---
4. Around the world, brides wear many different wedding dress colors – not just white!
Why be constrained to white on your wedding when brides around the world show us that weddings can be great colorful affairs? Weddings in India, for example, are very colorful with the bride often wearing beautiful vibrant red or pink hues. Icelandic brides traditionally wore black and Norwegian brides green!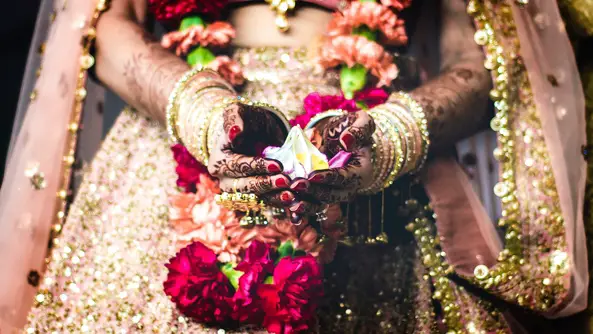 Traditional weddings in China also feature beautiful vibrant red for both the bride and groom's outfits. Traditional weddings in Ghana, Mongolia, Romania, and Indonesia are often very colorful, each featuring diverse intricate patterns unique to each culture.
Indonesia is the fourth most populous country in the world with traditions and religions that vary from island to island (and there are literally thousands of islands), but the mostly-Hindu island of Bali in particular hosts beautifully weddings with the bride and groom adorned with array of gorgeous colors.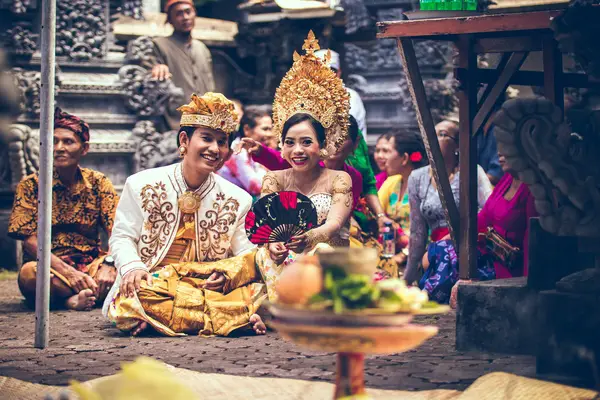 As we can see, it's not just that white is a 'modern' notion in many ways for a wedding dress, but also that many modern weddings around the world are STILL extremely colorful in their bridal dress choices.
The idea that white is the only option for wedding dresses is soon shattered when we look at what most of the world has been doing for centuries and continue to do to this day in many parts of the globe 🙂
---
5. It's your day and you should wear whatever you want!
If you're stressed out about the decision to wear an unconventional color wedding dress, just remember that all of these expectations are invented and arbitrary. They are simply guidelines and not rules.
We're so lucky to live in a time where we can make the decisions that we want and no harm will come to us except perhaps some hard feelings from friends or family members (and honestly, who cares??). If there's a beautiful dress that you want to wear and it happens to not be white, I say go for it. No one is going to forget a purple wedding dress.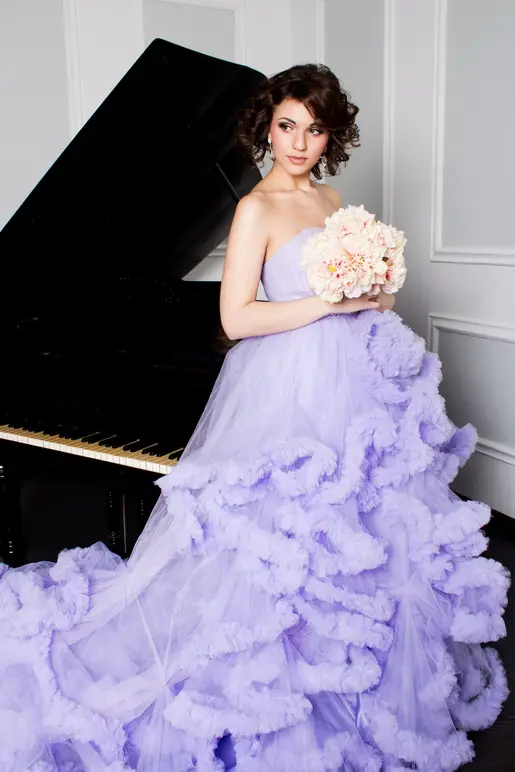 Especially if you're the one paying for your wedding, don't let the expectations of others change what YOU want to do and what YOU want to wear. Channel Elizabeth Taylor and her rainbow wedding dress if you need some courage 🙂
If you're curious about the expenses aspect of wedding dress options, check out my article Is an Expensive Wedding Dress Worth it? 🙂