For Lord of the Rings and The Hobbit fans, wedding readings by J. R. R. Tolkien may be something you want to include in your wedding ceremony. Tolkien's writing may not have been meant to be read at weddings, but many of the themes are perfect. Friendship, adventure, loyalty, love… this is what weddings are all about after all, right?
Tolkien's works are full of poetry and songs! Really lyrical and beautiful poems that make a Tolkien excerpt truly ideal for wedding ceremonies.
I've compiled some Tolkien excerpts below that you can use as readings or vows for your wedding ceremony. Maybe you have a dear friend or family member who you'd like to read one for you, or you can do it yourselves! I hope these help and that you find a text that works well for you as a couple, and best represents your own unique relationship.
My full collection of wedding readings (from literature, films, TV series, and more), which I spent weeks compiling, can be found here.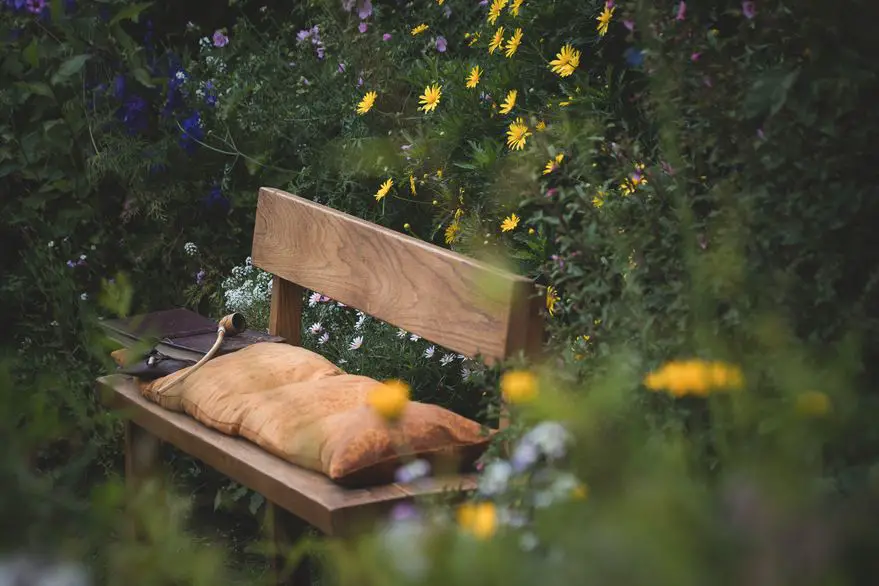 The Ent and The Entwife
In Tolkien's Lord of the Rings, the Ents are the shepherds of the forest. They are mighty beings that closely resemble trees whose name is derived from the Anglo-Saxon word for giant. They're allies of the free people of Middle-earth, and sadly, a "dying race." The story of the Ents is memorable to many fans of the books — the tragic story of the lost Entwives. Where did they go and why are they lost?
"There have been no Entings – no children, you would say, not for a terrible long count of years. You see, we lost the Entwives."

"How very sad!' said Pippin. "How was it that they all died?"

"They did not die!" said Treebeard. "I never said died. We lost them, I said. We lost them and we cannot find them." He sighed. "I thought most folk knew that. There were songs about the hunt of the Ents for the Entwives sung among Elves and Men from Mirkwood to Gondor. They cannot be quite forgotten."

Treebeard, The Two Towers
Below is Tolkien's poem "The Ent and the Ent-Wife" which seems to strive to bring the Ent and the Entwife back together. It's a romantic piece that could be incorporated into a wedding ceremony:
ENT: When Spring unfolds the beechen leaf, and sap is in the bough;
When light is on the wild-wood stream, and wind is on the brow;
When stride is long, and breath is deep, and keen the mountain-air,
Come back to me! Come back to me, and say my land is fair!
ENTWIFE: When Spring is come to garth and field, and corn is in the blade;
When blossom like a shining snow is on the orchard laid;
When shower and Sun upon the Earth with fragrance fill the air,
I*ll linger here, and will not come, because my land is fair.
ENT: When Summer lies upon the world, and in a noon of gold
Beneath the roof of sleeping leaves the dreams of trees unfold;
When woodland halls are green and cool, and wind is in the West,
Come back to me! Come back to me, and say my land is best!
ENTWIFE: When Summer warms the hanging fruit and burns the berry brown;
When straw is gold, and ear is white, and harvest comes to town;
When honey spills, and apple swells, though wind be in the West,
I*ll linger here beneath the Sun, because my land is best!
ENT: When Winter comes, the winter wild that hill and wood shall slay;
When trees shall fall and starless night devour the sunless day;
When wind is in the deadly East, then in the bitter rain
Ill look for thee, and call to thee; Ill come to thee again!
ENTWIFE: When Winter comes, and singing ends; when darkness falls at last;
When broken is the barren bough, and light and labour past;
I*ll look for thee, and wait for thee, until we meet again:
Together we will tkae the road beneath the bitter rain!
BOTH: Together we will take the road that leads into the West,
And far away will find a land where both our hearts may rest.
You may be inspired by this interpretation of the poem:
---
The Song of Beren and Lúthien
The love story of Beren and Lúthien, which appears in several of Tolkien's works, was supposedly inspired by his own wife. Here is the poem, The Song of Beren and Lúthien:
The leaves were long, the grass was green,
The hemlock-umbels tall and fair,
And in the glade a light was seen
Of stars in shadow shimmering.
Tinúviel was dancing there
To music of a pipe unseen,
And light of stars was in her hair,
And in her raiment glimmering.
There Beren came from mountains cold,
And lost he wandered under leaves,
And where the Elven-river rolled
He walked alone and sorrowing.
He peered between the hemlock-leaves
And saw in wonder flowers of gold
Upon her mantle and her sleeves,
And her hair like shadow following.
Enchantment healed his weary feet
That over hills were doomed to roam;
And forth he hastened, strong and fleet,
And grasped at moonbeams glistening.
Through woven woods in Elvenhome
She lightly fled on dancing feet,
And left him lonely still to roam
In the silent forest listening.
He heard there oft the flying sound
Of feet as light as linden-leaves,
Or music welling underground,
In hidden hollows quavering.
Now withered lay the hemlock-sheaves,
And one by one with sighing sound
Whispering fell the beachen leaves
In the wintry woodland wavering.
He sought her ever, wandering far
Where leaves of years were thickly strewn,
By light of moon and ray of star
In frosty heavens shivering.
Her mantle glinted in the moon,
As on a hill-top high and far
She danced, and at her feet was strewn
A mist of silver quivering.
When winter passed, she came again,
And her song released the sudden spring,
Like rising lark, and falling rain,
And melting water bubbling.
He saw the elven-flowers spring
About her feet, and healed again
He longed by her to dance and sing
Upon the grass untroubling.
Again she fled, but swift he came.
Tinúviel! Tinúviel!
He called her by her elvish name;
And there she halted listening.
One moment stood she, and a spell
His voice laid on her: Beren came,
And doom fell on Tinúviel
That in his arms lay glistening.
As Beren looked into her eyes
Within the shadows of her hair,
The trembling starlight of the skies
He saw there mirrored shimmering.
Tinúviel the elven-fair,
Immortal maiden elven-wise,
About him cast her shadowy hair
And arms like silver glimmering.
Long was the way that fate them bore,
O'er stony mountains cold and grey,
Through halls of ireon and darkling door,
And woods of nightshade morrowless.
The Sundering Seas between them lay,
And yet at last they met once more,
And long ago they passed away
In the forest singing sorrowless.
You may be inspired by this interpretation of the poem:
---
Faramir and Eowyn's exchange in the Houses of Healing
"Then Faramir laughed merrily. 'That is well,' he said; 'for I am not a king. Yet I will wed with the White Lady of Rohan, if it be her will. And if she will, then let us cross the River and in happier days let us dwell in fair Ithilien and there make a garden. All things will grow with joy there, if the White Lady comes."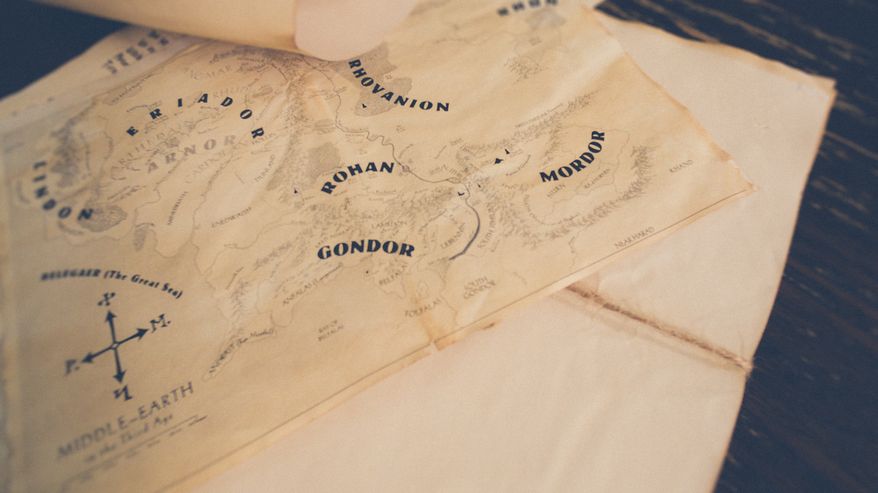 ---
The Greatest Adventure – A Hobbit's Tale
"The greatest adventure is what lies ahead.
Today and tomorrow are yet to be said.
The chances, the changes are all yours to make.
The mold of your life is in your hands to break."
---
"Roads go ever ever on" Song
Here is a song recited by Bilbo at the end of The Hobbit, as he is completing his journey back to the Shire:
Roads go ever ever on,
Over rock and under tree,
By caves where never sun has shone,
By streams that never find the sea;
Over snow by winter sown,
And through the merry flowers of June,
Over grass and over stone,
And under mountains of the moon.
Roads go ever ever on
Under cloud and under star,
Yet feet that wandering have gone
Turn at last to home afar.
Eyes that fire and sword have seen
And horror in the halls of stone
Look at last on meadows green
And trees and hills they long have known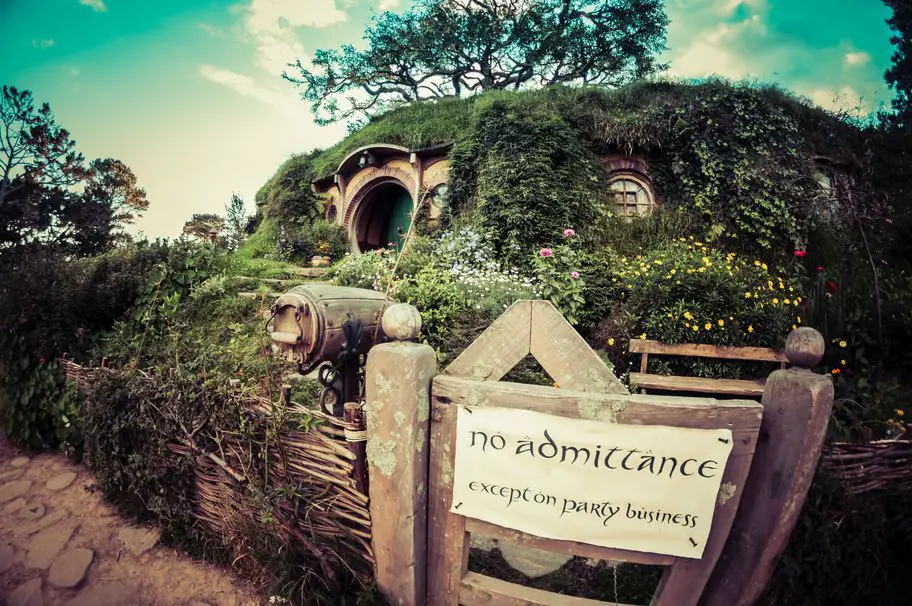 ---
A Walking Song
A Walking Song was sung by Frodo, Pippin, and Sam as they were walking through the Woody End:
Upon the hearth the fire is red,
Beneath the roof there is a bed;
But not yet weary are our feet,
Still round the corner we may meet
A sudden tree or standing stone
That none have seen but we alone.
Tree and flower and leaf and grass,
Let them pass! Let them pass!
Hill and water under sky,
Pass them by! Pass them by!
Still round the corner there may wait
A new road or a secret gate,
And though we pass them by today,
Tomorrow we may come this way
And take the hidden paths that run
Towards the Moon or to the Sun.
Apple, thorn, and nut and sloe,
Let them go! Let them go!
Sand and stone and pool and dell,
Fare you well! Fare you well!
Home is behind, the world ahead,
And there are many paths to tread
Through shadows to the edge of night,
Until the stars are all alight.
Then world behind and home ahead,
We'll wander back to home and bed.
Mist and twilight, cloud and shade,
Away shall fade! Away shall fade!
Fire and lamp, and meat and bread,
And then to bed! And then to bed!
---
From J. R. R. Tolkien: A Biography written by Humphrey Carpenter (1977)
Lo! Young we are and yet have stood
like planted hearts in the great Sun
of Love so long (as two fair trees
in woodland or in open dale
stand utterly entwined and breathe
the airs and suck the very light
together) that we have become
as one, deep rooted in the soil
of Life and tangled in the sweet growth.
---
The Elven Hymn to Elbereth
Snow-white! Snow-white! O Lady clear!
O Queen beyond the Western Seas!
O light to us that wander here
Amid the world of woven trees!
Gilthoniel! O Elbereth!
Clear are thy eyes and bright thy breath!
Snow-white! Snow-white! We sing to thee
In a far land beyond the sea.
O Stars that in the Sunless Year
With shining hand by her were sown,
In windy fields now bright and clear
We see your silver blossom blown!
O Elbereth! Gilthoniel!
We still remember, we who dwell
In this far land beneath the trees,
Thy starlight on the Western Seas.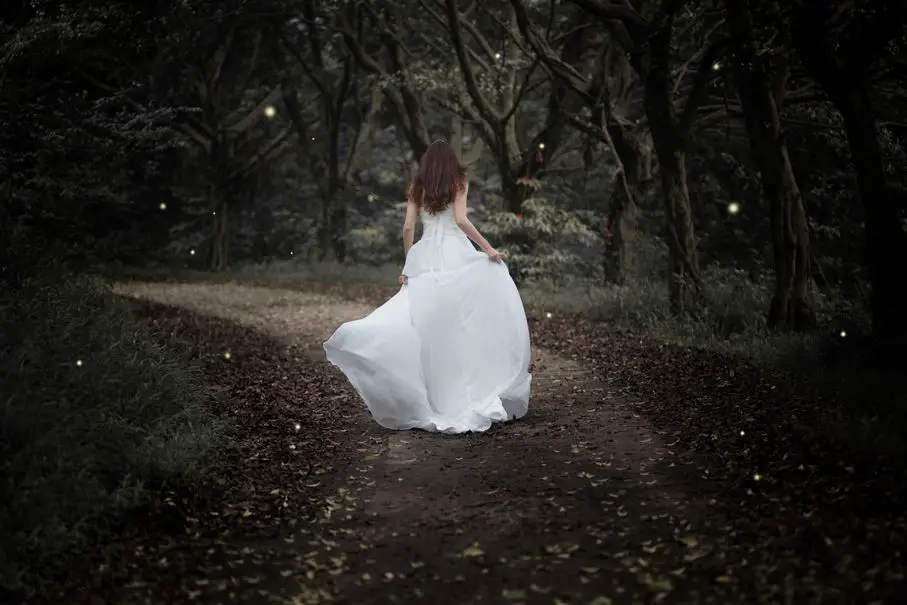 ---
Farewell We Call to Hearth and Hall!
Farewell we call to hearth and hall!
Though wind may blow and rain may fall,
We must away ere break of day
Far over wood and mountain tall.
To Rivendell, where Elves yet dwell
In glades beneath the misty fell,
Through moor and waste we ride in haste,
And whither then we cannot tell.
With foes ahead, behind us dread,
Beneath the sky shall be our bed,
Until at last our toil be passed,
Our journey done, our errand sped.
We must away! We must away!
We ride before the break of day!
---
You & Me and the Cottage of Lost Play
You and me–we know that land
And often have been there
In the long old days, old nursery days,
A dark child and a fair.
Was it down the paths of firelight dreams
In winter cold and white,
Or in the blue-spun twilit hours
Of little early tucked-up beds
In drowsy summer night,
That You and I got lost in Sleep
And met each other there–
Your dark hair on your white nightgown,
And mine was tangled fair?
We wandered shyly hand in hand,
Or rollicked in the fairy sand
And gathered pearls and shells in pails,
While all about the nightingales
Were singing in the trees.
We dug for silver with our spades
By little inland sparkling seas,Then ran ashore through sleepy seas,
And down a warm and winding lane
And never never found again
Between high whispering trees.
The air was neither night or day,
But faintly dark with softest light,
When first there glimmered into sightThe Cottage of Lost Play.
'Twas builded very very old
White, and thatched with straws of gold,
And pierced with peeping lattices
That looked toward the sea;
And our own children's garden-plots
Were there–our own forgetmenots,
Red daisies, cress and mustard,
And blue nemophile.
O! All the borders trimmed with box
Were full of favourite flowers–of phlox,
Of larkspur, pinks, and hollyhocks
Beneath a red may-tree:
And all the paths were full of shapes,
Of tumbling happy white-clad shapes,
And with them You and Me.
And some had silver watering-cans
And watered all their gowns,
Or sprayed each other; some laid plans
To build them houses, fairy towns,
Or dwellings in the trees;
And some were clambering on the roof;
Some crooning lonely and aloof;
And some were dancing fairy-rings
And weaving pearly daisy-strings,
Or chasing golden bees;
But here and there a little pair
With rosy cheeks and tangled hair
Debated quaint old childish things–
And we were one of these.
But why it was there came a time
When we could take the road no more,
Though long we looked, and high would climb,
Or gaze from many a seaward shore
To find the path between sea and sky
To those old gardens of delight;
And how it goes now in that land,
If there the house and gardens stand,
Still filled with children clad in white–
We know not, You and I.
And why it was Tomorrow came
And with his grey hand led us back;
And why we never found the same
Old cottage, or the magic track
That leads between a silver sea
And those old shores and gardens fair
Where all things are, that ever were–
We know not, You and Me.
---
That's it! 🙂 I hope you enjoyed this short collection of excerpts and that you found something you can use in your wedding ceremony! Here are some other posts you might find useful: