We recently attended a wedding weekend that was amazing and amazingly well-organized. Wedding weekends are becoming more and more common, and why not? If you're going through the time, effort, and money to bring all of the people you love to one place, you want to keep them around as long as possible.
Wedding weekends give you more time to visit with everyone and have more than just a quick minute together the night of your wedding reception.
The most difficult part of wedding weekend planning is the logistics.
Try to make decisions about how you want your wedding weekend to look as early on as possible, and share your itinerary with your guests on your wedding website. That way, they have the option to decide when they want to arrive for the weekend, and which events they will attend. Most people will not be able to attend every single event you've planned.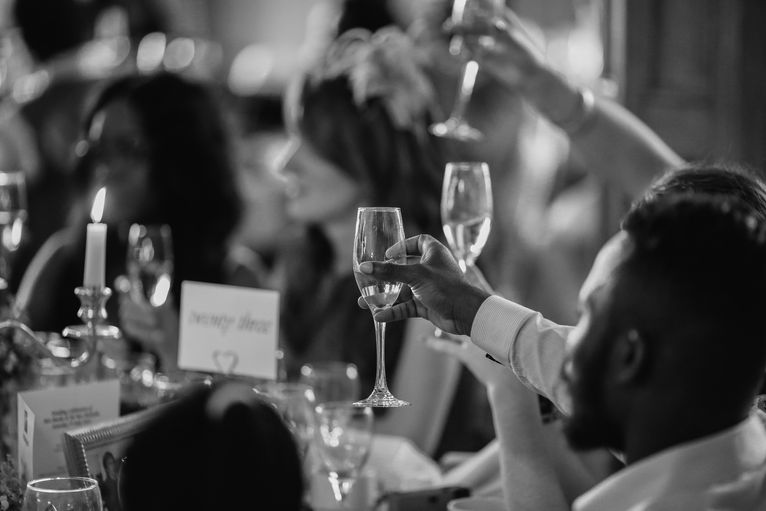 TIP: You may feel like you're being too militant or overbearing having a wedding weekend itinerary, but your guests will actually appreciate it! They are coming a long way and there is no clear blueprint for them as to what they should be doing. Provide the itinerary clearly on your wedding website that guests can access anytime, and don't force anyone to be present for any of the activities: just let them know what is happening should they choose to attend!
All wedding weekends will look different and can go for 2, 3, or even 4 days. Here are a few ideas for you to work off of as a sample. Feel free to reorganize and change as it suits your own wedding wedding!
---
A typical wedding weekend timeline will look something like this:
---
Thursday evening
In the calm before the storm, the bride, groom, parents, and siblings gather for a small, intimate dinner. This can be held at someone's home, catered or not catered, or a night out at a restaurant.
Prepare to spend some quality time together and if you feel like it's necessary, perhaps even prepare a short and sweet toast to give to both sets of parents at the beginning of the meal. Consider saying welcome to them and thanking them for years of love and support that have taken you all to this moment.
The important thing is to have some time to bond and connect before the rest of the gang shows up and inevitably your moments together become much less intimate.
---
Friday daytime
Your friends and family start arriving. If you have most people staying in one hotel or in an area close to each other, consider having a welcome area set up where they can meet one another and mingle.
If it's in your budget, you may provide snacks and drinks and even lawn games strewn about for people to engage with. You could call this casual event something like "welcome lunch" or "welcome hang out" on your schedule.
Alternatively, you could ask people to meet at a park where there are food trucks, or at a group of benches on a close-by beach. The point is to start introducing guests to one another in a casual setting.
Remember that, especially for a big group, this doesn't always just happen organically. People will usually stick to the tribes of people they know and arrived with. If you want people to mix and get to know other guests outside of their social circles, consider having some structured ice breakers ready, as well as name tags! Never underestimate the helpfulness of name tags.
Don't be shy to be a little bit authoritative in this regard. These are your friends and family and they want to make you happy on your wedding weekend, and they will be happier in the end having met new people.
---
Friday afternoon
Usually, this is when the wedding rehearsal is held. Anyone who is involved with the ceremony (officiant, wedding party, readers, musicians, etc.) should attend this event. You will typically run through it where the actual ceremony will be held.
Any concerns and bumps in the timing should be smoothed out and everyone should be asked if they're comfortable with the arrangements and if they have any questions.
All of your guests who don't have an active role in the ceremony should also have something on their schedules. I would suggest letting them relax or take a nap in their rooms during this time. Many people will be coming from out of town, presumably, and will be tired, and you as the couple will be busy with the rehearsal.
However, if you absolutely want to have something planned for every part of the day, consider assigning a friend or relative (not in the ceremony) to organize a board game afternoon, a craft beer or wine tasting in the area, or some kind of tourist sightseeing excursion.
---
Friday evening
This is usually when the team from the rehearsal heads out to a rehearsal dinner. There are no rules and you can do what you want, but generally those invited are everyone who will be in the ceremony, close/immediate family, and out-of-town guests.
If you're having a full-on wedding weekend, you may want to invite all of your guests to attend this event, since a wedding weekend generally implies that there is something scheduled for all guests each day and night.
You can keep it simple and have it at someone's home. Or rent out a space and bring your own food. Perhaps you have relatives who could help contribute their cooking skills. You could make it a casual pizza and beer party, and even have some drinking games or party games (ice breakers about how well your guests know the couple are always popular). Friends of mine used this occasion to thank each member of their wedding party individually and publicly, which was really sweet and thoughtful.
Consider preparing something, whether it be short speeches/toasts (that either you give, or your friends or family members give), or little fun games. Structure is appreciated at these things.
---
Saturday daytime
Wedding day! On this day, you have many options for activities. We went to a wedding weekend with a 5K run scheduled for 8 am. You had the choice of running the race or walking it (which I did with all the older folks!). It was a fun way to get us all together again the next morning after the night before, and there were options for everyone.
Other activities you might consider are having an ultimate Frisbee tournament, a softball game, flag football, river rafting, bowling, or sightseeing around town.
Whatever activity you choose, remember to make it optional because some guests will be exhausted from their journeys, or just want to sleep in.
You can decide as the couple how much time you'll need to get ready before the wedding ceremony and plan accordingly how early you want to have this special daytime event start.
I would probably give yourselves a good two hours at least to shower and do make-up and hair before the ceremony (longer still probably if you're having a big, complicated beauty regime on your big day). Factor in the time before making your wedding weekend schedule final.
---
Saturday evening
Traditionally, you'll plan to have your ceremony sometime before the dinner hours, offer a cocktail hour to your guests, and then a reception with partying and drinking until late. Photos are usually scheduled either before the ceremony or during cocktail hour.
Remember to plan transportation logistics and make your guests aware of where they can park, how much it will cost, and how they can get to and from the ceremony, reception, and wherever it is they're staying.
Also let guests know on the schedule if there's an after-party option, and where it is.
---
Sunday morning
A wedding weekend more and more features a Sunday morning brunch, held either at a hotel, restaurant, or home of a family member.
We had a lovely Sunday brunch after a friend's wedding which was held on a beach. The hosts brought bagels, donuts, and coffee and it was perfect. Another couple of friends had us all meet in a cute area surrounded by food trucks, and we could get our own food (with many choices) and hang out on picnic tables. There were also games to play, such as giant Jenga.
This is one last chance for everyone to hang out, recount the tales of the night before, and say their goodbyes before leaving town.