Have you seen photos of those cozy lounge areas at weddings? There's usually a couple of antique couches on the lawn, and maybe a chandelier hanging from the tree above? It's nice to have a cute little spot like this at your wedding for your guests to relax (and Instagram!).
How much does renting lounge furniture for your wedding cost (approximately) across the U.S. and Canada? After comparing prices of 20 different lounge furniture rental companies, here is what wedding furniture items will cost you on average:
| | |
| --- | --- |
| LOUNGE FURNITURE ITEM | APPROX. COST PER ITEM (in US dollars) |
| Sofa/couch/settee | $150 – $200 |
| Armchair | $75 – $100 |
| End table | $50 – $75 |
| Coffee table | $50 – $75 |
| Accent/throw pillow | $20 – $30 |
| Chandelier | Up to $300 |
These are approximations of the average costs of wedding lounge furniture (prices will vary depending on your location).
---
| | |
| --- | --- |
| ADDITIONAL FEES & CONSIDERATIONS | APPROX. COST PER ITEM |
| Delivery fee | Dependent on the location of the event and conditions of event (for example, a flight of stairs may incur extra charges) |
| Pickup fee | Dependent on the location of the event; see above |
| Insurance or damage deposit | May be up to 50% of the total order |
| Cancellation fee | Be aware that cancelling after a certain date will most likely incur a fee of 50% or more |
Summary of costs:
The cost of renting lounge furniture for your wedding will cost approximately $150 – $200 for a sofa, $75 – $100 for a nice chair, and $50 – $75 for an end table. Chandeliers can cost $300 each. Services such as delivery and pickup, insurance, a damage deposit, and a cancellation fee may also apply.
Are you surprised by these prices? I was too, which is why I have also been exploring some alternative ideas to create this same cute and cozy lawn furniture effect at a lower price. Here I'll talk about what you can expect from wedding renting lounge furniture rentals and some of the additional and hidden costs you might encounter. Plus we'll get into some of those alternatives options.
If you're also planning on renting tables and chairs for your wedding, check out my post here which breaks down the prices and options you can expect to find.
---
Wedding Lounge Furniture Options and Costs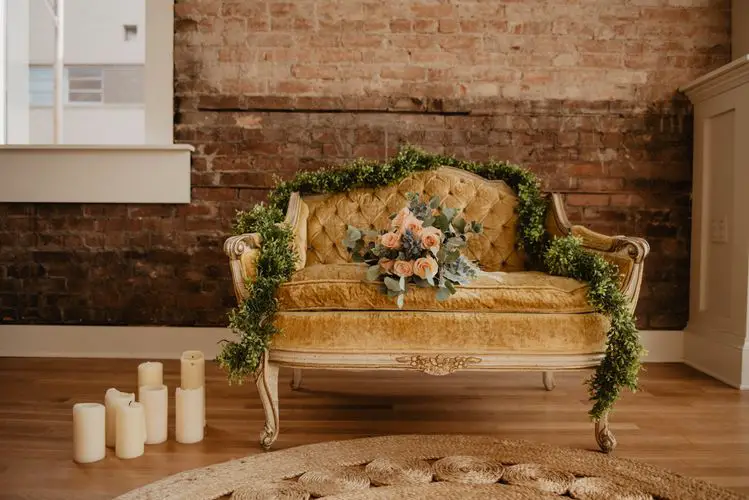 Couch or settee: $150 -$200 each to rent
Ouch! This is a bit pricey for my budget but there's no doubt that they make for really beautiful lounge areas at your wedding. These can be placed under trees or in a field if you're having an outdoor wedding. You might want to have a corner of your barn or venue designated as the lounge area if you're having an indoor wedding.
Your guests will appreciate a cute spot like this and they're great for taking photos too! The extra decor is up to you. If you want, you can add some candles or lamps on the ground or placed on a side table (which will cost extra to rent). You could add some flowers or garland to really make it unique and fit your wedding decor.
At outdoors weddings I've been to, some couples had multiple lounge areas spread out around their outdoor venue. So guests had options. They could try out all 3 or 4 cozy spots throughout the evening.
---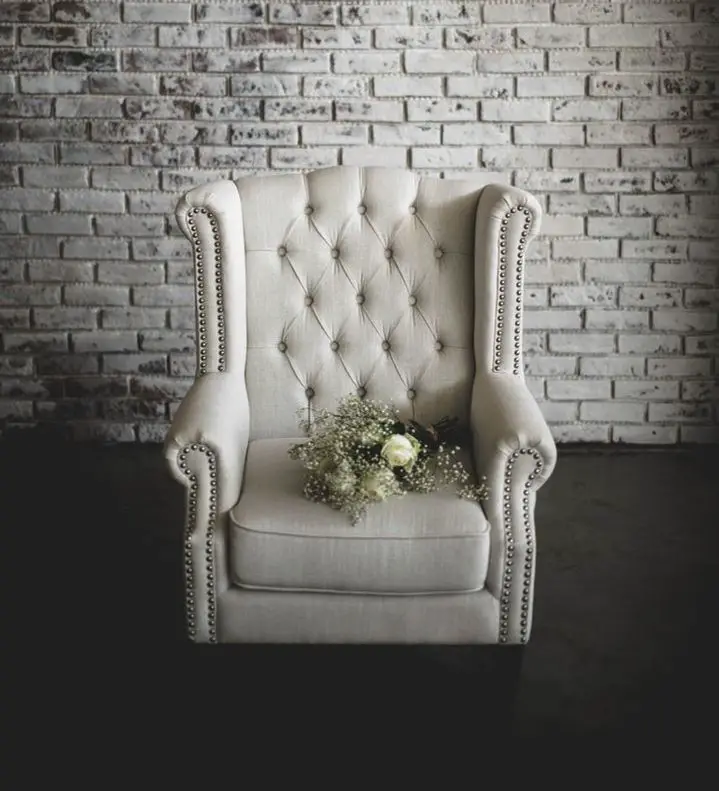 Comfy Chair: $75 – $100 each to rent
Nice, comfy chairs could also be included in your lounge areas. Perhaps one couch and one chair per lounge area (rather than 2 couches per lounge area) would be pretty, and also help you save money.
Ask vendors you're looking at if they have matching couches and chairs. Depending on the style of your wedding, this may be important to you.
We're going for a very mismatched, boho feel at our wedding, so matching furniture isn't important to us. Make some of these decisions and know what you want before going shopping, so that you aren't talked into a style or price that you aren't comfortable with.
---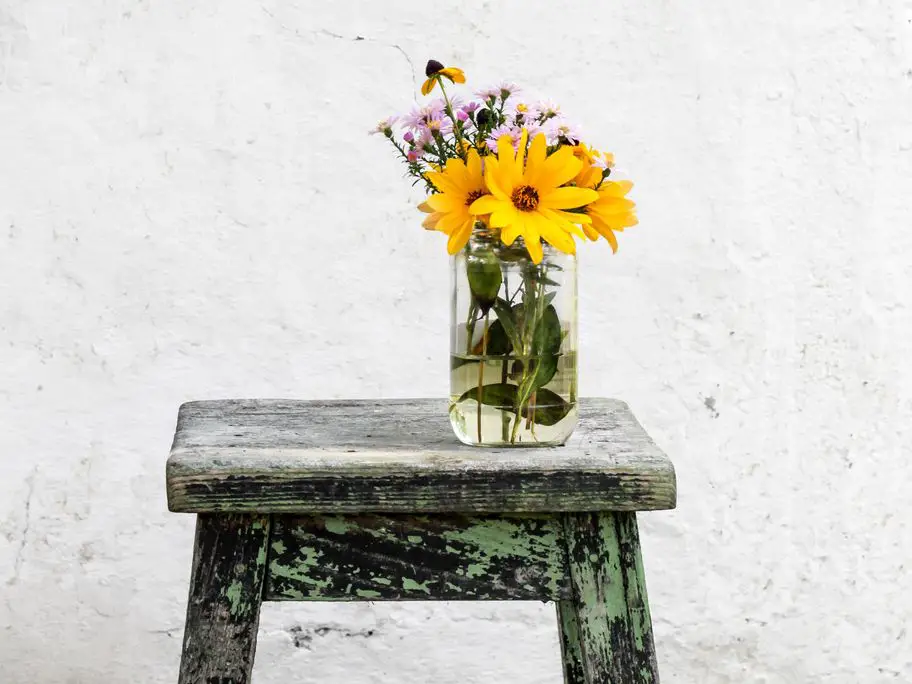 Side/End Table: $50 – $75 each to rent
The end table pictured here is rustic, but there are an endless amount of different styles and colors to choose from at various rental companies.
Why would you get some end tables for your wedding lounge area? Personally, I just think having a little surface for your guests to place their drinks on is an important part of making their cozy lounge experience great!
Another option is a small coffee table, which will probably be a bit more expensive to rent than an end table. Also keep in mind that you may want to match the style of your couch and chair to your end table, so perhaps order them all together.
---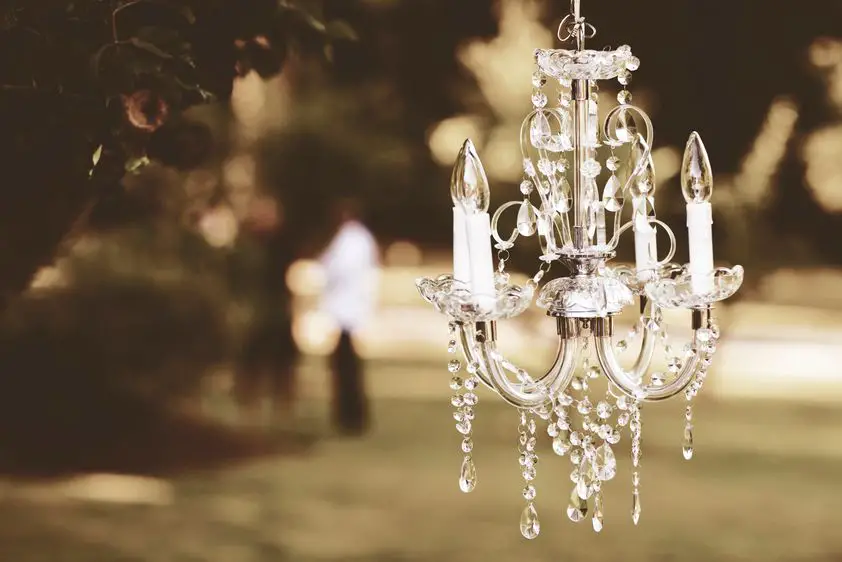 Chandelier to hang from a tree or in a tent: Up to $300 each
My cousin had beautiful chandeliers hanging from trees for her autumn wedding, and my family and I spent cocktail hour drinking under them, taking photos, and feeling fancy.
Chandeliers can dramatically change the feel of a space and add some whimsy to an outdoor setting. Imagine a chandelier hanging from a tree in the middle of your cozy lounge area! So cute.
They do tend to be pricey, however. I might suggest doing your hunting for chandeliers early, and checking out both rental companies and your local thrift shops for antique (hopefully cheaper) chandeliers.
If you're strapped for cash and chandeliers seem out of your budget, consider flameless candles from Amazon as an alternative, or perhaps stringing waterproof LED lights in the trees just above your lounge area to provide a bit of low-light ambiance.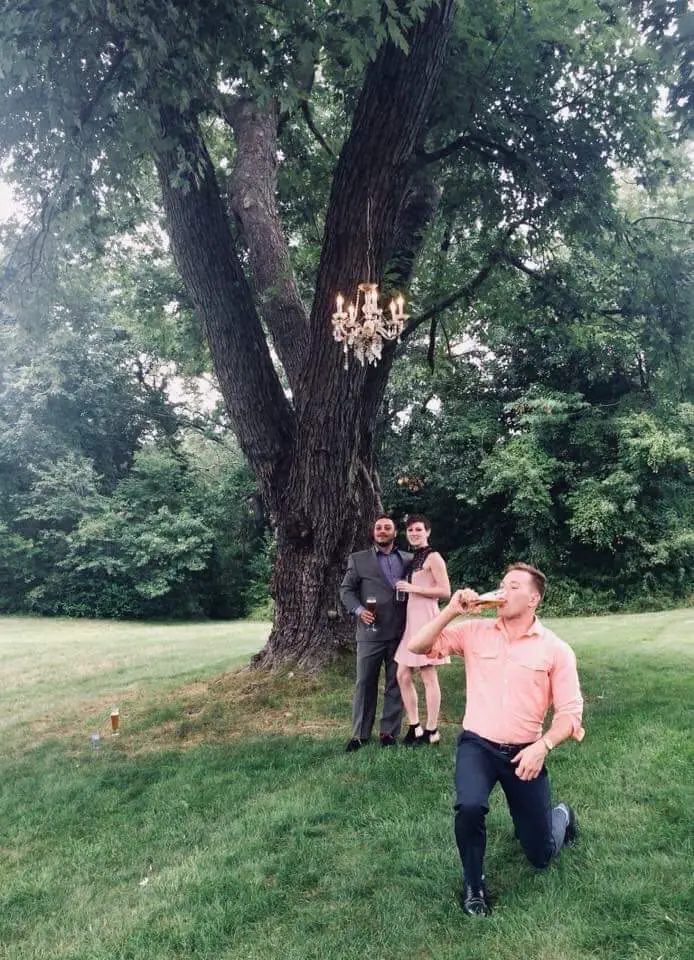 ---
Additional Fees of Renting Wedding Lounge Furniture
Before signing a contract, make sure to check on additional fees that you may not have been aware of regarding renting wedding lounge furniture!
I'm talking about paying a damage deposit – How much do they want, and what are the expectations to receive it back? What counts as damage? Who is assessing the damage? Will you have to pay to replace the piece of furniture, or just for a cleaning?
Ask about insurance – Are they insured to work with your venue? Some couples find themselves putting down a deposit and even paying in full, only to find out that their venue will not work with that rental vendor due to insurance issues. Check with your venue first.
Ask about a delivery and pickup fee – Some rental vendors list these fees separately and they can be quite costly, up to $400, plus tip. If there's an option for you to pick up and drop off the furniture yourself (or if you have friends or family who can help), ask the vendor if this is a possibility.
The bottom line is to speak in person or over the phone with the rental vendor, and read over the contract carefully, BEFORE signing a contract or making any payments. If you're uncomfortable or unsure about any of the pricing, don't be intimidated to speak up and ask about it.
---
Alternatives to Renting Your Wedding Lounge Furniture
I don't know if we're going to rent lounge furniture for our wedding, which is coming up this summer. Although there are a lot of upsides to renting furniture, such as delivery and pickup and the CONVENIENCE factor, we just aren't really keen on paying such a high price per piece.
Instead, we're looking into alternatives, such as buying used pieces from the Facebook marketplace, Craigslist, and local thrift shops over the next few months and storing them at my partner's parents' house. I know this obviously is not an option for everybody, but if it is, I think you could save a lot of money.
We can also look for pieces that we really love and not have to settle for whatever the rental company has available.
AND perhaps most importantly for us, we don't have to worry about any of the expensive rental furniture getting damaged. I don't want to stress about, or stress anyone else out about, red wine spilling on a $1,000+ couch that I will be stuck paying for after the wedding.
Of course, the downside to buying and getting free secondhand furniture is that you're kind of stuck with it afterward. You have to decide whether or not you have the time and energy to resell it or go through the process of trying to give it away once your wedding is over.
If you have the option and the time, shop around online and in-person for secondhand furniture that you can turn into a cute and cozy lounge area at your wedding. And don't be afraid to ask for help – our lovely family and friends are looking for furniture for us regularly and we are so grateful!