If you're like me and planning a wedding that requires table and chair rentals, you may also be wondering how much they're going to cost you and what your options are. I've been doing some research on many different rental companies in the U.S. and Canada to find out! So, what is the cost of renting tables and chairs for a wedding?
| | |
| --- | --- |
| TYPE OF WEDDING CHAIR | COST PER CHAIR (in US dollars) |
| Folding metal chairs or plastic chairs | $1.50 |
| Resin or wooden chairs | $2.25 – $5.00 |
| Bamboo chairs | $4.00 – $8.00 |
| Bistro or banquet chairs with chair covers | $4.00 – $5.00 |
| Silver or gold Chiavari or Tiffany chairs | $6.00 – $8.00 |
| | |
| --- | --- |
| TYPE OF WEDDING TABLE | COST PER TABLE (in US dollars) |
| Rectangular 6 foot table (seats 8 guests) | $8.00 – $10.00 |
| Round 5 foot table (seats 8 guests) | $10.00 – $14.00 |
| | |
| --- | --- |
| ADDITIONAL FEES TO EXPECT | COST PER ITEM |
| Deposit (in case of damages) | 20%-50% of total order |
| Delivery fee | Depends on distance and gas prices |
| Pickup fee | Depends on distance and gas prices |
| Setup fee | $30-$40 cents per chair |
| Sashes for each chair | $2.00 to $3.00/each |
| Tablecloths | $5.00 to $20.00/each |
| Cancellation fee (check your contract before signing) | Up to 50% of your total order |
Chair rentals for weddings cost between $1.50 and $6.00 each, with folding and plastic chairs on the cheaper end, and higher quality bistro, banquet, and cushioned chairs on the higher end of the price range.
Table rentals for weddings cost between $6.00 and $14.00 each, with rectangular tables on the cheaper end, and round and square tables on the higher end.
I'm going to talk about the different kinds of chairs and tables usually offered by rental companies and the little-known ADDITIONAL fees you can expect to pay when you rent tables and chairs.
I also have some estimates of how much you can expect to pay per table (table + chairs together) depending on your price range (low, mid, or high). AND I discuss some alternatives to splurging on rentals. Don't worry, no matter your budget, you'll be able to find something that works!
PRO-TIP: It can be both budget-friendly and convenient to rent your tables and chairs, but consider purchasing at least some of your table décor (such as for your head table), as it can be a nice keepsake in your home for after your wedding. If you're interested in checking out the best "Mr and Mrs" signs and other head table décor, you can find them on Amazon here.
---
Ballpark Costs of Each Table with Chairs
Here are the following approximate costs of rentals per table with 8 chairs each:
Low price range: $21.50 per table
This price is for 8 metal or plastic folding chairs and one 6 ft rectangular table.
Mid price range: $34.00 per table
This price is for 8 wooden folding chairs and one 5 ft round table
High price range: $78.00 per table
This price is for 8 gold Chiavari chairs and one higher-end 5 ft round table
These figures give you an idea of what each total table might cost you for your wedding. Figure out how many tables of 8 you will need for your reception based on your total number of guests.
If you plan on only using rentals for the ceremony, you'll probably only be renting chairs. Regardless, the following section on chairs will be very helpful.
---
Costs to Expect For Each Different Type of Wedding Chair Rental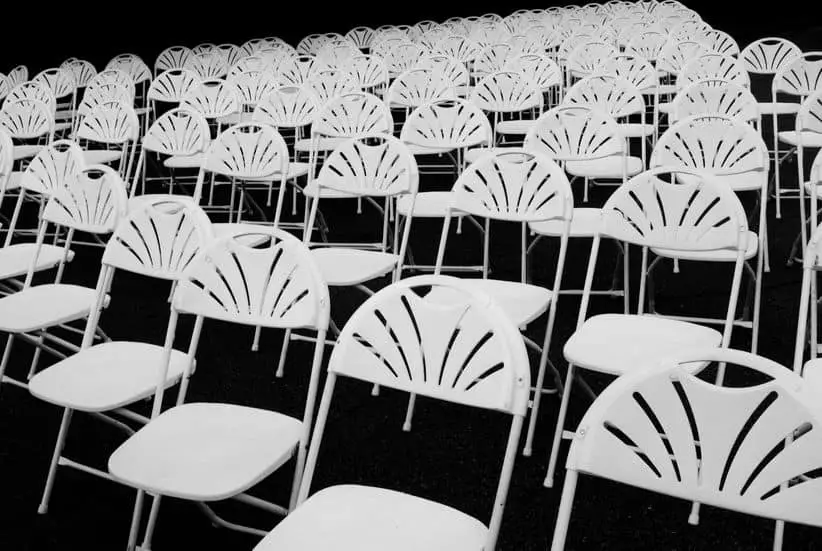 Folding metal chairs or plastic chairs: $1.50 each
These are perfect for a garden wedding ceremony and/or reception and usually come in white, black, or brown.

This is what I would suggest to my friends who are going to have backyard weddings or anything outside. You might be hesitant to go with lower priced chairs, but they are FINE and perfectly acceptable for this setting.
We attended an absolutely beautiful wedding on a lake last summer that used rows of white folding chairs. They added some small bouquets and greenery to the backs of the last row of chairs and along the aisle for decor, and it looked amazing.
---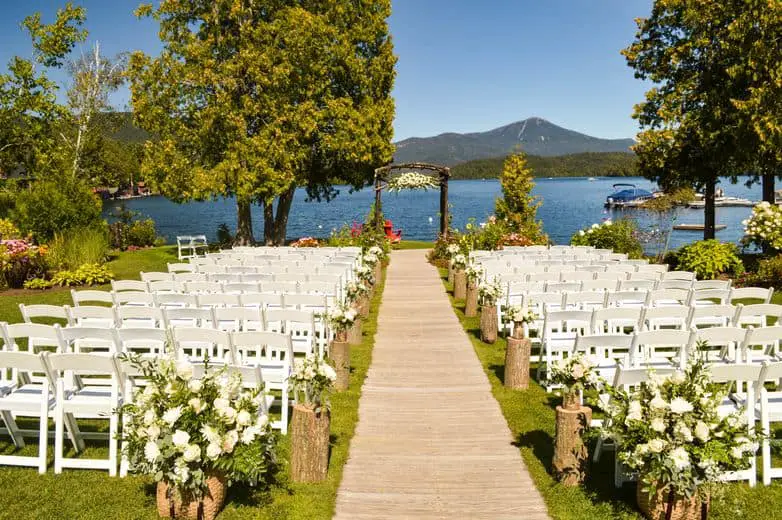 Resin or Wooden Chairs: $2.25 – $5.00 each
These are a slight upgrade from metal or plastic but still work well for a backyard or garden wedding. If you're looking for a way to up the formality factor just a little bit for an outdoor ceremony, a wooden or resin chair setup could be the way to go.
I also think the white color works really well for spring and summer outdoor weddings.
They aren't necessarily more comfortable than the cheaper option, but they look slightly more "classy."
---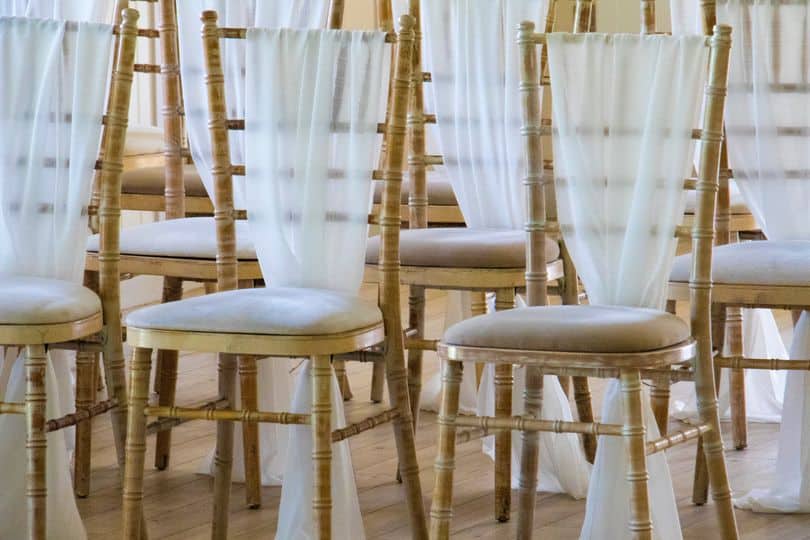 Bamboo Chairs: $4.00 – $8.00 each
Bamboo is a trendy material in general for couples who are trying to go eco-friendly for their weddings (although the exact eco-friendliness of bamboo is a bit questionable and depends on how the chair was made). Bamboo also looks really beautiful.
I found that prices for bamboo chair rentals varied depending on the style of the chair, with folding chairs being cheaper than non-folding models, and models with cushions at the very highest end of this price range.
---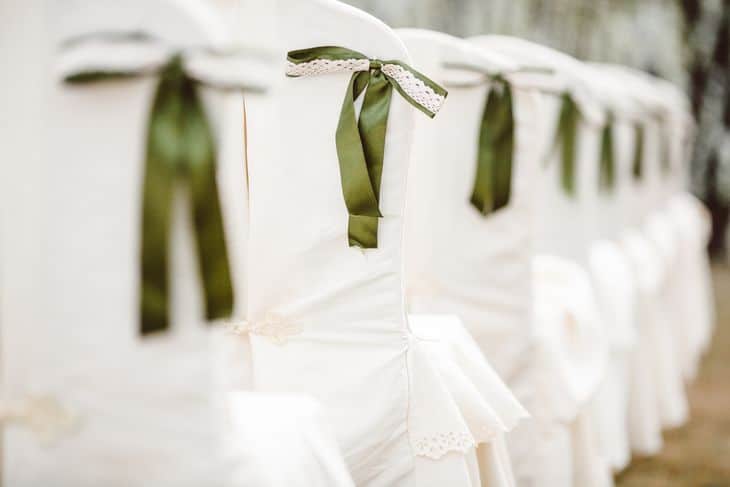 Bistro or banquet chairs with chair covers: $4.00 – $5.00
This is another mid-range option, although some rental companies don't include the chair covers and buying them separately at $2 – $3.00 each can bump this into the higher cost range. So ask about chair covers and whether or not they're included in the per unit rental price.
---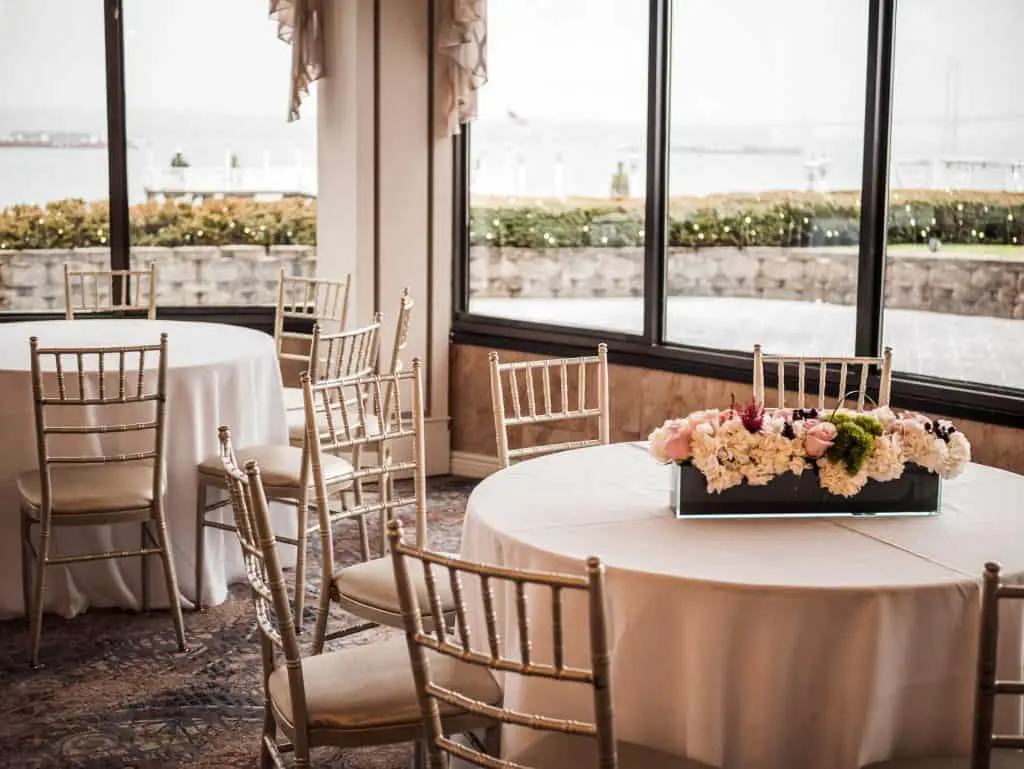 Silver or gold Chiavari or Tiffany chairs: $6.00 – $8.00 each
These 'fancy' ballroom chairs tended to be the most expensive in my research. Couples who are having more formal weddings will probably opt for this type of rental chair. They come in various metallic colors, usually gold and silver, and have seat cushions for the comfort of your guests.
---
Costs to Expect For Each Different Type of Wedding Table Rental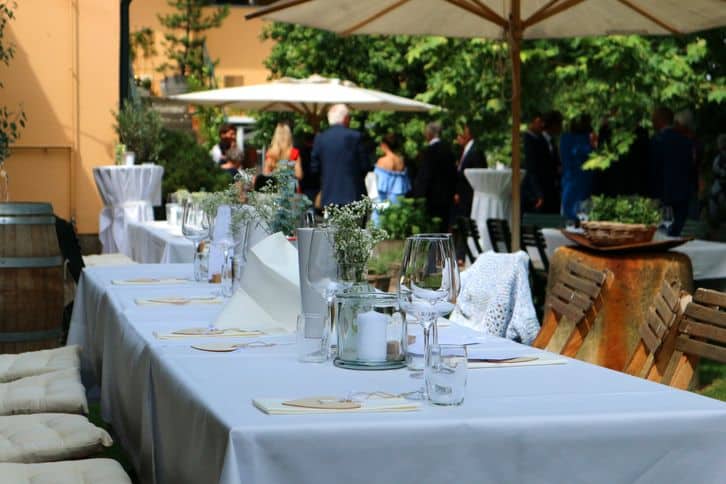 Rectangular 6 foot table: $8 – $10.00 each
Rectangular rental tables seemed to go for cheaper from various companies than the rounds. These would work well for outdoor receptions, barn receptions, and receptions that are a bit less formal.
---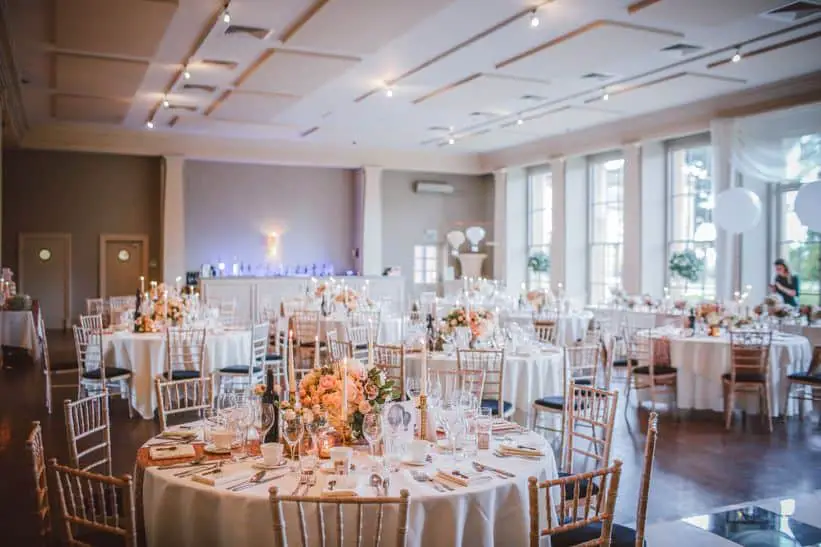 Round 5 foot table: $10 – $14.00 each
The round tables always seem to run more expensive than the rectangular tables. Square tables too, were placed in the higher price range. Rent these only if you're planning on a more formal event indoors, or if you're renting a large tent for your reception.
---
Keep in mind that the costs listed in this article are average prices based on research I conducted of chair and table rental vendors around the U.S. and Canada.
It isn't meant to be taken as gospel and could definitely fluctuate based on the city or region you live in. For example, I imagine wedding chair rentals are significantly more expensive in Manhattan than in a small town in Missouri…
Also, availability may be different everywhere and you might not be able to get the same exact type of table or chair in every city. Having said that, I hope the ballpark figures in this article give you an idea of what to expect so you're not going shopping completely blind.
---
Additional Fees to Expect When Renting Tables and Chairs for Your Wedding
Some rental places will require you to pay a deposit before renting tables or chairs from them.
This is standard but make sure you read the contract before signing it to make sure that the terms are fair. Who determines the damage done to chairs and tables? How can you ensure that the tables and/or chairs weren't "damaged" before they arrived?
Also ask: What sort of damage are you liable for? You don't want to get stuck with the company pocketing your deposit for an unfair accusation of damage that isn't really damage.
Some places will also charge a delivery fee and a pickup fee. Don't assume that this is included, but be sure to ask and read the contract beforehand. I have heard of friends being charged an extra 400 dollars for this service. Plus tip! Often a tip is expected for the delivery workers.
If you have friends with pickup trucks or spacious cars, ask if they'd be willing to help you out and do this job for you as a wedding gift!
I saw that some companies were charging a set-up fee of 30-40 cents per chair! That seems a little crazy to me because I would just have my friend and family help me set up the chairs, but some people may want this. Regardless, make sure you ask about it.
Some companies were also offering sashes for each chair for an extra charge of $2.00 to $3.00 each, and tablecloths to rent for tables from $5.00 to $20.00 each. So if these items are important to you, factor it into your budget and don't forget to ask about them.
Finally, check on their cancellation fee. Many table and chair rental companies are very busy on weekends, especially during wedding months (such as June and October) and aren't too happy about cancellations. Because of this, many of them include steep cancellation fees and you should be aware of this JUST IN CASE you sign a contract and then your plans change.
---
How to Find a Good Rental Place for Tables and Chairs in Your Area
Your first step would be to do a bit of googling to check out websites and prices of rental companies that exist in your area.
I would trust a company more that has their prices listed clearly on their website, and not "contact us to request prices" or something like that. It's better to know upfront how much they charge and that their prices are fair. Asking customers to make a request for prices usually opens the door for them to upsell you or overcharge you on a chair or table you didn't really want.
Secondly, look for third party reviews! This is important. Recommendations are best. If you have a friend or family member who can recommend a reputable company that they've already used in the past, you're much better off.
If not, try to find reviews on wedding website forums, local Facebook groups, or ask your venue (not ideal since they sometimes have deals with particular vendors, but better than nothing!).
What NOT to do: Rent from the first company you find. Shop around first!
---
Tips to Keep in Mind When Shopping for Tables and Chairs for Your Wedding
There are a few things you should do when looking for table and chair rentals for your wedding.
For every vendor that you find that looks interesting to you, you should determine the answers to the following questions (either by calling them up or looking at their websites) before signing a contract:
Do they have the table and chair sizes and styles that you envisioned for your wedding?
After doing the math for your number of guests, is the total price affordable?
Do they have the table and chair models that you want available on the date that you want? BE SURE TO ORDER at least 3-6 months in advance, especially if you're getting married in busy seasons.
Do they deliver and pick up? If so, do they charge, and how much?
What are the additional fees (delivery, deposit, set-up fee, cancellation)?
What is the TOTAL, bottom line price to pay?
Check these items off your list and make sure that they are clearly stated in the contract.
---
Alternatives to Renting Tables and Chairs
We've decided (almost – still trying to see if this will really work!) to bypass table and chair rentals all together for our wedding of 50-ish guests this summer. Granted, our wedding is pretty casual and not a big fancy affair, so our idea might not work for everyone.
But what we want to do is find mismatching chairs, couches, stools, etc. for our ceremony. We're imagining a jumble of colors and styles arranged in a circle. This might sound crazy but it looks really cool in my head! And it saves us from having to rent anything.
So where will we get these chairs and couches, etc? Craigslist! And thrift shops. We're determined to find as much of them as possible for free, or close to free, over the next few months with the help of my partner's parents. After the wedding, we'll take them back to the thrift shop, or sell the ones that have any value!
As for tables, we're just going to have a handful of highboy tables and some small tables around the ceremony area, which is doubling as our dinner area. Dinner won't have a structure, but will be more of a grab and plate and eat where you want. Nothing fancy! For those few tables, yes, we'll probably end up renting.
You can get creative like this with your chairs (or tables!) if you have the time and desire. If it doesn't interest you or you want to have uniform chair rentals, go for the rentals! Just remember to shop around first 🙂