We don't all want to spend thousands and thousands of dollars on our wedding reception meals, and we don't have to. I've written in the past about how to cater your own wedding, but in this post I'll discuss in detail how to do your wedding food on a budget.
You have options when planning your wedding meals, and there are plenty of ways to cut costs including:
Reducing your guest list
Not doing a plated, sit-down dinner that needs to be served
Going with a caterer of your choice that isn't associated with your venue, and/or
DIY-ing your own catering with the help of family and friends
This post concentrates on how to save money on your wedding food when self-catering, but many of the same principles can apply if working closely with a flexible catering service (such as asking them to serve a reduced menu, or hors d'oeuvres only).
Couples spend anywhere from $10 – $300 (or more) per guest for dinner at their weddings! You can potentially save thousands of dollars with the takeaways I'll discuss below. I hope it helps you and that you feel guided in some way with this information– so that you're able to stay on the lower side of that cost range!
In this post, I'll cover:
10 Inexpensive Wedding Food Ideas
3 Affordable Wedding Menus that You Can Steal
DIY Wedding Catering Checklist
How Much Food You Need for Your Wedding Per Guest
---
You may also enjoy my other posts on this topic: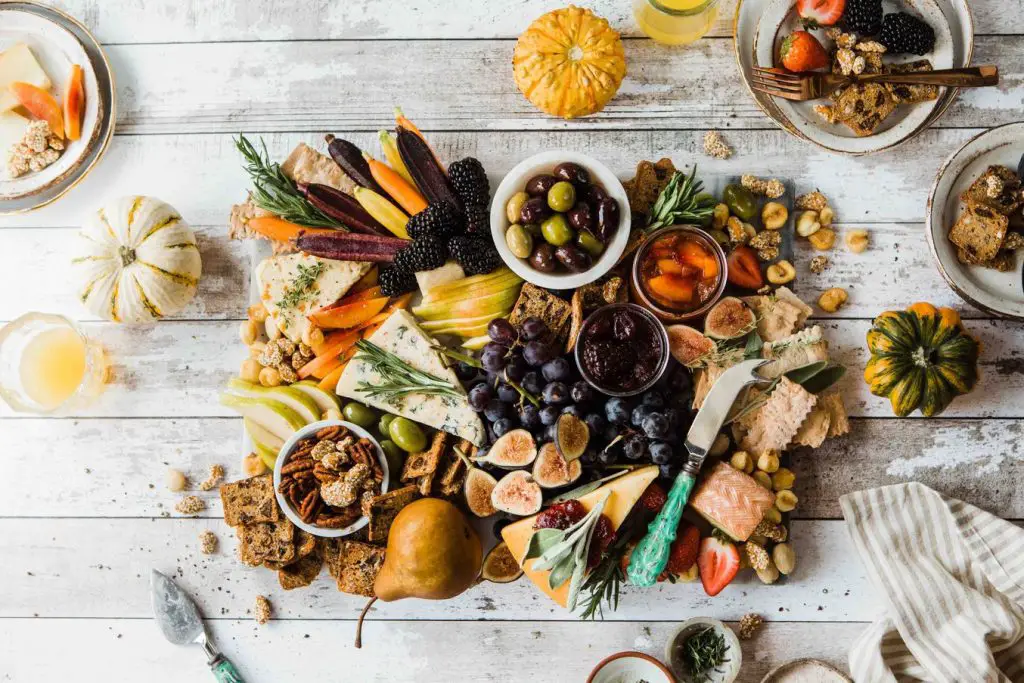 10 Inexpensive Wedding Food Ideas
If you're deciding to save money by self-catering, you're going to want to make sure that your wedding will be small (or small-ish) at about 75 people or less. And that you have some willing helpers among your family and friends that don't mind offering their time and services as a wedding gift to you! If you're expecting more guests than this, consider hiring some people to at least help with clean up and serving.
It's also important to know your crowd, and to know whether or not your guests will be game for some of the suggestions below such as DIY food stations and potluck dinners.
THE KEY TO MAKING "BUDGET WEDDING FOOD" WORK: To avoid suffering any sort of grief from your guests, you'll have to manage and match your guests' expectations. What I mean is: prepare them in advance on the invitation with language to the effect of "Our ceremony will be followed by light hors d'oeuvres and refreshments." Or whatever it is your food and drink options will be. Give them notice and they will have no reason to complain.
Having your fanciest family members show up to your backyard wedding and passive-aggressively complain about the food all evening is… well, rude, and not at all fun for you. Avoid it by telling them what to expect before they come!
---
#1 Order Food from Your Favorite Local Restaurant
I've heard of couples ordering from their favorite local Mediterranean (or whichever) restaurant and getting quotes as low as $7 per head, plus all of the serving equipment and dinnerware. Some restaurants even offer to serve the food buffet style for a (usually) very reasonable fee. By going to a small or family restaurant instead of a caterer, expectations are not yet set — for either party — and can often be more easily negotiated. To know how much food to order, speak with the restaurant itself, but also look at the section at the bottom of this post, which explains how much food you need in more detail.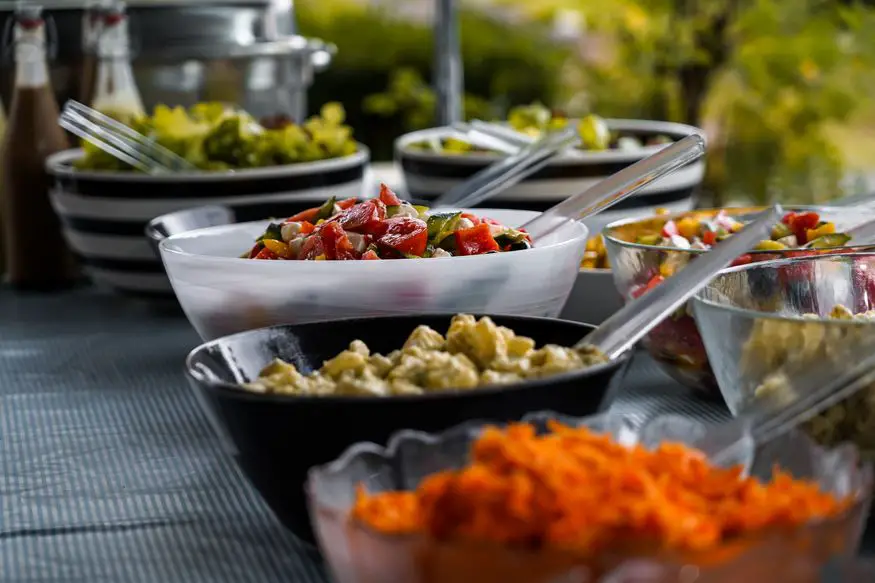 #2 Set Up DIY Food Stations for Guests
These have become trendy in recent years– Have a sort of "build your own X" station for your guests. Some awesome DIY food stations I've seen at weddings include:
Donut station where you can pick your own toppings
S'Mores station around an open fire pit
Make-your-own tacos
Choose-your-own topping stations for: ice cream, nachos, French fries
This can be a budget option if you buy all of the ingredients and set it up yourself — or much better — If a small, loyal group of friends and family can handle this purchasing and set up for you as a wedding gift. Break down the amounts of everything you need in a shopping list, drawn a map of how you would like the food and other items arranged on the serving tables, and let them at it!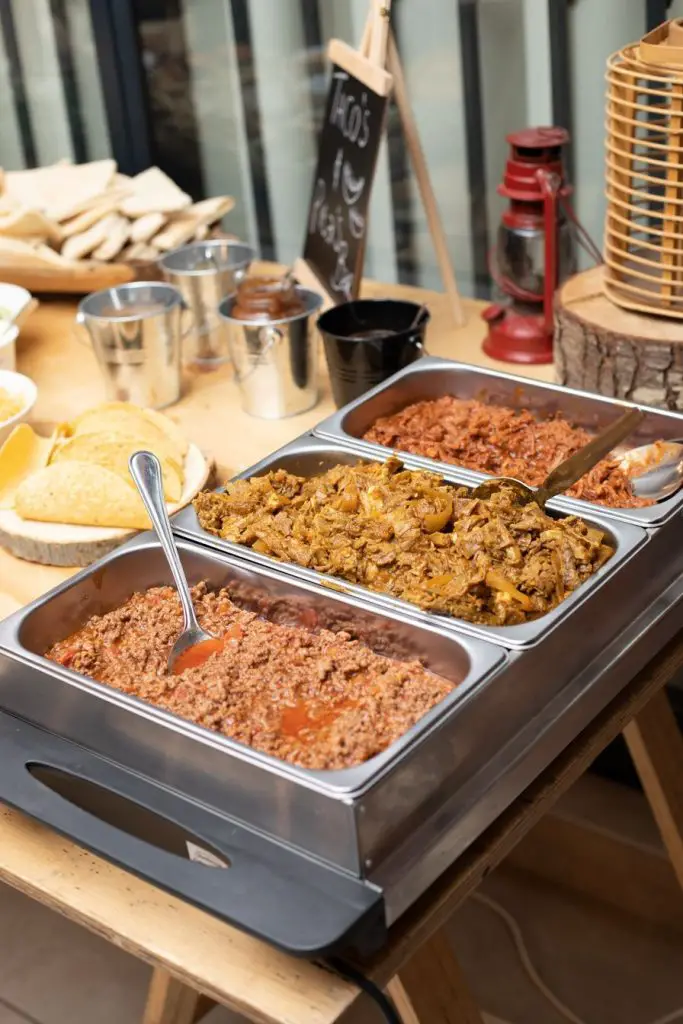 #3 Have a DIY Dessert Wedding ("Cake and Punch")
If you have your event start after dinner time (or alternatively, have it earlier in the day and have everyone leave before dinner time), you can have a desserts-only wedding reception — Meaning that you serve only sweets and drinks. This will save you tons of money. Have your best baker friends and family each create their specialties. Decorate the serving table beautifully, and serve drinks too.
A "Cake and Punch" wedding reception is traditional, having been done on many a church lawn for generations!
Just remember, again, to let everyone know what to expect beforehand so that they don't show up to your wedding ravenous with only cake to eat.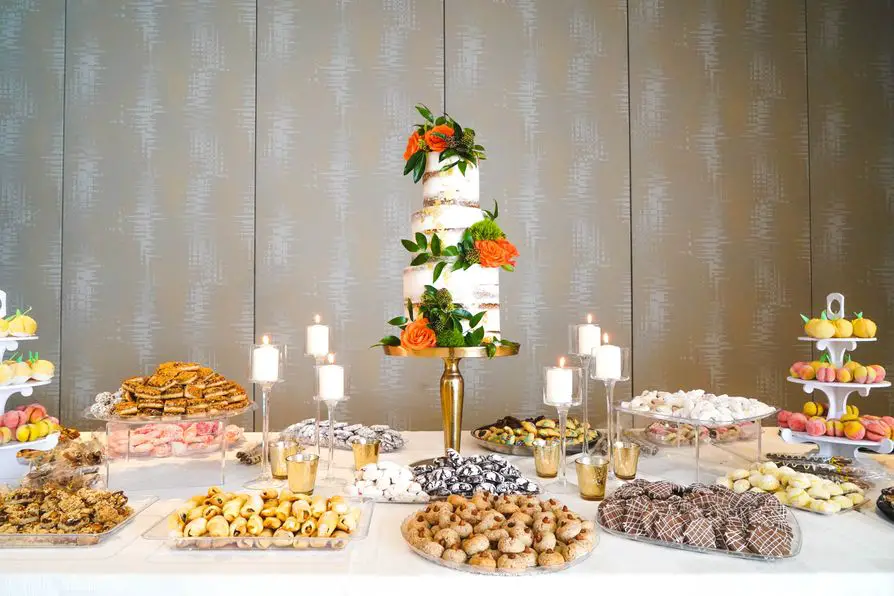 #4 Have a Picnic Wedding
Think "Dîner en Blanc" — an international event where strangers dress fancy and pack their own fancy picnics, and come together for a temporary evening of fancy-ness. What I'm trying to say is that a "picnic" wedding can be elegant and chic, and also not cost you a fortune.
Consider either ordering platters of sandwiches (from a local restaurant or caterer) which should be reasonably priced, or making the sandwiches yourself (with your team of friend and family helpers). And then serving them with side dishes, or asking some family members to bring side dishes. Serve with lots of lemonade, iced tea, and preferably an open bar.
You could even make a theme out of it, placing cute picnic baskets on the tables and filling them with the dinnerware. It could help inspire a sense of community and intimacy among guests to "share a picnic" together! So nice!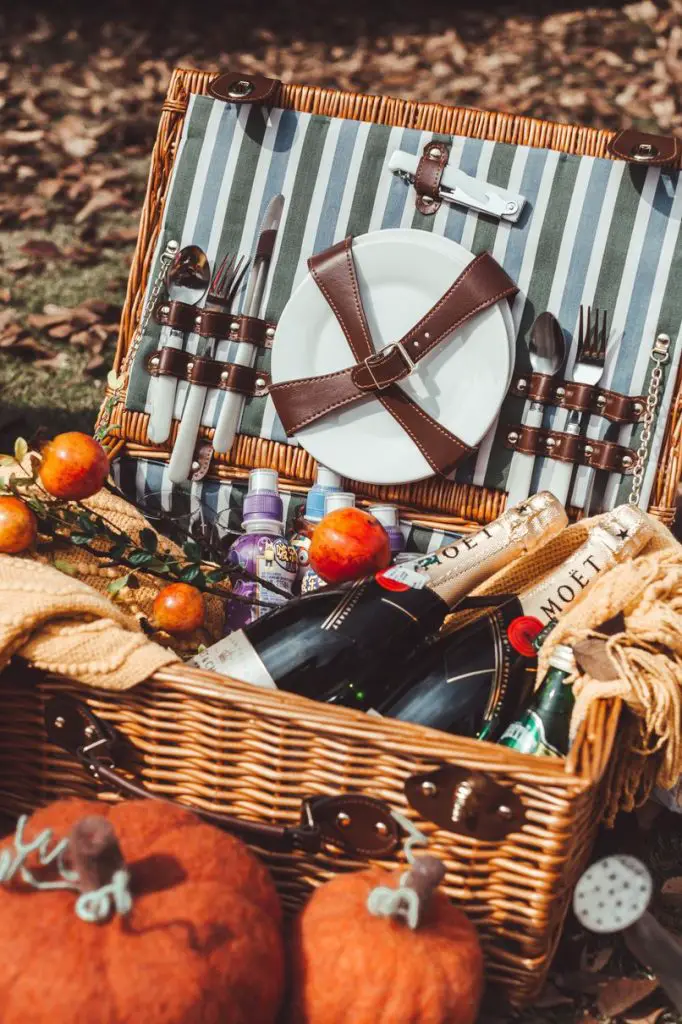 #5 Go Big on Cheese and Charcuterie
This will work well if your guests are NOT mostly vegetarians or vegans, in which case, it's probably better to go in a different direction. If only a small number of your guests are vegan or vegetarian, make sure to plan another similar option along with this food, so that they can eat too!
The idea here is much like having an hors d'oeuvres-only reception. On the invitation, you would tell guests to join you after the ceremony for something like "light refreshments and dancing" and perhaps start your ceremony a bit later, at 6 or 6:30 so your guests can eat something more filling before coming.
Then, go to Cosco and buy large wheels of cheese and lots of fresh charcuterie. Also pick up bread, crackers, fruit (like grapes, strawberries, and dates), nuts, and maybe hummus too. Create beautiful cheese and charcuterie boards for your guests to graze over!
You could again use this opportunity to call in favors from family and friends, asking them each to bring a type of cheese and characturie to add to the boards.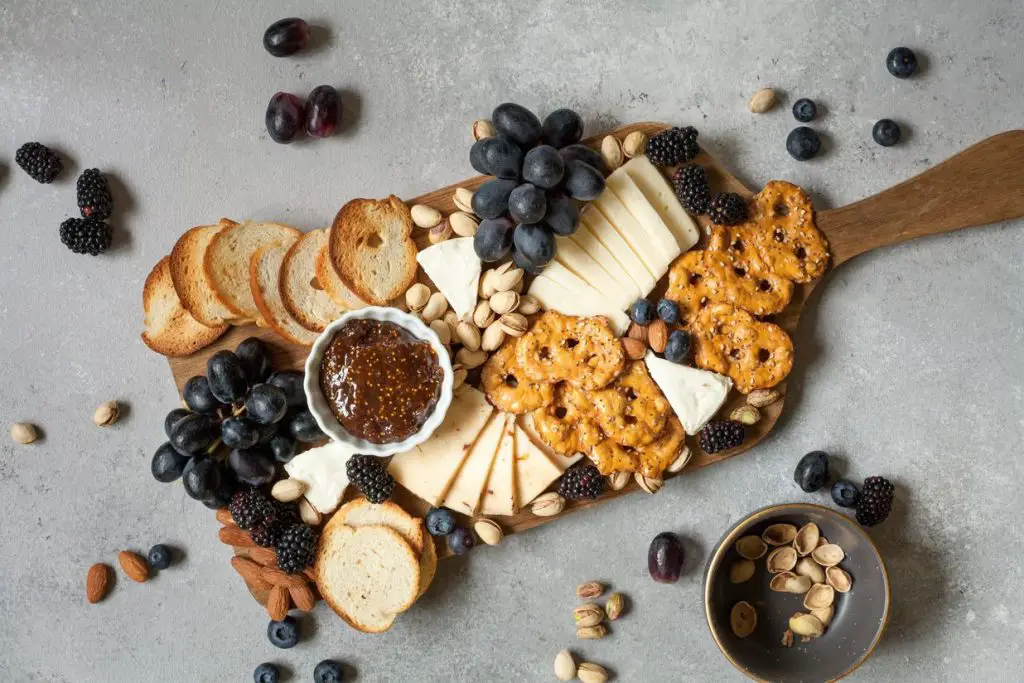 #6 Hire a Food Truck
A food truck can be a cute, trendy, and cheaper option for wedding food. However, there are some things to keep in mind if you go this route.
Picture any food truck you've seen operating at lunch hour in a major city, and you know the line can get long. A food truck works best at a wedding if it's more operating as a kitchen, and the food (a set menu) can be set out as a buffet or if it can be handed out from the truck quickly and easily already made.
If each individual guest needs to order their food and then wait for it to be made… you're going to have a long line up and anxious, hangry people!
Other things to consider with a food truck:
Will it need to connect to power somewhere at the venue?
Will it need a generator and will it be loud?
Is there a convenient spot at your venue to park the food truck?
What dishware and flatware is included and not included with the food truck? Will you need to rent items, and how much will that cost you?
A food truck can end up being an expensive option if not carefully considered beforehand. Do some inquiring before making a commitment!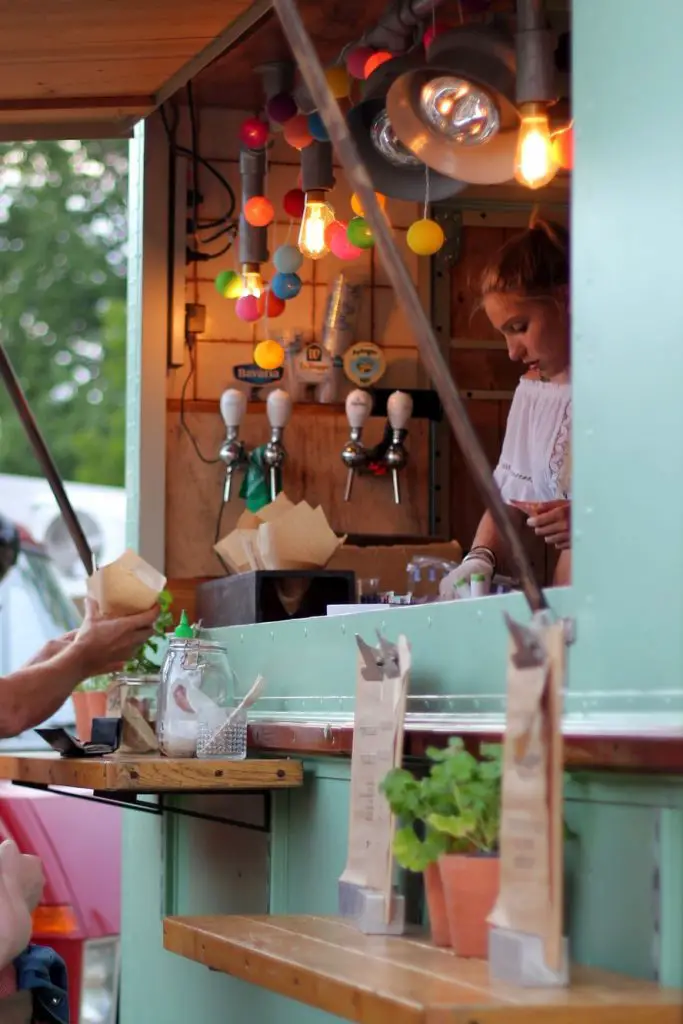 #7 Have a Potluck Wedding
In the past, and still today in many cultures, wedding food was not outsourced to a caterer or a venue. Wedding menus are and were a family project, made with love by caring moms and aunties.
In North America, we seem to have forgotten this completely and see potluck weddings as "lesser than" for whatever reason, and it's too bad. If you have friends or family who love to cook, please consider having a potluck wedding wherein a group of people all contribute something to the feast.
This does have to be carefully planned out and duties must be assigned clearly. Everyone should know their shopping list and quantities to prepare, and take ownership of their dishes and supplies so that you don't have to manage them on your wedding day. So remember to ask people who you trust!
My How to Cater Your Own Wedding: The Essential Step-by-Step Guide has really good tips on how to manage this type of self-catering project.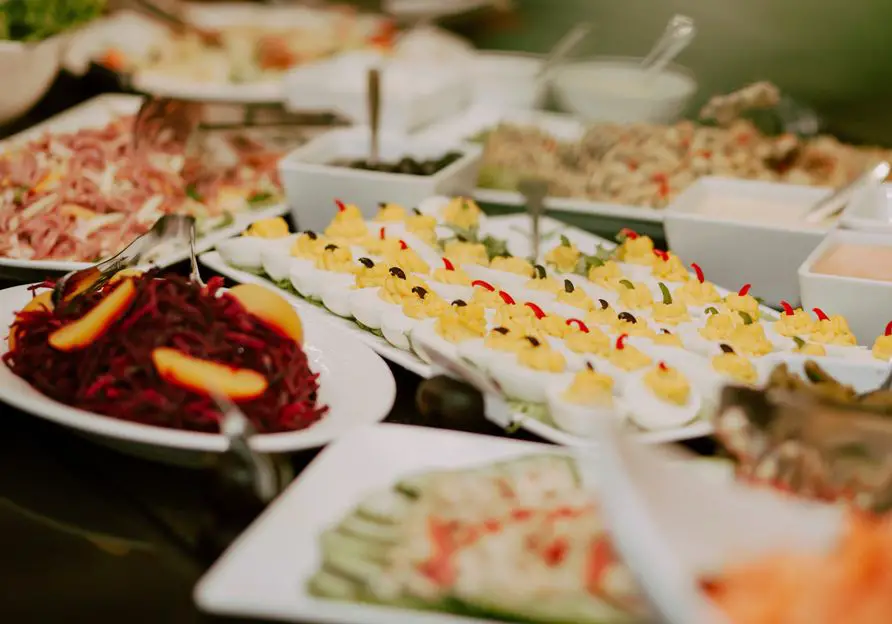 #8 Opt for Pre-Made and Frozen Appetizers
I'm not necessarily talking about heating up a bunch of frozen pizzas… But what you can do to make the catering process easier on your wedding day is to cook beforehand and freeze your dishes.
That way, you can ask your team of talented friends and family to simply heat up dishes in the oven and on the stove the morning of your big day. It's not for everyone, but for any chefs out there who like to cook but won't have time to cook on their actual wedding day… this could be a partial solution.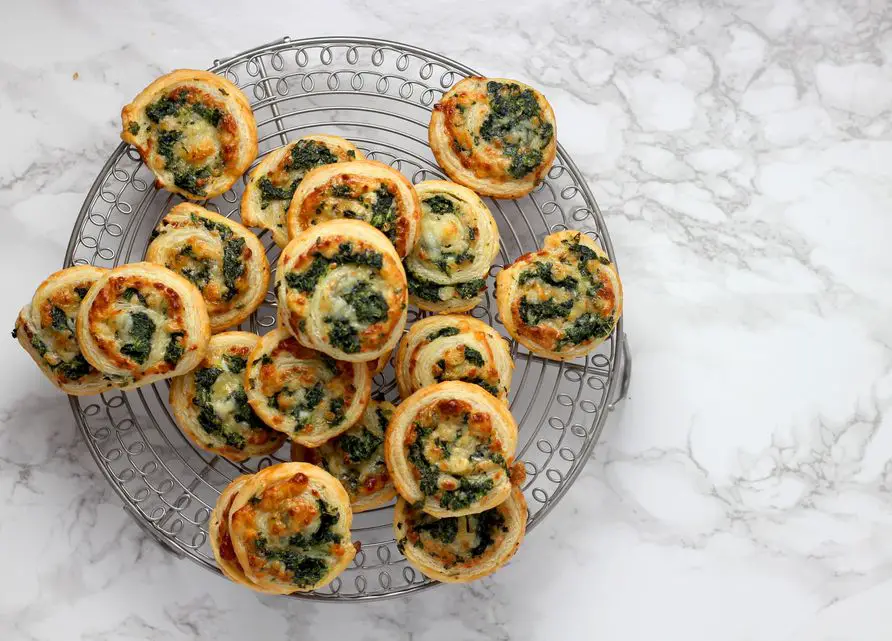 #9 Keep it Simple: Hors d'Oeuvres and Cocktails Only
There's nothing wrong with keeping the food to hors d'oeuvres only. You'll save a ton of money, whether you do them yourself with the help of family and friends, or go with a catering service. As long as you let your guests know to expect this!
Often at weddings, guests get really full during cocktail hour anyway, filling up on all of the hors d'oeuvres! Just make sure you have plenty and a variety of choices for vegans and vegetarians, and any other special dietary needs.
You can hire servers for a couple of hours to serve or ask some kind friends and family members to swap in and out of this position (as their wedding gift to you!). Some friends of mine asked their younger brother's friends to do this job for $10 an hour!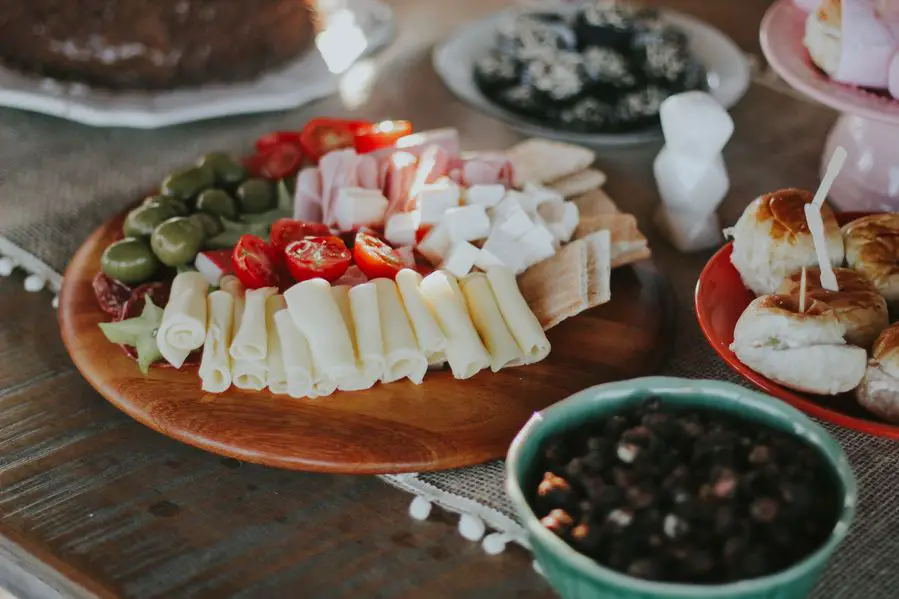 #10 Whatever You Do: Don't Do a Plated, Sit-Down Meal
A plated, sit-down meal will only be affordable if you have a very small guest list… because it requires making sure all the food is ready and plated at roughly the same time, and that servers serve individual plates to everyone at roughly the same time… and this is not easy.
Many wedding guests will tell you, if you ask them to be honest, that they don't even really enjoy this type of dinner. The food usually isn't that amazing anyway, and guests are confined to their tables, only able to speak with the people on either side of them.
Skip it and do a more affordable buffet or one of the other options suggested above!
---
3 Affordable Wedding Menus You Can Steal
If you're self-catering with the help of family and friends, you obviously have more control over your wedding menu. But you might be able to use some of the ideas below if you're using a caterer as well.
Keep in mind that you may have to adjust your menu to account for specific dietary preferences and/or needs of your guests.
Here are 5 affordable wedding menu ideas that you can use (or use as a starting point for shaping your own wedding menu):
Wedding Menu #1: Keep it Simple
This is a light and simple menu, easy to put together:
Simple Wedding Menu
Tea sandwiches made of tuna, chicken, and ham on wheat, white, and rye bread
Fresh fruit trays
Assorted cheese board with bread and crackers
Vegetable trays with dips and hummus
Mixed nuts
Assorted cupcakes and pie dessert
Wedding Menu #2: Stepping it Up a Notch
This one isn't difficult but a but more work and preparation is needed. You can find these full recipes in my step-by-step guide on catering your own wedding:
Wedding Dinner Menu
Shrimp and Crab Meat Delights
Chicken Salad Pastry Swans
Homemade Meatballs
Chocolate-Dipped Strawberry Trees
Cheeseboards with Crackers
Marinated Vegetables
Mixed Nuts
Butterfly Wedding Cookies
Coffee and Tea
Wedding Menu #3: Make it a Barbecue!
This menu is for a BBQ wedding and the recipe for each item can be found in my ultimate backyard wedding guide which you're going to love (!):
Backyard Barbecue Wedding Menu
Barbecued Chicken
Deviled Eggs
Corn on the Cob
Green Beans
Pork and Beans
Potato Salad
Coleslaw
Bread and Butter Pickles
Yeast Rolls and Butter
Iced Tea and Coffee
---
DIY Wedding Catering Checklist
There are some things you need to work out as you're DIY catering your wedding. It's also a good idea to look over this checklist if you're hiring a caterer and just see if there are any items on the list your caterer won't handle, and that you'll need to take care of on your own.
Figure out what rentals you need to get. These may include Dishes, Glasses, and Flatware and/or Tables and Chairs.
Decide whether or not you want to BUY your own dishes, glasses, and flatware. Sometimes you can find a better deal than the cost of rentals.
Think about staffing: Even if your wedding is small, you'll need some kind of service to ensure that the garbage is taken out, that plates are cleared, etc. This can be a professional staffing service or kind friends and family members. Put someone in charge of this if you go with friends and family members.
Do you need insurance? Do a bit of research to protect yourselves if you're having your wedding at a private residence.
Make and share a plan: Create shopping lists, recipes (if necessary), and detailed lists of duties for your small team of helpers so that they all know their specific duties (setup, breakdown, cooking, serving, clean up, etc.). Don't expect everyone to automatically know what to do.
---
How Much Food Do You Need for Your Wedding?
There isn't an exact science for figuring out how much food you'll need for your wedding. I got some ideas from Meg Keene's book (which is referenced at the bottom of this post). Hopefully these measurements can guide you somewhat, but please don't take them as gospel. If in doubt, err on the side of getting TOO MUCH food, which is obviously preferable to running out of food!
Appetizers per hour per person:
3-4 bites for appetizers that will be followed by a meal
5-10 bites for appetizers that won't be followed by a meal
8-10 bites for appetizers not followed by a meal at meal time
For Mains and Meals:
6 to 8 ounces of protein per person
4 to 6 ounces of sides per person
1 cup of salad per person
1 to 2 rolls of bread or servings of bread per person
For Desserts:
1 slice of cake or pie per person
1.5 cupcakes per person
4 mini cupcakes per person

---
Sources:
Cater Your Own Wedding: Easy Ways to Do It Yourself in Style by Michael Flowers
A Practical Wedding: Creative Ideas for Planning a Beautiful, Affordable, and Meaningful Celebration by Meg Keene