Whether you're not a public speaker or you just find wedding toasts/speeches to be long and boring, you may be thinking…
"Do I even need to have speeches at my wedding??" And the truth is:
No, speeches at a wedding aren't necessary. You definitely don't NEED to have them. You can forgo them all together or there are alternatives that you can choose to do instead.
Traditionally, toasts and speeches are given by the parents of the couple, the couple themselves, and/or the maid of honor and best man. However, as weddings change and diversify to better fit the expectations of modern couples, these "rules" are more and more flexible. Guests may have certain expectations but couples are under no obligation to follow a certain script.
Here, I'll talk about what I've researched: what is EXPECTED and traditional in terms of speeches and toasts, and some of the alternatives that you might consider using instead.
If you'd like to get my FREE 10-Page Wedding Ceremony Guide on creating your own personalized wedding ceremony (complete with a sample script, readings, and vows!), you can get it here! 🙂
---
"I hate wedding speeches"
This sentiment is more common than you think. Even though it may seem like guests expect and WANT toasts and speeches at a wedding, we all know in reality how painful they can be.
How many weddings have you been to where you groaned inside listening to a toast? Or looked at the floor because you were too embarrassed or too scared you might laugh if you made eye contact with someone else?
Isn't it interesting that even though months of careful planning go into wedding planning, the toasts are often left up to chance? I literally heard a cousin of mine say the words "Sorry everyone, I'm not really prepared for this but…" before giving his wedding speech! GAH!
So many wedding speeches are terrible and cringeworthy, and maybe that actually excites some people because it adds a little something crazy to an otherwise predictable night. But if that's NOT how you feel, you don't have to put yourself in this situation.
---
Who "traditionally" gives speeches at weddings and in what order?
You don't have to do any toasts or speeches at all if you don't want to. Many of the traditional speech-giving guidelines follow outdated gender norms and should definitely not be seen as a "must-follow" in any way.
Apologies for the super-heternormative examples expressed in the following section. But if you're curious about what the "typical" or traditional formula for wedding toasts and speeches are, they go something like this:
1. The best man acts as "toastmaster" as calls on the father of the bride to start things off. If the bride's father cannot make the speech, it falls to another mature relative. The content of the speech depends on the father's relationship with his daughter but it could include topics such as a welcome to all the guests; how proud he is of his daughter; a welcome to his new son-in-law; a welcome to his son-in-law's parents; well wishes for the new couple; and finally a toast to the newly weds.
2. Next the groom gives a speech on behalf of himself and his bride (you see what I mean about very traditional?). The content of his speech might include a thank you to his new father-in-law; a thank you to the bride's parents for "giving him" her hand in marriage (yikes); a thank you to his own parents; a thank you to the guests for coming; a thank you to his best man, groomsmen, and bridesmaids; acknowledging anyone who couldn't be present; and finally talking about how amazing and beautiful his bride is.
3. Then, the best man gives his speech. His topics generally include some personal anecdotes about the groom that are funny but not inappropriate (what many best men get wrong); how lucky the groom is to have landed his bride; what a great guy the groom is; and a heartfelt thank you and toast to end.
4. Traditionally, the maid of honor didn't give a speech but it has become MUCH more common these days for the best man's speech to be followed by a maid of honor speech which also includes anecdotes and a heartfelt, personal toast to the bride as well.
Speeches are difficult and many wedding speeches aren't successful or worse, are super uncomfortable and awkward. If you do decide to go with speeches, give your speech-makers lots of advance notice and some guidelines to help them and let them know what you expect. Below is some helpful assistance you can give them.
Guidelines for Speech-Givers:
Prepare your speech well in advance. Don't wait until the night before.
No jokes related to the honeymoon, previous marriages, future children, or sex.
Keep it short. Don't go over five minutes.
Remember to bring your speech with you in paper form (electronics die).
Don't drink too much before giving your speech.
Don't repeat yourself.
Don't deviate from your prepared speech.
Speak slowly and clearly.
I've written more about my advice for planning the toasts at your wedding in my top 10 tips for planning toasts at your wedding, which you may find helpful!
---
Does the groom have to give a speech?
Like everything wedding planning in my opinion, you don't HAVE to do anything you don't want to do.
Following this logic, the groom doesn't have to give a wedding toast or speech. It's completely up to him and the couple whether or not he would like to deliver a traditional speech, give the reigns to someone else, or skip the speeches altogether.
Traditionally, the groom gives his speech at the reception to thank the parents of the couple, the guests for coming, and any specific members of the wedding party who have been helpful in putting the wedding together. If you would prefer not to follow this tradition, here are some alternatives:
---
What to do instead of traditional wedding speeches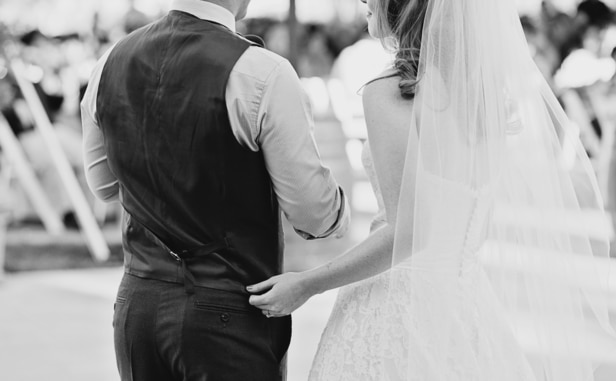 Write and print speeches
A wedding speech from the couple is essentially a public "thank you" to everyone for attending and to those who helped make the day possible. So instead of saying those thank yous out loud, you could say them in writing.
This covers your bases and eliminates any painful potential stage fright moments or public speaking pressure. Both partners: Simply write a heartfelt letter thanking your guests (and your partner). Thank specific people just like you would in a toast.
Then print these letters together on nice paper and include one at each place setting at the reception. Or write one joint letter. The DJ can direct guests to read their letters right before dinner and to raise their glasses to the newly weds. Sweet, simple, speech-free.
---
Make a "Thank you" slideshow
The couple could create a slideshow, designed to either play once before dinner, or to play on loop somewhere throughout the reception.
This slideshow would have photos of the couple together with their guests and words thanking them for coming to celebrate such a special day.
Another take on this would be to have the couple create this slideshow in collaboration with those who would traditionally also give a toast (parents, best man, maid of honor). The slideshow could then be announced by the DJ as a joint effort by the team to thank the guests for joining them all.
---
Make pre-recorded wedding speeches
If it's the "live" aspect and unpredictability that bothers you more than anything, consider doing pre-recorded wedding speeches instead. You can sit down at home with your partner and take your time deciding exactly what you want to say.
You can edit it and add music. You can include members of your wedding party, your friends, and/or family. You can make it whatever you want to be.
The beauty of this approach is that it's all wrapped up and finished before the day of the wedding, so you don't have to stress about "performing." You've already said everything you wanted to say and made it exactly how you wanted.
You just sit there, watch, and raise your glass to toast at the end of the video!
Another cool thing is that this kind of "speech" is lasting. You can post it later or share it and you'll have the memories always.
---
Choose "alternative" speech-givers (pass the buck)
If it's not so much the idea of wedding speeches in general that bothers you, but just that you specifically don't want to speak, or that certain members of your wedding party or your parents don't want to speak, you could simply pass the buck onto someone else!
It really doesn't matter these days who speaks at the wedding. Traditions have gone out the window for many couples and expectations are changing all the time.
Is there anyone in mind that you know is a good public speaker? Someone you know would do a good job of hitting the right notes of sentimentality and humor? Then ask them to give the toast, regardless of whether or not they're the "traditional" person who's "supposed to" give it.
---
Just have DJ announcements
No one is going to be incredibly disappointed if you just skip the toasts and speeches completely. If you're planning on having a DJ or a band, just kindly ask them to make an announcement.
They can say something simple such as, "Dinner will be starting shortly. The happy couple welcomes you and thanks you all for being here. Please join me in raising a glass to the newly weds! Let's have a great night!"
---
Musicians? Sing a song.
If you hate public speaking, but you're a musician or singer, consider performing for your guests. You could sing a song in lieu of a speech. A sweet song for your new husband or wife would be lovely and even more heartfelt than a typical toast. When you're finished, simply ask everyone to raise their glasses and thank them for coming.
---
Wedding Speeches at Multi-Lingual Weddings
This is another consideration for us, as our families are from different countries (4 different countries actually) and speak three different languages.
When planning wedding speeches that everyone can understand, this can be a bit tricky. One option is to not do speeches at all, or to use one of the alternatives described above, with translations. For example, the written letters could be printed in multiple languages or the slideshow could have text in multiple languages.
Another way to do it could be with an interpreter. So the speaker would speak with someone next to them translating after each sentence or so. This method requires patient audience members and short speeches, so that it doesn't become too tedious. But for short and sweet speeches, this would work just fine.