For couples who aren't into dancing or who are introverted, the dancing aspect of a wedding can be painful. Some couples just feel obligated to have dancing at their wedding because it's what's "expected," and they may worry that a wedding without dancing will be boring. But that isn't true!
A wedding without dancing doesn't mean it's going to be a boring wedding! It just means that the atmosphere will be different there are plenty of alternatives that can be offered to guests in lieu of dancing.
For my readers: If you'd like to get my FREE 10-Page Wedding Ceremony Guide on creating your own personalized wedding ceremony (complete with a sample script, readings, and vows!), you can get it here! 🙂
---
In this post, I'll talk about:
1.. Alternatives to having dancing at the wedding reception
2. The timeline you can expect for having a wedding reception without dancing
3. How to have a wedding without a "first dance"
---
I made a VIDEO on my wedding YouTube channel (be sure and subscribe for lots of fun wedding stuff!) on this subject for all those who prefer a little audio/visual 🙂 —
---
1. Alternatives to having dancing at your wedding reception
Some concerns of a "dance-less" wedding reception might be that the guests will get bored and leave early.
If you want them to leave early, then great! No problem.
But if you want them to stick around longer than an hour and you're concerned with keeping them entertained, there are alternatives you might consider that are just as fun as having a dance party.
First ask yourself, what is the atmosphere that I want to create? Do you want to have a dinner party atmosphere? Would you like it to be playful, in which case you could incorporate some games?
If you'd like to just do a cocktail hour and a dinner party, that's fine. Turn down the lights and make it intimate. Many guests will appreciate actually being able to talk to each other.
Hire a string quartet or play some jazz in the background and allow everyone to chat without the macarena blasting in their ears.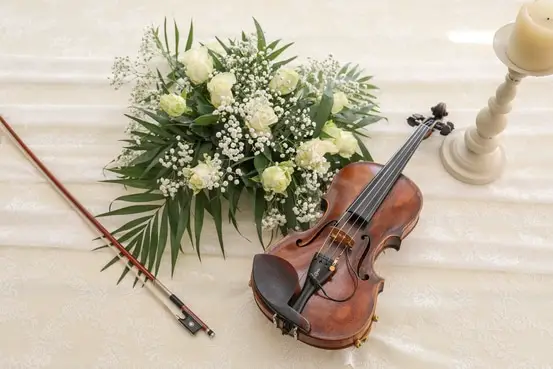 However, remember that dancing at a wedding essentially gives people something to do or watch when they're tired of small talk and so it's good to have some alternative activities on hand.
For example, consider having some of these activities set up for after dinner:
---
Lawn Games
If you're having an outdoor wedding or have access to the outdoors during your reception, consider having some lawn games!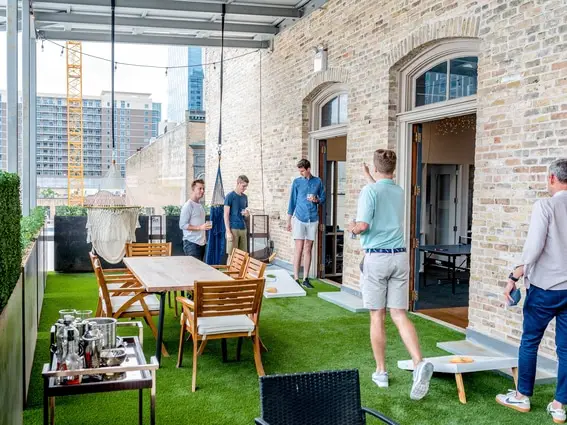 Imagine after dinner, you have soft lighting, some classy music playing in the background… Guests walk around, drinks in hand, perusing different game stations, playing, chatting, and having a good time.
These can be as casual or classy as you wish. I'm picturing a Downton Abbey-style (Pre-WWI) lawn party! People are all dressed up, there are places to sit and chill and chat, but also lots of activities around to observe or participate in.
Some other examples of lawn games you might have set up for guests to play are: horseshoes, croquet, giant Jenga, darts, spikeball, ladder ball/ladder golf, molkky, and bocce (which can be found on Amazon).
There are many examples of wooden corn hole (also available on Amazon) for special occasions, believe it or not. So don't think that lawn games have to mean cheap, plastic or ugly set ups.
You might be surprised by how competitive people get!
---
Drinking Games
You could also have some drinking game stations set up. Think "classic drinking games" but with a classy set up.
So perhaps flip cup or beer pong tables, but with the rules written on a cute chalkboard and nice cups that match your theme (preferably paper). People would love that! Prosecco pong and wine pong have also become a thing, tossing ping pong balls into classy glasses. Don't be afraid to get creative.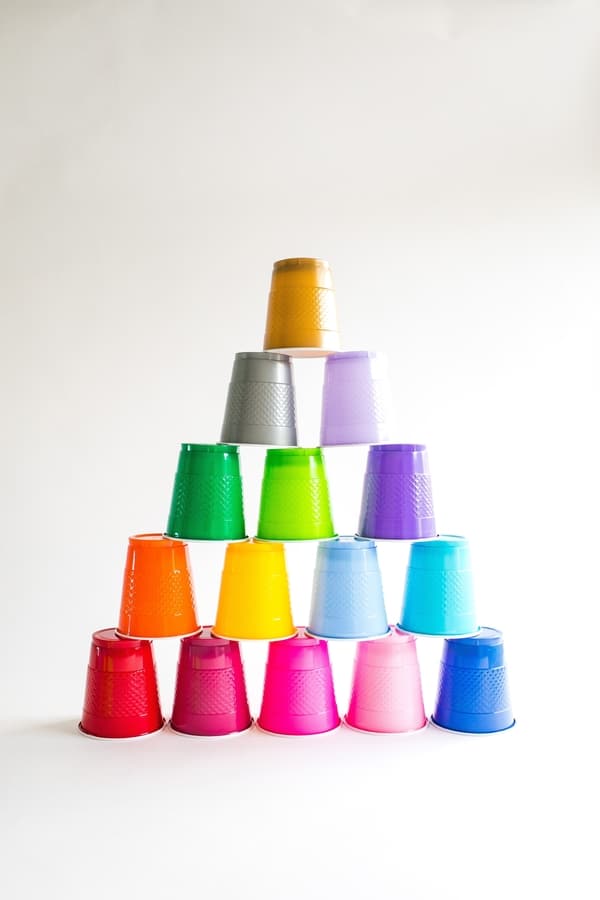 Who needs dancing when you can have your friends and your relatives yelling at each other over flip cup?!
---
Sumo wrestling
Seriously. It could be fun! You could rent sumo wrestling suits and have guests face off. Maybe you could even replace your "first dance" as a couple with your first sumo wrestle as a couple to get the party started!
---
Board Games
For really low-key couples with low-key guests who would enjoy playing board games, this could be fun.
I would be a bit worried that it would be too "closed off" from table to table. But this can be helped by using more "social" games such as Taboo (and not like Monopoly).
A game that I feel always lightens even the most "small-talky" dinner parties is the Heads Up app, the Ellen Degeneres game she plays on her show. Actually, any kind of talk show game played on those shows would work well!
---
Puzzles
Certain introverted guests might appreciate a table with a puzzle set out for them to find and gather around! 🙂
---
Photo Booth
A photo booth won't occupy a ton of time but it's a nice activity to have in addition to other games or performances. You can get your own photo booth backdrop on Amazon.
It'll also give you something fast and fun that you can do with some of your guests, because it's hard to find time to speak with everyone (a sad but true fact of having many guests – not a problem if you're having a small wedding).
---
Bonfire
If you're lucky enough to be at a venue where a bonfire is an option, this will keep guests cozy and entertained for sure.
Everyone will love drinking and talking by the fire and dancing won't be missed.
---
Speeches and/or Performances
Some weddings have a sort of "talent show" section. Couples will ask talented relatives or friends beforehand to prepare a performance and have a sort of show during dessert. This can be a selection of singers, musicians, or dancers.
You'd be amazed what people can do and how memorable these kind of heart-felt performances can be.
Or you could take the time to have some people do speeches, if there's anyone you feel would be an entertaining speaker but who doesn't fit into the typical toast section at the beginning of the night.
One more thing to consider is having a photo slideshow, perhaps honoring guests who have passed or couldn't be present.
Or doing something like a series of PechaKucha presentations (20 slides of 20 seconds each). You could have your friends do a PechaKucha presentation competition about you?!
TIP: Delay dessert and keep the bar open. If you want people to stay longer without a dance floor, delay dessert a little longer after dinner with speeches or some other kind of activity and KEEP THE BAR OPEN. People will stay when there's free booze and cake on the way.
---
2. Timeline for a Wedding Reception Without Dancing
If you're having a wedding reception without dancing, there's not as much of a common template for the timeline and when and what you're supposed to do.
Here's a draft timeline of what a wedding without dancing might look like:
Ceremony
Have your ceremony as planned at your venue. Your ceremony shouldn't really be any different in this regard.
Cocktail hour and photos
Host a cocktail hour while you take photos (or skip the posed photos and enjoy your cocktail hour with guests — my personal preference!).
Toasts
Before dinner, if you're planning on having toasts, here's the time. Make sure all guests have a drink in hand.
Have 2-3 people give a toast (as you wish!). Usually this is the father(s) of the couple but really, it can be anyone you want!
Some people take this time to have the best man and maid of honor give their speeches as well. I don't really like rules, so I say just pick people who you think will do a good job and ask them to say some nice words.
Dinner
Have dinner! If you're playing your own music, make a "gentle" dinner-ish playlist. Another possibility could be hiring a musician to play guitar.
Or consider having a string quartet if it fits your budget.
Cake cutting (& Making Announcements)
If you're not doing dancing, it might be good to have someone to make announcements to let guests know what's happening throughout the evening.
Since many guests are used to weddings with dancing, they may not know what to do with themselves without a little guidance (it sounds dumb but it's true!). Any responsible friend or relative could take on this job!
Let guests know that the cake cutting is about to happen (if you're doing a cake cutting), or let everyone know dessert is coming! (And that the bar is open!)
And finally, announce that fun activities/performances/slideshows/speeches (whatever alternative to dancing you choose) are in store after dessert! This way, guests know to stick around!
Serve dessert during performances/speeches/slideshows
After the cake cutting, and during the activities – Serve dessert!
Do your alternative activities without fear!
Whatever you choose to do in lieu of dancing, be excited about and confident in your decisions. This is your day and you should be setting up what you want to do! Your guests will have a great time, don't worry.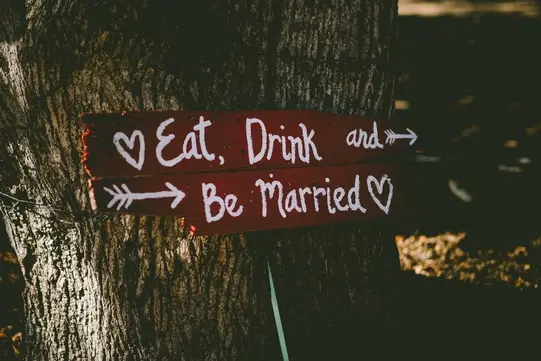 ---
3. Having a Wedding Without a First Dance
Finally, if you don't want to do a "first dance" – don't! You don't have to. There are alternatives or you could just skip it all together.
If you do want to have a first dance, but just not in front of people, consider having a private "first dance" alone in a private room, such as the bridal suite (or wherever you get ready).
One alternative could be singing karaoke – which won't be a favorite of most couples, but there's the option! If one of you is a singer or musician, you could simply have a "first song" and perform it to your partner.
You could do something fun and weird such as a first sumo wrestle (as previously mentioned), a first "bounce" in a bouncy castle or trampoline, or a first dance that you're NOT in (as in – your friends/family perform a dance for you or around you).
---
Remember that whatever you decide to do is FINE and totally up to you. It's your day to have as much fun as possible and celebrate how YOU want so don't give in to the nagging of others and plan it how you want, dancing or not!