Are you interested in having an eco-friendly, budget-friendly backyard wedding?!
My partner and I are too. And as people who are concerned with our environmental impact, we need it to be as eco-friendly as possible. Especially since my partner is an ecologist and we spend a lot of time in general thinking about the future of the planet.
It would be a bit grim to celebrate our love and commitment by producing a bunch of trash and adding to the destruction. Thousands of pounds of garbage and tons of carbon dioxide gas is released into the air every year in the name of weddings and love. Which just makes me really sad and honestly feel kind of hopeless.
Therefore, I've done some research and found the following ways to throw a green backyard wedding, in hopes that I can make a TINY difference of some kind with these gestures. I'm still learning, so please let me know if you have any other tips or suggestions.
Hopefully this research is helpful to us as we plan, and to others looking to reduce their footprint.
---
1. Create a green budget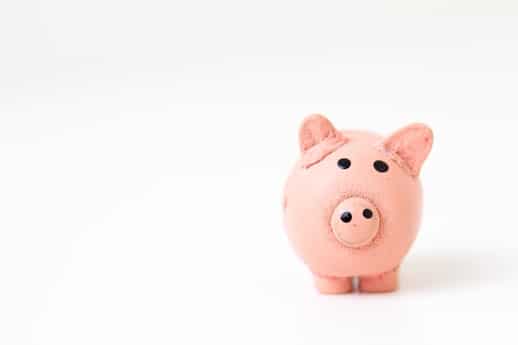 In order to have a green wedding, it helps to be organized and to have a set budget. You can actually save a lot of money by throwing a green wedding (reusing and recycling often equals cheaper).
However, couples who don't have a plan for spending and don't keep track of their money will definitely spend more than they want to, and won't be focused on being green when a tight money decision presents itself. We usually make bad splurge-y decisions and bad-for-the-environment decisions when we're stressed and under pressure.
So, reduce that likelihood by planning. Write everything down. Start a spreadsheet. It doesn't have to be anything fancy but you have to make some kind of budget on day one.
With your partner, write down every individual item that you want to have in your wedding and then how much you plan to spend on each of those items.
If you have a budget, and only buy what you absolutely need (focus on renting and borrowing), you will both save money and the environment.
---
2. Have a garbage disposal plan
Up to 40-50% of landfills in the United States are filled with waste paper products. This is SO crazy as most paper can be recycled! Much of what we throw away each year is sent to landfills, and there are endless depressing statistics about this (Source).
It pains me to think my wedding would just be adding to trashing the planet along with the many other thousands of trash-producing weddings… It can seem quite hopeless at times but we have to at least try to do better, right?
Plan to use recyclable, biodegradable products
When we dispose of leftover wedding stuff after everything is said and done, our goal should really be to keep as much out of landfills as possible.
For the edible and "nature-y" decorations (which we should try to use more of, and will be discussed later on in this article), this will be easy enough. We can simply put them back into the woods! But as for the other stuff…
We should of course try to plan to use as many biodegradable products as possible and then sort out these products from the landfill garbage during our cleanup. Even biodegradable products are not much help if they're thrown into garbage bags and then thrown into a landfill.
Many things take a really long time to biodegrade so we're generally better off recycling. For example, here is how long these products take to biodegrade:
Paper can take 2-5 months
Plastic-coated paper milk cartons take 5 years
Nylon fabric takes 30-40 years
Aluminum cans take 80-100 years
Glass takes more than one million years!
Reuse what we can
After the event, we need to plan to go through all of the decorations and materials used for the ceremony and reception and decide what has another life in it. What can be reused? We'll set that aside. This might be photo frames, candle holders, centerpieces, etc.
We should make an announcement to guests to bring things home if they think they can find another use for them.
For the products that we and our guests cannot recycle, biodegrade, or reuse, we should donate them to local charity organizations. We should have a goal to throw away as few trash bags as possible following our wedding. That's showing love for each other and the place we live.
---
3. Stay close to home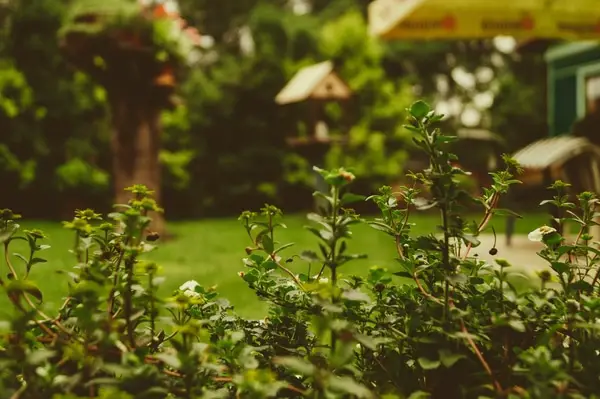 If we plan on getting married in our own backyard (or in my case, in mine or my partner's parents' backyards), then that's great. When we're as close to home as possible, and guests don't have to travel far, this can have major environmental advantages. In our case, no situation will ever be perfect because we've got family and friends on a few different continents, but we'll do our best.
Apparently destination weddings have increased by 400 percent in the last couple of decades since the wedding industrial complex has exploded, and all of those weddings are having an impact. The travel of that many guests is releasing tons of CO2 into the air that could be avoided by having a wedding at home.
Another good eco-friendly move is to try to have your ceremony and reception in the same place to reduce the amount of transport it takes between locations. If you're having a backyard wedding, why not just have the ceremony and the reception in the same place? This is a lot easier, less stressful, and more fun for your guests as well.
If you can't have your wedding in your own backyard, maybe you have a friend or family member who would let you use theirs! If not, consider local parks, beach fronts, etc. that have that "backyard" feeling.
An outdoor backyard wedding screams eco-friendly and natural. Just make sure to plan for some of the difficulties of having your wedding in your own backyard, such as:
Mosquitoes: Have a defensive plan so your guests don't get eaten alive. Consider having citronella candles (available on Amazon), lamps, and torches set up around the reception to keep bugs at bay. You could also put bug spray on the tables as evening sets in.
Electricity: Is it available? Can you use candles, battery powered LED lights, and/or make a bonfire for lighting?
Will you be cleaning everything up yourselves or are you going to hire some people to help clean afterward?
---
4. Avoid disposable materials for your decor and theme (ahem… confetti, balloons, etc.)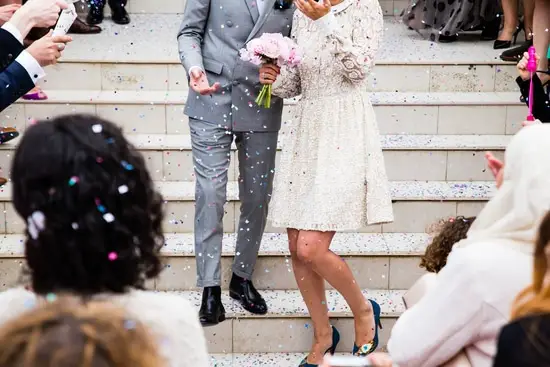 Alternatives to Confetti
Confetti makes for great photos but confetti that isn't eco-friendly is a tragedy. Don't throw glitter on your wedding day, or any other plastic-y, shiny unnatural materials that may make their way into the stomachs of animals (and also probably into the eyeballs of your guests).
Some alternative eco-friendly confetti ideas:
Gather a bunch of leaves and some cutely-shaped hole-punchers and make your own leaf confetti (and recruit lots of hole-punching help from friends while watching Netflix and chatting)!
Buy some birdseed to throw (*birdseed specialized to local bird and plant species – you don't want to introduce invasive species to an area)! Toss flower petals! Although, take a look at the flower section of this post first for more information on the "green" wedding flowers situation…
Other alternatives include tossing small leaves from the ground; non-toxic bubbles; and tossing herbs such as basil, thyme, mint, and rosemary – it will smell so good!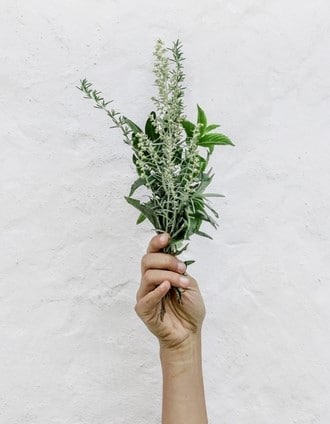 Alternatives to Balloons
Balloons are one of the biggest pollutants and have been found inside the stomachs of many wild animals. Before we decide to create a balloon arch or use balloons in any way for a wedding, we should consider some of the following green alternatives:
Just like popular public art installations seen in many cities around the world, hang colorful umbrellas in your backyard! You can gather umbrellas from friends and family or find used umbrellas in thrift shops and on Craigslist. This will add charming and very photo-friendly (and CHEAP) decor to your backyard wedding that will be better for the environment than balloons.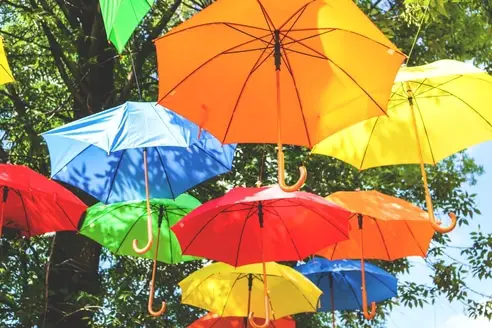 Another alternative is the much classier and more beautiful cousin to the balloon: the paper lantern. Consider adding some romance to your backyard fete with some strings of alternating paper lanterns and LED lights.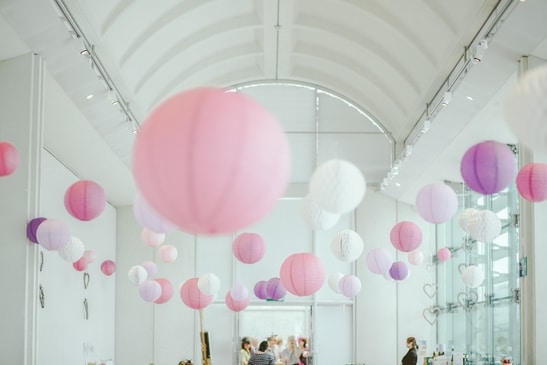 NOTE ON SPARKLERS: As popular as sparklers have become for wedding send-offs, they aren't the most eco-friendly choice. They only last a minute at best. They're made from mined materials such as aluminum, iron, barium, and copper. Why not have guests carry soy candles for your send-off instead? These are easy to buy or make, are much more eco-friendly and set a very romantic mood for your "goodbye" walk.
As much as possible, try to use natural decor that you can just return back to the environment after your wedding. Leaves, fruit, wild flowers, acorns, etc. all can look beautiful and classy and will not end up being a pile of junk in a landfill almost immediately following your wedding.
---
5. Send eco-friendly invitations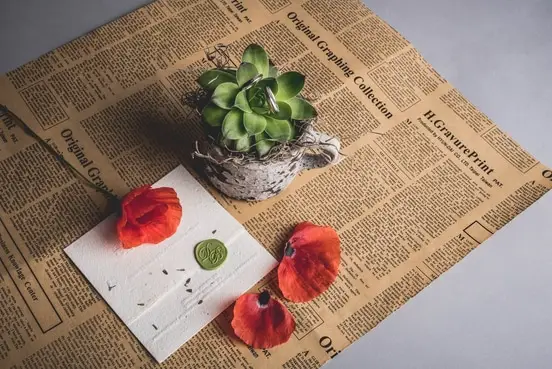 It's estimated that 500,000 trees are killed each year for paper products for weddings, much of that being wedding invitations. WHAT?! That's crazy. We don't need to even send paper invitations anymore! I mean, logistically it just isn't necessary. We do it for tradition and to be fancy, and for our elderly grandparents and aunties, but that's it!
Is it worth killing so many trees?? There are alternatives and that's what I'm going to talk about in hopes that we can all eliminate such waste from our celebrations of love.
"Traditional" paper or tree-paper invitation alternatives
For instance, we could make sure to print our invitations on recycled paper and send them in recycled envelopes, if we do insist on sending snail mail invitations.
Buying from companies that sell recycled paper saves trees, energy, and water. It frees up space in landfills and prevents more trees from being chopped down. Furthermore, the prettier your invitations are (on uniquely textured recycled paper), the more likely your guests are to hold onto them, and the less likely they are to end up in landfills.
It's also worth pointing out that the new sticker stamps used to mail our invitations are printed on paper that cannot be recycled!
There are tree-paper alternatives you could use such as bamboo paper and hemp paper. There is also "plantable" paper, which just as its name suggests, can be planted! Your guests plant their invitations and they literally bloom! Now, that's pretty eco-friendly.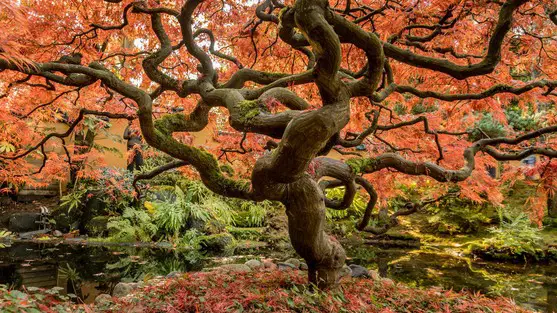 Paperless alternatives
As we all know, paper invitations aren't even needed anymore. There are countless email invitation services that can help you to send classy and beautiful invitations that will harm not one tree in the name of your wedding.
You can create a custom wedding website through many services as well, filling it with all the relevant info for your big day – and it can be updated regularly! Unlike the landfill-fated paper invite option.
You can compromise by sending most of your invitations (and save-the-dates too!) online and also send a handful via snail mail to your older or more traditional relatives who may expect them.
---
6. Use eco-friendly vendors and caterers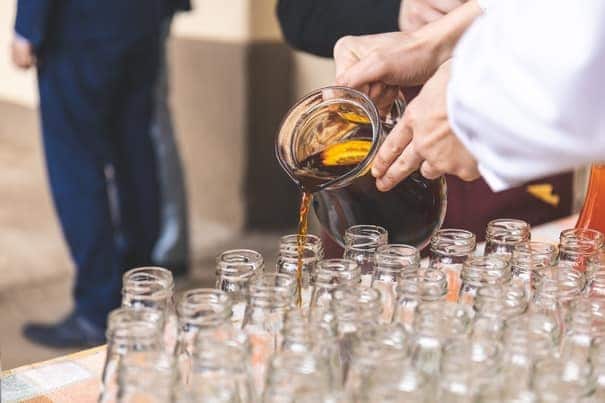 Don't we all want to support vendors who are eco-friendly and share our values? Seek out vendors and caterers that you believe will deliver an eco-friendly service, and do research and ask around before hiring anyone.
If you're in the US, you can check out the Green Business Network, which certifies businesses for meeting certain green standards.
Consider having an all-vegetarian or vegan menu. Removing meat from your wedding menu can make a significant environmental impact. You may experience some push back from this decision but stay strong if it's something you really believe in and don't worry about the complaints and/or jokes from friends and family!
Finally, ask vendors if they source locally, which is also important when considering how much energy is wasted in the transportation of food across distances. It's also a good idea to support your local farmers and businesses when possible.
---
7. Use "green" lighting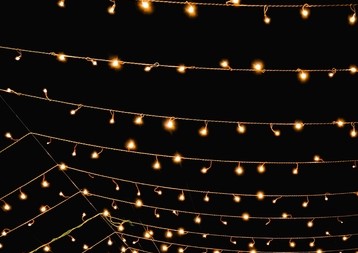 If you're getting married in a backyard, or anywhere outdoors, you're ahead of the game in terms of lighting. The sun will provide all the natural lighting that you need during the day (and make your pictures look fab).
But you'll have to make some lighting decisions for when the sun goes down. You might consider using LED solar lights which are available on Amazon. They're powered all day by the sun and then turn on automatically at night. I might use these in combination with candles and paper lanterns around my reception area.
You might also think about having a bonfire if that's a possibility for your venue.
For candles, try to use ones that are made from natural beeswax, vegetable-based wax, or natural soy. Many candles are petroleum based paraffin which isn't the best. Check out various collections (and prices) for soy candles on Amazon.
---
8. Create a green registry (or no registry at all)
In my case, my partner and I really don't need or want anything so I don't see us setting up any kind of wedding gift registry. It would only lead to people buying us a bunch of stuff that will take up space and end up getting donated.
There will always be the people who insist on buying a gift and there's nothing you can really do about that.
I think it's okay to tell people (on your invitation and/or wedding website) that in lieu of gifts, you would prefer a contribution to your honeymoon fund or a donation to a particular charity/organization you're fond of.
I really don't see anything wrong with that, despite the controversy this sort of opinion causes in "traditional" wedding circles.
---
9. Make eco-friendly flower choices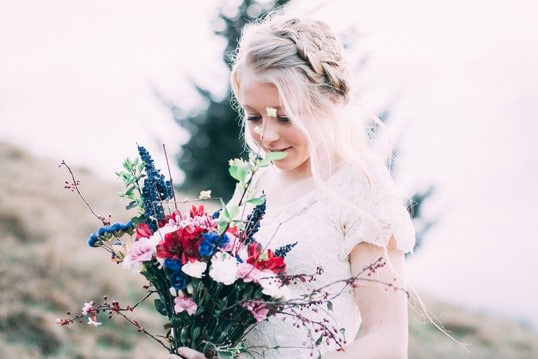 You may have heard discussed how wedding flowers (and flowers for many other celebrations) are horrible for the environment. This is due to the fact that many of our flowers come from other continents and require vast amounts of dirty energy to get to us in their fresh, beautiful state. Many of them are also grown with chemicals that trash the earth and water.
To combat this trend, you could either choose to use flowers that you know are grown locally and are in season for your area, or make your own bouquets and decor using wildflowers.
If you do use wildflowers, do a bit of research first as just walking into a field and picking a bunch can disrupt the local ecosystem. It might be best to harvest your own wildflowers and pick your flowers from that!
Seasons for popular fresh flowers
Always go for flowers that are in season. The most popular fresh flowers can be found in these seasons:
Year-round: stephanotis, orchid, statice, lily, ivy, iris, gladiolis, calla lily, alstroemeria, aster, baby's breath, fern, eucalyptus, freesia, bird of paradise, gardenia
Summer: allium, amaryllis, aster, calla lily, dahlia, geranium, gladiolus, honeysuckle, hydrangea, liatris, orange blossom, peony, rose, sunflower, zinnia
Spring: allium, cherry blossoms, daffodil, freesia, iris, lily of the valley, anemone, apple blossoms, lilac, narcissus, ranunculus, peony, sweet pea, violet, tulip
Fall: amaryllis, anemone, aster, calla lily, dahlia, narcissus, sunflower, marigold, zinnia
Winter: amaryllis, hyacinth, mimosa, daffodil, evergreens, tulip
---
10. Use green centerpieces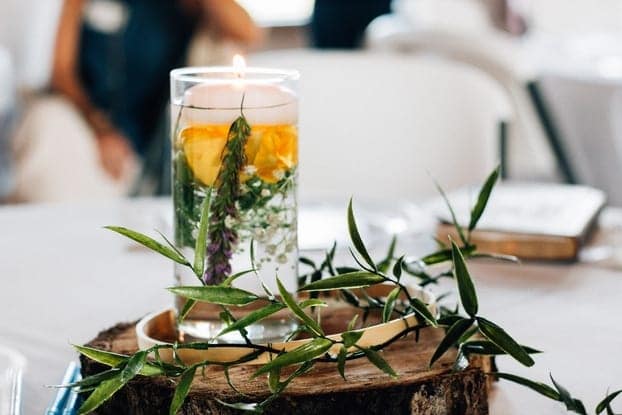 For whatever reason, centerpieces get a lot of attention in wedding planning. Some people agonize over the look of centerpieces that few guests will even really notice. But for those who do notice, maybe centerpieces are a good opportunity to make an eco-friendly statement in the middle of dinner, literally.
Some potential ideas for eco-friendly centerpieces are:
-pots of herbs or flowers that guests can take home and continue to grow
-tall clear vases filled with lemons, apples, or limes
-a mini tree in a pot that guests can take home and plant
-borrowed or rented vases filled with wild flowers
-rented or borrowed bowls with candles floating in them, on top of mirrored tiles
-natural wreaths flat on the table with a candle
-large flower heads floating in a bowl of water
---
11. Consider using edible decor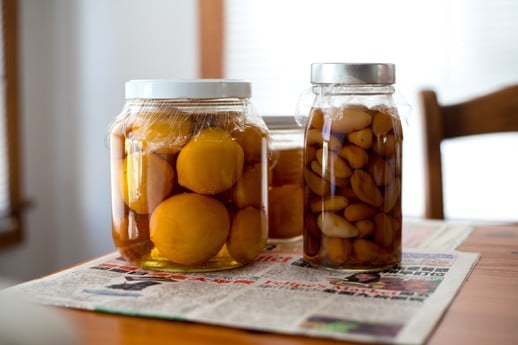 For all of the wedding decorations, centerpieces, and favors, a really sustainable option is to use FOOD! Consider using fruit and other edibles as decor, and at the end of the wedding, guests can take it home and eat it!
For instance, you could use the following foods to decorate any spaces or tables around your ceremony or reception area that look lonely or bare: fruits, veggies, loaves of bread, jellies, homemade canned goods, pickled goods, cans of honey, oils and vinegars, nuts, bundles of herbs, and any other fresh or organic food you can think of!
Couple the food and jars with beautiful flowers, plants, and/or candles 🙂
---
12. Use decorations that can be re-purposed for the ceremony and reception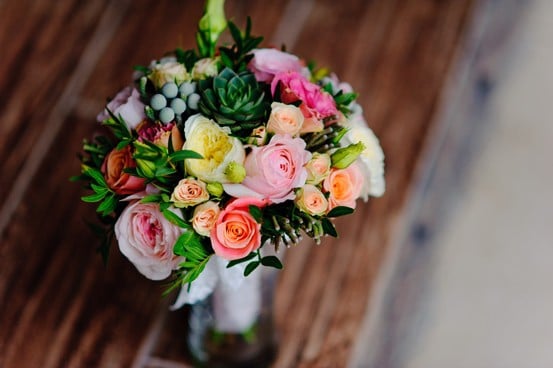 When thinking about the decorations that you want, consider using the same decor for both the ceremony and the reception to eliminate waste. What decorations can you simply move to the reception area?
For example, consider using the bouquets from the ceremony as centerpieces. Think about the backdrop and aisle runners and/or decor and how that can be used to decorate the reception.
Any decor that you can re-purpose will be helpful in reducing environmental waste.
---
13. Wear natural materials for your wedding dress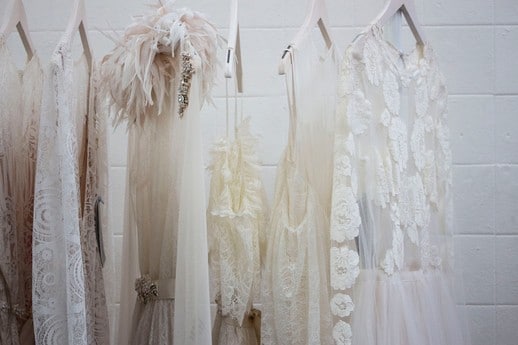 Many of the clothes we wear every day are made of synthetic fabrics or come from unfair labor practices and sweatshops. This is true of our wedding dresses too, unfortunately. But there are alternatives out there if we search for them, and they're just as beautiful as any other wedding dress choice on the market.
Always inquire as to the fabric of the wedding dress you're interested in buying. Ask for dresses available in natural, sustainable, and organic fabrics. If they don't know what you're talking about, that's probably a good sign to look elsewhere.
If you find a great deal on a new dress that's made of petroleum-based products like polyester, just remember that this stuff is awful for the environment. There are dresses available in natural materials for similar, if slightly higher, costs.
Natural fabrics include: cotton, hemp, silk, lyocell, abaca, cashmere, ingeo, linen, canvas, twill, muslin, jersey knits, fleece, and bamboo. They tend to be softer and more comfortable on your skin too.
Reuse and Recycle
Even better than buying your wedding dress new is getting a pre-worn dress or borrowing one. Places to look would be in the closets of friends and relatives, thrift shops, consignment shops, eBay, Craigslist, the Facebook marketplace, and vintage stores.
Make eco-friendly shopping for a dress an adventure that you invite your friends and family to join you in. You don't have to feel like you're missing out on bridal dress shopping just because you aren't going to a fancy bridal shop. The search for an earth-friendly dress option can be just as, if not more, fun. And it can involve as many people as you wish.
If you want to make your own dress (first of all that's awesome. I wish I knew how to do that!), consider making it out of upcycled materials such as old wedding dresses or previously worn materials.
---
14. Have the wedding party wear recycled and used clothing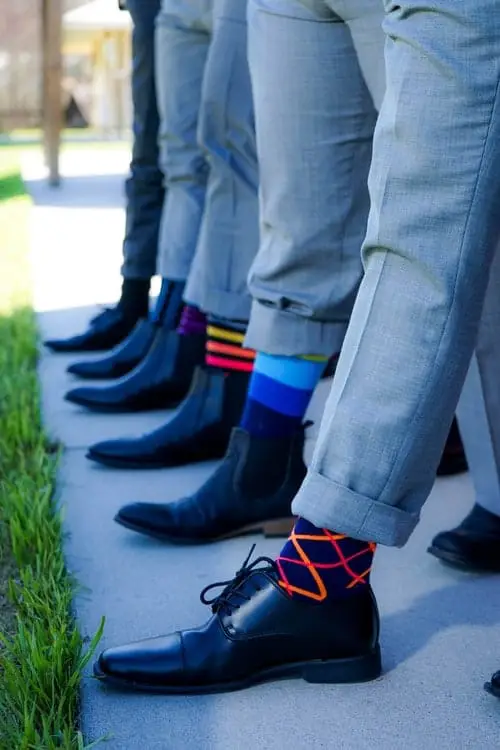 Why stop at eco-friendly shopping for just the wedding dress? If you're planning on having a wedding party, consider searching for environmentally-friendly options for everyone's outfits.
I personally am not into the all-everybody-matchy-everything idea so this is an easy sell for me.
Bridesmaids can look in the same places described above for their dresses. Instead of looking for a bunch of matchy-matchy dresses, consider choosing a color that all of the bridesmaids can put their own twist on with gently-used or borrowed dresses.
For the groomsmen, think about having them wear suits that they already own and simply wearing matching ties to pull the outfits together. This is so much more environmentally-friendly (and easier on everyone's wallets).
---
15. Wear eco-friendly and conflict-free jewelry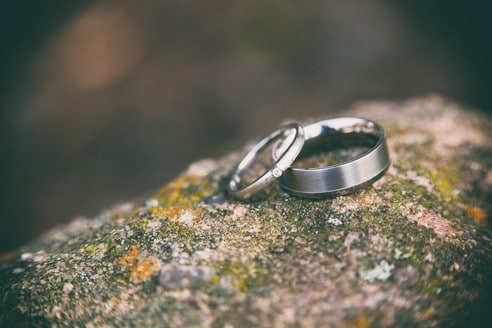 Mining for jewelry is both detrimental to the environment and ethically deplorable in many cases. This goes for both precious metals and gemstones that we wear.
I talked about this subject a bit in my article Wedding Bands aren't Necessary and Here's Why, if you're interested in learning more.
Making just a single gold ring produces 20 tons of waste and releases toxic levels of mercury, arsenic, and cyanide into the environment.
All in the name of love! Ugh! What are we doing??
Due to some clever marketing over the last decades, diamonds have become the engagement ring stone of choice. And this idea is perpetuated by pop culture and celebrities.
However, it hasn't always been this way (and some celebrities do make an effort to buy ethical gemstones and jewelry). De Beers launched one of the most successful marketing campaigns of all time ("a diamond is forever"), transforming the expectations for engagement rings to be diamonds at all costs at the turn of the twentieth century.
Illegal diamond smuggling has led to deaths of millions of people, including children, and conflict gemstones are not a thing of the past. If we feel that we must buy gemstones to represent our love and commitment, let's do it as eco-friendly and ethically as possible.
We have to do our research and ask the tough questions. We have to search for eco-friendly and conflict-free jewelers who use fair-trade practices. We should do our best to seek out jewelers who use recycled materials, or better – to wear heirloom or vintage jewelry.
Taking these small steps instead of being willingly ignorant because something is pretty will go a long way toward making the world a little bit better. And the ring that you look at every day will be pure, guilt-free, and deserving of what it represents.
---
16. Wear natural and organic beauty products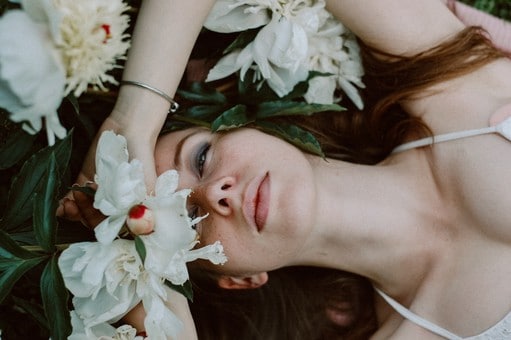 For your wedding, celebrate your beauty and feel good by choosing natural and organic products.
Petroleum-based ingredients in many mainstream beauty products coat your skin and clog your pores. They cause a build up of toxins and interrupt normal hormone processes. It's also suspected that they may be carcinogens.
Instead, opt for products from companies that are eco-friendly and use all-natural ingredients. You may also want to investigate and use products that are cruelty-free and do not perform animal testing.
---
17. Give out "green" wedding favors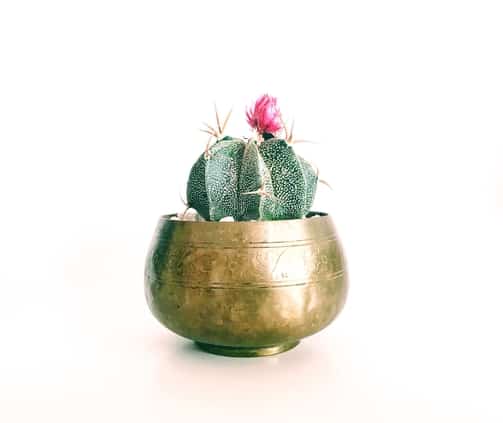 A good tip for saving money on a backyard wedding is just to skip the wedding favors all together. However, if you're set on having them, you can at least look into making them green! And they can literally be green – some options are giving out potted herbs that guests can continue to grow and cook with such as basil.
Or giving potted a potted cactus or succulent to each guest. These are small favors that add value to your guests' lives and are symbolic of your love growing long after the ceremony ends (unlike most favors which end up in the trash almost immediately).
Another option is to give flower bulbs or seed packages. How cool will it be to see photos of flowers and vegetables later on growing around the country (or beyond) with "gifts of life" from your wedding? 🙂
---
18. Have an inexpensive cash bar and drinks on tap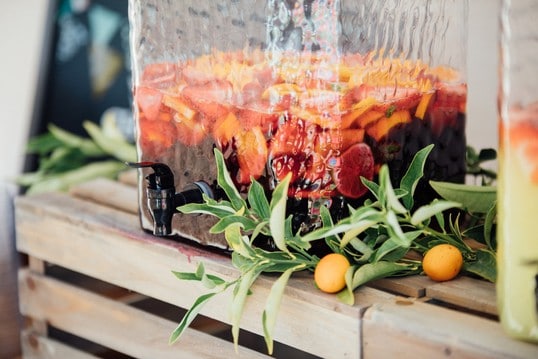 You may be considering having an open bar, but another option could be charging something very little, like a dollar per drink. And the reason for this is that guests may psychologically feel more responsible for their drinks if they've paid something for them, even if just a small amount, and might therefore waste less.
By this, I mean, they might be less likely to abandon multiple drinks around the reception space (aka, your backyard). This doesn't have to be a fancy "bartender" set up or anything. You could just leave a basket by the drinks with a sign asking your guests to throw in the money themselves.
This might help to reduce waste and then you could take the money and donate it to a good cause that you care about.
Another way to reduce waste in terms of beverages is to not serve single-packaged drinks and instead do beer on tap and jugs of wine and sangria or some other kind of cocktail. Served in glasses that you thrifted or rented.
---
19. Use fabric tablecloths and fabric napkins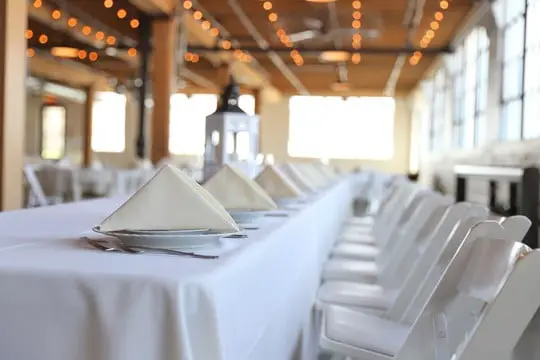 This is related to the "kill fewer trees" stuff I harped on earlier! Instead of using paper, consider fabric for tablecloths and napkins, and don't buy them new.
One option for tablecloths is to visit some thrift stores and buy cheap white (or whatever color you want) sheets and use them as tablecloths. You can donate them back after the wedding!
Buying used or renting is always better than buying new, in terms of environmental impact. So look into renting your tablecloths and fabric napkins too, or borrowing them from friends or family.
This advice extends to the renting and borrowing of event chairs, tables, and anything else you might need (dish and silverware!). Try to rent or borrow, but not buy new. You can buy a bunch of glasses and dishware from a thrift shop and donate them back afterward too!
---
20. Rent or buy from thrift stores instead of buying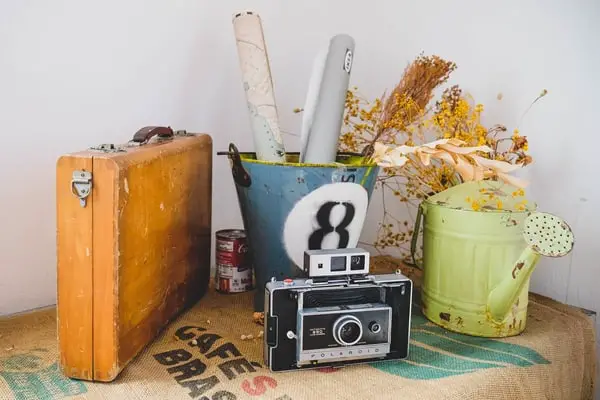 Don't underestimate the value of thrift shops for your wedding planning! You can find SO MUCH good stuff.
This goes for everything, from decor to bridesmaid dresses. Try to buy things new as little as possible to reduce waste. At the same time, don't go overboard at thrift shops. Only buy what you need. Buy with the intention of donating everything back to the thrift shop after your wedding.
---
21. Just say NO to all the crap you don't need
There are so many "must-have" things to "make a wedding a wedding" that are actually BS. Don't let people make you feel guilty for not having them. And a great excuse to not have them is because they're harmful to the environment.
Some of these items that are just unnecessary include: ceremony programs, menus, custom matchbooks, printed napkins, and place cards (make them out of something more sustainable such as leaves or stones, or forgo them altogether and let guests sit where they want).
Here's a video I made on my Wedding YouTube Channel about how to have an eco-friendly wedding 🙂