If you're getting married and have chosen to wear an ivory wedding gown (like me) instead of the traditional stark white, you may be wondering what shoes to wear with it… And especially, what color shoes to wear with it! Fortunately, you have many options and can't do much wrong, but there are a few important tips to be aware of.
With an ivory wedding dress, the following types of shoe colors work extremely well: neutral, nude, bold, bright, metallic, pastel, patterned, champagne, dark, and monochromatic ivory. Avoid wearing white shoes, or shoes "whiter" than your dress, or you risk making your ivory gown appear dirty.
As for the style of shoes you wear with your ivory wedding dress, heels, wedges, flats, and sandals can all work beautifully. The style of shoe you choose is less about your dress being ivory, and more about the particular style of your dress, the comfort level you want for your ceremony and reception, and your personal fashion preference.
If you love the flower heels shown in the photo at the top of this article (and just below), my friend Sydney (those are her feet!) bought them for her wedding from Steve Madden on Amazon, which you can find here. They're beautiful, bright, and unique and pair perfectly with an ivory wedding gown.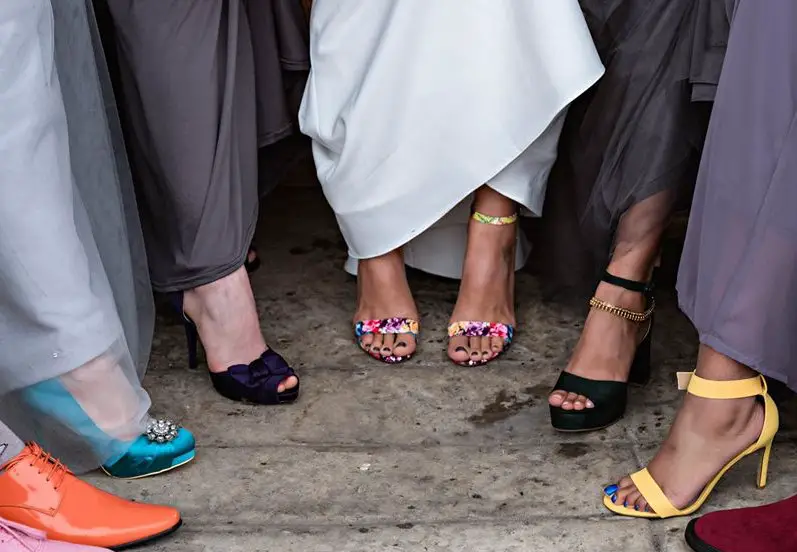 If you aren't an Amazon shopper, or are just looking for something different, I'll also be talking about my favorite shops in this article who carry AMAZINGLY unique shoes, perfect for ivory wedding gowns, including:
The Root Collective, which sells fair trade, ethical soft and romantic flats.
BauBax, which has many neutral, subtle, and simple wedding shoe options.
Lulu's, which sells a variety of VEGAN wedding shoes at affordable prices.
I'm going to talk about each one of these fabulous color and style choices for ivory dresses, and give you a few options of where to find the perfect shoes for your big day! I hope it's helpful for your and helps you cut down on stress and save some time! 🙂
Related post: 21 Ways to do Eco-Friendly Wedding Shoes
NOTE FOR NEWCOMERS: This is a budget-friendly website, and I do my best to find the best deals for us couples on a tight wedding budget. You generally won't find super high-end, break-the-bank kind of fashion here (just letting you know in case that's what you were looking for!!) 🙂
---
#1 – Nude or Neutral Color Shoes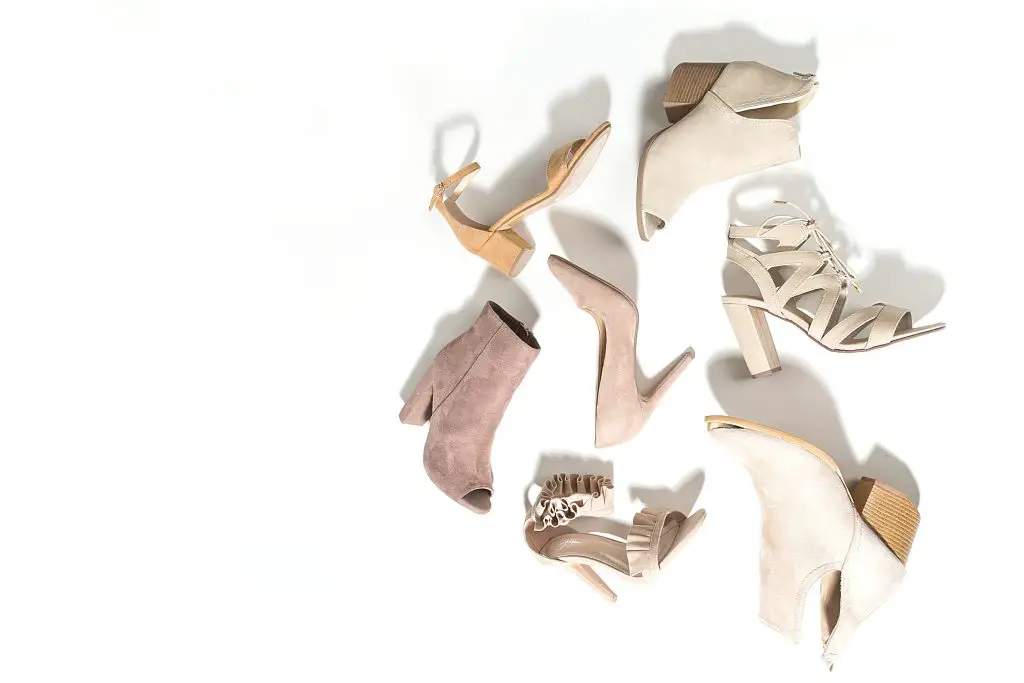 First of all, a nude or neutral shoe is a great choice for an ivory wedding dress, because it allows the dress to be a show stopper on its own and doesn't take away from the look at all. You went through all that trouble of choosing a gorgeous ivory wedding gown… why take away from the wow-factor with your shoes? Especially if your dress will mostly cover them.
If you're wondering how to spot a nude shoe: A nude shoe is a shoe that approximately matches your skin tone. So look for shoes that are in the palette of blacks, browns, creams, and beiges. It actually doesn't have to "match" you AT ALL! In fact, any "skin tone" color will complement an ivory dress, regardless of whether or not it's your particular skin tone.
Additionally, certain neutral or "earth tone" shades would work well with ivory. Neutral tones that you can look into for ivory dresses include shades of black, brown, beige, grey, and even mustard and navy.
---
Here are some beautiful wedding shoe options that I would suggest you take a look at for neutrals and nudes.
Casual Options
Kenneth Cole's Wedge Sandal from Amazon is a good casual choice if you want a bit of height but still want to be comfortable and are looking for an open-toe option. The faux-leather/snake skin detail keeps it interesting.
Ballerina Flats, from Amazon, especially these ones which are foldable, are such perfect BASICS for the no-frills bride. If you absolutely don't want your shoes to overpower your ivory dress at all (and your dress is long) these are amazing and will remain hidden in the background!
Women's Comfortable Dressing Flats, from BauBax, a higher-end option that are also a simple, subtle addition to your ivory dress ensemble. They come in black, grey, and beige!
Fancy Options
Dolce Open-toe Stilettos, from Amazon, are a sexy neutral option for the daring bride. I am personally too clumsy to wear these walking down the aisle, but I have some more-talented friends who could absolutely slay in these. If your ivory dress is slinky, or shaped to your body, I think these would add just that extra boost of va-va-boom sexiness to bring it over the top (in a good way!).
Nine West Heels, from Amazon, that are proven to be both comfortable and sexy might suit your fancy. These are classic, smooth heels that allow you to be conservative-ish on your wedding day while also managing to make your legs look sexy! No nonsense basic + high heel = perfect wedding combination.
---
#2 – Bold or Bright-Colored Shoes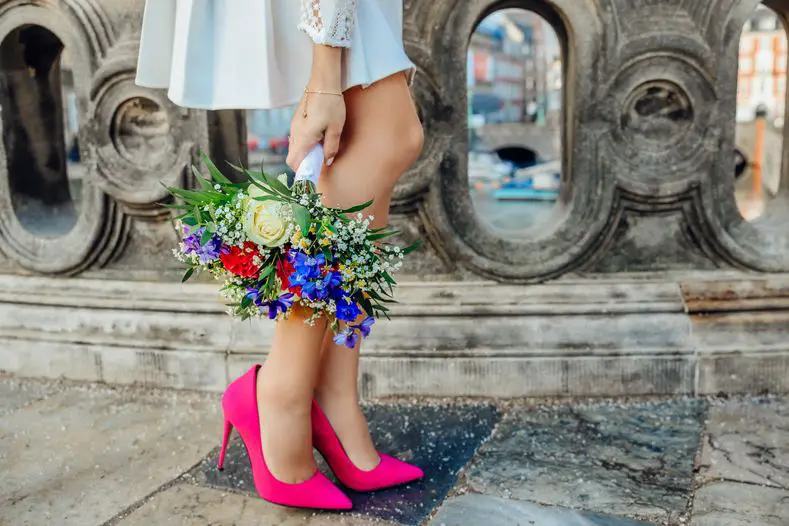 Jewel-tones are perfect for ivory wedding dresses. Think electric blue (which also covers your 'something blue' check box) or royal purple.
A bold red is also an incredible statement. A lot of brides don't think about this a but a bold pop of color in the form of something as simple as shoes can be an unexpected, even thrilling little piece of the event, that your guests will love and remember.
The reason it works so well with ivory is that they complement one another. A subtle off-white against a vibrantly bold shoe is artistically pleasing to the eye.
---
If you're still not convinced, take a look at some of these bold shoe options and imagine them against your dress swatch. For the adventurous among you, I dare you not to be swayed!
Casual Options
Wild Diva Women's High Chunky Block Heel Pump Dress Heeled Sandals, available on Amazon, not only have every descriptive word stuffed into their name, but they are also SUPER COOL. If you're looking for bright PINK (or many other colors that they also come in), chunky heeled, open-toe sandals to go with your ivory dress, these ARE PERFECT!
Thea Flats in Strawberry Red which are available on The Root Collective website, a company that's fair trade, so you'll feel GOOD in your heart on your wedding day, having bought ethically. They're also vibrant and gorgeous, while allowing you to be comfortable in flats.
Fancy Options
DREAM PAIRS D'Orsay High Heel Stiletto Pumps Shoes, which you can find on Amazon, come in bold blue and a variety of other colors. They have a sexy ankle strap and 4-inch stilettos. For those look for a pop of bright blue sexiness, look no further.
---
#3 – Pastel-Colored (Pale) Shoes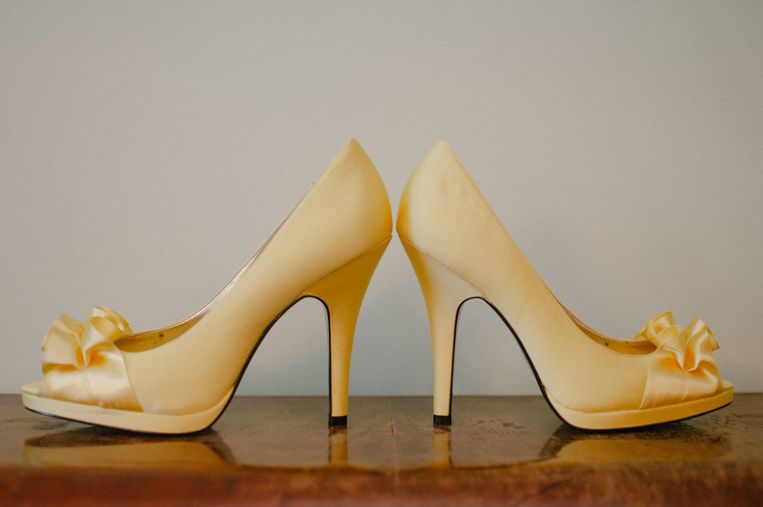 Ivory wedding dresses are so awesome, because there's almost no shoe color you can't wear. We just talked about how perfect bold and brightly-colored shoes are to wear with your ivory dress, but you can just as easily wear PASTEL aka PALE-colored shoes! How awesome!
Pastel-colored shoes with an ivory wedding dress will bring a completely different feel to your look. Instead of a punch of color and drama that comes with a bold shoe, or the subtle "hidden-ness" that comes with a neutral shoe, a pastel-colored shoe is all about softness and romance.
If you want to add just a bit of color, just a touch of soft yellow, pink, turquoise, pink, blue, etc… without going overboard, consider pairing your ivory wedding dress with a pale-colored shoe.
---
For those of you convinced by the pastel-shoe route, take a look at some of these gorgeous pale shoe options:
Casual Options
Calvin Klein Women's Lancy Heeled Sandal on Amazon is available in pale pink. I like these for a spring or summer bride who wants to be comfy with an open-toe shoe, but also classy and romantic.
Fancy Options
Jessica Simpson Women's Prizma Pump heels, which are on Amazon, are a good no-frills but still classy, fancy option. They come in pastel yellow as well as several other colors. These are just so simple and beautiful, a quick unassuming and classy pop of color under a soft ivory dress.
---
#4 – Metallic Shoes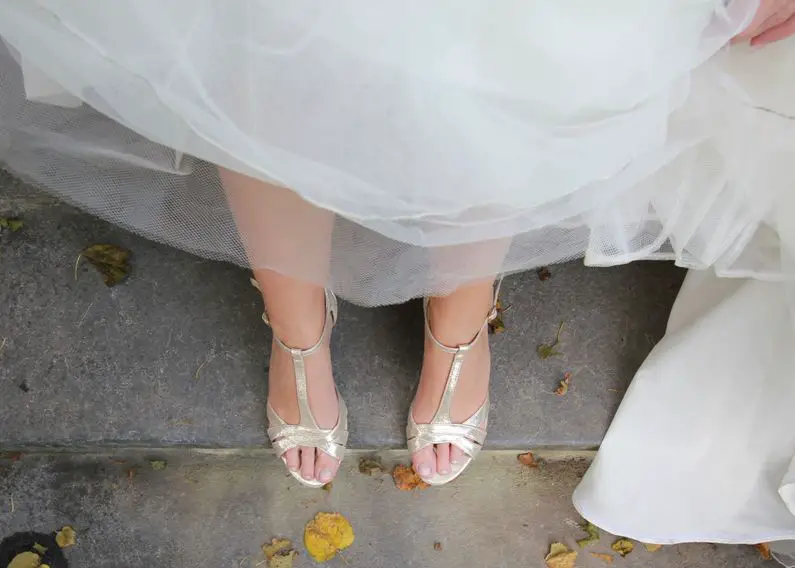 Metallic shoes, including silver, gold, rose gold, and brass, are GREAT to pair with ivory wedding dresses. Much like the neutral or nude option, they don't overpower an ivory dress, but they do add more 'oomph' than a nude or neutral.
You can also wear them again with many other dresses to other formal events after your wedding, which is both great for your wallet and for the environment.
It doesn't really matter which type of metallic you choose, although some fashion critics are wary of "mixing metallics" — meaning that if your jewelry is going to be rose gold, your shoes should also be rose gold. I honestly am not totally convinced of this, because I have seen some pretty cool mixed metallic looks, but do want YOU want!
---
Here are some options for metallic wedding shoes to match with your ivory dress:
Casual Options
DREAM PAIRS Women's Jewel Rhinestones Design Ankle High Flat Sandals are a pair I bought in gold from Amazon, and wore as a guest to my cousin's fall wedding. I wasn't wearing an ivory dress at the time (as not to upset the bride, of course!) but they also paired well with my yellow dress. Just goes to show how you can re-wear metallic shoes and really get your money's worth!
Skechers BOBS Women's Slip on Memory Foam Ballet Flat on Amazon are perfect for the ultra-casual bride (or to wear for dancing at the reception), and great for still being flashy and adding a bit of shine to your wedding look beneath that ivory gown.
Rose Gold Flats from The Root Collective are sooo pretty. I know this is the second pair of flats I'm mentioning from The Root Collective, but I just like them so much for an ivory gown! I love that they're a comfortable, classy option and that we're buying them from an ethical supplier who cares about its employees. They're also a bit unique and different in that they're not a simple 'metallic' but have a pink shade mixed in.
Fancy Options
DREAM PAIRS Women's Amore Fashion Stilettos Open Toe Pump Heel Sandals are on Amazon and I'm in love. I like that these are both gold/diamond encrusted AND classy. They're sexy, yet subtle and definitely not over-the-top. They also come in all different "shades" of metallic — not just gold! These ones are similar, equally as gorgeous and more SILVER!
---
#5 – Patterned Shoes
As I mentioned early, my friend Sydney, who is graciously modeling her shoes for us at the top of this article, wore really unique and pretty (and BOLD) flower-patterned block heels to her wedding.
Your ivory wedding dress invites you to think outside the box, and consider patterned shoes, such as flowers, stripes, polka-dots, geometric shapes, etc.!
Much like the bold or bright pop of color discussed earlier, a patterned-shoe is an unexpected surprise for your guests, and a fun item to take photos of for your photographer.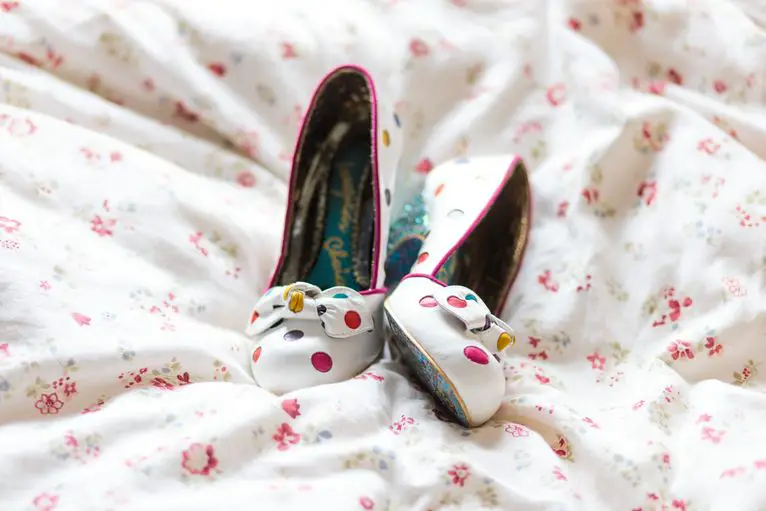 ---
Some fun patterned shoes that you might consider wearing with your ivory wedding gown include:
Casual Options
DREAM PAIRS Women's Chunk Low Heel Pump Sandals are similar to the ones in the photo of this section but have lower heels for a more casual look. They're still bright, flower-patterned and open-toe for the bride who wants something unique but also comfortable. For similar look, but a NON-CHUNKY heel, try these ones.
Fancy Options
CHRISTIAN LOUBOUTIN Satin Flower Power Du Desert 100 Sandal 39.5 Multicolor are, YES, the super high-end version of this look! However, this website (Fashionphile) sells slightly used versions of high-end designer shoes, bags, and other accessories at a fraction of their original cost. If you must have designer shoes for your wedding, but are worried about the price, check out this site first.
Betsey Johnson Women's Prince-p Pump on Amazon, because no one does unique and bold patterns quite like Betsey Johnson! These are stilettos with bows on them that come in flower-print, animal-print, polka-dot, black and white stripe with bright flowers overlaid… so COOL! And sure to create a wow-moment when they peak from beneath your ivory dress.
---
#6 – Monochromatic Ivory Shoes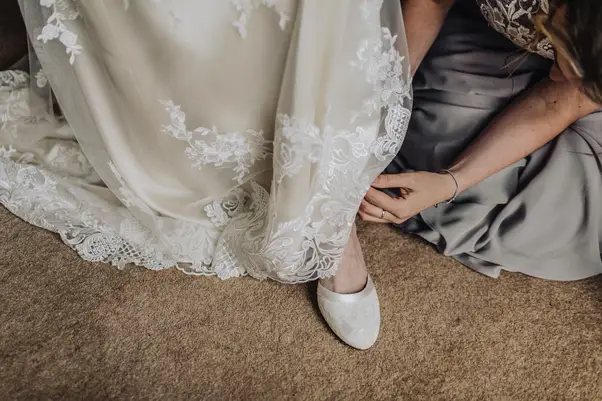 I wrote about this in the past in another article, that ivory wedding dresses also pair well with ivory shoes!
It's a bit trickier to accomplish because ivory shoes and dresses can be slightly different colors, and when ordering online, it can be hard to determine whether or not they're going to match perfectly.
You might want to visit some stores in person if you go the monochromatic ivory route for your shoes. Either that, or just order several pairs online that you like and then return the ones that don't match your dress. Check before you order that you have this option.
---
Here are some options for ivory-colored wedding shoes that may match your ivory colored wedding dress:
Casual Options
ElegantPark Wedding Shoes for Bride Lace Wedding Flats on Amazon are good for casual ivory ballerina flats. If you want something flat and comfy in ivory, I would go with these or crochet bridal TOMS.
Fancy Options
Sam Edelman Women's Hazel Dress Pump on Amazon is a sleek stiletto ivory dress shoe with texture to keep them from being boring. They're super elegant and understated. However, it's important to note that they are not eco-friendly or vegan.
Naturalizer Kinsley are simple ivory strappy sandal heels with an ankle strap. They're not going to overtake your ivory gown, and are a good option for a totally low-key but classy and appropriate look.
---
#7 – Studded or Transparent Shoes
Sometimes the color just doesn't matter all that much. Think about getting wedding shoes that are transparent or neutral-transparent, that have a studded or bedazzled pattern on them… basically forgoing color all together!
This can be a pop of shine that peaks out from under your ivory dress, much like the effect that a metallic shoe has.
For brides that like some sparkle, and aren't getting enough of it with your jewelry or dress, your shoes might be a good place to make up for it.
---
Looking for studded-shoe/sparkle-shoe inspiration? Here ya go!
Casual Options
Badgley Mischka Women's Gigi Pointed Toe Flat on Amazon, have a sort of transparent "base" with an intricate swirling pattern of rhinestones around the whole shoe. They're sparkly and make a statement but are flat enough to be somewhat casual.
Olivia K Women's Close Round Toe Low Wedge is a sparkly and comfy "mini" wedge, so classy with understated rhinestone gems. I think these would work well for both a long and short ivory wedding dress.
Fancy Options
FSJ Women Studded Pointed Toe Transparent Pumps on Amazon are basically Cinderella's glass slippers. They're transparent with silver gems that make them look like total Disney princess shoes. Lovely for an ivory wedding dress!
---
#8 – Champagne-Colored Shoes
Champagne-colored shoes are in the same off-white family as your ivory gown and will work nicely as well. Much like when you're shopping for ivory-colored shoes, it would be nice to have a swatch of your dress with you just so you can see how the champagne-colored shoes will complement or clash with your overall look.
If you aren't able to shop in person, or you fall in love with a pair of champagne shoes online, just check the return policy beforehand and make sure you have the option of sending them back if they don't end up matching your gown very well.
---
For champagne-colored wedding dress options, please see below:
Casual Options
DREAM PAIRS Women's Casual D'Orsay Pointed Ballet Comfort Flats on Amazon have that champagne sparkle and an ankle strap (and pointed toe!) to keep it sexy and formal, but they're flat for the sake of your poor feet!
Fancy Options
Boulder Champagne Lace Peep-Toe Booties from Lulu's which are pictured above, are adorable and I wasn't sure whether to put these in the casual or fancy category. They can be worn with a fancy gown for sure (in my opinion) but would just as easily look amazing with a short cocktail dress if you were to re-wear them after your wedding.
---
#9 – Dark-Colored Shoes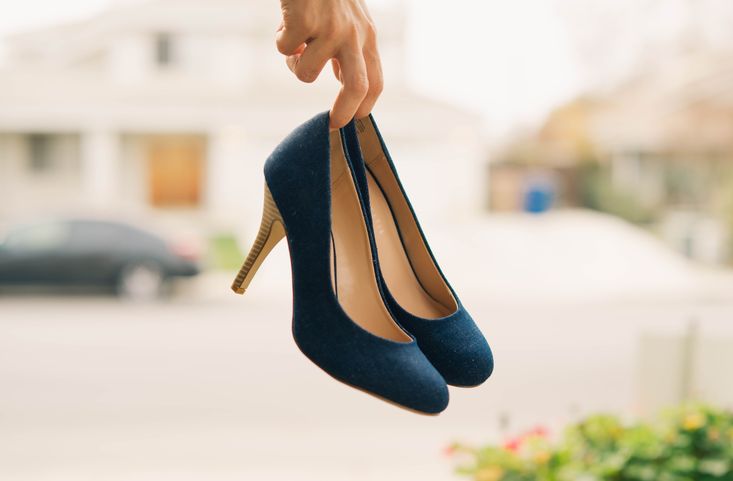 Finally, DARK shoes also go beautifully with ivory wedding dresses. Dark shades of green, blue, red, purple, etc. take your look into a more "mature" realm and display the depth and seriousness of the occasion!
Okay, well sometimes I look a bit too deeply at these things, but symbolism is important on big ritualistic occasions, right?! Anyway… Dark colors are awesome for a wedding and awesome for an ivory wedding gown!
I especially think this is true for weddings taking place in fall and winter. A fall wedding with an ivory dress and a dark green, dark blue, or maroon shoe… just lovely!
---
For those looking fro beautiful dark-colored shoe options for their ivory gowns, please see below:
Casual Options
Ollio Women's Ballet Comfort Light Faux Suede Multi Color Shoe Flat on Amazon are your basic flat, dark blue shoes! To get that 'something blue' without taking away from your ivory dress (and while staying comfortable during your ceremony) dark blue flats are an excellent choice.
Fancy Options
ERIJUNOR Women High Heel Bow Ankle Strap Wedding Satin Shoes on Amazon are dark red (and come in other colors…) stiletto heels with a bow and an ankle strap. They're dead sexy but the dark color makes them feel somewhat subdued. They would be stunning at a fall or winter wedding paired with an ivory gown!
---
What NOT to Wear with an Ivory Wedding Dress
With so many beautiful options for ivory wedding dresses, how is it possible to go wrong? Well, there is one thing to be aware of: WHITE shoes.
The reason you don't wan to wear white shoes with your ivory wedding dress is that the stark whiteness of the shoes will make your ivory dress look dirty in comparison. Crazy, right?
---
So go nuts and get the dark, bright, metallic, patterned, bejeweled wedding shoes that your heart desires for your ivory wedding dress… just stay away from white! 🙂