Now that you've chosen (or have your eyes on) a beautiful boho wedding dress for your big day, the next logical step seems to be choosing the right shoes to go with it! So, what kind of shoes go best with boho wedding dresses?
For a boho wedding dress, wear shoes that are neutral shades of brown, beige, champagne, ivory, or pastel-colors. Look for shoe fabrics that are natural or delicate, such as lace, vegan leather, and silk. Shoes with unique elements that suit the boho bride's free-spirited personality are ideal.
Shoe styles that look amazing with boho dresses include:
Ankle booties
Peep toe pumps
Comfortable flats
Lace-up block heels
Strappy flat sandals
What is a boho wedding dress?
Boho wedding dresses are a style of wedding dress that comes from so-called "bohemian" and "hippie" influences, often associated with a sense of adventure and whimsy. The dresses themselves are usually lightweight and simple in silhouette, and often feature lace or other delicate fabrics.
---
I've organized 10 tips for choosing the perfect shoes to go with your boho wedding dress. They're tips that are helping me right now, as I search for shoes for my own boho wedding dress.
#10 on this list might just surprise you a little bit!! 🙂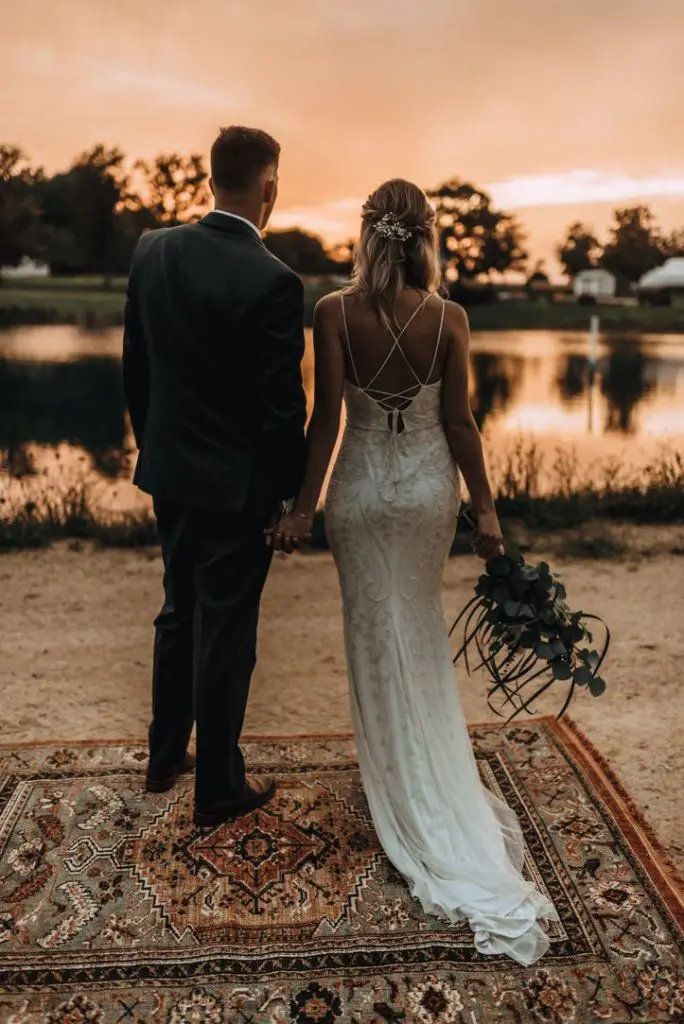 Many of the shoes listed here are affiliate companies of mine that I just genuinely think are great at hitting the important elements of customer service, affordability, and fair trade and/or eco-friendliness. If this sounds good to you too, please check out their websites. Any purchases that you make through my links will earn me a small commission at no cost at all to you.
I think for most people, we'll have to order several pairs of wedding shoes, and make some returns before we find that perfect fit. However, if you are lucky enough to stumble upon a pair that you love, and you know that you need to have them on first sight, trust that boho free-spirited intuition of yours and just go for it! Don't worry about whether or not the criteria of the shoe matches any sort of online list 🙂
---
#1 – Wear Shoes With White or Ivory Lace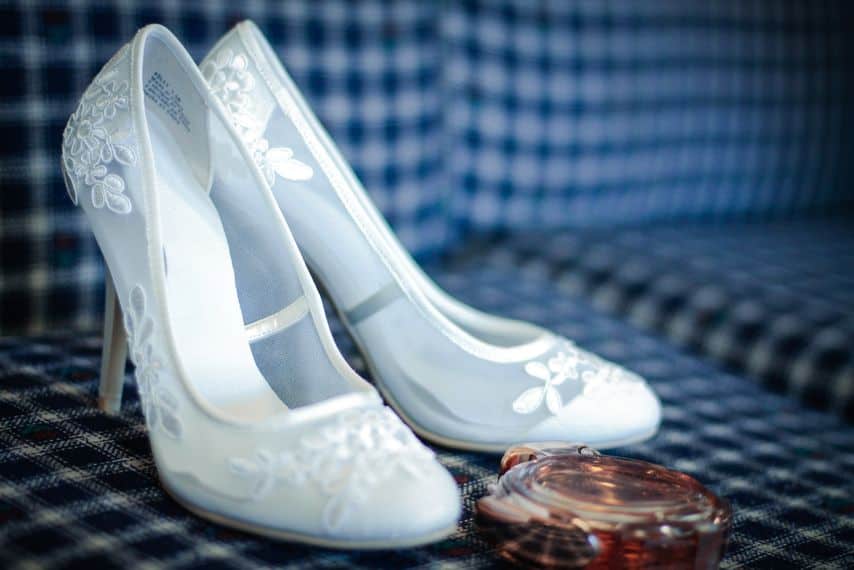 This tip comes from the idea that your boho wedding dress is likely lacey to some degree (although it's true that they don't ALL have lace), and so a shoe with lace will go nicely with your dress. The type of lace and style of shoe that's best will of course depend on your specific dress style, but I really think you can't go wrong.
NOTE: Make sure that if your dress is off-white, champagne, or ivory in color, that you don't choose lace white shoes that are whiter than your dress. If you do, you'll see that they make your dress look dirty in comparison. Strange but true!
Some really cute lace shoes are available on Amazon, where you can actually check out prices for tons of white and ivory lace wedding shoes. I personally really like these ones for a boho look (peep toe cone heels), because they're retro and vintage looking… kind of in the Downton Abbey way. Love!
I am obsessed with lace shoes and could probably spend all day browsing the Amazon options, but there ARE others as well that are great!
Some other beautiful options that are perhaps a bit more high-end, depending on your wedding fashion budget, are the Jewel by Badgley Mischka Boulder Champagne Lace Peep-Toe Booties available on Lulu's, a brand I really love.
This is a good example of the boho "look" — being a mixture of modern booties and soft, romantic lace.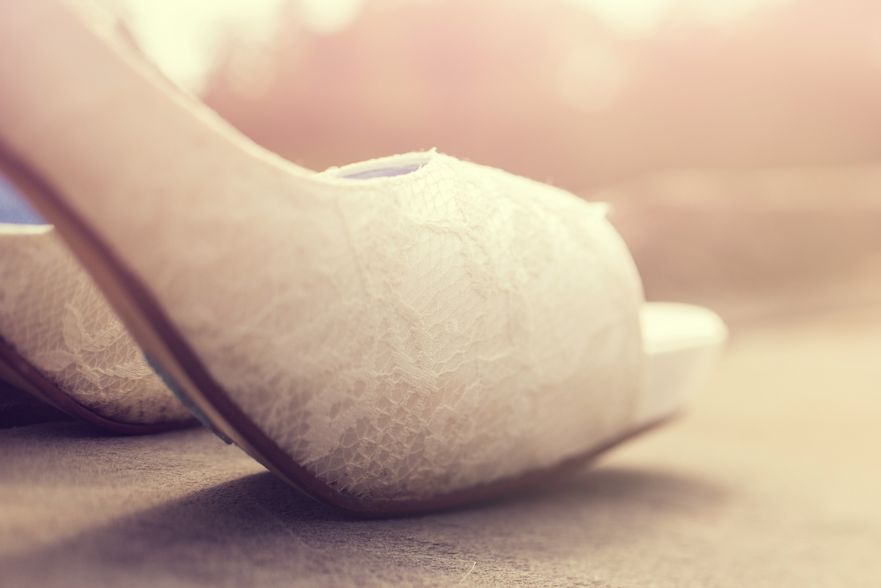 Another lace option I really love is the Christian Louboutin Lace Satin Neoalto 85 Pumps 37 Latte available on Fashionphile sold for way cheaper than the original price.
Fashionphile is great for this – it has tons of designer bags and shoes, but secondhand and MUCH cheaper than the crazy original price that high-end designers charge.
It also happens to be the more eco-friendly, and in my opinion, the more ethical shopping option.
---
#2 – Wear Shoes With Nude or Neutral Lace
Now, if we don't want our boho dress to compete with our shoes at all, we can still have the lace (and even the booties if we want) but in a neutral color (such as shades of brown or beige… not white)!
So find a lace shoe that instead of white, is a shade of brown or beige. This will still look very classy and romantic, but by choosing a skin-tone (whether it matches you or not doesn't matter), it will take up less "space" (to your very white dress in comparison) and be a side-piece to your show-stopper boho gown.
There are some nice neutral-colored lace booties on Amazon, or these crystal-studded "princess"-style (think Cinderella's glass slippers) pumps from David's Bridal.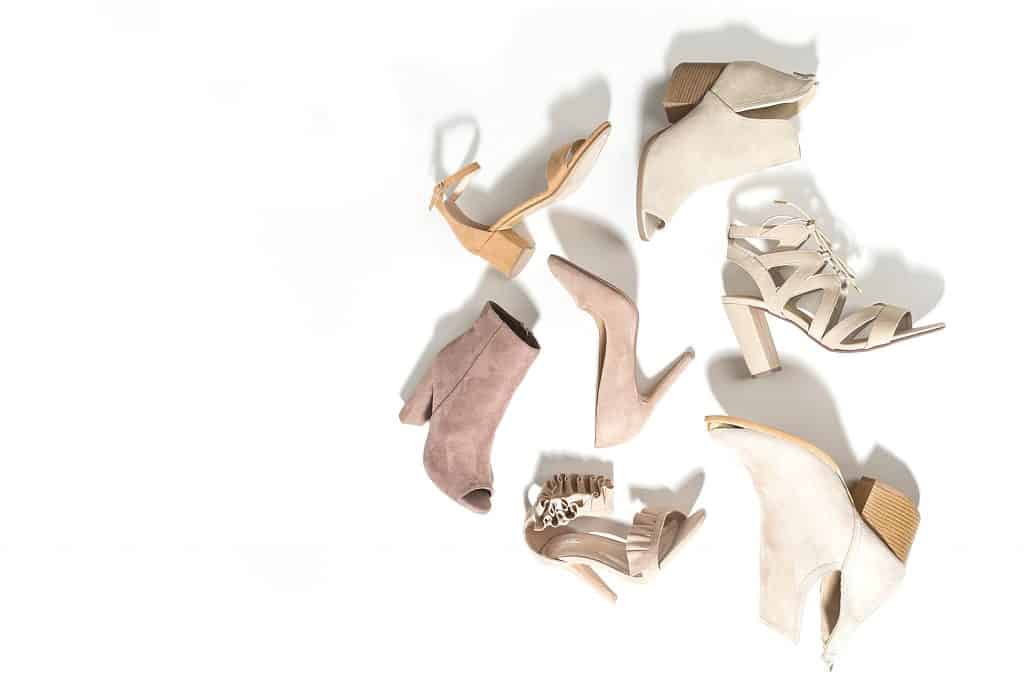 ---
#3 – Wear Lace-Up Block Heels
For a more contemporary look, get a pair of lace-up block heels. The cool thing about the boho wedding dress "look" is that it doesn't box you in. It's at the same time modern and vintage. So you have the ability to mix and match accessories from different eras and influences.
If your dress is very soft and romantic and flowy, a chunky heel and chunky tie-up laces can add a bit of modern sex appeal.
I personally like these ones from Lulu's: the Alta Natural Suede Lace-Up Heels which you can find among many other awesome, sexy, "updated" wedding shoe choices to complement your boho dress.
---
#4 – Wear Shoes Made from Vegan or Faux Leather
One of the missions of this website is to find eco-friendly wedding ideas where we all can, and one way to accomplish this is by seeking out cruelty-free vegan and faux-leather wedding shoes.
Blushfashion does this well, offering several pairs of flat to high-heel bridal (and bridesmaid) vegan shoe options. I think their Pearl Vegan Bridal Flat Sandal, Vintage Inspired Summer Wedding Shoe are very pretty and sweet. Yes, I think sweet is really the word for them!
They scream "wedding day" don't you think? A good "sweet" option for the whimsical boho bride.
---
#5 – Wear Shoes With a Touch of Whimsy
Speaking of whimsical, I'm going to suggest that you take a chance with your boho wedding shoes. Don't go for the shoe you'd normally grab for, but rather the kind of shoe that always catches your eye but that you're always too scared to try.
For instance, it might finally be time to buy THESE SHOWSTOPPERS on Amazon that you always dreamed of!! (Did you laugh? Just a little bit..?! Confession: I actually adore those shoes! Haha!).
Anyway, what I'm trying to say is: Get those dress shoes that you just can't ever seem to find an occasion to justify. Buy those shoes for your wedding!! DO IT!
That's what I mean by a "touch of whimsy." Get those shoes that are just a little crazy, kooky, or magical and that make you feel like YOU.
One suggestion for some might be these Alice in Wonderland-looking shoes from the amazing Blushfashion. They're called the Vegan Bridal Vintage Inspired Kitten Heel, Comfortable Low Heel Wedding Shoe and they are adorable in every way.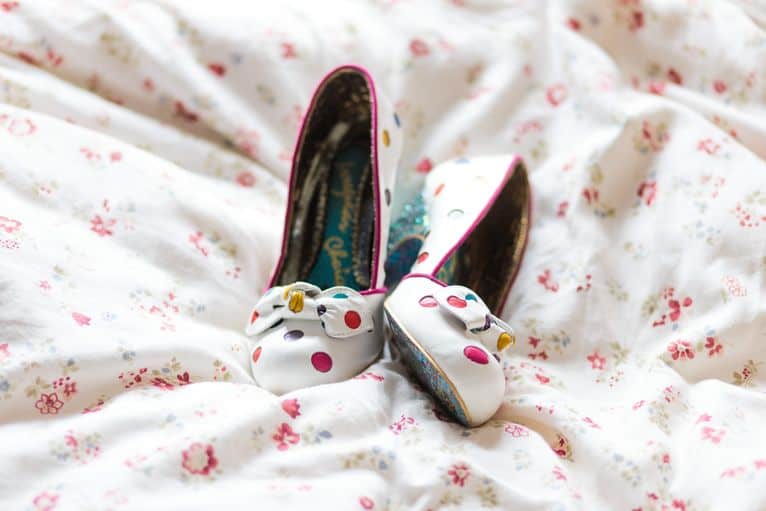 ---
#6 – Wear a Pastel-Color, Especially Light Blue Shoes
I mentioned in the beginning of this post, I said that one option for boho dresses is to wear pastel-colored shoes.
And it's true! Pastel colors are generally soft, romantic, lovely and in the general "mood" of a boho wedding look. And if there's a particular pastel color that you want to wear, I say go for it (pale yellow, anyone?! AMAZING!).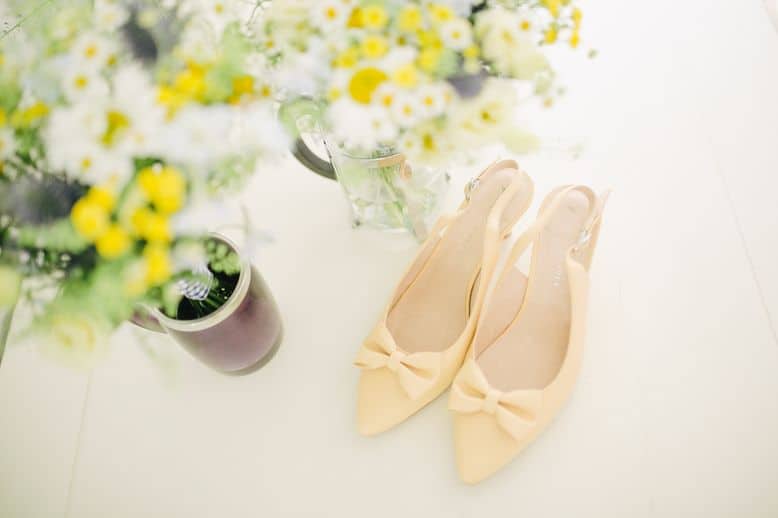 However, I do think that there's something special about wearing light blue shoes with your boho dress. Blue shoes fulfill the "something blue" requirement if you're at all into that traditional stuff, this pair of light blue heels from Blushfashion are SO PRETTY and classy that I can't help but be biased.
These remind me of Tiffany blue, which I guess I sort of associate with weddings, which just goes to show how effective wedding marketing and capitalist brainwashing is!! Good job, you guys. OKAY so… where was I?
---
#7 – Wear Earth-Tones or Neutral-Colored Shoes
I already talked about choosing nude or neutral-colored lace shoes, but neutral color shoes in general, regardless of their material, are perfect for boho dresses.
Casual brown fringe sling backs on Amazon are great for a boho dress in an outdoor or barn wedding setting, while something like these XOXO Women's Baxter Dress Sandals are bit fancier but still on par with the rustic, boho aesthetic.
If these options are too casual for you, there are TONS of other "nude" and "neutral" sexy stiletto and pumps options on Amazon. Remember that neutral could also include some earth tones like a dark green or a dark yellow shoe. Don't limit yourself!
---
#8 – Wear Shoes With Just a Bit of Sparkle or Shine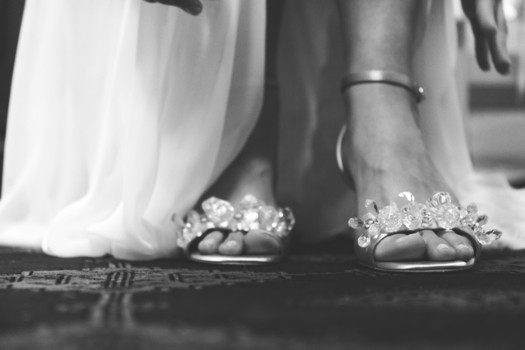 I haven't come across many boho wedding dresses that have "sparkle" on them, meaning rhinestones or any other shiny elements. Their appeal and what makes them interesting is usually a beautiful lace pattern, maybe floral or geometric… or the soft flowy fabric that's used to make them.
So in most cases, we can add a bit of gold or silver "shine" or "sparkle" to a boho look just in the form of shoes and we won't be clashing or overwhelming the overall look in any way.
If you're looking for a touch of gold (NOT sparkle, but shine for this one), I suggest the Vegan Gold Bridal Shoes, Sparkly High Heel Wedding Sandal with a Vintage Flair from Blushfashion.
---
#9 – Just Wear Comfortable Flats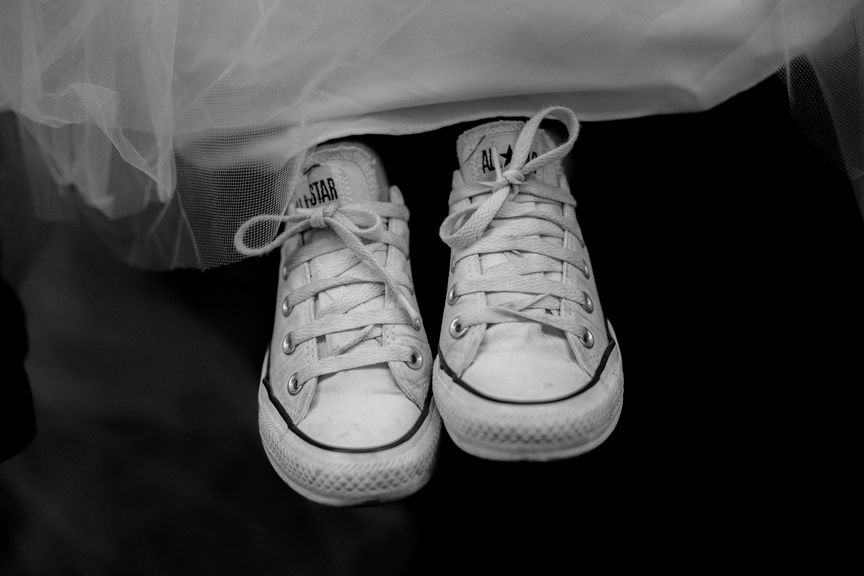 Especially if your boho wedding dress is long, I can tell you right now… your shoes aren't going to show all that much! You know this! So before you spend a bunch of money on fancy heels, consider just getting some comfortable and versatile flats that you can wear again and again after your wedding day.
There are options for flats on Amazon but I suggest you also look into some slightly higher-end, longer-lasting options if you have the possibility to do that, just for the sake of the environment and getting the most out of what we pay for for.
Fast fashion is the enemy we're all fighting the good fight against after all, starting with our wedding day purchases!
---
#10 – Fine, GO CRAZY – Wear a Shoe That POPS (Bold or Patterned)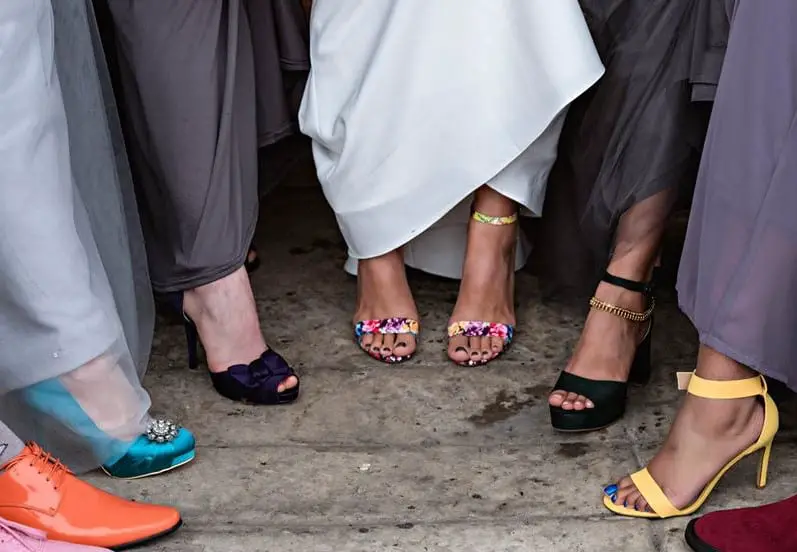 I can't help myself. I really do believe that, despite popular wisdom, you can wear any crazy shoe color or pattern with a boho wedding dress! And if you want to, I think you should.
Like I said earlier, the mixture of the "boho look" — the blend between contemporary and vintage aesthetics — makes it the perfect dress to wear a "crazy" or unique shoe with.
These aren't too crazy but I'm so into these soft pink and grey geometric Nine West Womens Therocks as a boho wedding shoe. I think they would especially complement a boho dress with geometric lace.
For brides who are more into florals, I love these nude and floral-patterned pumps for a boho look, also from Nine West. The possibilities are literally endless!
---
If you have any fear at all or anxiety about finding the perfect shoe to "match" your boho wedding dress, let go of it! Experiment! Try on shoes you normally wouldn't. Look around and keep an open mind. You might be surprised that what you thought would never work actually strangely looks awesome with your boho look! Above all, have fun with it and happy searching 🙂
---
BONUS: Boho Wedding Shoe Looks for Men!
Once you find the perfect shoes for you, you might be looking for shoes for your partner to fit your boho vibe. You don't want to create your perfect outfit just to have him ruin it with a "too uptight" look. Let me help you guys out.
"Boho" is a vibe that tends to look like you both just wandered out of a magical place or an enchanted forest, but it also has a modern feel. This is what keeps the vibe from being toooo Renaissance fair or fairy tale.
Your partner's suit should ideally be a lighter color or a softer version of the classic black. Shoes that look classy, are comfortable, and long-lasting, but are affordable are these Men's Dressy Laced Shoes from BauBax.
Take a look at the BauBax site and you'll see that they have a very down-to-earth mission based on comfort, but their shoes still look awesome.
If you can't find anything that suits your fancy (or your partner's fancy) in the smaller selection on BauBax, the men's company Taft has TONS OF AWESOME men's dress shoes, also for affordable prices.
The ones I'm showing below are a brown, casual option for a laid-back barn or garden wedding… again, another assumption on my part, as I imagine many of us boho couples having outdoor weddings! But I know that's not the case for everyone.
I'm sure you can find a pair for all types of wedding settings, for all types of boho couples! 🙂 Enjoy!
---
You Might Also Enjoy…
Strangely, I write about shoes a lot on this website! Here are some of my other articles that you might want to check out before buying your wedding shoes:
What Shoes to Wear With Ivory Wedding Dresses
21 Best Ways to Do Eco-Friendly Wedding Shoes