Planning an eco-friendly wedding and trying to make sure your wedding bouquets are as eco-friendly as possible? Me too! And I've been doing some research to make it a reality.
In this post, I'll give you 13 ideas for making your wedding bouquets green, sustainable, and friendly for the environment.
All of the options below save the environment from wedding flower bouquets that require immense amounts of pesticides and other harmful chemicals to grow. My tips also embrace the use of local, seasonal flowers that don't need to be shipped too far, and if possible, alternative materials altogether (such as silk, paper, and even food!).
Also check out: 11 Ways to Do Eco-Friendly Wedding Flowers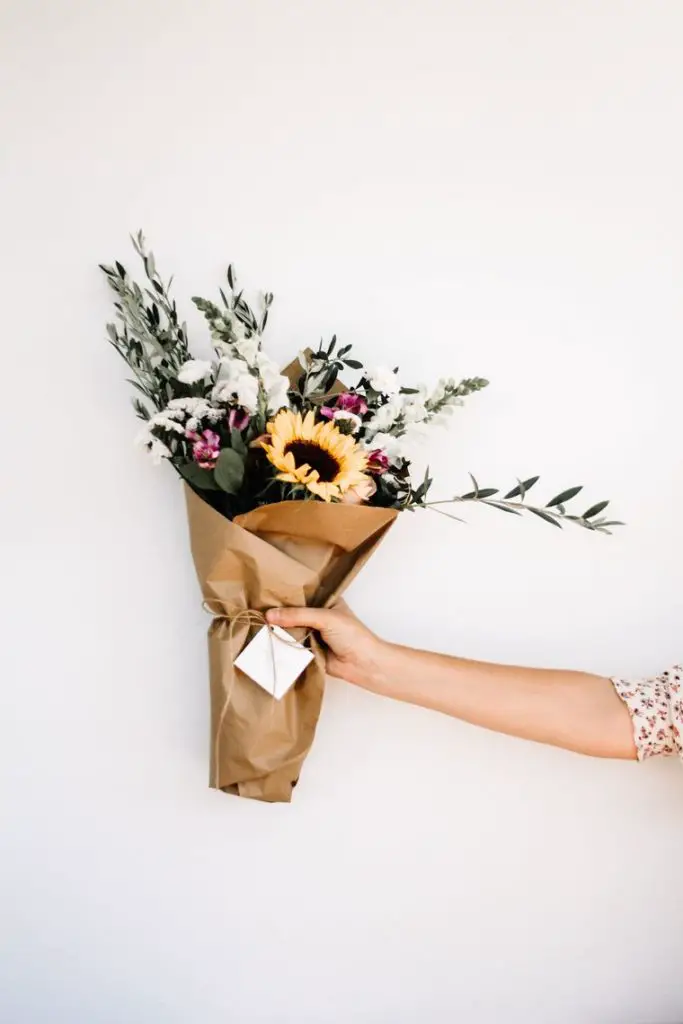 FIRST: TIPS ON ECO-FRIENDLY FLOWER PACKAGING
Much of the eco-friendliness faux-pas of the flower industry comes from the packaging. Many companies don't use sustainable packaging and produce an unbelievable amount of waste, including plastic, wires, and Styrofoam. How can we make sure we're not contributing to this problem?
First of all, ask your florist, or whomever you get your flowers from, to not use the green floral foam that's so popular in many arrangements. You know what I'm talking about? The little green platforms are used to stick the stems in. These aren't biodegradable or recyclable and should be avoided in your bouquets and centerpieces if possible.
Next, insist on getting recycled and recyclable ribbons and paper and ask the florist not to wrap your flower in ten tons of plastic. Is recycled paper or paper that could be recycled an option? Ask these questions of your flower-provider!
---
OKAY, now here are my 13 eco-friendly wedding bouquet ideas:
#1 – Order (Don't Make) Dried Flowers Bouquets
This is going to sound weird but you can actually order bouquets of dried flowers including dried lavender bunches on Amazon. So, yes, you could take the time to pick, or buy, and dry your own flowers for your wedding bouquet. And this would be fine but if you've never done it before, you might not realize there's a whole art to drying flowers.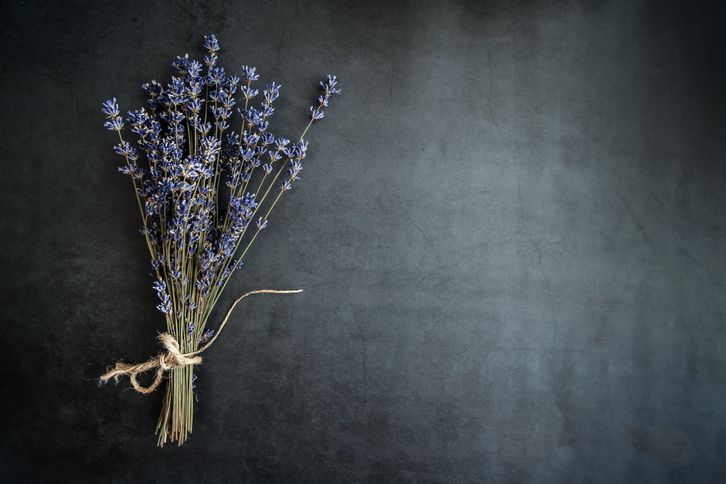 And if you've never done it before, they can actually end up looking pretty sad and ugly. You might even have to go through a few rounds to create the "look" and arrangement of dried flowers that you want. And in this process, may end up spending a bunch of money and wasting more flowers than you intended. Not to mention wasting a bunch of time.
Personally, I'm not too interested in DIY-ing my own flower arrangements at the moment, so if I were to go with dried flowers, I'd probably order them pre-made.
Dried flowers can be really nice for an autumn or winter wedding when many local flowers simply aren't in bloom.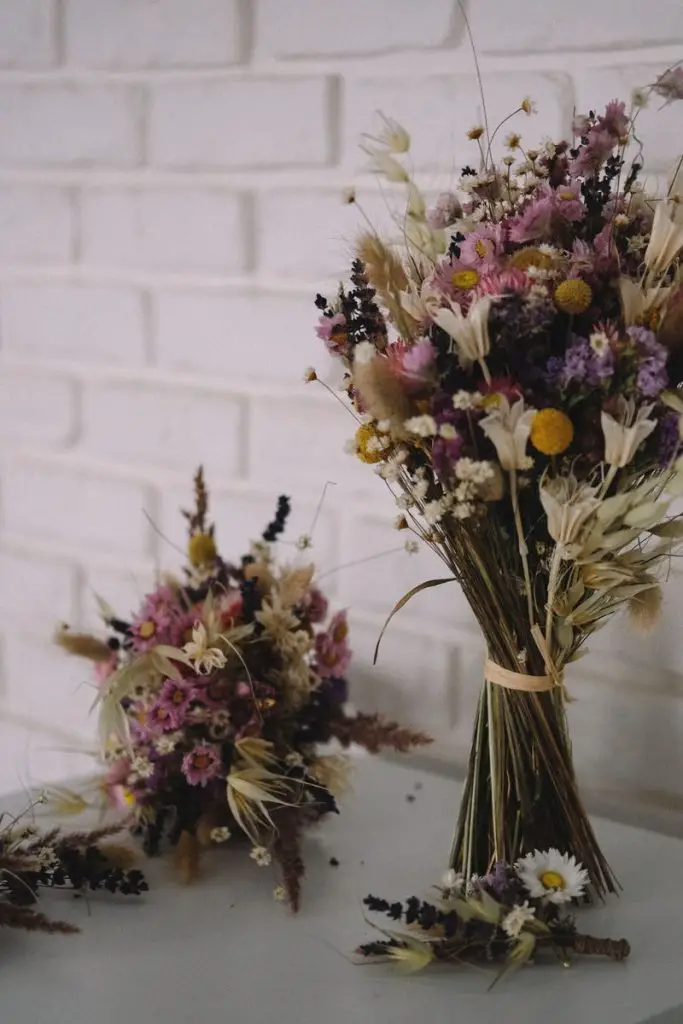 ---
#2 – Make Paper Flowers Bouquets That Don't Suck
Paper bouquets can easily go the route of being very tacky, which we would all like to avoid. However, that doesn't mean we should shy away from paper bouquets! In addition to being potentially super eco-friendly, they can also look REALLY cool and unique.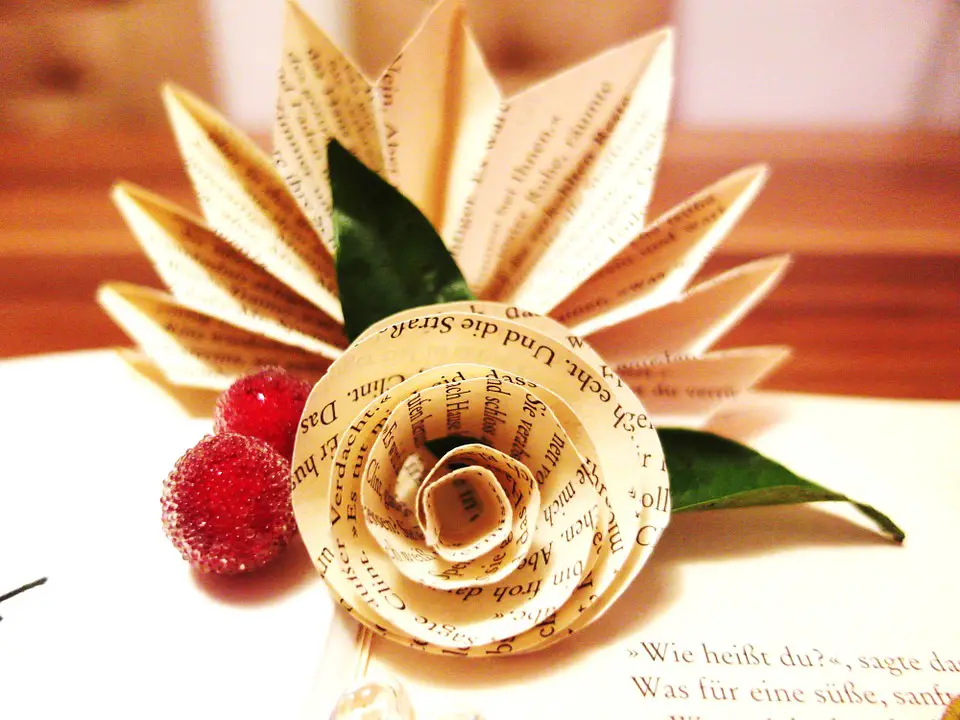 I have seen people take old maps, newspapers, and pages from books and turn them into the most interesting, unique faux-flower arrangements. Check out this example of pages from a novel turned into vintage paper rose bouquets on Amazon to see what is possible.
I've become especially obsessed with these ones made out of vintage maps. I have a feeling that any couple doing an adventure or travel-themed wedding would agree with me!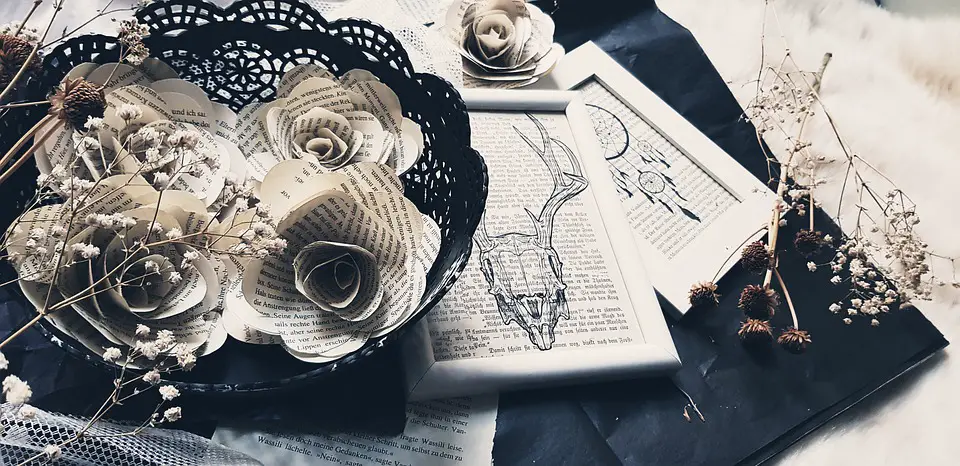 If you don't want to buy pre-made bouquets or pre-made flowers, you could try your hand at making your own paper flower bouquet. I would personally recommend finding unique materials such as pages from a book that are special to you, or maps, to make your flowers with but do whatever works best for you.
Here's a tutorial to help walk you through the process:
Recycling paper into beautiful flower bouquets is so interesting, personalized, and way cooler than a bunch of boring ol' chopped flowers.
---
#3 – Play with Texture: Go With Organic Cotton Bouquets
Imagine you and your whole wedding party holding fluffy soft cotton bouquets with small pops of color! I love how unexpected and different this look is.
There does seem to be a bit of an under-the-radar cotton bouquet trend if you explore Pinterest and wedding forums. They're popular with outdoor weddings and barn weddings especially it seems.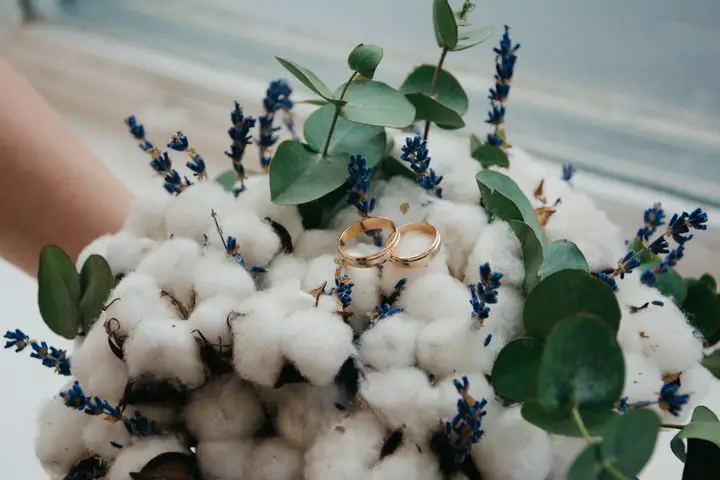 If you can get your hands on some organic raw cotton that's been grown without pesticides, you may be able to put together a pretty unique and eco-friendly wedding bouquet!
Amazon actually sells natural organic cotton bouquets. They're a beautiful choice for any wedding season in my opinion, and can be paired with greenery and perhaps lavender and/or wheat stalks for more texture.
---
#4 – Create (or Buy) Organic or Recycled Fabric Bouquets
Using natural eco-friendly fabrics to make your bouquet is another great choice for eco-friendliness. You can choose to buy flower bouquets made of natural materials or simply make the flowers yourself out of natural materials OR YOUR OWN RECYCLED clothes!
Learn more about fabric: Best Sustainable & Eco-Friendly Wedding Dress Materials
Imagine how cool it would be to look in your closet and find old, but maybe still memory-filled or sentimental, pieces of clothing that you could turn into wedding flower bouquets for your and your bridesmaids! Maybe you could all even make them together!
Another cool thing about fabric bouquets is that they last forever. They won't die or get ruined and you and your bridesmaids will be able to hold onto lasting memories of your wedding day.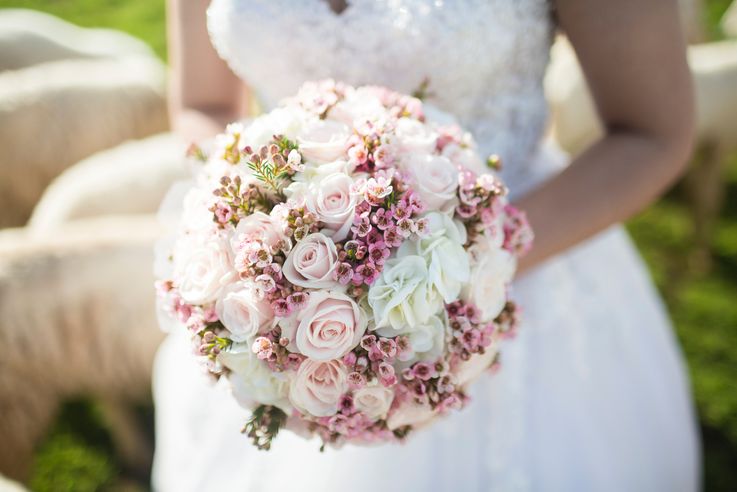 I love the ideas of making your own fabric flowers with your friends. If you don't feel like spending the money to order flowers, consider making them yourself. You'll only have to pay for the supplies if you find clothes in your closet that you can recycle into flowers!
Here is a really cool tutorial for turning your old fabric into amazing wedding bouquets:
---
#5 – Hold a Potted Plant "Bouquet" on Your March Down the Aisle
I know this is an unconventional list, and I'm urging you to stretch out of your comfort zone of tradition and expectation!
Imagine you and everyone in your bridal party holding not traditional bouquets of flowers, but instead: small potted plants! These can be any kind of plant you like, as long as they're in pots! How cute and unexpected would that be?!
For this purpose, I love the idea of using small decorative succulent pots, which you can find on Amazon.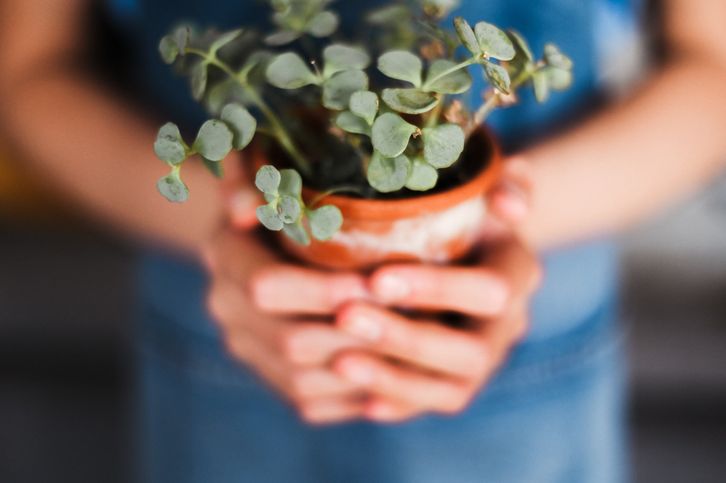 By using potted plants, you won't be chopping down any beautiful flowers in their prime. And the plants can continue to live after your ceremony.
Consider the whole thing a sort of metaphor for the start of your marriage! Encouraging the growth, not the death, of something so vibrant and beautiful!
As each person comes to the end of the aisle, the pots can be placed on the altar to decorate it during your ceremony!
---
#6 – Make Your Own SURPRISE Arrangements With Grocery Store Flowers Bouquets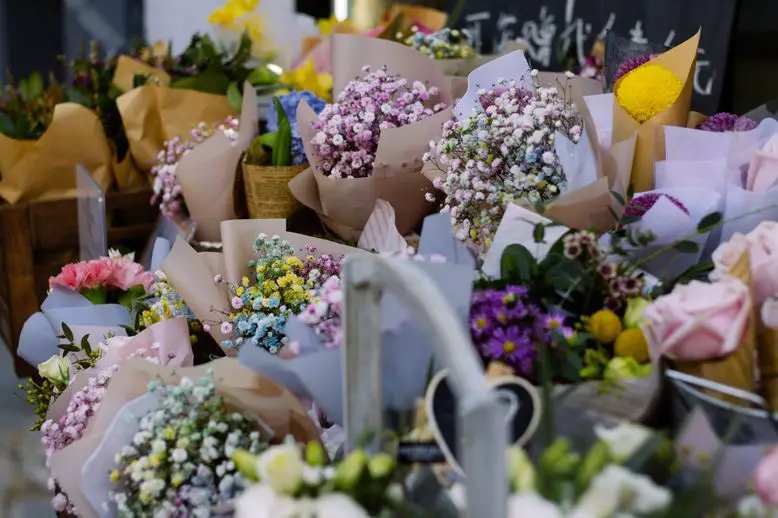 If you're a laid back eco-friendly couple reading this article, I am also going to assume you're okay with surprises and letting go a bit more than the average bear as far as planning is concerned. If this isn't describing you, then you might want to skip this tip.
On the morning of your wedding, or the night before, why not go to the local grocery store and see what kind of flowers are on sale! You'll be able to find all kinds of, often local, flowers to choose from.
Buy whichever flowers suit your fancy and take them home to simply tie up with ribbons and use as your surprise wedding bouquets! It's a surprise because you won't know what your wedding flowers or colors will be until the day of!
The benefit to this tactic is that you'll be buying local and you'll also save a fortune.
---
#7- Carry a Bouquet of Fresh Herbs
How would you like your wedding bouquet to double as flavoring for the dinner you'll be serving after the ceremony? Being eco-friendly is all about finding multi-use, multi-purpose solutions after all!
I am only kind of joking. I think this is actually a really cool idea! You take fresh sprigs of herbs and/or spices that either you grew in your garden or that you bought on Amazon, and you carry it in a mason jar, or tied with a ribbon, down the aisle. Along with your bridesmaids.
Then at dinner, the bouquets/jars are placed in the centerpieces at each table to be plucked at and added to the meals! Why not?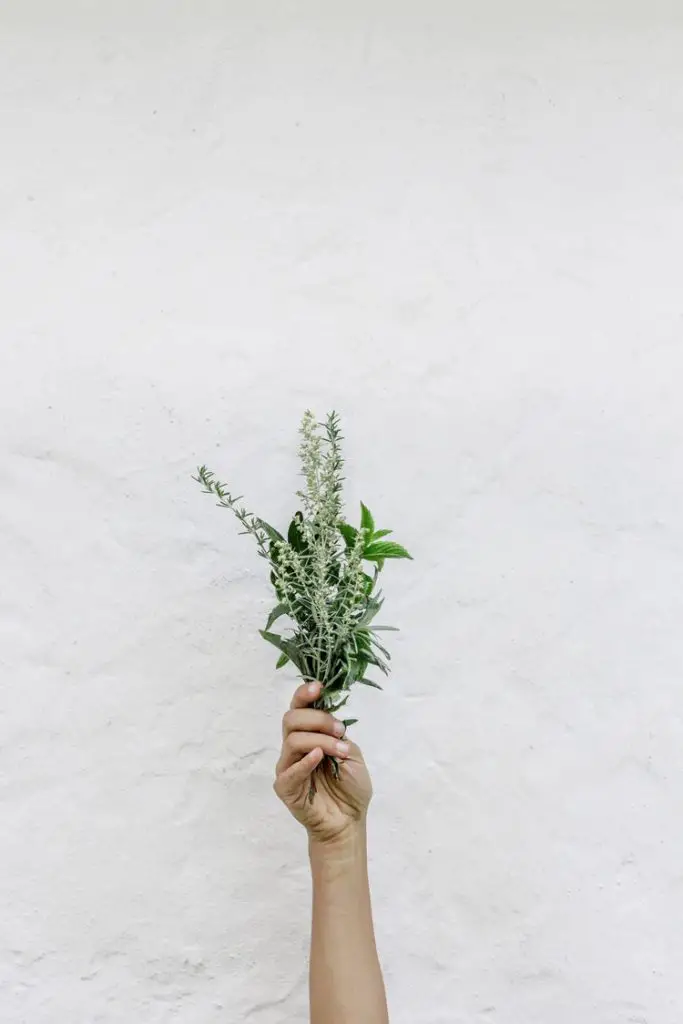 ---
#8 – Go Simple and Wild With Wild Flower Bouquets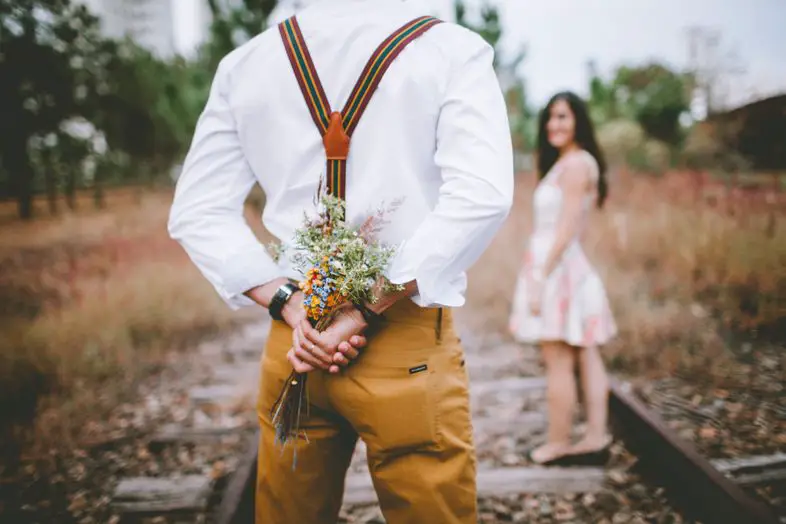 If you live in the country or have a garden, or know someone who does, look no further than your own backyard for flower inspiration. Many couples getting married outdoors have realized this already.
How silly it seems to cut a bunch of flowers in another part of the world, grown with chemicals, and ship them all the way to us, in our backyard wedding… where we are likely surrounded by wild flowers that were for some reason deemed not gone enough.
Don't be so picky! Grab some of those amazing local, in-season blooms and make some bouquets out of them! It could even be a wedding morning activity that you do with your bridesmaids, or that the groomsmen are sent to do.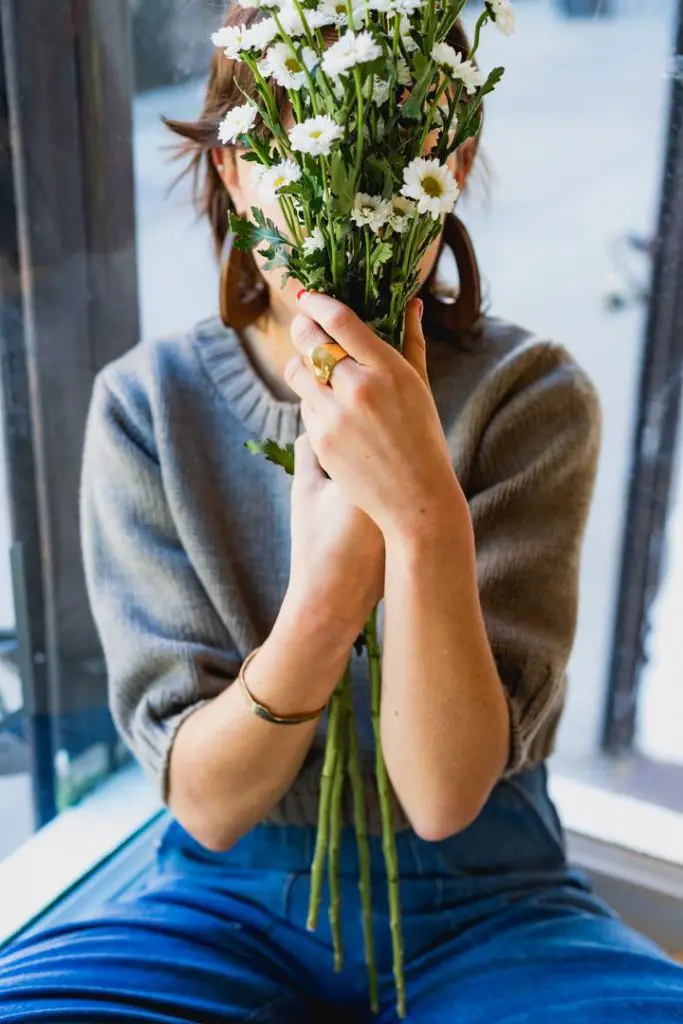 ---
#9 – Carry a Single Flower Bouquet
This is simple but can be a really dramatic moment actually, if you choose a flower that's big or bright or very unusual to walk down the aisle with. For example, consider carrying a single sunflower, a single rose of an unusual color, a calla lily, or a orchid.
An entire parade of single sunflowers, for example, who be really cool and different, and would only cost the earth a handful of sunflowers compared to 6-7 full bouquets of sunflowers.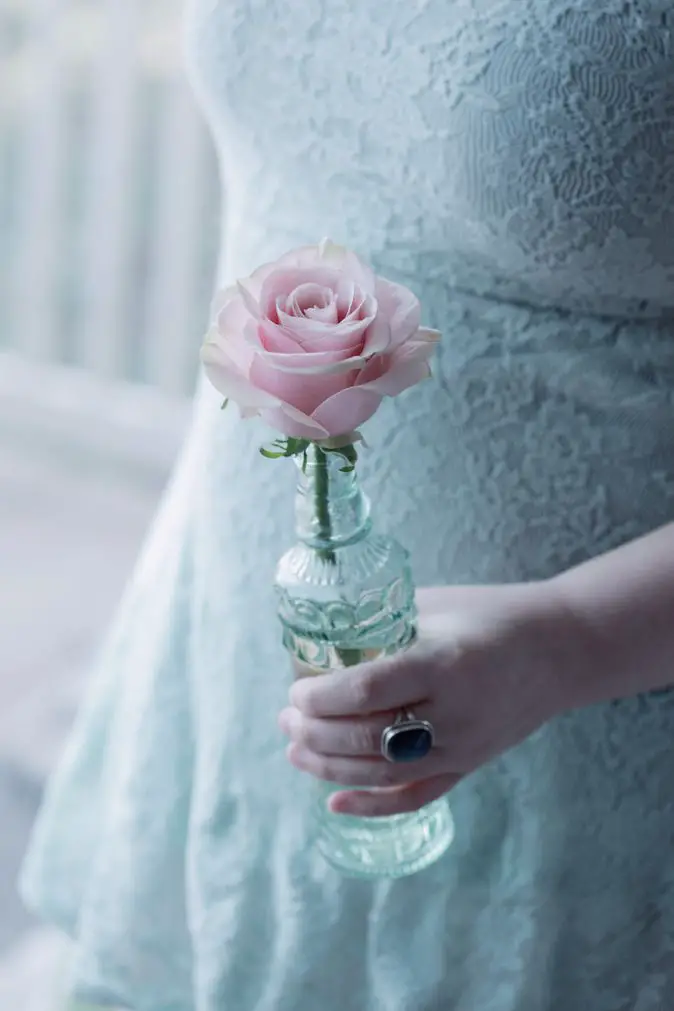 ---
#10 – Make a Bouquet of Greenery
Why not skip the floral theme altogether? Does your wedding even need flowers? Consider instead a blast of greenery. You could walk down the aisle holding leaves of some kind, such as palm leaves or evergreen branches.
Take a little stroll in your neighborhood and in the area where your wedding will be if possible. Are there any green options that you could easily turn into a green bushel of freshness to walk down the aisle with?
Don't disregard long grass, and plants you would otherwise overlook. Take everything into consideration as you scan the area for potential green bouquet options!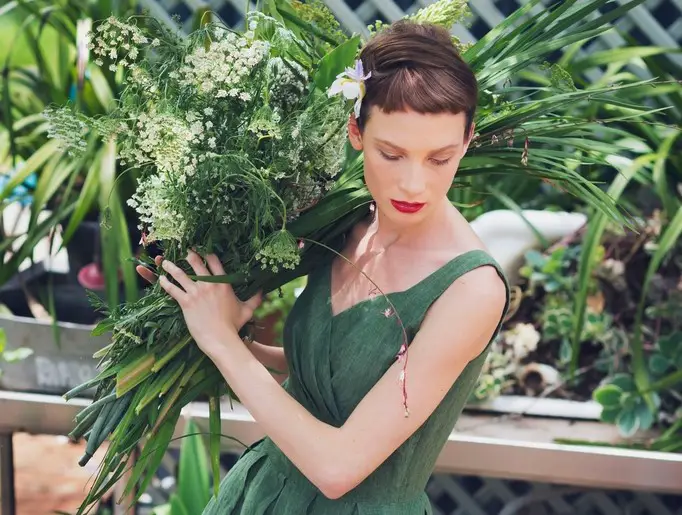 ---
#12 – Have a Plain, Simple Wheat Grass Bouquet or Bouquet of Branches
Following my last advice on skipping the flowers, why not skip the greenery as well?! We're going crazy now, aren't we?!
Wheat grass or similar plants (Pampass grass included), or a bouquet of carefully-chosen sticks with ribbon can be simple and elegant.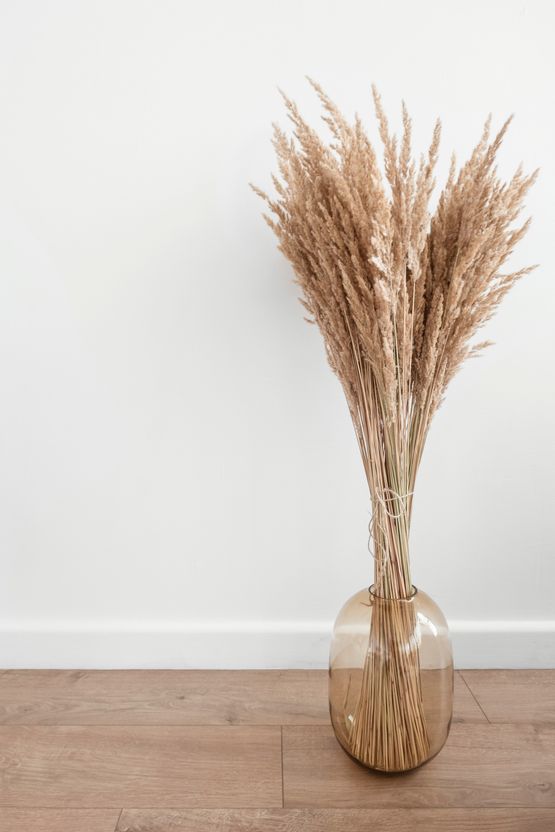 If you want, you can add a splash of greenery or other textures in with them but I do think these guys, the colorless grass, or the sticks, can be lovely and artistically understated on their own.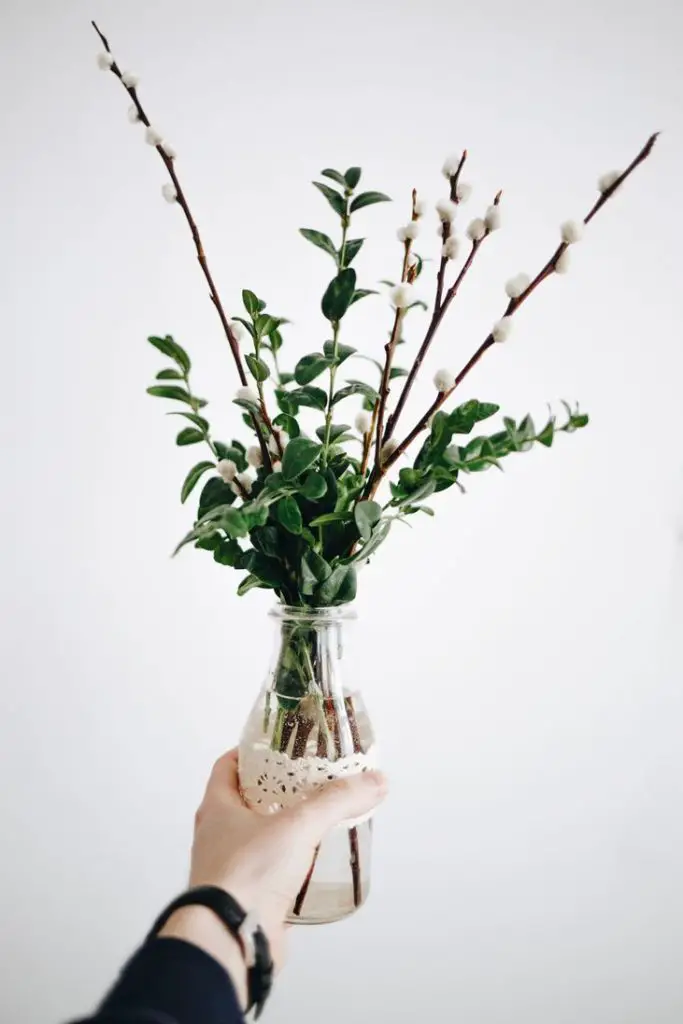 ---
#13 – Make an Edible Bouquet – Really!
I've always thought it would be fun to see a wedding that, instead of typical flower bouquets, had edible bouquets! For example, edible arrangements, which are bouquets of fruits and chocolates.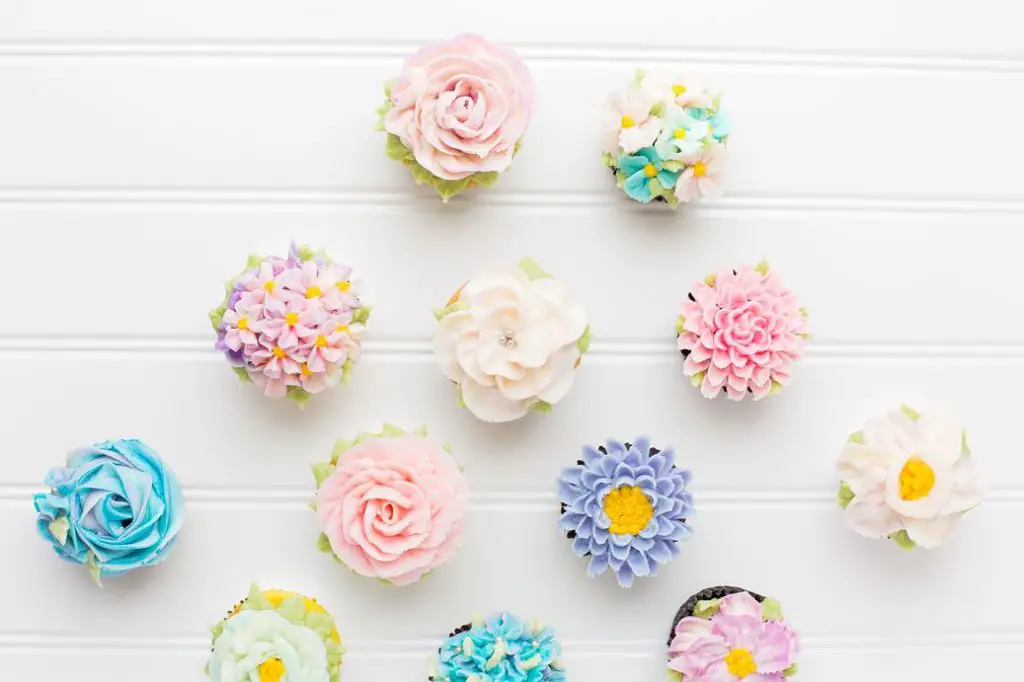 Then the food could be placed on a table at the front of the ceremony and shared afterward with everyone during the cocktail reception. It seems both fun and a lot less wasteful to me.
A million creative edible arrangement bouquets could be made, including cake pop bouquets by the more bake-savvy couples, or CHEESE bouquets… the possibilities are endless! As long as the food gets eaten after and doesn't go to waste, this is a great eco-friendly option.
---
There actually are flowers that are eco-friendly too, but you have to speak with the supplier or farmer providing you with the flowers to make absolutely sure they're safe to eat and weren't grown with any chemicals. Even then, they don't taste great and are often only used to make floral-y teas (not my favorite, personally). If edible flowers interest you, go to your local florist and ask about:
Dandelions
Orange blossoms
Sunflowers
Tulips
Violets (not African violets)
Jasmine flowers
Honeysuckle
Day lilies
Gardenias
Hibiscus flowers
Pansies
Roses
Sage flowers
Lavender
---
That's it!
Those are my tips for eco-friendly wedding bouquets! They're not super traditional but they are fun! Some simple, some more complicated, and all with the possibility to prevent wastefulness and encourage recycling! Good luck and enjoy 🙂